Flourless oat blueberry banana bread made easily in your blender with gluten-free rolled oats and sweetened with pure maple syrup. A satisfying sweet treat to satiate your afternoon snack craving.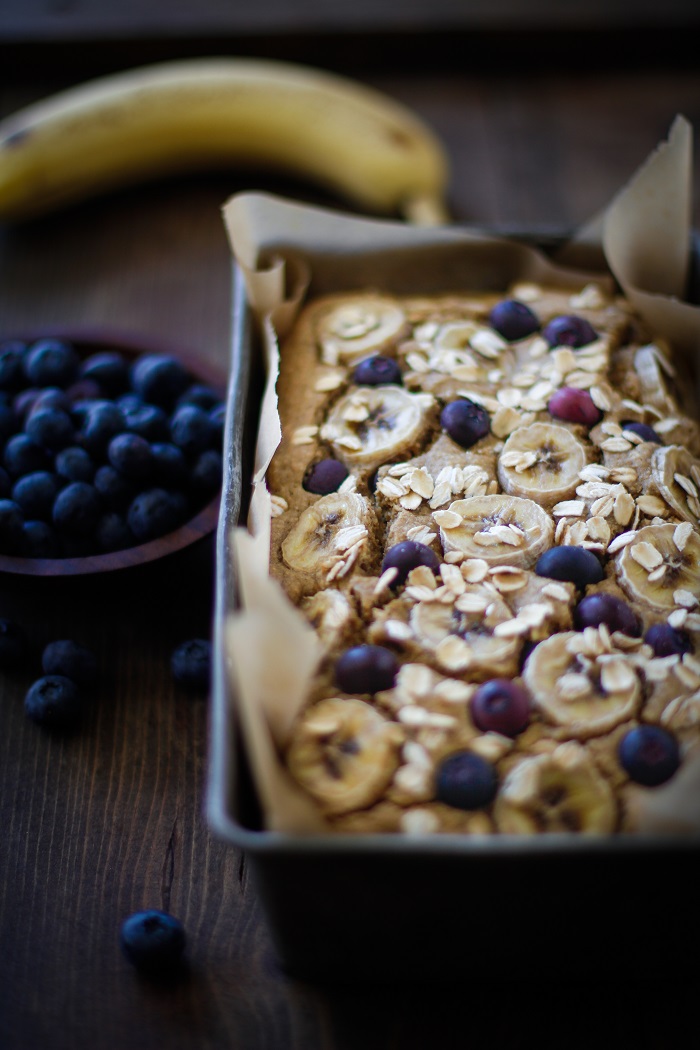 Oh hello! It's been a minute!
We arrived home from Wyoming yesterday to a lot of new snow in the mountains – a wonderful treat! Our trip out to Wyoming was exhilarating at times yet relaxing at others, laughter-filled and all around a really great time (as you may have seen on my Instagram story wink, wink, nudge, nudge, I know none of us will ever be the same again).
We snowmobiled, we drank, I danced around like a crazy person, allowed myself to get bored, I worked but didn't do much food prep (apparently I made it my mission to eat all the restaurant chili and nachos instead), the men tinkered with machines, we had a near constant fire going in the fireplace, I re-evaluated life… everything you could want in time spent away.
Oh, and…
Surpriiiiise!
As you can see, The Roasted Root got a little facelift! I had Lindsay Humes from White Oat Creative revamp the blog – it had been nearly 3 years since the last re-design if you can believe it. I'm so psyched with the way it turned out and wanted to just briefly mention a few new features I'm excited about.
First, one of the new developments I'm most excited about is the navigation bar at the top of the page is sticky. When you scroll, the navigation bar will always be there so that you can easily maneuver around the site without having to scroll all the way back up (BOOM! convenience). In addition, there's a navigation bar at the very bottom of the page, where you can search for recipes, sign up for my newsletter, and/or follow me on social media.
In addition, there's a new section on my sidebar for "special diet" where you can select recipes according to your dietary restrictions. You'll notice my recipes page is organized a bit differently than before, which I find to be more user-friendly. All in all, I wanted the site to look cleaner and easier to navigate around so that you ultimately find the exact types of recipes you're looking for.
Friends, I agonized over the type of recipe to show you today. I asked you on Instagram what you wanted to see..you said pizza, and here I give you banana bread. My apologies, I promise we will do a pizza dinner soon! In the meantime…
…this banana bread is pretty bonkers.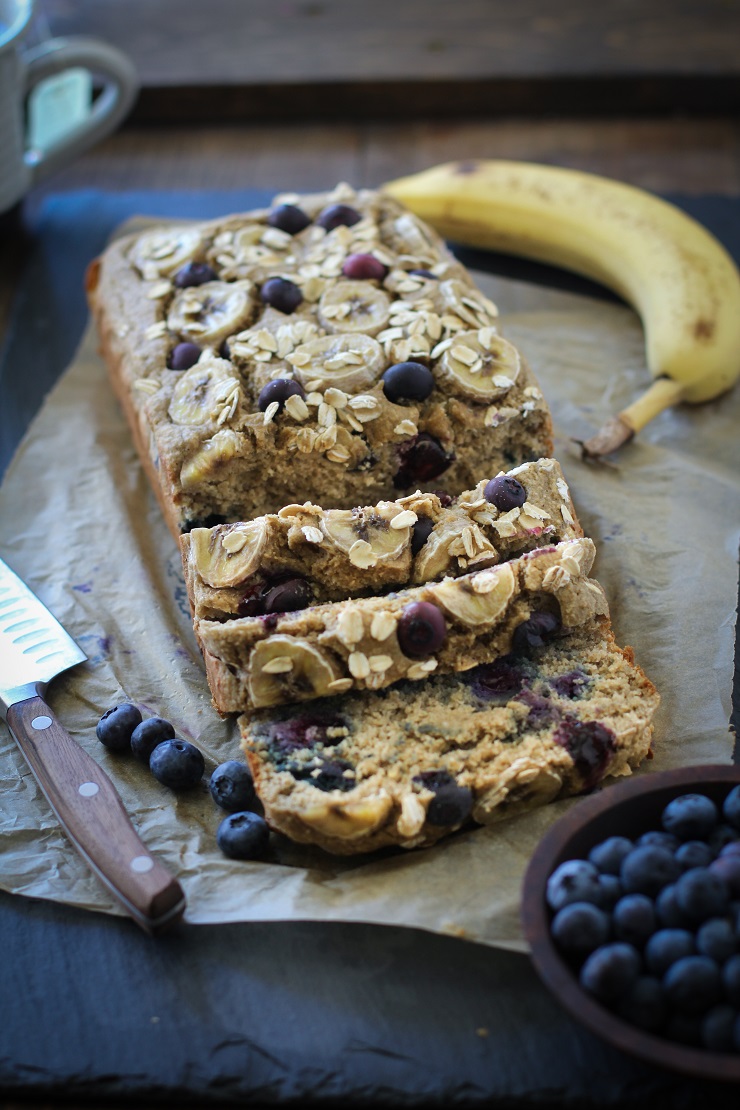 It's flourless using gluten-free rolled oats and is prepared conveniently in your blender. All in all, the bread is gluten-free, refined sugar-free, and dairy-free. If you're looking for a grain-free banana bread, you can check out my Paleo Banana Bread (using almond flour) or my Coconut Flour Banana Bread.
Let's talk texture. Boy oh boy, is this bread dense. If you're looking for an airy, fluffy banana bread, this recipe is not your jam, as one slice is super filling. It also doesn't turn out overly sweet, which I like, as the bread is mostly sweetened with ripe bananas and a touch of pure maple syrup. I suggest serving the bread warm with butter and a drizzle of pure maple syrup or honey.
If you want to get wild and crazy, you can add chocolate chips and/or chopped walnuts to this recipe. I like the pop and tang of the fresh blueberries for a unique take on the classic loaf, but you truly can get creative with your add-ins.
And that is all! One blender, one pan, one loaf and a whoooole lot of banana goodness.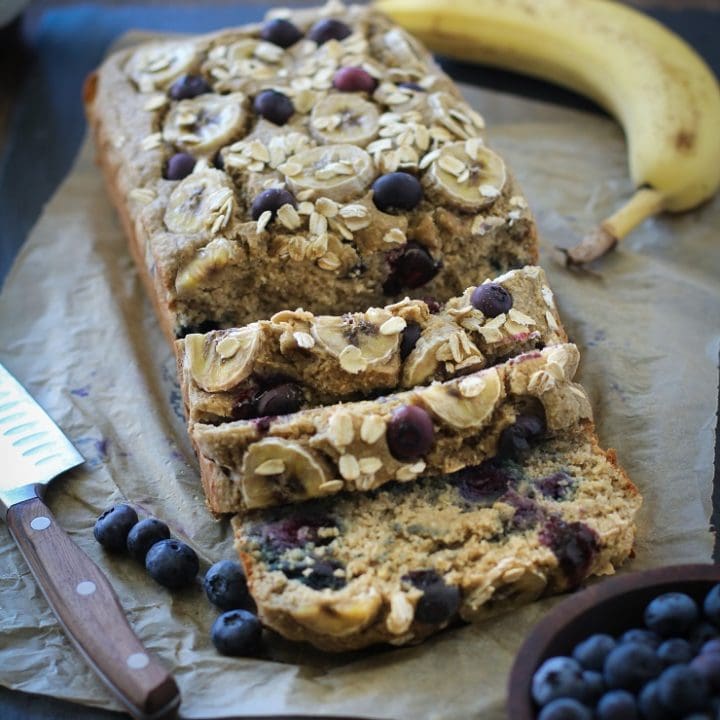 Blender Oat Blueberry Banana Bread
Blueberry banana bread made with whole oats using your blender!
Ingredients
3 cups gluten-free old fashioned rolled oats
3 large eggs
4 ripe bananas, , 1-2/3 cups mashed
1/3 cup pure maple syrup
1 tablespoon lemon juice, or cider vinegar
1 teaspoon baking powder
1/2 teaspoon baking soda
2 teaspoons pure vanilla extract
1 teaspoon ground cinnamon
2/3 cup fresh blueberries
Instructions
Preheat the oven to 375 degrees Fahrenheit and lightly grease or spray a loaf pan.
Add the oats to a high-powered blender and blend until a smooth flour forms.
Add the remaining ingredients (except for the blueberries) to the blender with the oat flour, and blend until combined.
Stir in the blueberries then transfer the banana bread batter to the prepared baking pan. Smooth into an even layer
Bake on the center rack of the preheated oven for 30 to 45 minutes (mine took 35). Turn off the oven and allow the bread to sit in the warm oven another 5 minutes. Remove from the oven and allow bread to cool at least 1 hour before slicing.
Serve with butter and a drizzle of pure maple syrup or honey.
Nutrition Information
Yield

6
Serving Size

1 grams
Amount Per Serving
Unsaturated Fat

0g