Deliciously spiced Beet Veggie Burgers made with beets, carrots, brown rice mixed up with Moroccan spices. Top with herbed goat cheese, avocado, sweet potato fries, and sprouts on a pretzel bun and you're in for an amazing meal!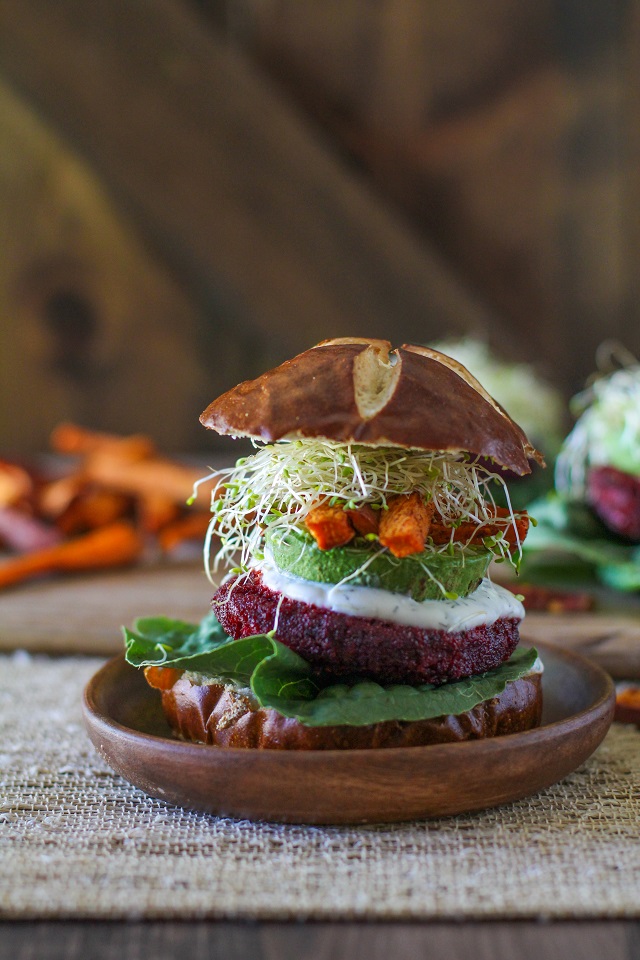 These burgers have got it going ON.
Beets, carrots, brown rice mixed up with Moroccan spices and topped with herbed goat cheese, avocado, sweet potato fries, and sprouts? There's so much junk in the trunk, I can barely stand it. Flavor-blasted bites of superfood bliss, that's what they call these.
How to Make Beet Veggie Burgers:
Chop the beets and carrots into chunks and throw them in your food processor.
Once the veggies are shredded, simply add the cooked rice and spices and process until the burger batter (if you will) is well-combined, thick, and sticky.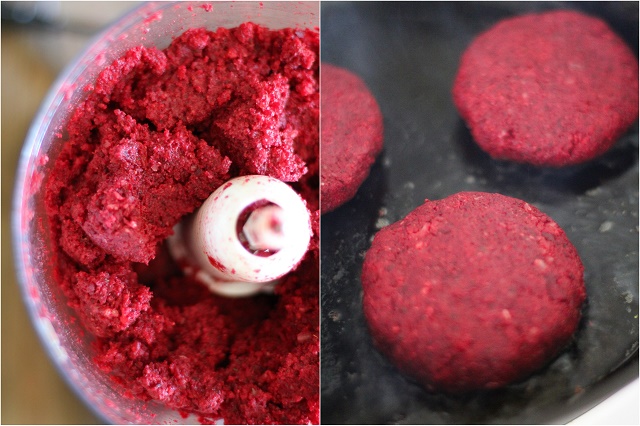 Once you have your "beet meat", simply form burger patties, and cook the patties in coconut oil (canola oil works, too) on a hot cast iron skillet. It only takes a few minutes to get a nice crispy sear on both sides of the patty.
Then comes the fun part…you get to add any and all of your favorite toppings. Avocado, onion, and lettuce are always my go-tos, and on top of those, you can certainly whip out your own inspired sauce, such as a lemon-dill yogurt sauce (pairs perfectly!), a chipotle sour cream, or a yellow curry sauce.
The pretzel bun? Encouraged, but not mandatory. You can totes do a lettuce wrap for this things and go bunless.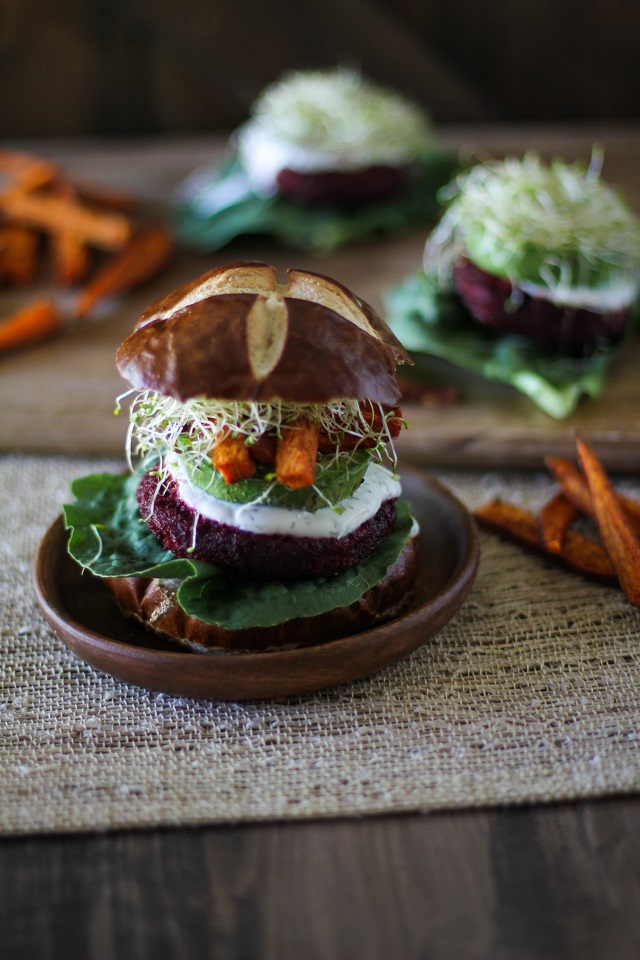 Options for change-ups? Skip the herbed goat cheese to make this a vegan meal. You can season to your heart's desire, using basically any combo of spices. You can Southwest these up by adding black beans, corn, and/or use chili powder for seasoning. Use golden beets, rainbow carrots, world's your oyster.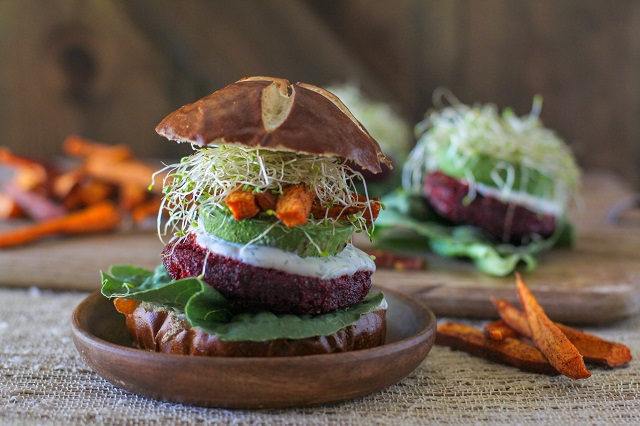 Beet burgers for life!
My cookbook,
Paleo Power Bowls
, is now available! CLICK HERE to check it out. Thank you for your support!
If you make this recipe, please feel free to share a photo and tag @TheRoastedRoot on Instagram!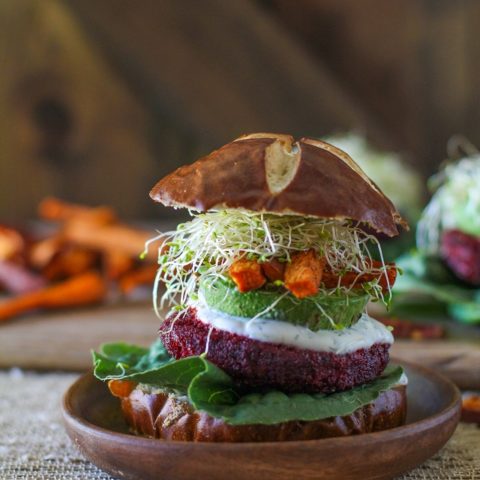 Moroccan-Spiced Beet Burgers with Herbed Goat Cheese
Warmly-spiced beet veggie burgers with brown rice, and topped with herbed goat cheese.
Ingredients
Moroccan-Spiced Beet & Carrot Burgers:
1 medium red beet, peeled and shredded (2 cups)
2 large carrots, peeled and shredded (1 cup)
1 tablespoon fresh ginger, peeled and grated
1 teaspoon ground coriander
½ teaspoon ground turmeric
Pinch allspice
4 cloves garlic, roughly chopped
Herbed Goat Cheese:
4 ounces goat chevre
2 teaspoons fresh parsley, finely chopped
2 teaspons fresh basil, finely chopped
1/4 teaspoon dried oregano
For Serving:
Burger buns
Butter Lettuce
1 large avocado, sliced
Sprouts
Sweet potato fries
Instructions
Prepare the Herbed Goat Cheese:
In a small bowl, mix together all of the ingredients for the herbed goat cheese. refrigerate until ready to use.
Prepare the Beet Burgers:
Combine all ingredients for the lemon-dill yogurt sauce in a small bowl. Stir well and refrigerate until ready to use.
Wash, peel, and chop 1 medium beet and 2 carrots. Place in a
food processor
and pulse into small rice-sized pieces.
Add the remaining ingredients for the burgers to the food processor. Turn your food processor on and process until thick and sticky (you will need to stop and stir the mixture several times).
Add enough oil to a cast iron skillet to generously coat the surface and heat to medium.
Form burger patties out of the beet/rice mixture and place on the hot cast iron skillet. Allow patties to cook 2 to 3 minutes (or until crispy). Carefully flip to the other side and allow them to cook another 2 to 3 minutes.
Serve beet burgers on lettuce of choice with herbed goat cheese, thick slices of avocado, and sprouts.
Nutrition Information
Yield

6
Serving Size

1 g
Amount Per Serving
Unsaturated Fat

0g
More Veggie Burger Recipes: