Cinnamon and coconut sugar sweet potato fries are all you reaaaaally need for dinner.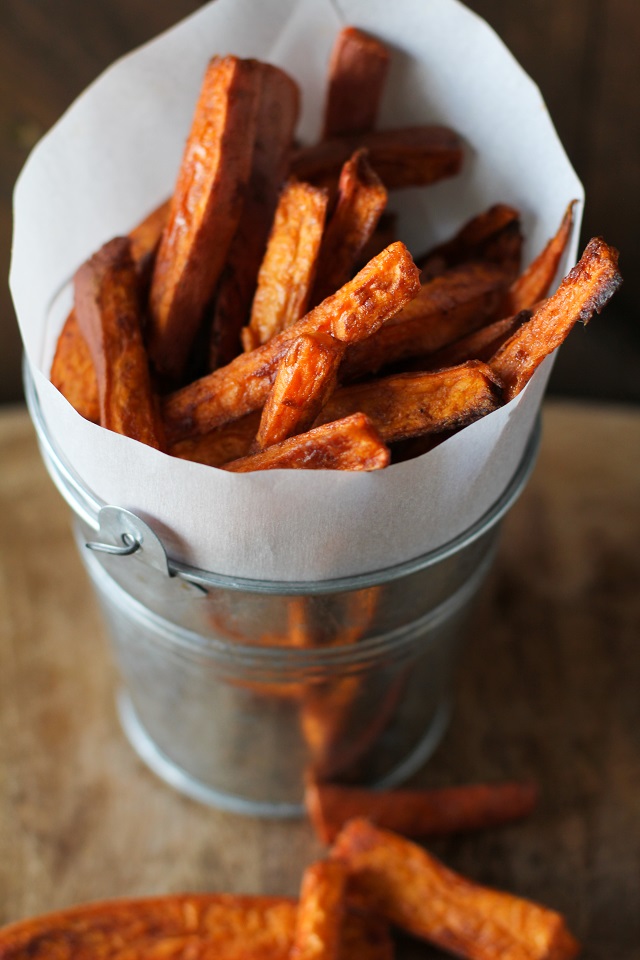 Lemme guess: you've been in hot pursuit of the bangarangest oven-baked sweet potato fry to ever walk the land? This is why we're friends.
The crispy-on-the-outside, soft-on-the-inside sweet potato fry is difficult to master. I've had my fair share of burnt-to-a-crisp sweet potato fries, along with sweet potato moosh sticks, and everything in between, including the mystery fry that sticks to the baking sheet like gorilla glue and falls apart at the slightest touch. I admit, I have zero qualms about devouring any sweet potato fry regardless of where it falls on the moosh to burnt spectrum, because: no sweet potato fry left behind.
I won't say I have cracked the perfect fry code, because it's near impossible to get there without deep frying, but I think I've gotten close. Through trial and error, I have learned tricks along the way.
Tip #1: Bake a single tray of fries at a time, leaving the sweet potatoes in a single layer. No double dutch-ing here. Too much sweet potato-age causes excess moisture in your oven, in which case those things will never get crispy.
Tip #2: Use plenty of oil (but not too much!). Not enough oil leads to dry fries that don't crisp up, and too much oil leads to moosh.
Tip #3: Use a starch, such as tapioca or corn starch. I have found a high success rate of getting a crispy fry when I use tapioca starch. My guess is it absorbs a little of the moisture and creates a magical little casing. While you can use corn starch, I prefer using tapioca starch because it is better for you.
Tip #4: Lots o' seasoning + sea salt. Be sure to sprinkle seasoning to your heart's delight..it helps give the fries flavor, which we need since we aren't deep frying. My favorite seasonings are paprika, chili powder, garlic powder, and/or cinnamon.
Tip #5: Pre-soak the sweet potatoes…or not? I've read multiple blog posts that encourage you to soak the cut sweet potatoes before you bake them (anywhere from 30 minutes to 4 hours of soak time!). I've tried such fry soaking a couple of times, and it didn't result in a crispier fry, so I chalked the method up to be ineffective foreplay. BUT, some people have had a great deal of success with pre-bake fry soaking. If you're up to the task, simply soak the cut raw sweet potatoes in a bowl for a few hours prior to baking them. Pat them dry, then proceed as normal.
Bonus tip: Make an entire sweet potato per person. Because: delicious.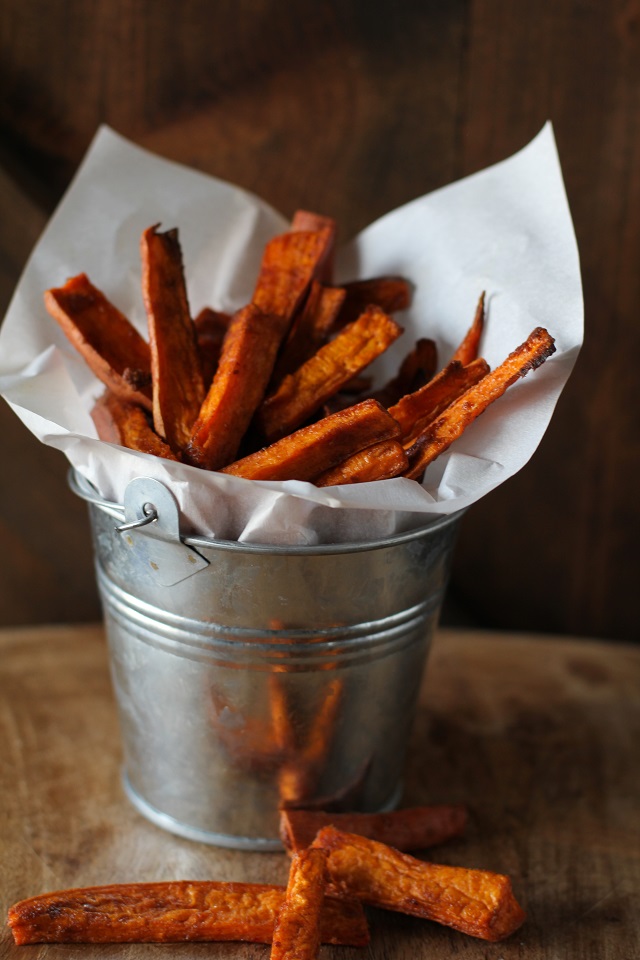 For this round of sweet potato fries, I tossed the suckers in cinnamon, coconut sugar, sea salt, and tapioca starch to end up with a crispy, sweet, and salty fry. You can replace the coconut sugar with raw cane sugar and sub out the tapioca starch for corn starch. If you're not into the cinnamon-sugar approach, simply employ your own choice of seasonings, such as chili powder, cajun seasoning, paprika, and/or garlic powder.
Now all we need is a super pimped out milkshake for some old fashioned fry dippage!
Cinnamon and Coconut Sugar Sweet Potato Fries
Sweet and savory crispy sweet potato fries are an epic treat of a side dish!
Ingredients
1

large sweet potato

cut into wedges

1-1/2

tablespoons

olive oil or melted coconut oil

1

tablespoon

+ 2 teaspoons coconut sugar

1.5

tablespoons

tapioca starch*

3/4

teaspoon

ground cinnamon

¼

teaspoon

sea salt

plus more for serving
Instructions
Preheat the oven to 425 degrees F.

Wash and dry the sweet potato and chop it into wedges (or match sticks). Add the cut sweet potatoes to a mixing bowl along with the rest of the ingredients. Toss everything together using your hands until the potatoes are well-coated.

Spread the sweet potatoes in a single layer on a large non-stick baking sheet.

Place on the center rack of the oven and bake for 25 to 30 minutes, flipping the fries half-way through, or until fries are golden brown and crispy.

Remove tray from the oven and allow fries to cool on the baking sheet for 5 minutes before serving.
Nutrition