Indian-Spiced Beet Veggie Burgers with Lemon-Dill Yogurt Sauce are incredibly nutritious veggie burgers and are loaded with flavor. Top these tasty veggie burgers with avocado and sprouts for a delicious meal.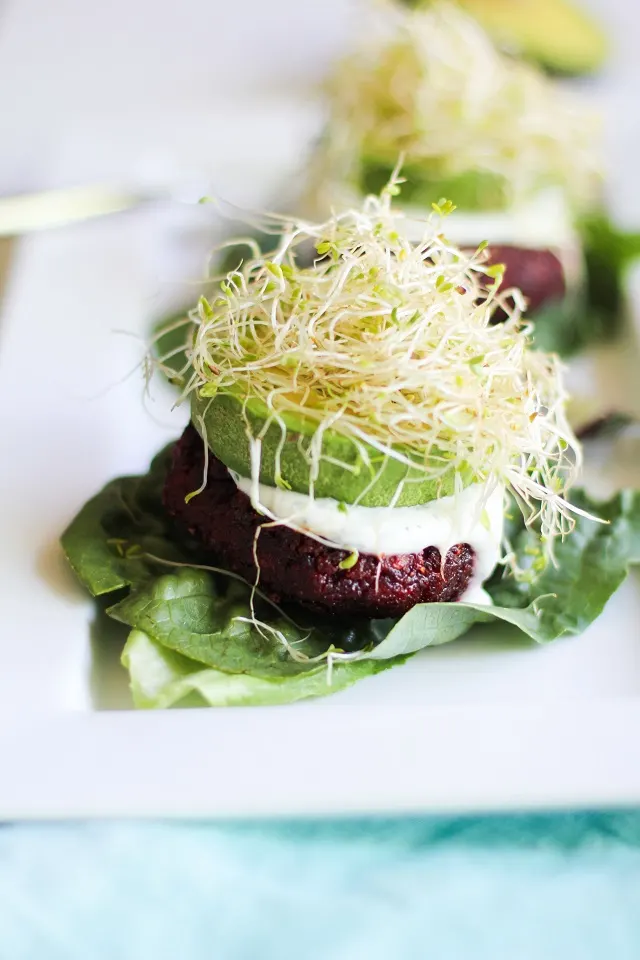 This recipe for beet burgers was one of my first blog posts back when I was blogging as a hobby. They continue to be the only beet burger I have ever made because they're just so dern good.
Although I crave beef burgers more frequently than I crave beet burgers, I had a uuuge hankering for these the other day. So I changed up my original recipe just a tad and doubled it so that I could share it with friends.
There are so many things that are right with these burgers.
They are spiced to perfection (but not spicy, mind you), have a nice crispy exterior with a soft interior, and they hold together real nice, just like a good veggie burger should.
Made entirely of raw beets, rice, and spices, these burgers are gluten-free, egg-free, and are squeaky clean. To keep the burgers vegan, you can skip the lemon-dill yogurt sauce.
If you've never tried to make beet burgers, I surely recommend it! They do take a hot minute to prepare, and you do need a food processor for optimal results.
Normally, I'd recommend using a high-powered blender to replace a food processor in many recipes, but I don't think it'd work in this case. Just food for thought.
Here's how it all works out:
You snag yourself a large beet (or two medium beets). Peel it, chop it, throw it into your food processor, and pulse until it looks like this:
Add cooked rice, spices, garlic, and turn your food processor on.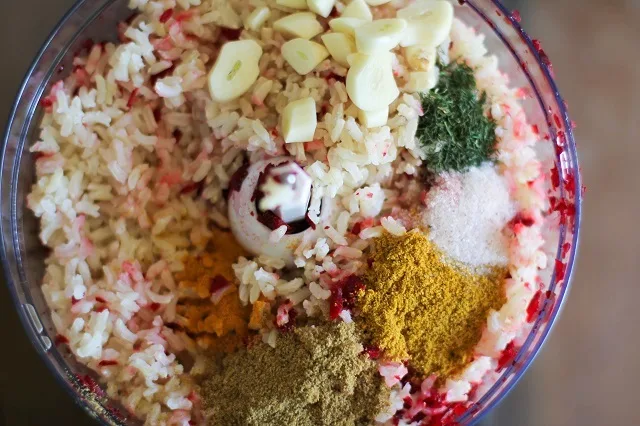 You'll need to stop your food processor and stir every once in a while.
Keep going until the beet and rice looks like…well…ground beef. This will take multiple rounds of starting, stopping, and stirring.
Form veggie patties using palm-sized amounts of the burger mixture. Note that the mixture should hold together very well, so making patties should be a cinch.
For best results, cook the patties in coconut oil (or high-temperature oil of choice) in a cast iron skillet. The result should be crispy, yet sqooshy, yet so burgerlicious you won't know what hit you!
The yogurt dill sauce, though, people. So good and simple! The burgers don't necessarily need a sauce because they are plenty flavorful in their Indian-spiced splendor.
But the sauce is a nice little perk if I do say so, myself. It kinda adds a zesty-cool element that makes you go, "mmhmm, mkay, I get it. I can dig."
Let's go bun-less by making a lettuce wrap using butter lettuce, green leaf lettuce, or collard greens. We can save the bun carbs for beer carbs, ya feel?
Top the burgers with yogurt sauce, thick slices of avocado, and some fresh sprouts. Finger licking good.
Quit beet-ing around the bush and make these already!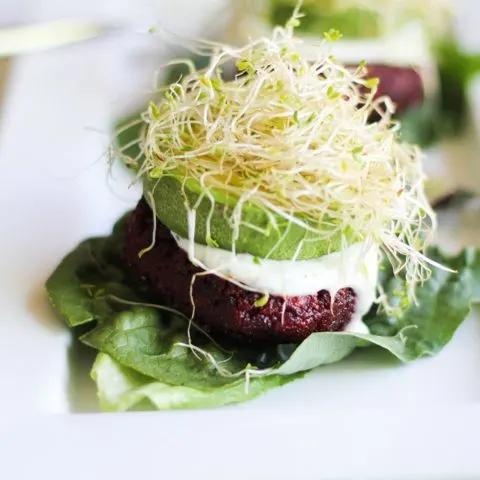 Indian-Spiced Beet Burgers with Lemon-Dill Yogurt Sauce
Indian-spiced beet burger with brown rice is a delicious vegetarian burger pattie
Ingredients
Indian-Spiced Beet Burgers:
1 large red beet, peeled and shredded (3 cups)
1 tablespoon yellow curry powder
½ teaspoon ground turmeric
1/2 teaspoon dill
4 cloves garlic, roughly chopped
Lemon-Dill Yogurt Sauce:
1 1/4 cups plain Greek yogurt
1 Tbsp dried dill
Zest of 1 lemon
1 tablespoon lemon juice
For Serving:
Butter Lettuce
1 large avocado, sliced
Sprouts
Instructions
Combine all ingredients for the lemon-dill yogurt sauce in a small bowl. Stir well and refrigerate until ready to use.
Wash, peel, and chop 1 large (or 2 medium) beet. Place in a food processor and pulse into small rice-sized pieces. Measure out 3 cups of grated beet and save the rest for other recipes.
Add the rice, yellow curry powder, cumin, turmeric, dill, salt, and garlic. Turn your food processor on and process until thick and sticky (you will need to stop and stir the mixture several times).
Add enough oil to a cast iron skillet to generously coat the surface and heat to medium.
Form burger patties out of the beet/rice mixture and place on the hot cast iron skillet. Allow patties to cook 2 to 3 minutes (or until crispy). Carefully flip to the other side and allow them to cook another 2 to 3 minutes.
Serve beet burgers on lettuce of choice with lemon-dill yogurt sauce, thick slices of avocado, and sprouts.
Nutrition Information
Yield

6
Serving Size

1 Burger
Amount Per Serving
Calories

204
Total Fat

14g
Unsaturated Fat

0g
Carbohydrates

16g
Fiber

1g
Sugar

4g
Protein

5g
More Veggie Burger Recipes: