Dairy-free chocolate magic shell recipe only requires 3 ingredients and takes less than 5 minutes to make! You can ramp up your ice cream intake with this easy paleo friendly topping!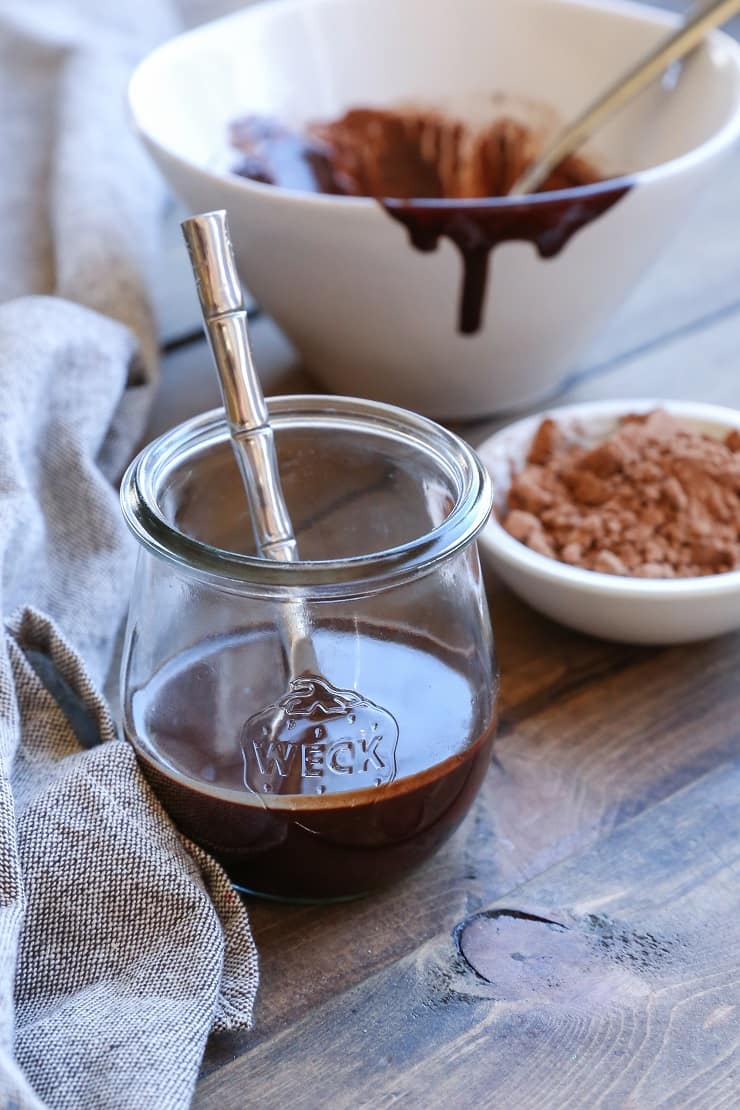 Because I have been eating a paleo-ish diet for over five years and I've been accustomed to (and prefer!) unprocessed foods for so long, there are very few processed foods I miss at this point.
From time to time, I find myself with a vicious cereal craving. Anything from Fruity Pebbles to Puffins, to Oh's. Who can resist the sweet crunch?!
Occasionally, I'll acquire a massive craving for chocolate milk, and during the summer months (ice cream season): chocolate sauce for topping my homemade ice cream.
All of these things, while much more convenient to purchase from the store, can be made to fit a restricted diet…it's just a matter of whether or not we have the motivation to fire up the oven or break out the saucepan, rather than busting out the grocery shopper move.
I've been making a paleo version of the chocolate magic shell for a couple of years now, and I can definitely report with enthusiasm and confidence: it requires minimal effort, and the result is super satisfying. All I do is barely heat coconut oil (just until it's melted) and stir it up with cacao powder and some pure maple syrup.
Once that magical sauce hits something room temperature or colder, it'll begin to form a shell. Take for instance, these waffle ice cream sandwiches (which I'll be posting in tomorrow!!)…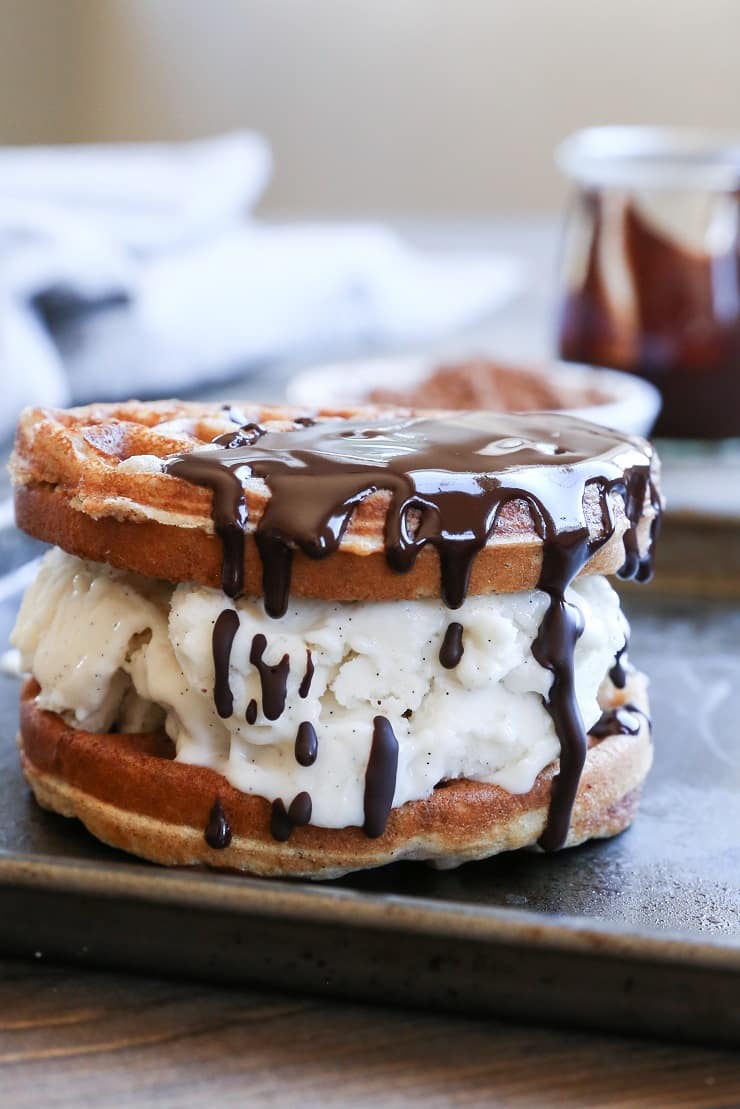 Saucy to start, and a perfect shell after a few moments of sitting on a chilled surface.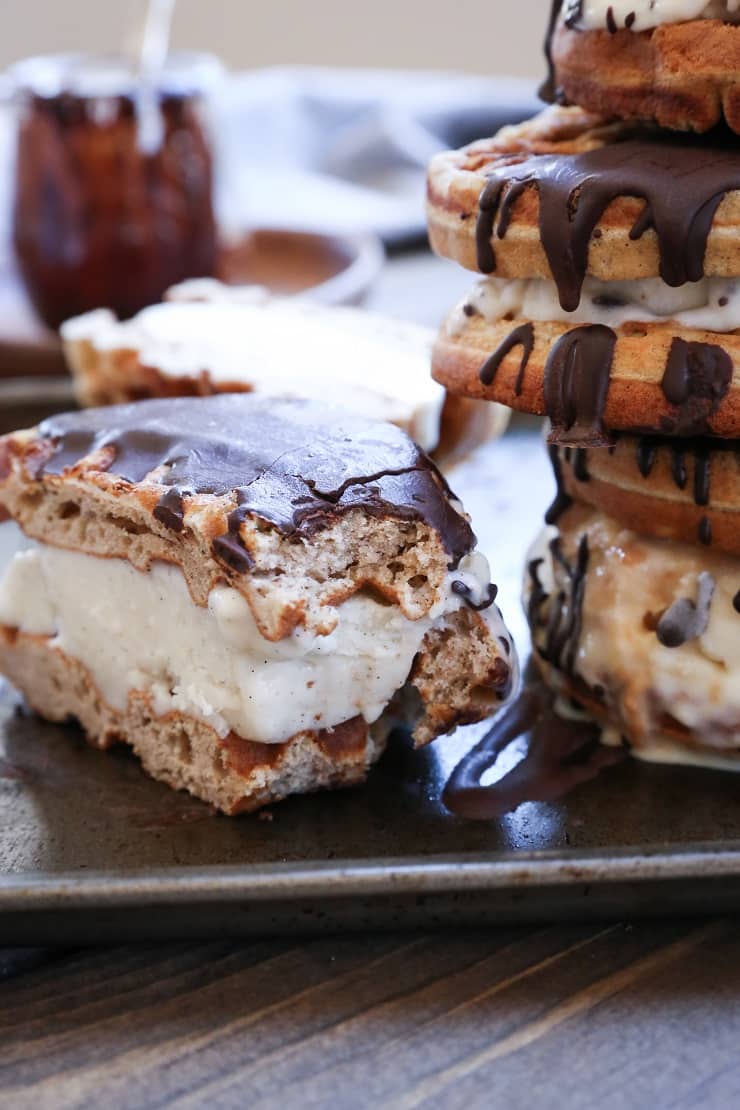 Ingredients for Paleo Chocolate Magic Shell:
At a minimum, all you need to make paleo magic shell is coconut oil, raw cacao powder (or unsweetened cocoa powder), and pure maple syrup.
I like adding a dash of cinnamon and a pinch of sea salt to ramp up the flavor to an even higher level, but you can keep this a 3-ingredient adventure, for sure!
Tips for Making Magic Shell:
Here's where we talk tips & tricks to learn from my mistakes. The ratio of coconut oil to cacao powder is pretty pivotal, as is the temperature of the coconut oil when it's introduced to the cacao powder.
Too little oil, and you'll end up with a grainy substance that's difficult to fix.
Heat the oil too hot, and you'll end up with a grainy substance that's definitely impossible to fix.
If you're opposed to using a microwave, you can do a double boiler situation where you just barely heat the coconut oil over boiling water. Just until it's liquid!
What I find to be easier, however, is simply zapping the oil in a microwave for 10 seconds or less (depending on the hardness of the oil when it goes in), again, just until it's melted but not hot.
This method will require a bit more stirring, but it will ensure you don't ruin your magic shell.
All you'll need to do is stir until all of the cacao powder is absorbed and the mixture is nice and smooth.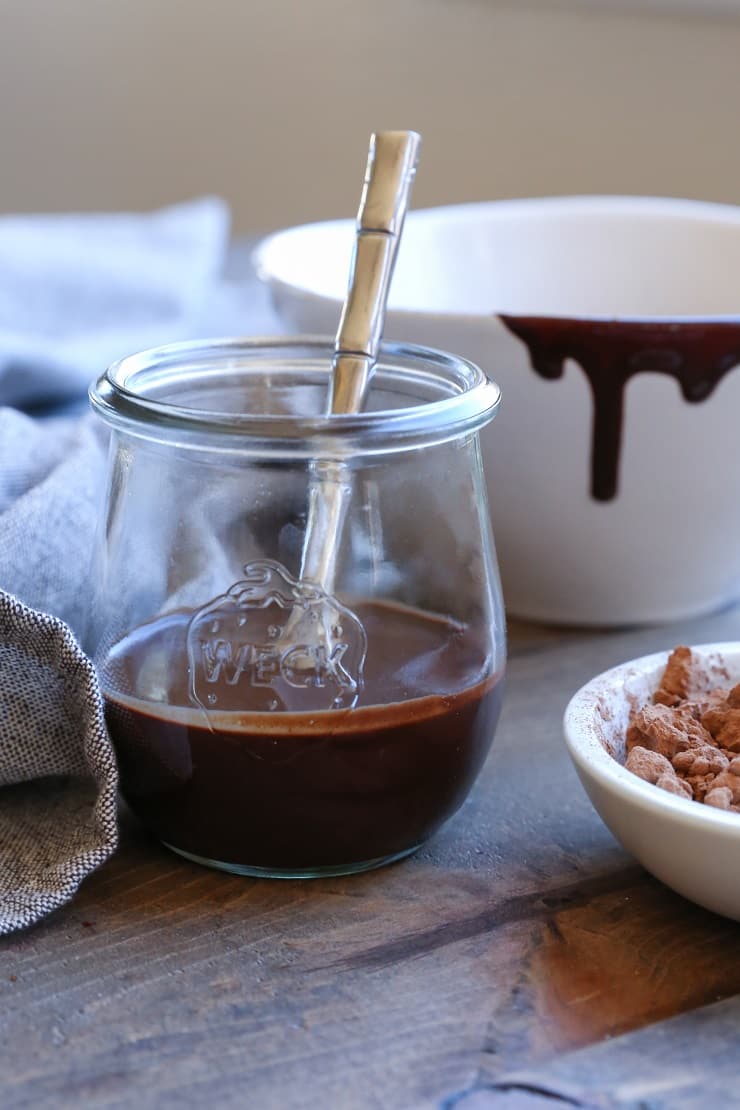 You see? Simple! You don't have to feel like you're missing out on all the ice cream topping fun. All you need is a bowl and 3 ingredients!
Paleo Magic Shell
Your favorite magic shell for ice cream made dairy-free and refined sugar-free!
Instructions
Add the ingredients to a microwave-safe bowl and microwave for 15-second increments, stirring well in between, about 30 to 50 seconds total.

Use immediately on ice cream or for drizzling over your dessert of choice.

If you don't own or use a microwave, heat all ingredients together in a saucepan over medium heat, whisking constantly until everything is well combined. Transfer mixture to a jar and use immediately or store in the refrigerator for later use.

The shell will harden after refrigeration, so reheat it in the microwave 15 to 30 seconds to melt it again.
Nutrition
Serving:
1
Tbsp
|
Calories:
127
kcal
|
Carbohydrates:
4
g
|
Protein:
1
g
|
Fat:
10
g
|
Fiber:
1
g
|
Sugar:
2
g