Grain-free apple cinnamon muffins made paleo using almond flour. These healthy muffins are a breeze to whip up and are packed with warm fall flavors!
Many thanks to Bob's Red Mill, for sponsoring this post! For more tasty recipes and a coupon for $1.00 off any product, please visit BobsRedMill.com!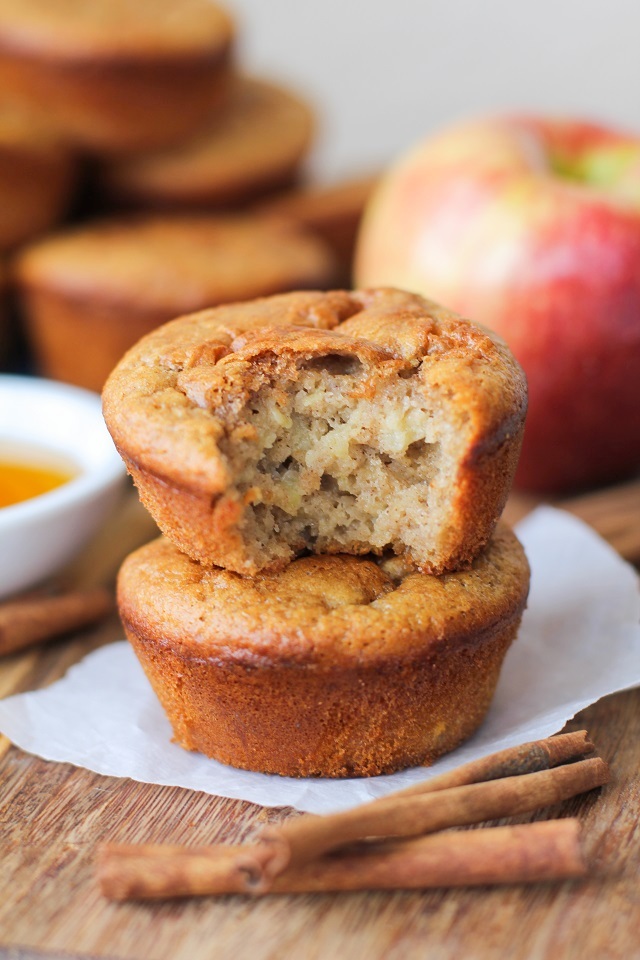 Did I ever tell you I was a snowboard instructor back in my college days? I basically lived on cheese and crackers, frozen toquitos, cheap beer and $0.50 well drinks from my favorite local dive bar.
You know that saying, "Never go to a second location with a hippy?" Well, I say always go to a second location with a mountain hippy.
Because that location is probably a bar. And that bar probably has $0.50 well drinks.
And if a mountain hippy buys you a $0.50 well drink, she'll probably feed you a brownie that she made out of a box by just adding water.
Such was my life during those winters: baking out of boxes while it stormed outside, teaching the fine art of knuckle dragging and playing on the slopes between lessons, getting tipped in denominations other than dollar bills, struggling for real, but never actually feeling the struggle.
Suffice it to say, while those Jäger-fueled days are some of my fondest memories, and while I still love snowboarding, cheese, crackers, and toquitos, I baketh out of boxes no more…but I still bake during snow storms, which brings me to my next point…
It goes without saying that baking is one of my all-time favorite snowy day activities.
Coupled with a steamy hot toddy?
I can't think of anything better than hulled up during a snow storm, baking at 350 while sipping on booze tea.
Okay, I can think of one thing that's better…a kitten sneezing 12 times in a row while wrapped in a fleece blanket. But that's about the only close second I can think of.
I made these grain-free muffins with Bob's Red Mill's Blanched Almond Flour and Tapioca Flour, yielding a super light and fluffy muffin that you'd never realize is packed with protein and is 200% great for your bod.
As I was saying, I'm a big fan of the almond flour and tapioca flour combination, as I find it yields amazing soft, airy results.
As the story goes, a little baking soda action gives the muffin some rise and crisp around the outside, the honey, cinnamon, and apple some natural sweetness, so that before you know it, you're eating a muffin you'd never know was gluten-free grain-free, and paleo-friendly.
Per usual, I didn't make these muffins super sweet, so that you can slather them in butter and honey upon serving, or leave them to their subtle sweetness.
As strange as it may sound, I envision serving these muffins with a huge bowl of steamy beany turkey chili, like you would cornbread.
I mean, doesn't that just sound like a kitten sneezing 17 times in a row while wrapped in a fleece blanket? I think so!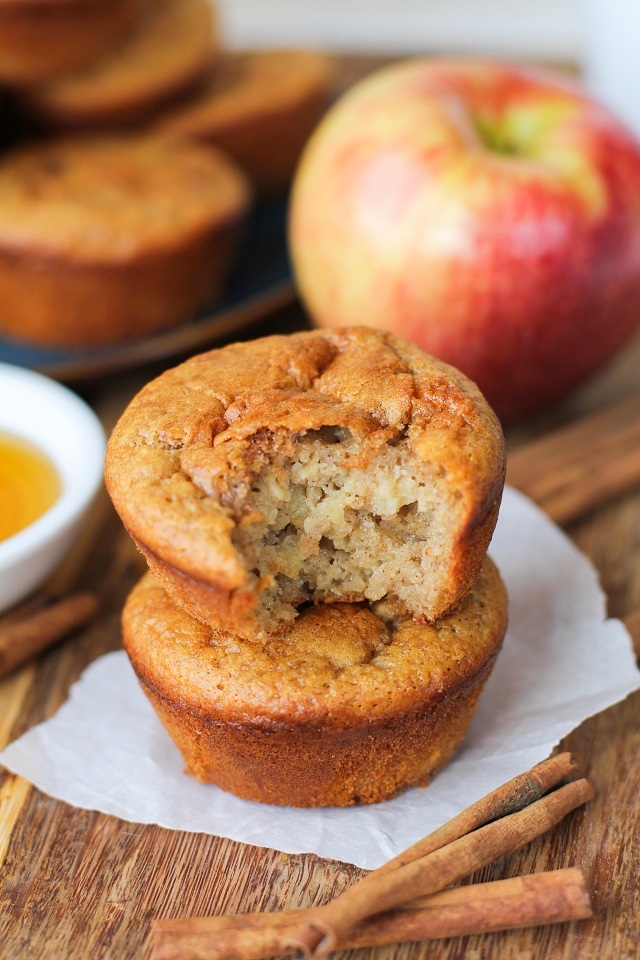 Also try my Low-Carb Lemon Poppy Seed Muffins or my Avocado Chocolate Muffins.
Bake it off!
My cookbook,
Paleo Power Bowls
, is now available! CLICK HERE to check it out. Thank you for your support!
If you make this recipe, please feel free to share a photo and tag @The.Roasted.Root on Instagram!
Grain-Free Apple Cinnamon Muffins (Paleo)
Grain-Free Apple Cinnamon Muffins made with almond flour and tapioca flour are a warm, cozy muffin recipe!
Instructions
Preheat the oven to 350 degrees F and lightly oil a 12-hole muffin tray.

Stir together the almond flour, tapioca flour, cinnamon, baking soda, and sea salt in a mixing bowl (dry ingredients).

In a separate bowl, whisk together the eggs, coconut milk, coconut oil, honey, vanilla extract, and lemon juice until well combined. Stir in the shredded apple (wet ingredients).

Pour the wet ingredients into the bowl with the dry ingredients and stir well until combined.

Fill muffin holes with batter - the muffins won't rise very much, so you can fill the holes almost to the top, leaving a small amount of space for muffin growth.

Bake on the center rack of the preheated oven for 25 to 28 minutes.

Remove from oven and allow muffins to cool at least 20 minutes before running a knife along the edges of the muffins to release them from the tray. Serve with butter and honey!
Notes
*or grapeseed, avocado, or olive oil
Nutrition
Serving:
1
Muffin
|
Calories:
178
kcal
|
Carbohydrates:
18
g
|
Protein:
4
g
|
Fat:
11
g
|
Sugar:
9
g