This grain-free, refined sugar-free paleo coffee cake is a healthier alternative to classic coffee cake. PLUS it is great for breakfast or brunch.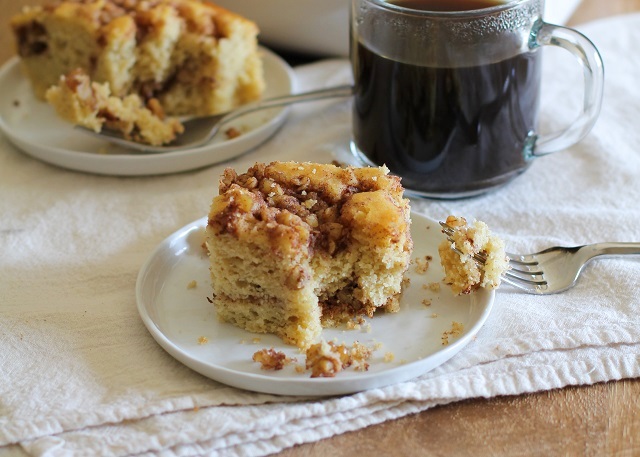 Fluffy, nutty, sweet, cinnamon-y coffee cake. Le sigh…nothing compares (<- sang like Sinead O'Connor).
One of my recent freelance projects was a tutorial on how to make classic coffee cake. So buttery, sugary, and gluten-y. Delicious, right?
It's my favorite breakfast treat next to the cheese danish. Given my undying love for the treat, I decided to whip up this Paleo Coffee Cake for the same great taste, a little less guilt.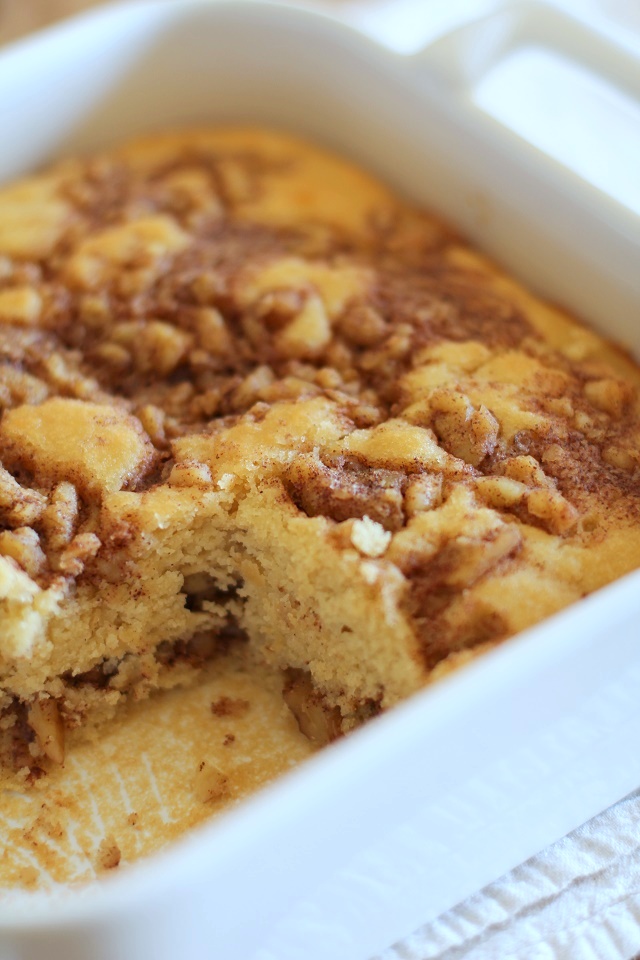 As soon as the classic version left the house, I put my thing down, flipped it and reversed it and made a healthier grain-free, refined sugar-free coffee cake. And.oh.my.lanta. where has this been all my life?!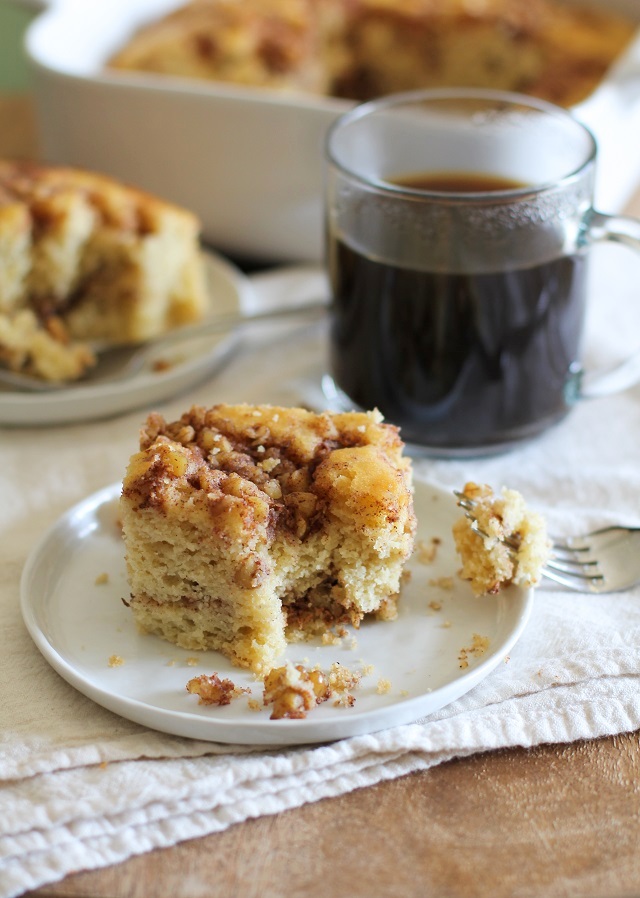 What Does This Coffee Cake Taste Like?:
Is it just like regular coffee cake? Nay. But it's pretty close! It turns out surprisingly fluffy for being gluten-free, with the nicest nutty cinnamon crunch. I've been heating up big hunks for breakfast and drizzling full-fat coconut milk on top to get my sog on.
Ingredients for Grain-Free Coffee Cake:
The nutty topping involves nothing more than walnuts, maple syrup, cinnamon, butter and smidge of coconut flour. The base of the cake is made with coconut flour and arrowroot flour (<- very similar to tapioca flour, which I told you about in my Paleo Raspberry Crumble post).
Arrowroot flour may sound like one of those foreign ingredients only used in the the upside down, but it's actually very commonly used in grain-free baking. In fact, it is an incredible resource for making baked goods airy and fluffy.
Arrowroot flour comes from the arrowroot plant, and can often be used interchangeably with tapioca flour. If you don't have arrowroot or tapioca flour on-hand, you can replace it with almond flour, but the cake won't turn out quite as fluffy.
The recipe listed in this post doesn't turn out super sweet (just the way I like my baked goods), but you can double up on the maple syrup or simply serve the coffee cake with maple syrup or honey.
More Healthy Coffee Cake Recipes:
Coffee cake, reloaded.
My cookbook,
Paleo Power Bowls
, is now available! CLICK HERE to check it out. Thank you for your support!
If you make this recipe, please feel free to share a photo and tag @TheRoastedRoot on Instagram!
Paleo Coffee Cake
Servings:
1
(8" x 8") coffee cake
Instructions
Prepare the walnut topping:
Combine all of the ingredients for the walnut topping in a small bowl. Stir well to combine and set aside.
Prepare the cake:
Preheat the oven to 350 degrees F and lightly butter or oil a 8" x 8" baking dish.

In a mixing bowl, stir together the coconut flour, arrowroot flour, baking powder, and salt.

In a separate bowl, whisk together the eggs, maple syrup, coconut milk, and butter. Pour this wet mixture into the bowl with the flour mixture and mix until smooth. Note: The batter will be thick.

Pour half of the cake batter into the prepared baking dish and spread evenly with a rubber spatula. Spread half of the walnut topping over the batter. Repeat for the remaining cake batter and walnut topping.

Bake on the center rack for 28 to 35 minutes or until cake tests clean when poked in the center (Note: mine took 32 minutes).

Allow cake to sit 20 minutes before cutting large chunks and serving.
Notes
*You can also use tapioca flour or almond flour
**Use up to 2/3 cup pure maple syrup for a sweeter cake
Nutrition