Grain-Free Almond Butter Banana Bread made with almond butter, almond flour, and sweetened with pure maple syrup. A moist, protein-packed healthy quick bread recipe.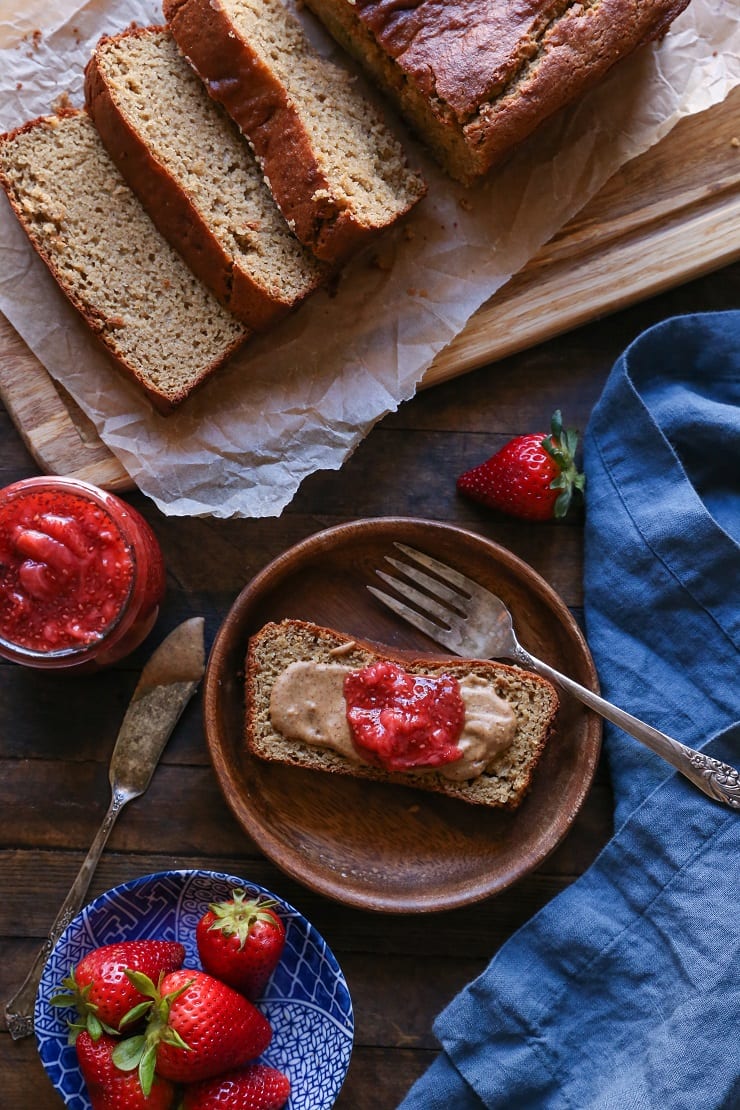 Do you ever sit on your haunches in a reflective meditative moment and think to yourself, "Wow. There are a lot of banana bread recipes in the world?"
Kinda like when you're watching Cosmos on Netflix and Neil Tyson Degrasse bombards you with perspective on just how phenomenally, inconceivably, unbearably large the universe is, and your brain basically powers off and you go eat ice cream, because that's how you deal with uncomfortable subject matter?
Honestly, I try not to broach the banana bread recipe subject within my own head space, because I'm easily overwhelmed by options (large restaurant menus elicit some serious anxiety in this human, and let's not even talk about paint sample cards…it's just TOO MUCH to handle).
Ergo, I charge forth and bury the concept down deep, because that's how I deal with things that are beyond my control. It seems to work out just fine…par example: this almond butter banana bread loaf. Booyah! <- and I don't use that term lightly.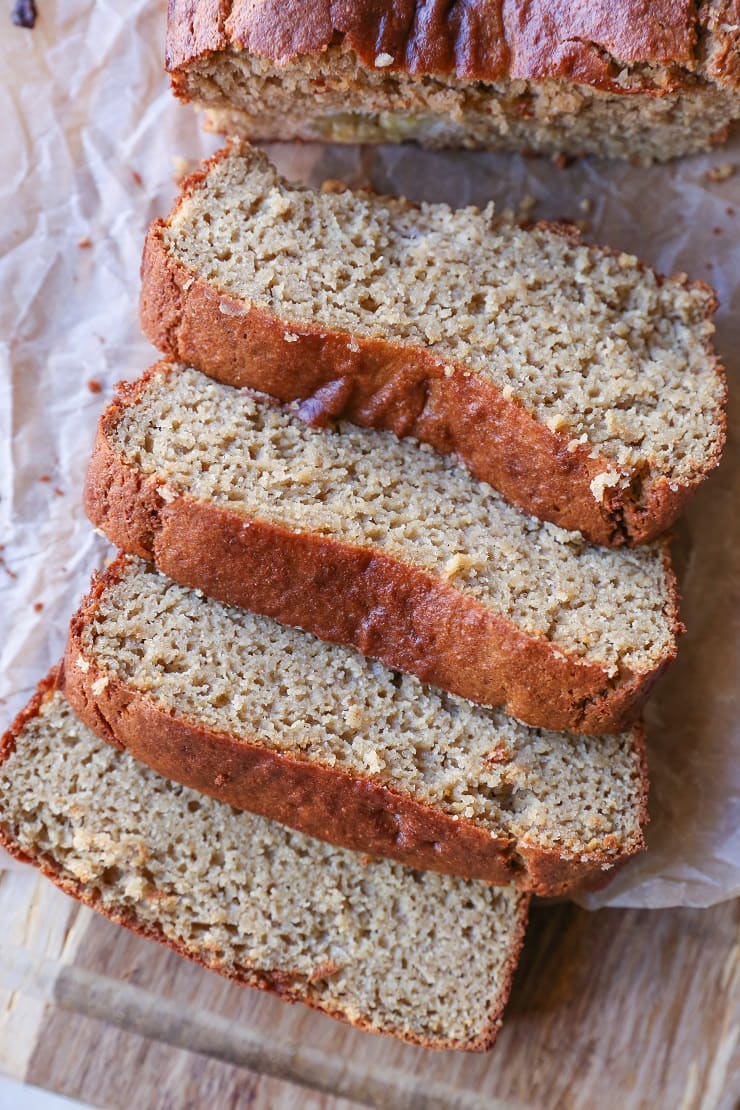 I've been making a lot of quick bread recipes lately on account of Mother Nature's neurotic behavior.
We had an amazing record-breaking winter (hazaaaaaah! <-and I don't use that term lightly), but I'm ready to trade in the Spring clouds and wind for some warmth, stillness, and big, bold colors.
Sometimes a person's gotta latch on to something familiar in order to weather the Springtime blues, you know?
You know.
So here's a little taste of that…a little belly warmer, something familiar yet different enough to keep our interest piqued… nourishment in the form of a thick slice of spirit-lifting almond butter banana bread.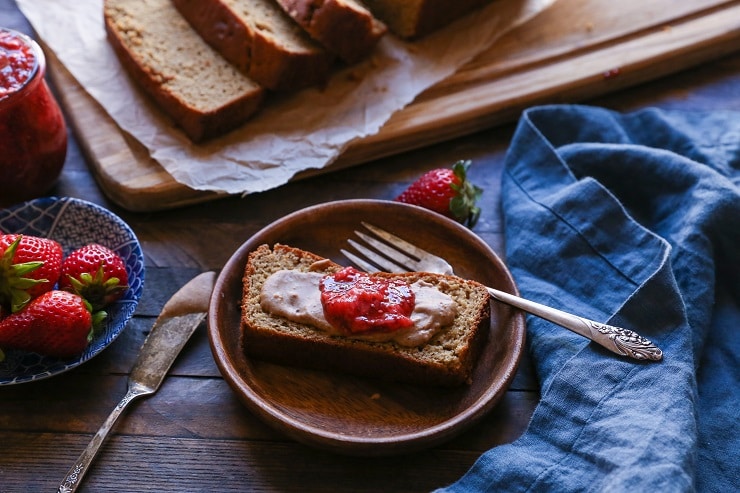 The Paleo Banana Bread recipe I posted a few years ago is still one of the most visited pages on my site, which I used as inspiration to make this almond butter version.
True to my baking philosophy, the batter is made using unprocessed ingredients, whizzed up in a blender, and baked to sweet, moist perfection.
If you're looking for a coconut flour version, check out my Coconut Flour Banana Bread.
You can use any nut butter you'd like for this bread (I've done the peanut butters and it's wuuuunderbaaaar!), add chocolate chips and/or chopped nuts.
Heck, you can even add blueberries.
This is your loaf, your life…you're in control, my friends. I enjoyed thick slices of the bread with a smear of peanut butter or almond butter plus some Strawberry Chia Seed Jam.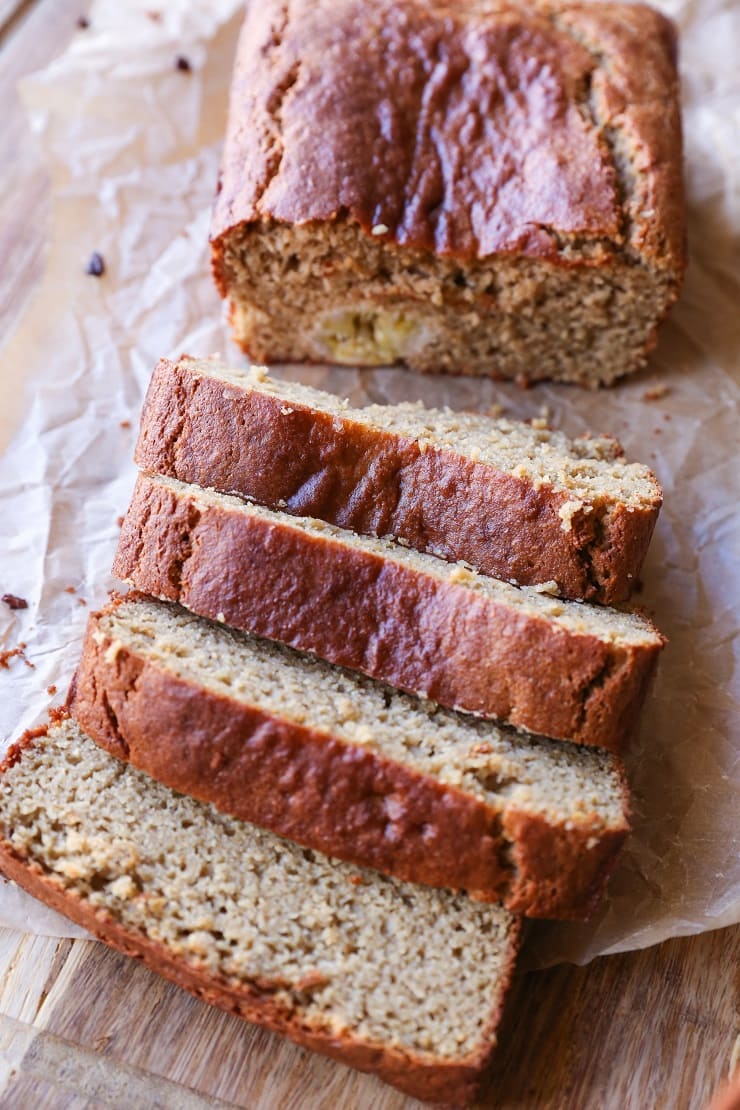 Also try my Paleo Morning Glory Quick Bread for a delicious treat!
In a universe of infinite banana breads…
There can be only one <- name that movie.
Almond Butter Banana Bread (Paleo)
Almond butter paleo banana bread is moist, flavorful, and loaded with banana goodness!
Instructions
Preheat the oven to 350 degrees F and lightly oil or spray a 9" x 5" loaf pan. Note: you can also line the loaf pan with parchment paper.

Add all of the ingredients to a blender and blend until completely smooth. Transfer the batter to the prepared loaf pan and smooth into an even layer. Bake on the center rack of the preheated oven for 35 to 45 minutes, until the center has set up. Turn off the heat of the oven, and allow the loaf to sit in the hot oven for 5 minutes more.

Remove banana bread from the oven and allow it to cool at least 1 hour before releasing it from the bread pan. To do so, run a knife between the loaf and the bread pan and use a spatula to help detach the bottom of the loaf from the pan. Turn the loaf out onto a cutting board. Cut into thick slices and serve with a smear of butter, almond butter, and/or jam.
Notes
*I used a no-stir almond butter. If your almond butter is oily, be sure to stir it well before adding. You can also use peanut butter or cashew butter!
Nutrition
Serving:
1
Slice
|
Calories:
238
kcal
|
Carbohydrates:
22
g
|
Protein:
10
g
|
Fat:
13
g
|
Fiber:
3
g
|
Sugar:
12
g