6-ingredient chicken fajitas made in just 30 minutes! This simple recipe can be thrown together on any busy weeknight.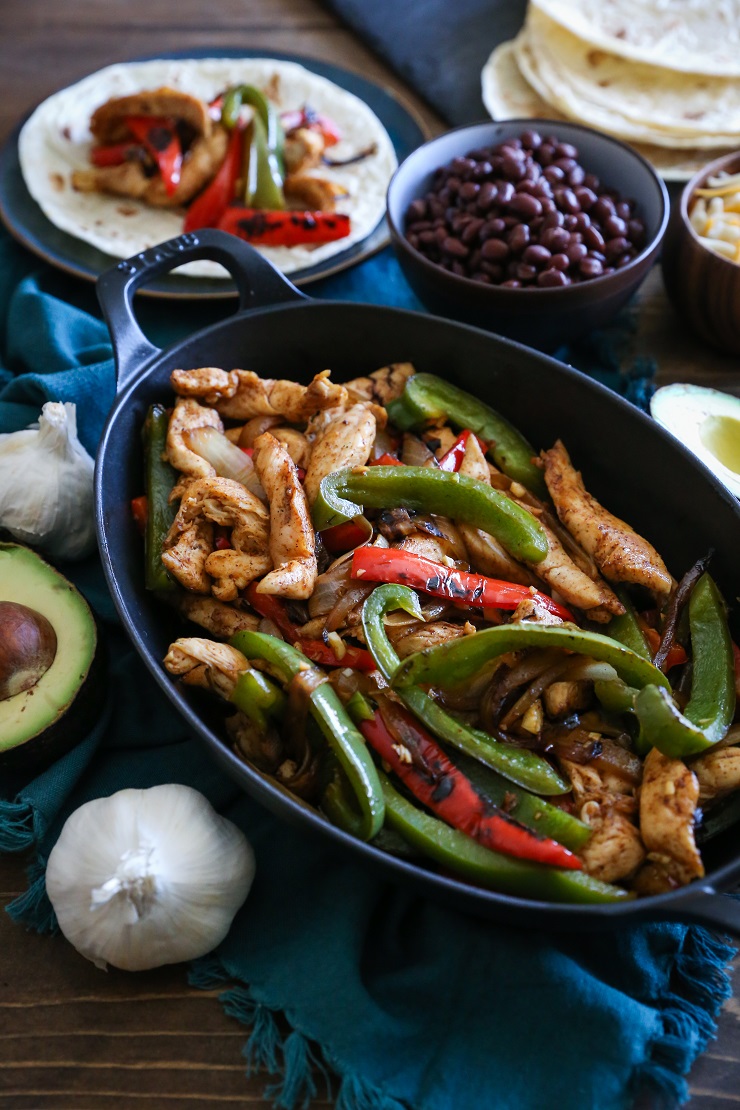 Given my extensive history with fajitas, I'm fairly shocked I haven't posted a recipe until now. My mom made fajitas regularly when I was growing up, and guess what I order almost every time I go out for Mexican food?
You got it…fajitas.
Or, as the man likes to pronounce it, fuh-jeye-tuhs. <- Does it make your skin crawl? Just a little?
But as they say: better late than never. And the recipe I present to you today is probably the easiest stab at fajitas you'll ever take.
How to Make Chicken Fajitas:
1.) Slice up the chicken and toss it in a mixing bowl with olive oil, chili powder, and sea salt so that it can marinate for literally a few minutes.
2.) Chop the onion and bell peppers while you're heating your cast iron skillet(s).
3.) Sauté the veggies on high heat for 8 to 10-ish minutes whilst cooking the chicken in a separate skillet for 6 to 8 ish minutes.
4.) Combine chicken and pepper forces, serve and enjoy.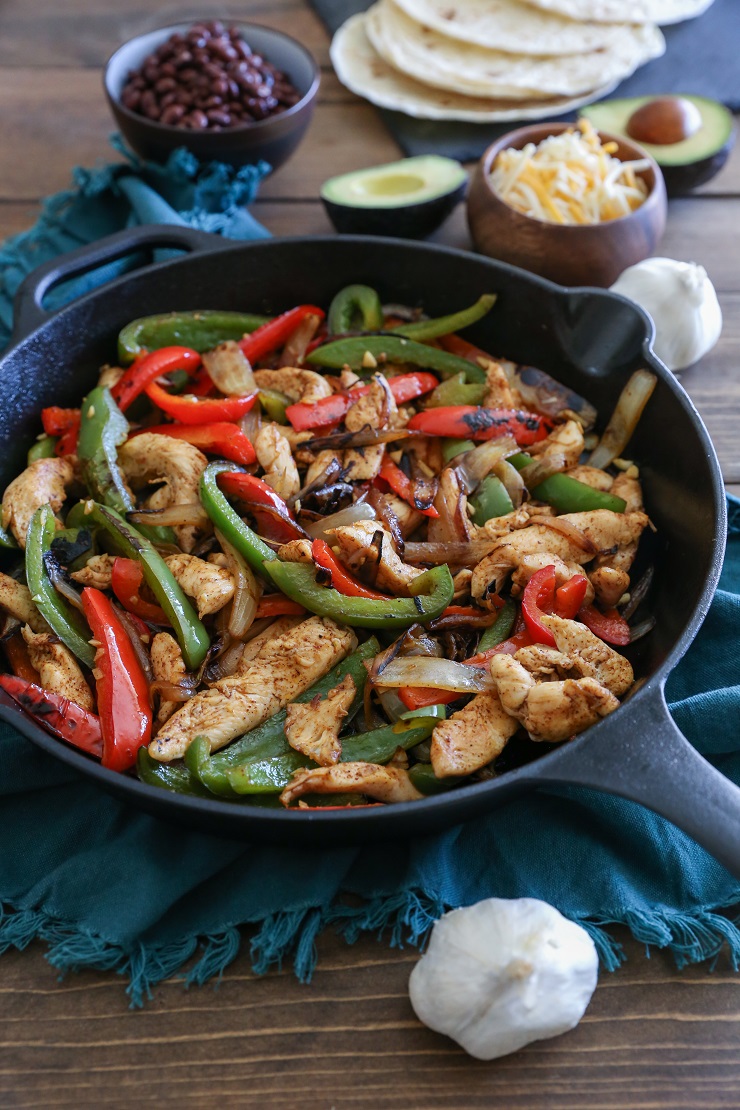 Speaking of step three…would you disown me if I told you I use two skillets to prepare the fajitas?
I know we're all about the one-pot meal these days, but I happen to be fiercely frightened of over-cooked chicken and/or under-cooked veggies.
I pride myself on not being a super particular human, but when it comes to meat preparation, the Type A personality comes out.
You can still prepare the fajitas in one skillet by cooking the veggies first and then the chicken (separately…but using the same skillet), or by adding the chicken to the skillet with the peppers after they have been sautéing for a while. No matter your approach, the fajitas will come together super quickly.
Prefer steak or shrimp over chicken? Do it.
If you don't own a cast iron skillet, no tragedies will occur during the making of this meal, but if you do own a cast iron skillet, I recommend using it. It does a marvelous fajita make. That sizzle? There's just nothing like it.
Back to our story.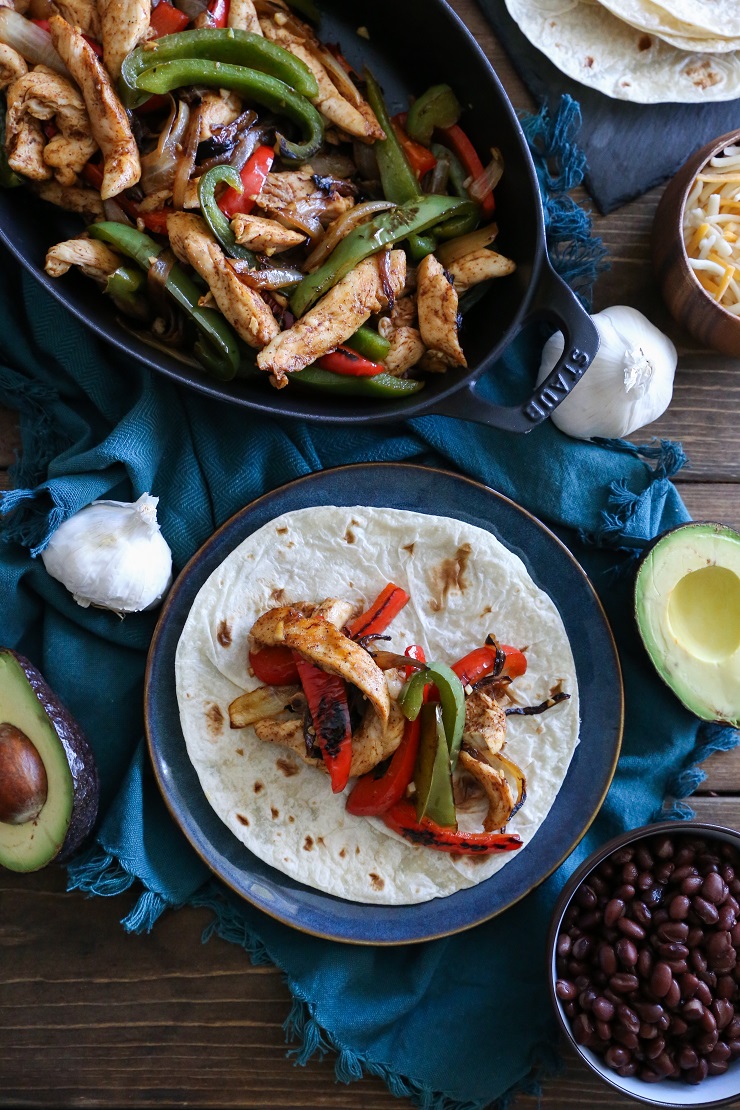 And the best part? Plating them!
What's your fajita topping theory?
Because fajitas have so much flavor on their own, I don't think they need a ginormous amount of doctoring.
I go tortilla + chicken fajita + avocado (or guacamole).
Maybe a dollop of sour cream and/or shredded cheese if I'm feeling frisky. You can do refried beans, you can do some sort of cabbage slaw, you can top with a fancy chipotle sauce. You can be the star in your own little show (<- Joe Nichols reference, anyone? You're so very welcome.)
You know what else I do? I make fajita bowls with brown rice and toppings. BOOM tortilla-free.
Recipe Adaptations:
To make this recipe paleo (or Whole30), use ghee, grapeseed, algae, or coconut oil to cook the fajitas.
You can serve the fajitas over quinoa, or if you're like me and you're of the school of thought that rice is an acceptable food, you can go the rice bowl route.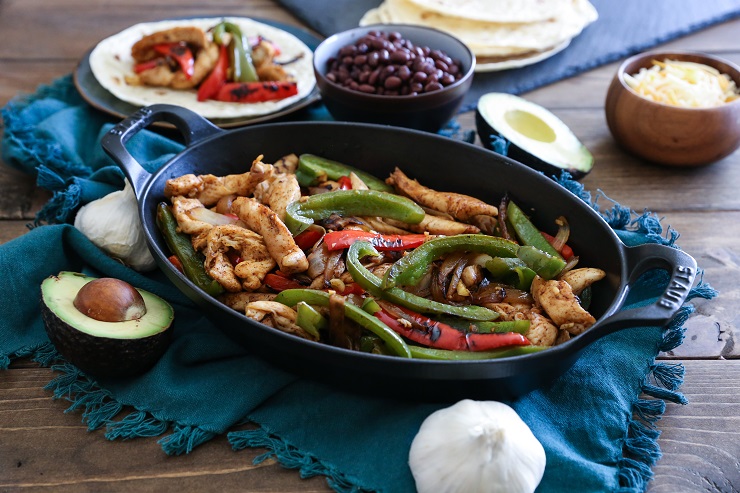 Also try my Sheet Pan Chicken Fajitas or my 30-Minute Easy Steak Fajitas.
How do you like your fajitas?
30-Minute Chicken Fajitas
Quick and easy chicken fajitas for any night of the week!
Ingredients
1/4

cup

avocado oil*

1

pound

boneless skinless chicken breasts

cut into strips

2

teaspoons

chili powder

1/2

teaspoon

sea salt

1

medium yellow onion

sliced

1

green bell pepper

cored and cut into matchsticks

3

large cloves garlic

minced

1

red bell pepper

cored and cut into matchsticks
FOR SERVING
Cooked rice or quinoa

6 to 8

Tortillas of choice

2

large avocados

sliced

1

14-ounce can black beans, drained and rinsed

2

limes

cut into wedges
Instructions
Place the raw chicken in a mixing bowl along with 2 tablespoons of olive oil and the chili powder and sea salt. Use your hands to mix everything together so that the chicken is well-coated.

Heat the remaining 2 tablespoons of oil in a large cast iron skillet over high heat. While the skillet is heating, chop the onion, peppers, and garlic.

Add the sliced onion to the skillet and cook, stirring occasionally, until the sides begin to brown, about 2 to 3 minutes. Add the peppers and saute, stirring occasionally until peppers reach desired doneness, about 6 to 8 minutes. Add the garlic and continue cooking until fragrant, about 1 to 2 minutes.

While the peppers are cooking, heat a separate skillet over medium and add the chicken. Cook, untouched for 2 minutes. Flip the strips of chicken and continue cooking, flipping every 2 minutes or so, until chicken is completely cooked through, about 6 to 8 minutes total.

Once both the peppers and chicken are cooked, combine the two in one skillet. Serve chicken fajitas as desired - in tortillas with avocado, or over a bed of rice and beans.
Notes
*You can also use olive oil or grapeseed oil.
Nutrition
Serving:
1
Serving
|
Calories:
396
kcal
|
Carbohydrates:
30
g
|
Protein:
30
g
|
Fat:
17
g
|
Fiber:
9
g