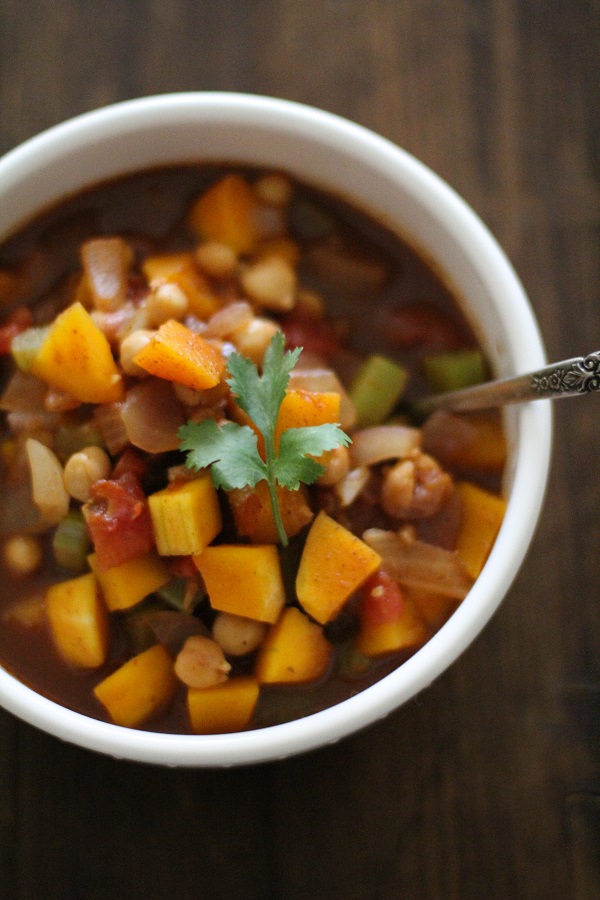 We've got some whistling wind all up in the pine trees and that means a food thing or two. Cheeeelaaaaaay! Woop woop!
Insert eye roll.
Have you seen the crazy rigamarole repertoire ensemble ramalamadingdong of Soups, Stews, and Chilies I've collected here at home town, The Roasted Root? Translation: I have soup recipes on my blog. Have you seen them?
Are you wearing a scarf? Good!
Alright. I have a very specific need for chili. It hums soothing songs to my heart while the wind a-whistles. Let's talk about chili while you teach me how to dougie. There has been Roasted Pepper Elk Chili, Southwestern Vegetarian Chili, Barbecue Pulled Chicken Chili, and Red Wine Turkey Sausage Chili .
Okay, now I'm just throwing myself a prop party.
This chili recipe's a vegetarian'un. And it's marvelous! It has the butternut squash – – – > have you met the butternut yet this season – – – > mmmmhmmmmm! It includes cinnamon (not just for use in oatmeal-raisin cookies!) to make it a sight for sore eyes in a crowded room. And, of course, the chickpea. Which is a word I never say out loud in real life. It only gets written in my blog. For prop reasons. The word I use is garbanzo bean. You say chickpea, I say garbanzo bean. We all go home full.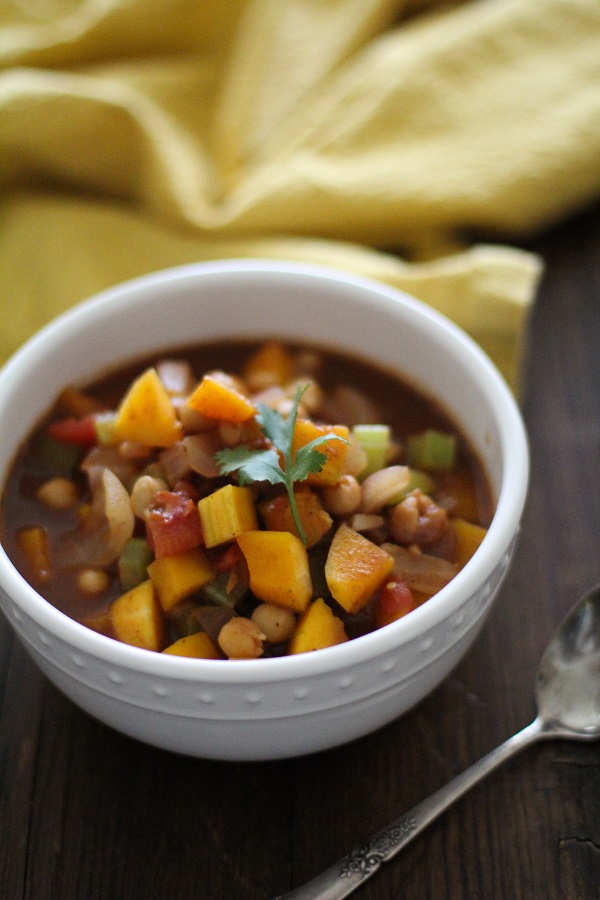 In other news, this girl's on an aeroplane on her way to Coloradee. Heeeell Yamaha! I'm headed to visit my long-time friend for a little stay-kay in the brilliant town of Denver. Food bloggers? Food bloggers? Hit me up, soul sisters, I know you're there! Let's chill and have some cheeelaaaay!
Butternut Squash and Chickpea Chili. Who'm I kidding, that was for SEO purposes only. Word. ee'eery body dougie!
This recipe was adapted from Cooking Light's Chickpea Chili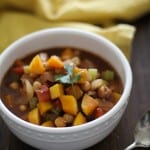 Butternut Squash and Chickpea Chili
Print
Ingredients
2

tablespoons

olive oil

1

yellow onion

chopped

2

stalks celery

chopped

4

cups

chopped peeled butternut squash

1 small butternut squash

5

cloves

garlic

minced

1.5

tablespoons

chili powder

1 1/2

teaspoons

ground cumin

1

teaspoon

kosher salt

1/2

teaspoon

ground red pepper

1/4

teaspoon

ground cinnamon

1/4

teaspoon

ground turmeric

2

cups

low-sodium vegetable broth*

1 28-

ounce

can diced tomatoes

undrained

1 14-

ounce

can chickpeas

rinsed and drained, garbanzo beans
Instructions
In a large stock pot or dutch oven, add the oil, onion, celery, and butternut squash and heat to medium.

Sauté, stirring frequently, until veggies are softened and fragrant, about 12 to 15 minutes.

Add the garlic, salt, and spices and sauté another 2 minutes.

Add the chicken broth and diced tomatoes and bring chili to a full boil.

Reduce the heat to medium low, cover, and simmer 30 to 40 minutes, until vegetables are cooked all the way through.

Add the chickpeas and cook an additional 2 minutes.

Serve with your favorite chili toppings
Recipe Notes
*You can also use chicken broth