Creamy, zesty sour cream & onion dip made dairy-free, vegan, and paleo-friendly. This luscious dip (or dairy-free queso) is perfect for sharing with friends and family on game day!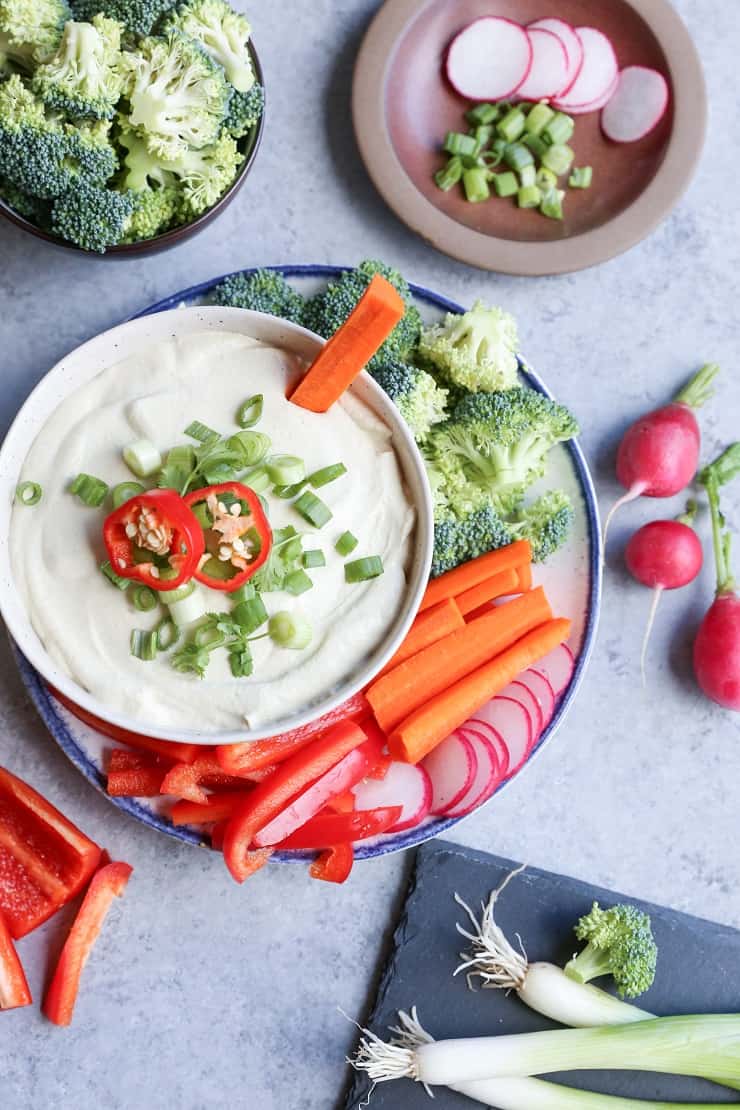 Every once in awhile, I make confessions about the foods I miss from way back before I started eating a restricted diet.
Fudgesicles, Dulce de Leche Ice Cream, and Chocolate Sauce are near the top of the list, along with Pad Thai, Mango Cashew Chicken, and Thai Chicken Pizza.
Thankfully with a little creativity, most of the foods I loved in my latter days can be replicated in a way my digestive system will accept. Enter: Sour Cream & Onion Dip.
We are adding another make-it-paleo (or essentially make-it-real, or make-it-whole-food, or make-it-healthy…however you want to look at it) recipe to the mix, because you guys: THE DIP. Do you love it?
Historically, anything white and thick (think mayonnaise, cream cheese, any type of gravy, alfredo sauce, etc.) is on my no fly list mainly because white thick substances give me the heebie jeebies (you just get your head out of the gutter); BUT, sour cream & onion dip somehow made it past the DO NOT ENTER sign, as I've always cherished the stuff.
My family always included store-bought sour cream & onion dip (think: the nastiest for you yet best tasting kind you can possibly imagine) at all of our family gatherings, so you can imagine where I was posted for the full duration of said events: a hover's distance away from the dip. My caravan of choice? Ruffles potato chips.
Can you say, "gut bomb?" I can!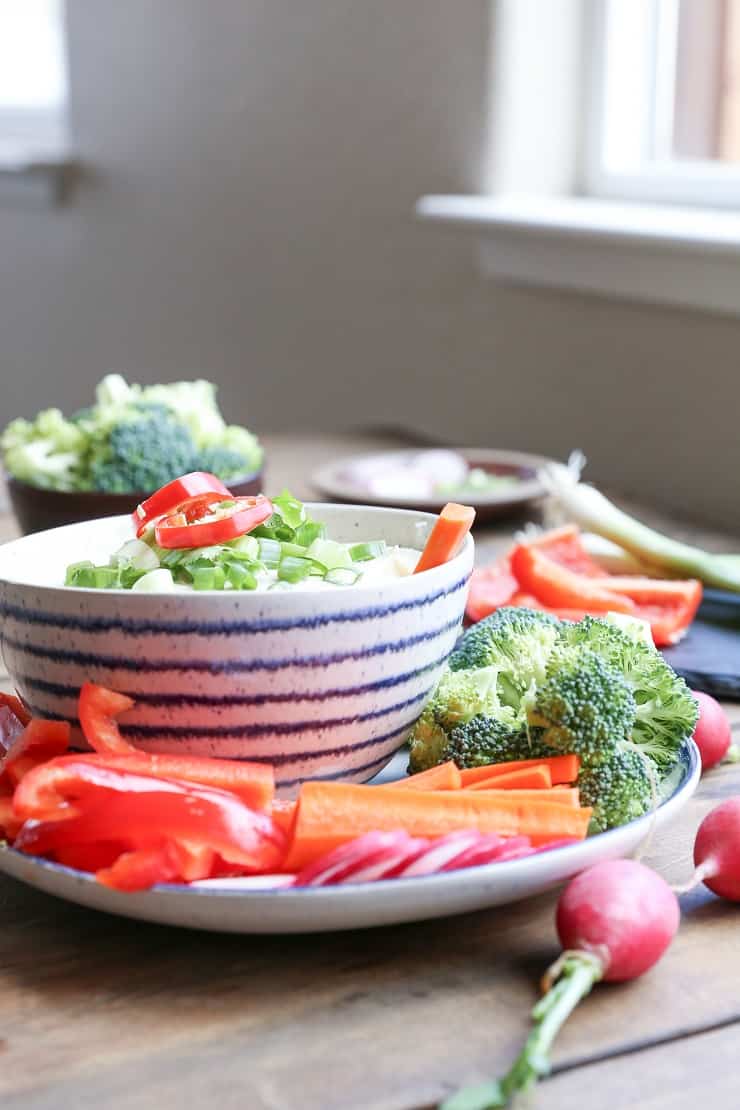 I arrived at a dairy-free no funny business version of the dip by pure happenstance, and you guys – it is my new gateway to all the cheesy McCheesealot cheeseless sauces. Our star ingredients? Cashews, cauliflower, and nutritional yeast.
Calling this a sour cream and onion dip is quite the stretch considering there's no actual sour cream involved, but this dip truly tastes like your classic sour cream and onion dip you'd whip up for game day or buy from the store when your boyfriend's out of town and there are no witnesses to stop you from dipping an entire bag of Ruffles into said sour cream and onion dip.
Case in point: this tastes like the real deal, yet it bears no resemblance to the dairy and preservative laden sinful dip o' sour cream and onion.
Wanna know how this whole thing shakes out?
How to Make Paleo Sour Cream & Onion Dip:
We soak raw cashews overnight to soften them up, steam up some cauliflower, then blend the two in a blender with some other mega secret (not so secret) ingredients.
Once silky-smooth, we end up with a dippable substance that's basically what I imagine it would be like to have 1,000 fairies give you butterfly kisses with their miniature eyelashes.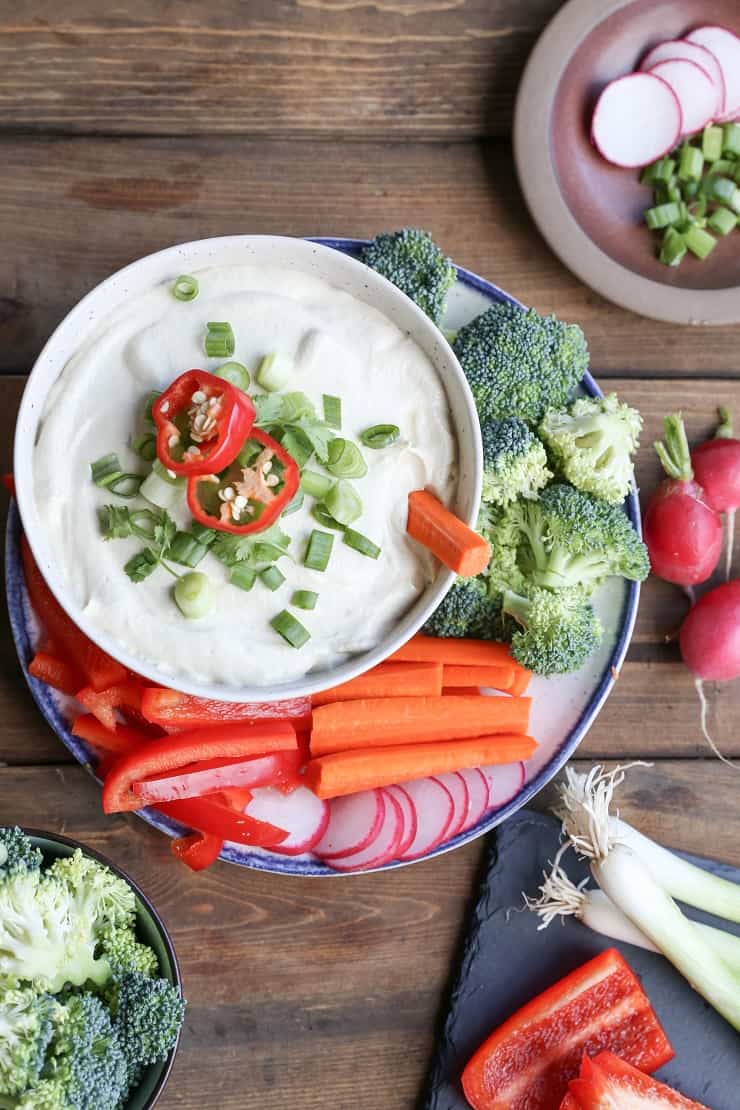 Enjoy while watching all the footballs!
Paleo Sour Cream & Onion Dip
Love sour cream and onion dip?! Now you can enjoy a whole food version that is dairy-free and made with all natural ingredients!
Ingredients
2

cups

raw cashews

soaked overnight

1

heaping cup cauliflower florets

steamed

1/3

cup

lemon juice

2/3 to 1

cup

unsweetened cashew milk

see note*

2

cloves

garlic

1

stalk green onion

3

tablespoons

nutritional yeast

1

teaspoon

ground cumin

1

teaspoon

sea salt
Instructions
Place the raw cashews in a bowl and cover them with 2 inches of water. Leave on the counter to soak overnight. Strain and pat dry.

Steam the cauliflower for 5 to 8 minutes, until tender when poked with a fork.

Add all ingredients for the dip to a blender or food processor. Start with 3/4 cup cashew milk and use up to 1 cup if necessary. Note: adjusting the amount of nut milk determines the thickness of the queso. For a very thick queso, use ½ cup nut milk.

Blend until completely smooth and no clumps are visible.

Taste dip for flavor add additional green onion and/or sea salt to taste.
Notes
*Adjust amount of cashew milk based on desired consistency of dip. For thinner dip, use 1 cup of cashew milk. Substitute unsweetened almond milk for cashew milk.
Nutrition
Serving:
1
Serving
|
Calories:
168
kcal
|
Carbohydrates:
11
g
|
Protein:
5
g
|
Fat:
12
g
|
Fiber:
1
g
|
Sugar:
2
g