This week's Paleo Meal Plan is a special Whole30 edition – tailored for those doing a January Whole30. Whether or not you're doing a whole30, you'll find delicious, easy-to-prepare healthy dinner recipes that are perfect for meal prep right here. Remember to print out the grocery list to grab everything you need in one go!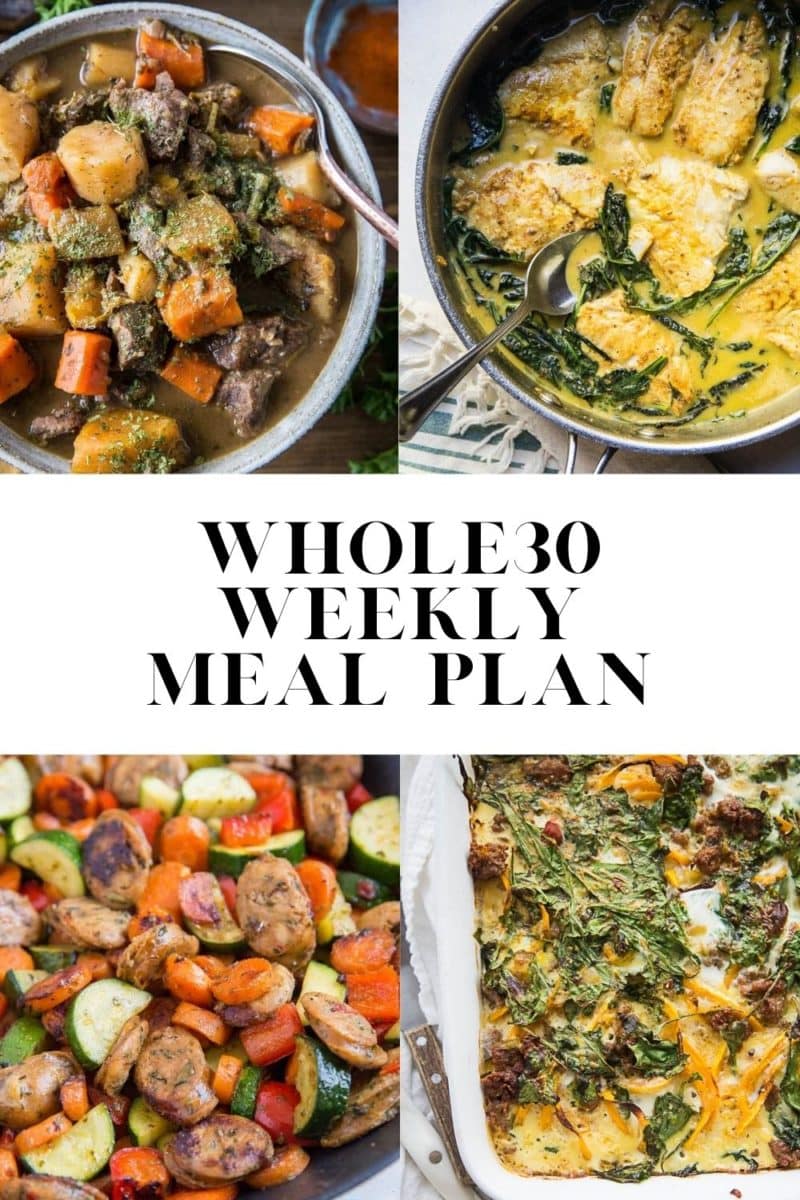 Happy first meal plan of 2021!
Are you doing a January Whole30?
Just trying to clean up shop a bit by eating more mindfully?
Or proceeding as normal, business as usual with your balanced lifestyle?
In the past, I found elimination diets like Whole30 or Keto to be massively helpful in getting my blood sugar under control after holidays or any stints of eating sugar and drinking alcohol in excess. For me, the purpose of eliminating processed foods (particularly sugar) was to get my hunger cues under control and regain my energy.
This to say, if you're doing any form of elimination diet for a specific goal this year, good on you! Stand your ground, don't feel like you need to justify your decision to anyone, and stay true to your own self.
Diet culture has been given a bad rap over the last few years, some of it warranted, some of it overblown.
My food philosophy is to eat what works best for your personal optimal health, and if that means you tolerate sugar like a champ, why change it? However, what is more common is most of us could use a little self-control from time to time for a certain period of time just to get our minds and bodies back into alignment with one another.
Truth be told, I haven't done a Whole30 (or any type of elimination/cleanse diet) in years. I have a history of having a weird relationship with food and have come to realize that living without labels is what serves me the best. Sure, I eat a pretty clean diet, but I found I get myself in trouble when I give myself rules.
Natalie and I are here to provide Whole30-centric meal plans this month for those of you who are doing a January Whole30, or simply for those of you who like to meal prep nourishing meals! We will resume our regular Paleo meal plans (which are very similar to Whole30 😉 in February.
Remember, Whole30 and Paleo are similar but non synonymous. Whole30 cuts out all sweeteners and anything dessert-like in nature. We do include a healthy paleo dessert recipe in this post for those who aren't doing a Whole30. For those of you who are, look at it as something to look forward to for when you finish your 30 days!
So without further adieu, here is this week's Whole30 Meal Plan – a fabulous way to ring in the New Year!
Sunday:
Butternut Squash Breakfast Bake – This tasty breakfast bake start off with spiralized butternut squash and is packed with flavor — sausage, southwest spices, and some salsa verde.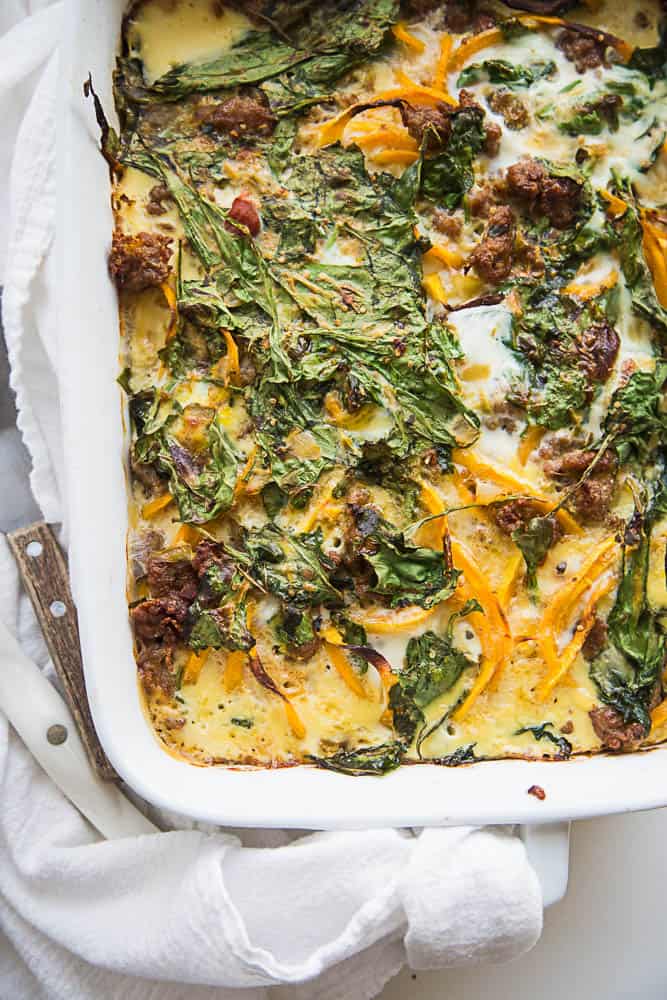 Special Diet: Paleo as-is. Watch sausage ingredients to make it Whole30 friendly. If you have trouble finding Whole30 compliant breakfast sausage, try making your own! Homemade Chicken Breakfast Sausage
Prep Ahead: Buy pre-spiralized butternut squash to save time. Can be assembled the day before and baked the next day. (It's a great make-ahead breakfast for the rest of the week, too!)
Substitutions: Substitute sweet potatoes for butternut squash if you like. You can also use a different type of salsa — just make sure it's blended and a thinner consistency like salsa verde. If you have trouble finding Whole30 compliant breakfast sausage, try making your own! Homemade Chicken Breakfast Sausage
Monday:
Instant Pot Beef Stew – Hearty beef stew made in the pressure cooker with carrots, parsnips, and butternut squash. This potato-free stew recipe is filling, nutritious, paleo, whole30 and AIP-friendly.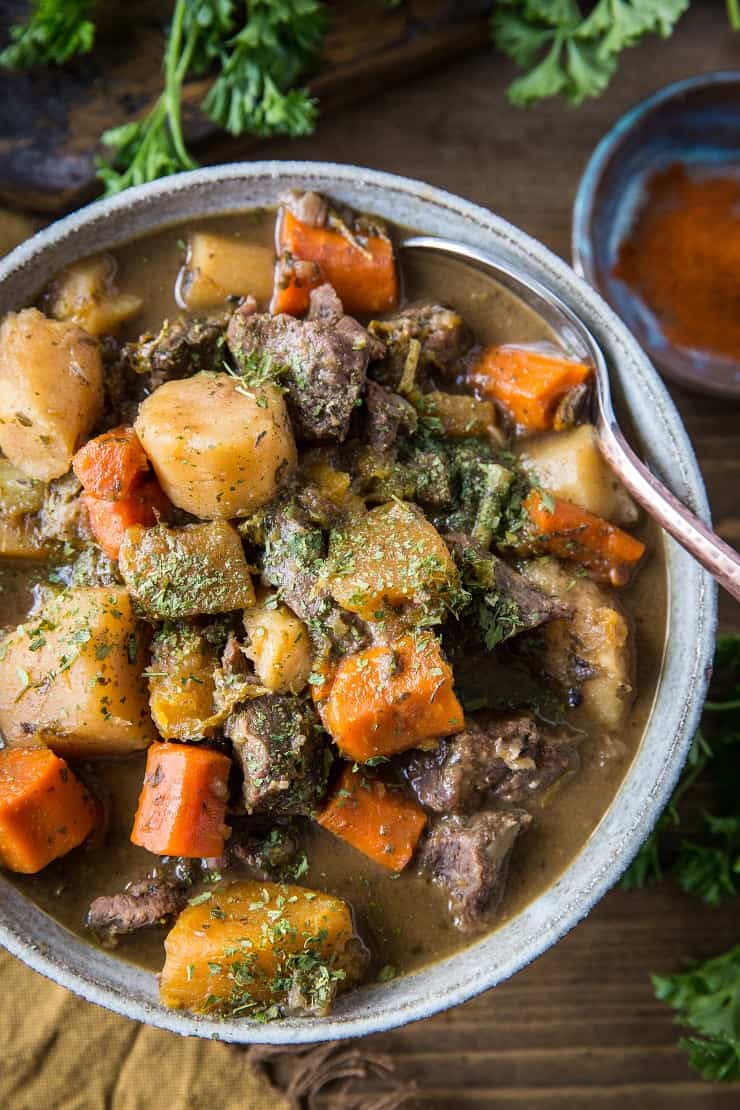 Special Diet: This recipe is AIP, whole30, and paleo
Prep Ahead: No advance prep is necessary!
Substitutions: To make recipe low-carb, you can use fewer carrots and parsnips and/or replace them with cauliflower.
Tuesday:
Creamy Mushroom Soup with Bacon – For years, Natalie called this soup "Creamy Bacon Soup" when she served it to her kids and they happily gobbled it up and asked for seconds and thirds. It wasn't a total deception — there IS bacon involved….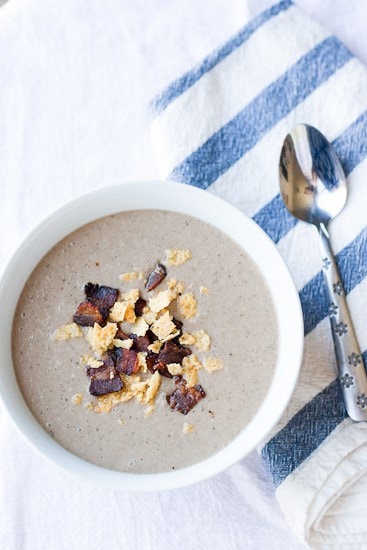 Special Diet: This recipe is paleo as-is and Whole30 friendly without the cheese crisps.
Prep Ahead: The bacon can be cooked and the vegetables roasted ahead of time.
Substitutions: Use another 8 oz of mushrooms (baby bellas or some other flavor to add variety) in place of the dried mushrooms if you like. Roast them alongside the others.
Wednesday:
Sesame Ginger Cashew Chicken – Sesame ginger cashew chicken with broccoli is a marvelously flavorful dinner recipe that takes no more than 40 minutes to make from start-to-finish! Enjoy it with your favorite side dishes for a nourishing, well-balanced meal.
Special Diet: Recipe is whole30 and paleo
Prep Ahead: Recipe comes together quickly – no advance prep needed
Substitutions: Omit the garlic to make the recipe Low-FODMAP. To make recipe AIP, omit the cashews and sesame seeds and replace the sesame oil with avocado oil. Make is Keto by swapping soy sauce or liquid aminos for the coconut aminos
Thursday:
Quick Thai Coconut Fish Curry – Packed with aromatic Thai flavors, and the leftovers are actually better! Weird, right? I think curries and chilis and recipes that are heavily seasoned tend to be that way. Maybe that's why they're so great as meal prep recipes?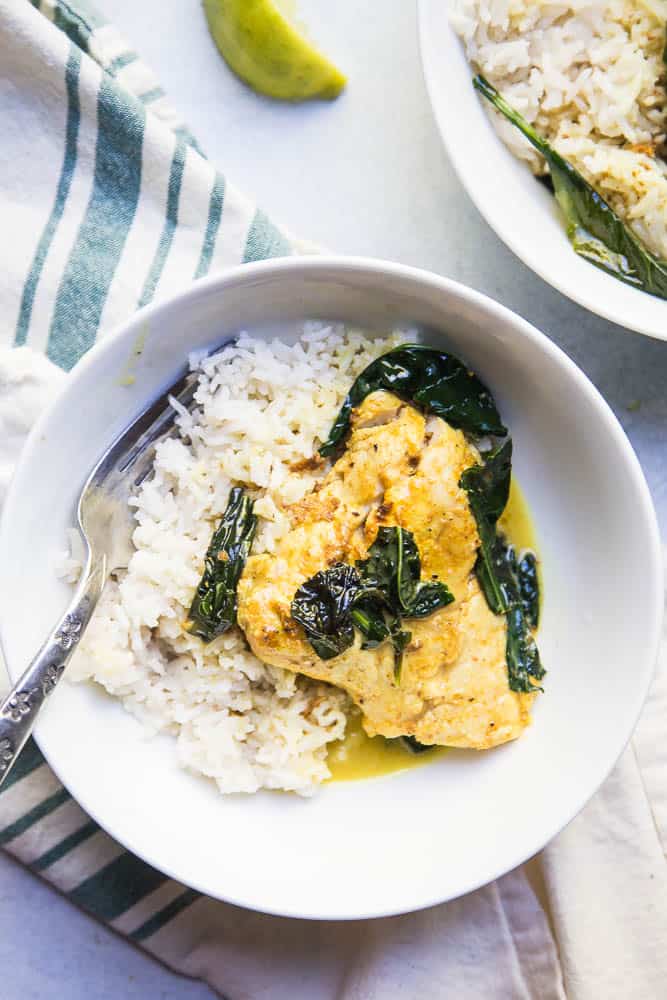 Special Diet: Watch the ingredients on the fish sauce and hot sauce for non-Whole30 ingredients. The Thai spice blend is Whole30 friendly, but if you'd rather use Thai curry paste, Thai Kitchen brand is compliant.
Prep Ahead: No need to prep ahead — it comes together really quickly! Although, if you're wanting to use the Thai spice blend, throw that together beforehand to save you a few minutes.
Substitutions: Serve with cauliflower rice instead of coconut rice to make it Whole30 friendly.
Friday:
20-Minute Sausage and Vegetable Skillet – Your ticket to a super easy and nutritious dinner! Choose your sausage and vegetables based on your preference to change it up and keep it fresh!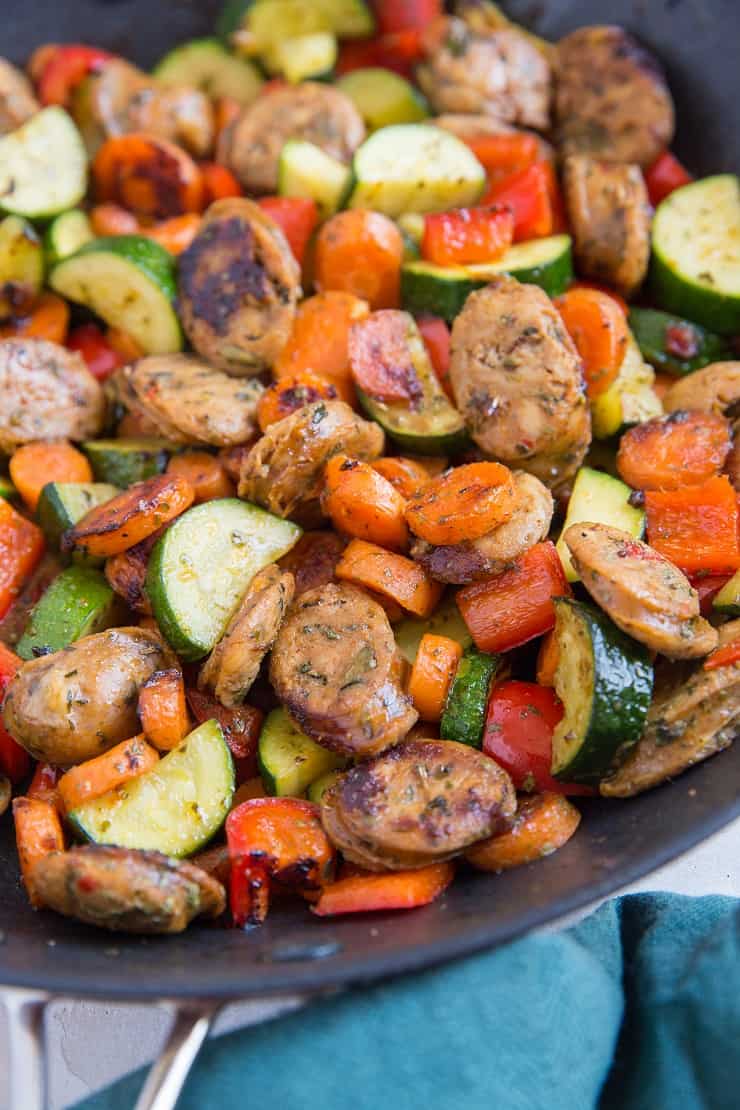 Special Diet: Recipe is whole30, paleo, and keto
Prep Ahead: This recipe comes together quickly, and no advance prep is needed!
Substitutions: Read the label to be sure there's no sugar in the sausage
Dessert:
Paleo Protein Brownie Bites – A cute, portable protein-filled snack that tastes like brownie batter. Pretty perfect, right?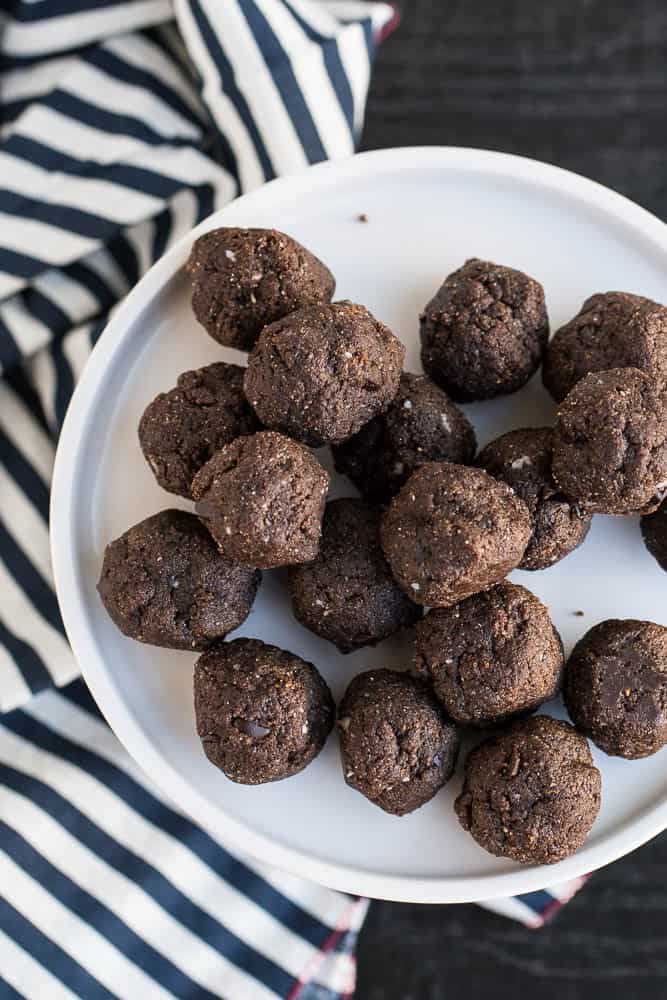 Special Diet: These are paleo friendly (if you use paleo-friendly protein powder) and a great little treat for after your Whole30 is finished!
Prep Ahead: Nothing to prep ahead of time. They come together quickly!
Substitutions: Omit the protein powder if you like. If the mixture seems too wet, add more almond flour until you get the right consistency.
Grocery List:
Click HERE to print this week's grocery list!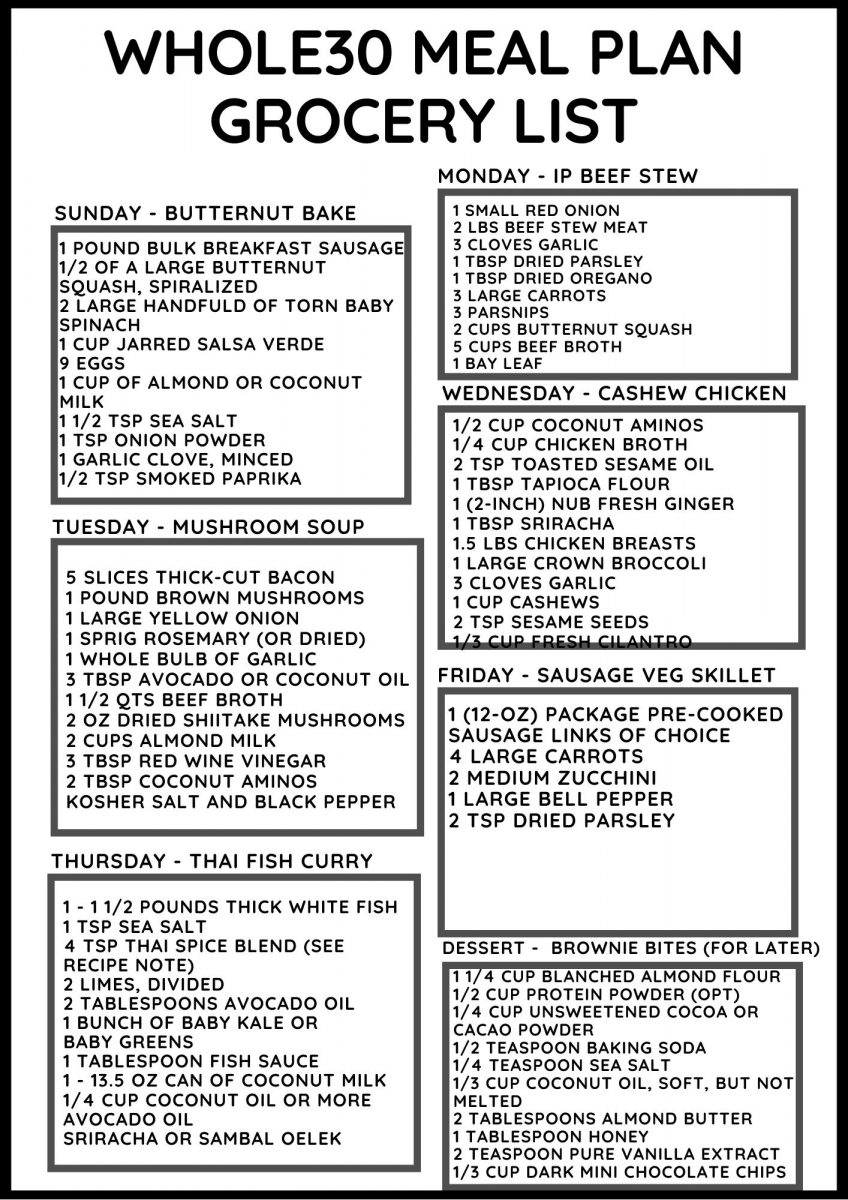 Looking for even more Whole30 inspiration? Check out my 42 Whole30 Dinner Recipes roundup.
Enjoy!