Thick, creamy, chunky, dairy-free vegan broccoli "cheddar" soup. You'll never guess the secret ingredients that make this soup taste rich, creamy, and cheesy!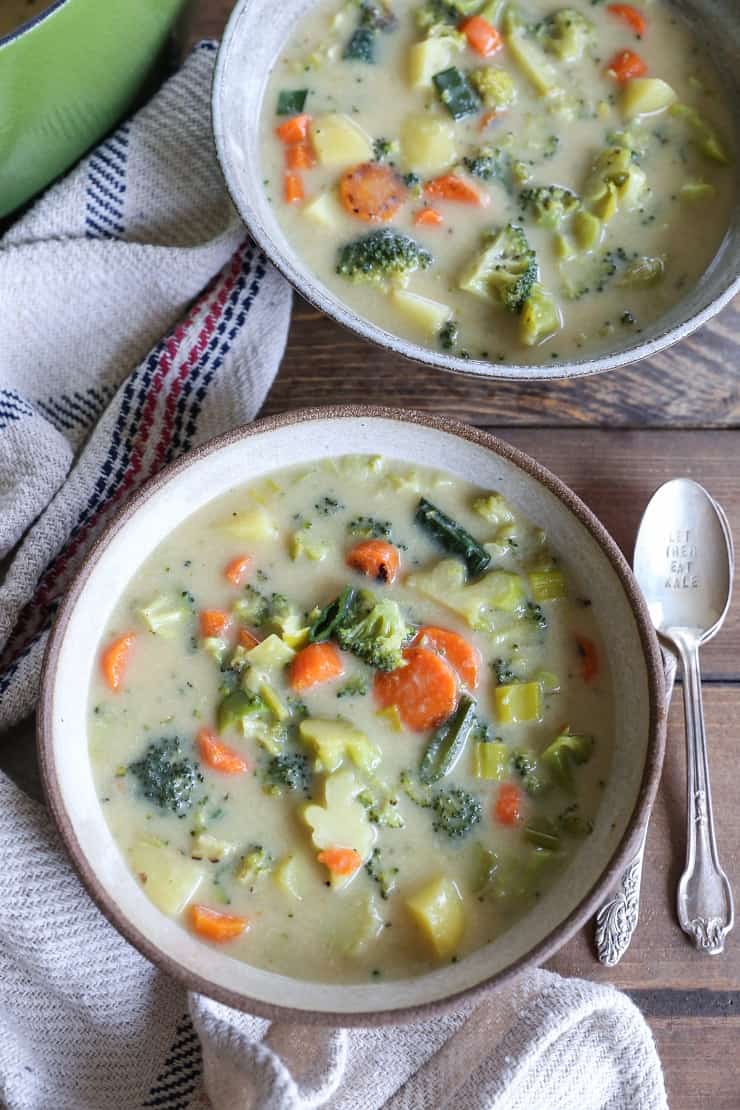 This soup is one of those ideas I've had mulling around my head for months but didn't press the go button until I knew from start-to-finish how I was going to execute it.
You see, true to my non-perfectionist ways, it isn't atypical for me to just fling myself into a recipe and see what surfaces, but as I age I've realized the true value in waiting it out until I can fully wrap my mind around the task at hand. #Progress.
At first, I thought I was going to blend this broccoli "cheddar" soup to make the whole thing silky-smooth and creamy, but truth be told, I've been more into the chunky soup lately.
There's just something about the chewing process that makes a meal feel more substantial.
Needless to say, I arrived at this broccoli-carrot-potato trifecta chunk soup with a super flavorful broth that will blow your mind when you find out what it's made out of in the next paragraph.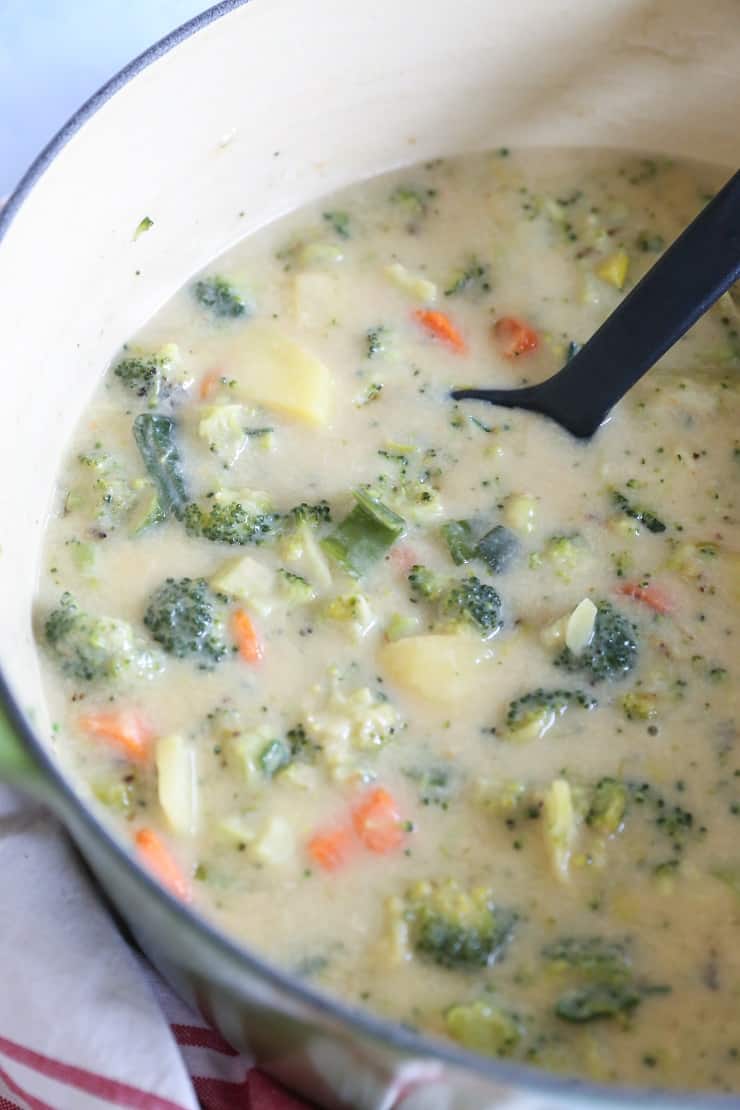 Trick to to making vegan soups creamy?
I've learned the secret to creamy cream-less soups is blending a boiled potato with the broth (in this case, I used store-bought vegetable broth), coconut milk, and some tapioca flour to give it that thick, creamy consistency without the use of dairy.
If tapioca flour isn't an ingredient you regularly carry, you can omit it. If you have potato starch or corn starch, you can replace the tapioca flour with either, or simply leave out any added starches.
To give the soup that cheesy flavor while keeping it dairy-free, I use nutritional yeast. If you are new to nutritional yeast, it's basically the alpha omega when it comes to making vegan sauces and soups taste cheesy and is a great topper for your salad and rice bowls.
You'll notice I use two Yukon gold potatoes for the recipe – one gets blended for the broth for that creamy texture, and the other gets chopped to go into the soup.
If you're trying to keep this lower on the carb end of the spectrum, you can absolutely omit the potato that gets chopped up.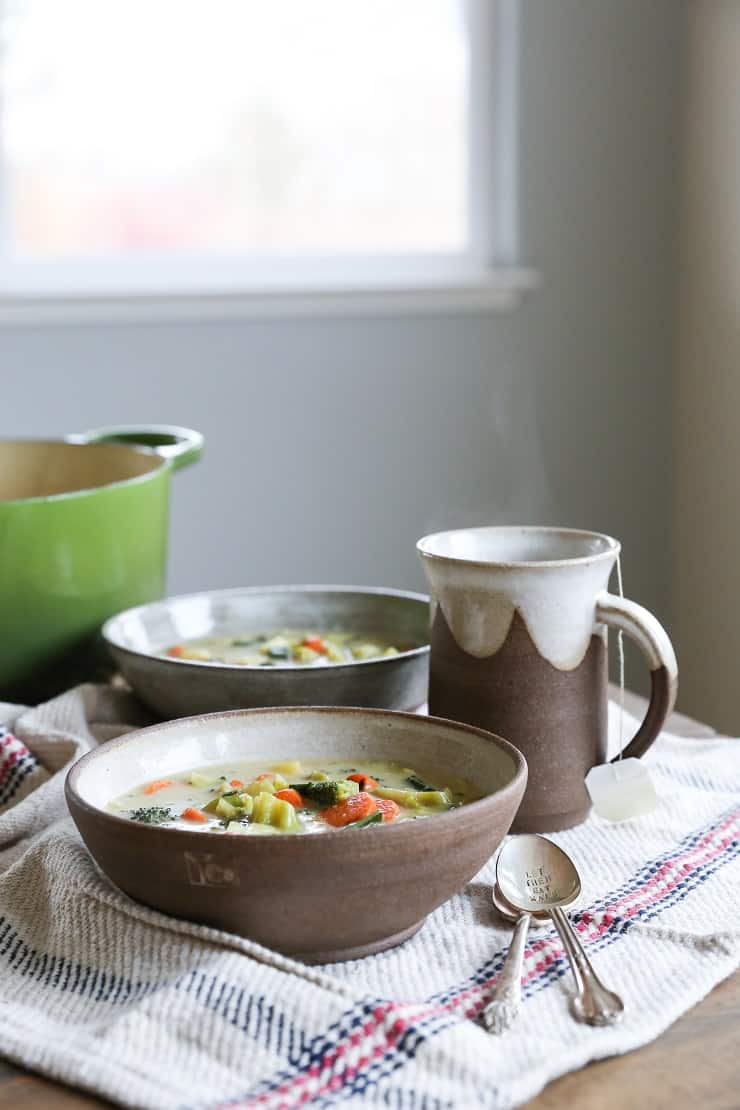 AND if you've been into creamy soups lately, you can absolutely blend the whole thing for that ultra thick, silky soup.
If you aren't vegan and love the concept of adding bacon, you can absolutely do so! If you aren't sensitive to corn, you can toss in some fresh corn kernels as well and make this a sort of broccoli-corn chowder. I also love this soup with chicken bone broth instead of vegetable broth, so there's always that option as well!
More Healthy Soup Recipes:
Chunky soup for president!
If you make this Vegan Broccoli Cheddar Soup recipe, feel free to snap a photo and share it on Instagram, tagging me at @The.Roasted.Root!
Vegan Broccoli Cheddar Soup
This creamy, delicious broccoli "cheddar" soup is a vegan approach to this classic. So tasty!
Ingredients
2

medium yukon gold potatoes

boiled for 15 minutes

1

tablespoon

avocado oil or olive oil

2

cups

carrot

peeled and chopped

2

crowns broccoli

chopped into florets (4 cups)

1/2

leek

chopped

32

ounces

vegetable broth

2

teaspoons

cider vinegar

1/3

cup

nutritional yeast

1

tablespoon

tapioca flour

optional

1

teaspoon

sea salt
Instructions
Place potatoes in a pot and fill with water. Bring to a full boil and cook 12 to 15 minutes, until very soft when poked with a fork. Drain and place one potato in a blender and place the other potato on a cutting board to cool. Once cool enough to handle, peel and chop the potato.

Add the broth, coconut milk, cider vinegar, nutritional yeast, tapioca flour, and sea salt to the blender and blend until completely smooth.

Heat the oil to medium heat in a large stock pot. Add the carrot and broccoli and cover. Cook, stirring occasionally, until vegetables have softened but are still al dente, about 5 minutes. Add the leek and sauté until fragrant, about 2 to 3 minutes.

Add the chopped potato and the broth mixture to the stock pot. Bring to a full boil, reduce the heat and simmer 10 minutes.

Serve soup with bread or side salad.
Nutrition
Serving:
1
of 4
|
Calories:
249
kcal
|
Carbohydrates:
27
g
|
Protein:
8
g
|
Fat:
13
g
|
Fiber:
5
g
|
Sugar:
8
g