This easy Creamy Thai Carrot Soup requires only a few basic ingredients and doesn't require much time to prepare. Healthful, flavorful, vegan, and paleo, this is a something-for-everyone comfort food!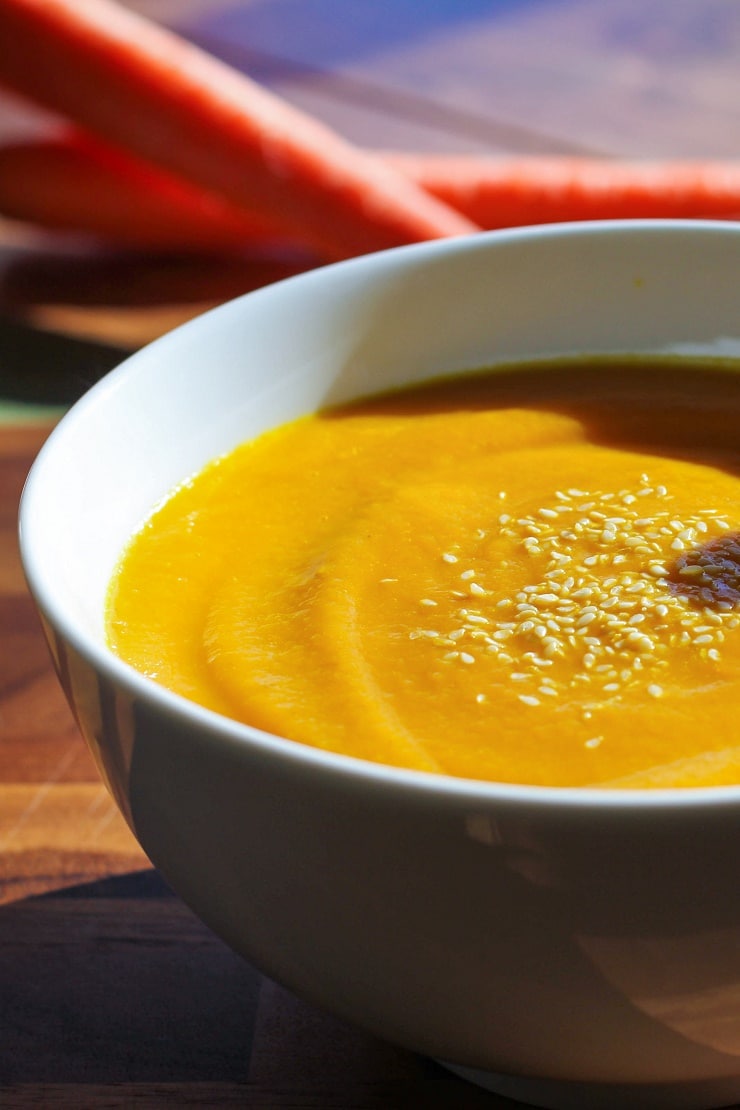 When allowing the words, "carrot soup" to roll around in my head, the first thing that comes to mind is a grade school brown bag lunch with a zip lock baggy of baby carrots. No bueno.  For this reason, the placement of carrot soup on my radar has only been secured by the fact that there are carrots (root vegetables) in it.
All of my preconceptions of watery-icky-texture-brown-bag-yuck have been squashed by this recipe, which forced itself in my Dutch oven, shook me by the shoulders and said "pay attention to me!" And so I did and so was born the best dern smooth soup I ever did make.
You know when you look in the mirror and your hair's twice the size of anything else on your being, you have mascara underneath your eyes leftover from yesterday, the pockets are hanging out of your sweats and you poof up your feathers and think to yourself, "daaaaaamn, I look goooood!" (admitting of course that no one else would agree with you)? That's what I bet carrot soup goes through on a daily basis. But the truth of the matter is, just like you and me, carrot soup is iiiiiiiiiiiiiiiiiiiiiiiincredible. Or incroyable if you're French.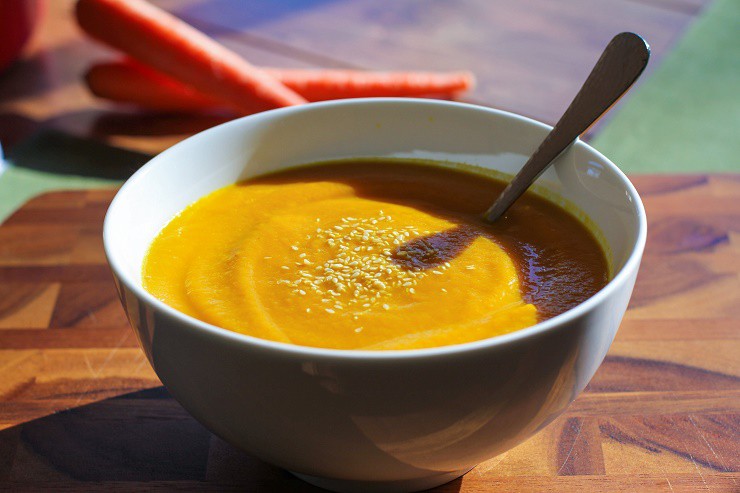 The texture is pillow-y smooth and the flavor is creamy, curry-like with a little Thai kick…and doesn't taste remotely like brown bag lunch carrots. There's no cream, butter or oil involved – just all natural ingredients that leave you feeling clean and happy.  And the vitamins, oh the vitamins! A, K, C (+ B6 and folate) to be exact. Carrots are high in antioxidents, protect against cardiovascular disease, inhibit the growth of colon cancer cells, contain fiber and support your immune system, done!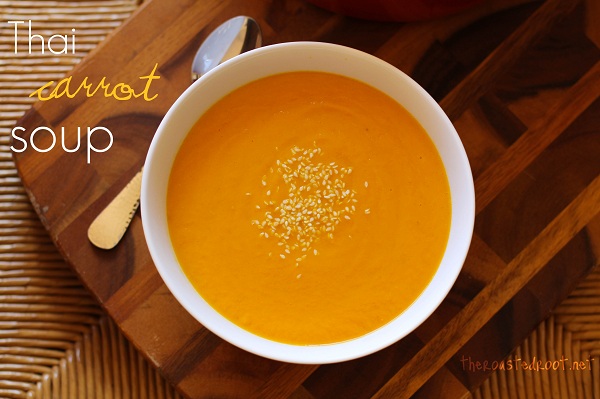 The spice level in this soup is adjustable…if you're feeding this soup to children, I would recommend leaving out the cayenne pepper.  So what you need is a whole lotta carrots, a large pot (or Dutch oven) and a well-working blender.
You start by sautéing the onion, ginger, cumin seeds and carrot in a Dutch oven using the coconut milk like it's oil. I began by sautéing the onion, peeling and chopping carrots and adding them to the pot as I went.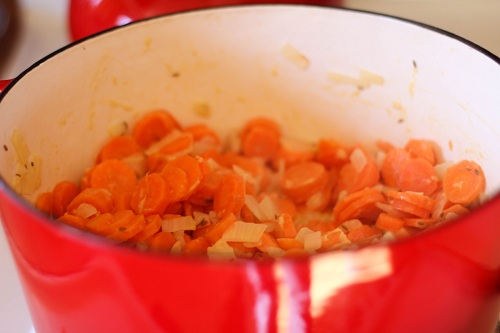 You're going to add all your spices and salt. This is how I teaspoon things.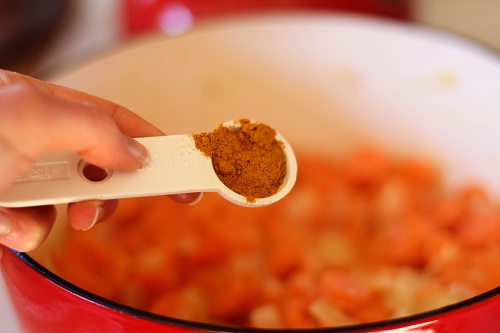 Then add the vegetable stock and bring the pot to a full boil. Reduce heat aaaaaand simmer for 30-40 minutes until carrots are soft.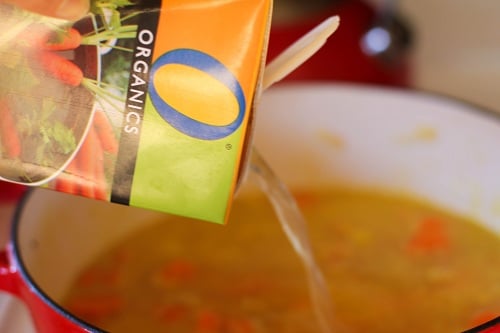 Transfer the solids to a blender (I LOVE my Vitamix
for making soups!), blend it all to smithereens.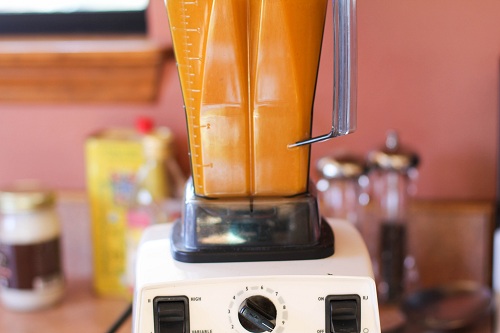 If your soup is still piping hot, serve and enjoy. If it needs to be reheated, pour the soup back into a pot and heat gently, not allowing it to boil, else it'll splatter in yo face…it's a mess.
Annnnnnnd pillow fight!!!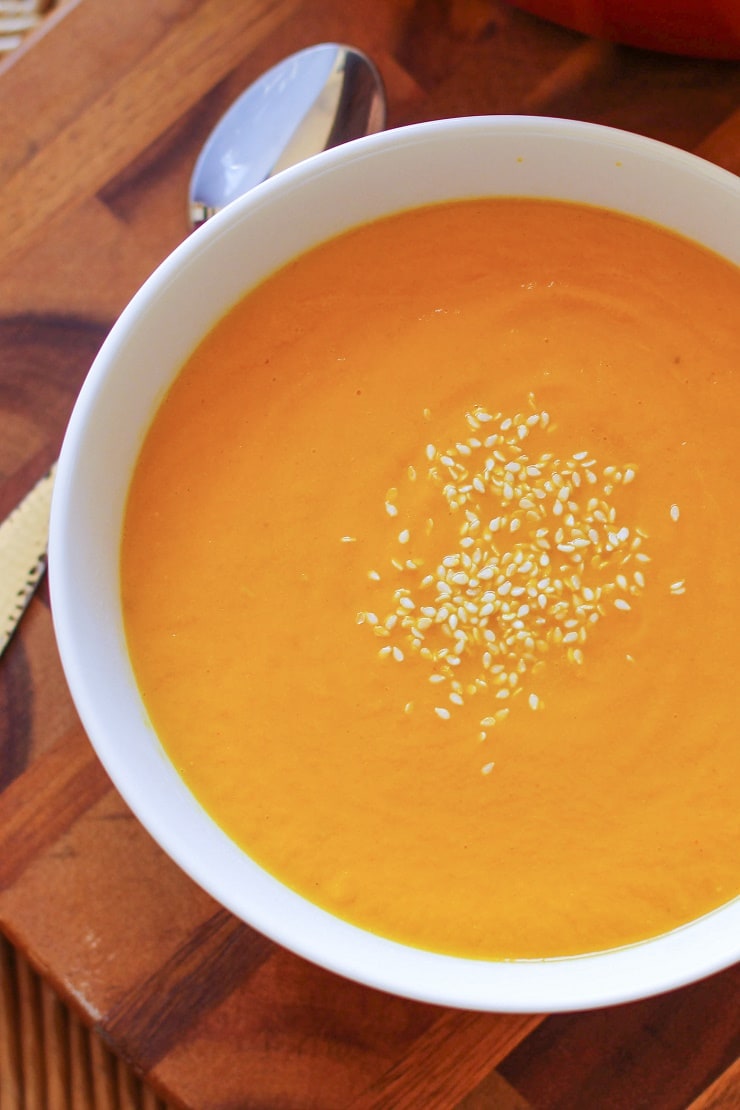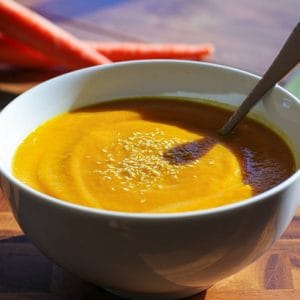 Thai Curry Carrot Soup
Print
Ingredients
1

large yellow onion

diced

2

pounds

of carrots

peeled and chopped

1

cup

full-fat coconut milk

for sautéing

1

tablespoon

fresh ginger

grated

1

teaspoon

cumin seeds (or ground cumin

that works great too)

1

teaspoon

turmeric

1

teaspoon

garlic powder

Pinch cayenne pepper

optional

2

teaspoons

salt

or to taste

32

ounces

vegetable broth

low sodium
Instructions
In a large pot, sauté the onion, grated ginger and cumin seeds in ½ cup coconut milk over medium heat.

While the onion is sautéing, peel and chop your carrots, adding them in with the onion as you go.

Add the remaining ½ cup of coconut milk, the spices and salt and continue to sauté,, stiring periodically, until carrot begins to soften (if you want to speed up the process, you can cover the pot and stir from time to time).

Add the vegetable broth, increase heat to medium high and bring to a full boil.

Reduce heat to medium low and simmer, covered for 30 to 40 minutes until carrot is soft.

Transfer everything to a blender (this will need to be done in batches) and blend until completely smooth.

Pour the smooth carrot soup back into the pot and heat for a few minutes unless it's already at the desired temperature (my blender heats as it blends, so the soup's ready after blending). If you do reheat on the stove, do so gently, else your delicious soup will become a cauldron of bubbling, spurting lava.

Serving ideas: serve with a drizzle of coconut milk on top, sesame seeds, fresh chopped cilantro, and/or plain yogurt.
Recipe Notes
you can replace the cumin, turmeric and garlic powder with 3 teaspoons of curry powder if that's all you have on-hand.