Stuffed butternut squash with turkey, zucchini, spinach, and mushrooms. This hearty and delicious meal is whole30, paleo and AIP.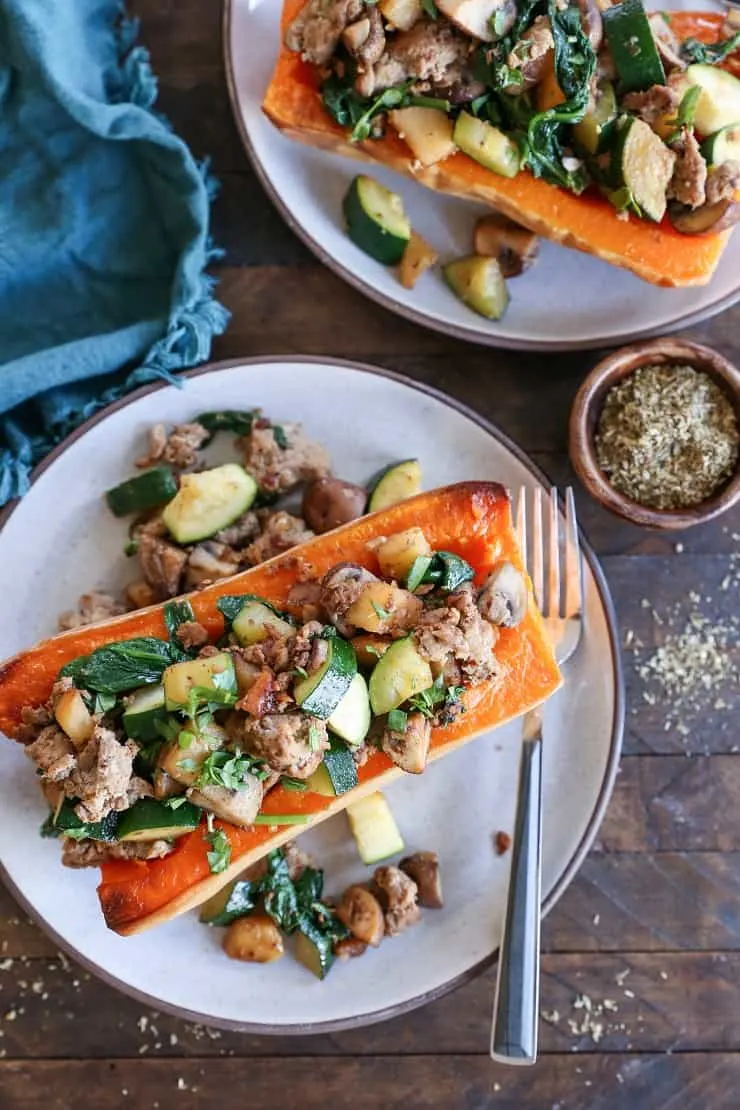 After last week's cookie fest, I figured I had better give you all a savory meal recipe lest our blood sugar spiral out of control and we form an addiction to almond flour and pure maple syrup.
Not that you shouldn't make and enjoy the Chocolate-Dipped Molasses Cookies, Vegan Snickerdoodles, and Paleo Chocolate Thumbprint Cookies I posted last week (wink, wink, nudge, nudge), but I always encourage consuming treats sparingly, especially if they're healthier.
We tend to overdo it on a good thing and before we know it, we've consumed 12 of something "healthy" which equates to more fat and sugar than we really need in one sitting, you know what I'm saying?
On to the main topic of conversation here: these turkey-stuffed butternut squasheseses. SO GOOD!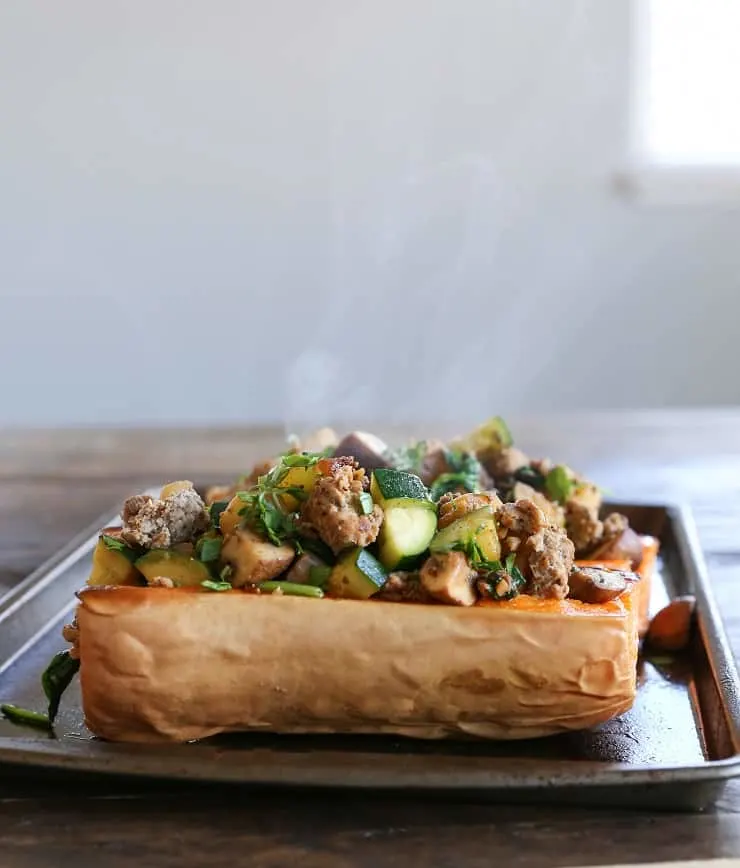 Preparing this recipe is an actual joke.
It's just so simple!
We cook up some veggies, toss in some ground turkey (my favorite brand of ground turkey is Diestel Family Turkey Ranch, which you can get from Whole Foods, a natural food store, or online), and badda bing, badda boom, we have ourselves some epic stuffing for filling any and all of our favorite winter squash.
Simply roast a butternut squash or three in the oven, stuff them with this tasty filling, and you have yourself a complete meal that has a pretty epic macro profile, with a great amount of protein, fiber, and carbohydrates.
Whether or not you're a biohacker and you pay attention to your macronutrients, this is a fabulously nutritious recipe.
It covers all the clean eating, easy to prepare, super palatable bases.
Feel free to double or triple the stuffing mixture if you're serving more people.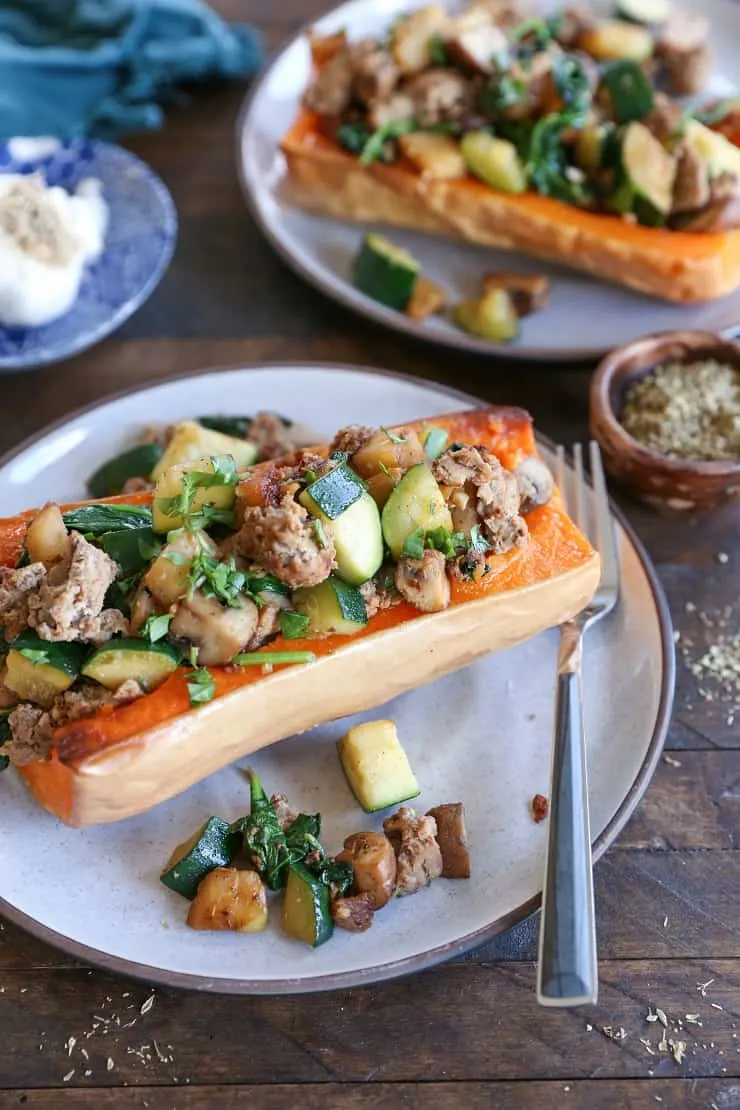 Make these stuffed squatternut boshes because they're everything!
If you love butternut squash, also check out my Ground Turkey Butternut Squash Skillet with Rainbow Chard and my Butternut Squash Ginger Chicken Stir Fry.
If you make this stuffed butternut squash recipe, feel free to snap a photo and tag me on Instagram at @The.Roasted.Root!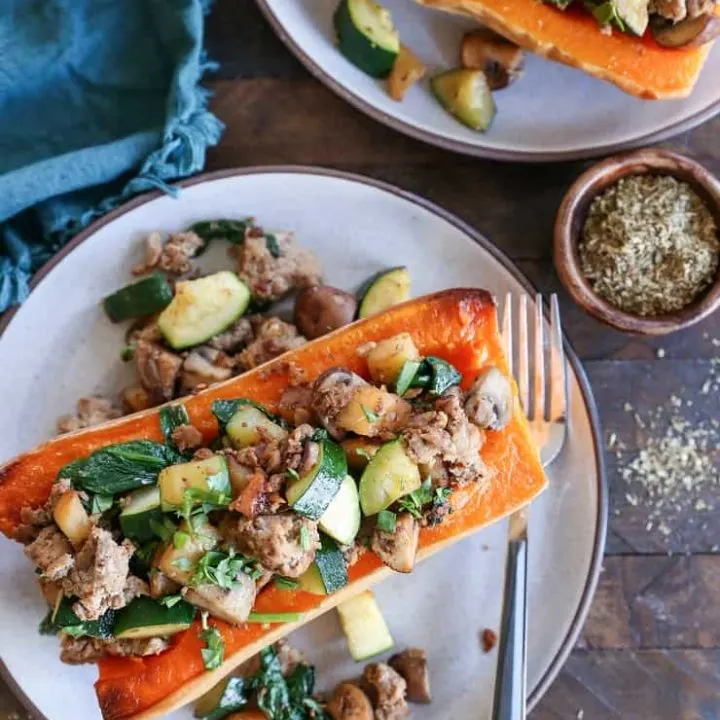 Turkey-Stuffed Butternut Squash
Total Time:
1 hour
5 minutes
Roasted butternut squash stuffed with ground turkey and vegetables makes for a hearty, lower carb dinner recipe perfect for lovers of whole foods!
Ingredients
1 to 2 butternut squash, roasted, see note
2 tablespoons avocado oil or coconut oil
1/2 small yellow onion, finely chopped
1/2 apple, peeled, cored, and chopped
2 cups mushrooms, chopped
3 cloves garlic, minced
1 medium zucchini squash, chopped
4 cup baby spinach
1.5 teaspoons dried oregano
Instructions
Preheat the oven to 400 degrees F. Chop the tip and tail off the butternut squash and scoop out the seeds and innards. Drizzle the flesh with avocado oil (or oil of choice) and sprinkle with sea salt. Place butternut squash cut-side down on a large baking sheet. Roast for 45 to 60 minutes (depending on the size of the butternut squash), until flesh is soft when poked with a fork.
While the squash is roasting, prepare the turkey filling. Heat the oil in a large skillet over medium-high and add the onion and apple. Cook, stirring occasionally, until onion begins to turn translucent, about 5 minutes. Add the mushrooms and continue cooking another 3 minutes.
Move the vegetables to one side of the skillet and add the ground turkey in the open space. Allow it to brown 1-2 minutes on one side, then flip and brown for 1-2 minutes on the other side. Stir the ground turkey in with the vegetables.
Add the remaining ingredients and stir to incorporate. Cover and cook 5 minutes, or until the turkey is cooked through and the zucchini has softened.
Stuff the butternut squash halves with desired amount of turkey filling. Sprinkle with sea salt to taste and enjoy!
Notes
This recipe makes enough filling to generously fill 2 large butternut squash (4 halves), or 4 small butternut squash (8 halves). You can choose the amount of butternut squash you roast based on the amount of people you're serving.
Nutrition Information
Yield

2
Serving Size

1 Stuffed Butternut Squash
Amount Per Serving
Calories

494
Total Fat

17g
Unsaturated Fat

0g
Carbohydrates

64g
Fiber

20g
Sugar

28g
Protein

33g