Paleo chocolate thumbprint cookies made with almond flour, coconut oil, and pure maple syrup. This simple and clean cookie recipe is entirely dairy-free, naturally sweetened, and vegan.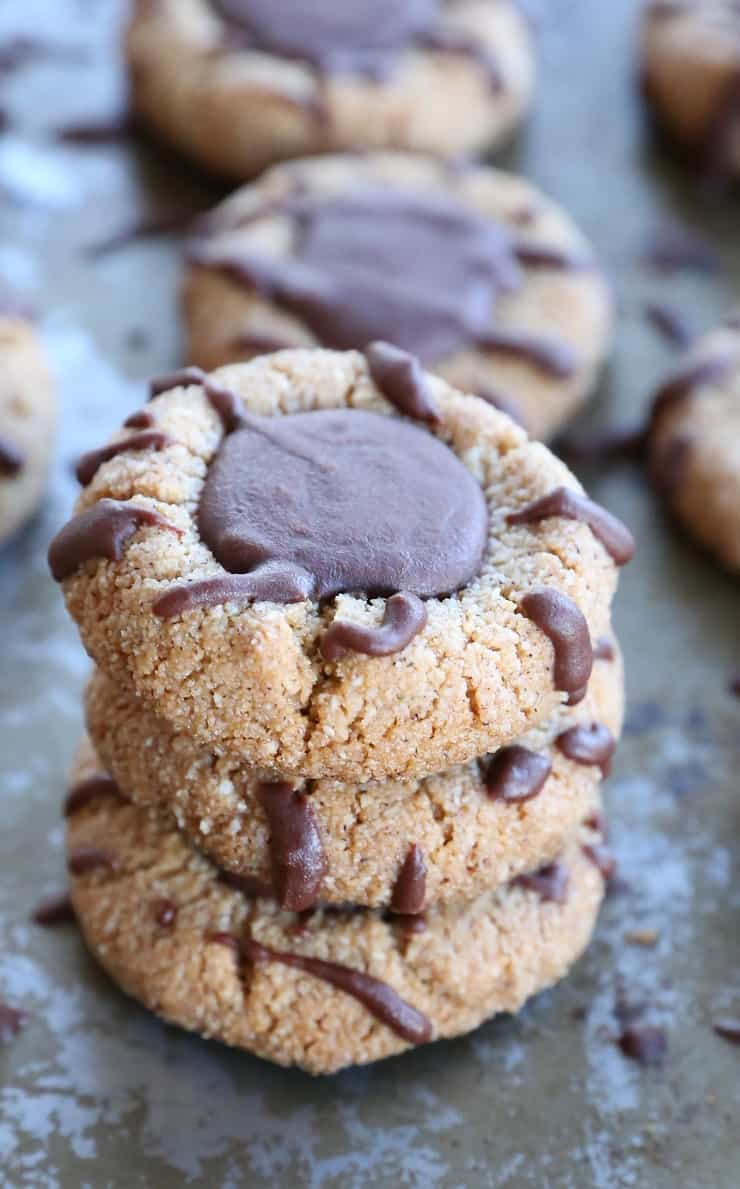 To say I've been obsessed with baking lately is a bit of an understatement. Something about the cold weather, the holiday season, and my unexhaustiveable (<- you're welcome) sugar addiction has my tunnel vision honed in on sweet treats rather than savory meals. I've been hyper-focused on creating the recipes I believe youmusthave before Christmas lest gravity reverses itself… because the situation really is that dire, you see. My most heated internal debate lately? To bake at 350 or 375 degrees F. What a quandary.
Irregardless. I've been enjoying my chilly baking mornings, getting up when it's still dark outside, donning my fuzzy socks, blending up a big mug of bulletproof coffee, turning on the Christmas tree, lighting the fire (which involves me flipping a switch, because: technology), preheating the oven (which involves me pressing a button, because: technology), and stirring up a batch of something doughy and sweet.
Which brings me to the star of this baking adventure: these paleo chocolate thumbprints. I've made them like 5 times… because aside from my baking addiction, I have approximately zero natural talent for photographing cookies, BUT an incredible natural talent at eating cookies. So if you do the math, re-shooting cookies I've already eaten equals… baking more cookies.
I've barely left the house. Moving right along.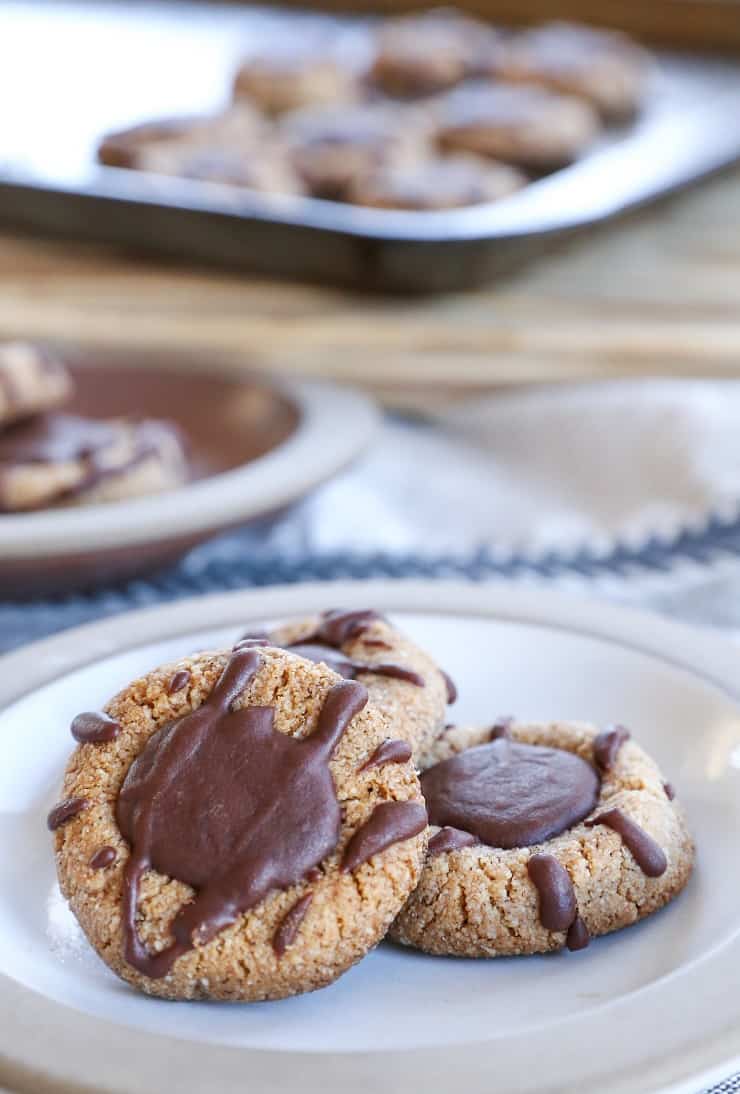 I've never known a single soul to not like a thumbprint…they're just so cute, easy to pop in your mouth, and the filling explodes with flavor. What's not to love?
I've made lots of thumbprint cookies in my day (my favorite until this point was the Cardamom Spiced Almond Paleo Thumbprint Cookies recipe I posted a few years ago), all of which have been filled with a fruit-based jam. I'm surprised it took me until now to go the chocolate route, since I'm a chocoholic to the core, but better late than never I always say!
I made the chocolate filling using the very same ingredients I used for the Chocolate-Dipped Molasses Cookies I showed you earlier this week. So if you want to make both batches of cookies (because you're obsessed with holiday baking like me), you can simply double the chocolate filling recipe so that you don't have to prepare it twice. Pretty cool, right??
Can you melt chocolate chips for the filling instead of making your own chocolate filling? Absolutely! I choose to make my own to ensure the whole cookie is completely dairy-free and refined sugar free, but if you're cool with using chocolate chips, go for it! You can zap 1/3 cup of chocolate chips in the microwave with 2 teaspoons coconut oil for the filling instead.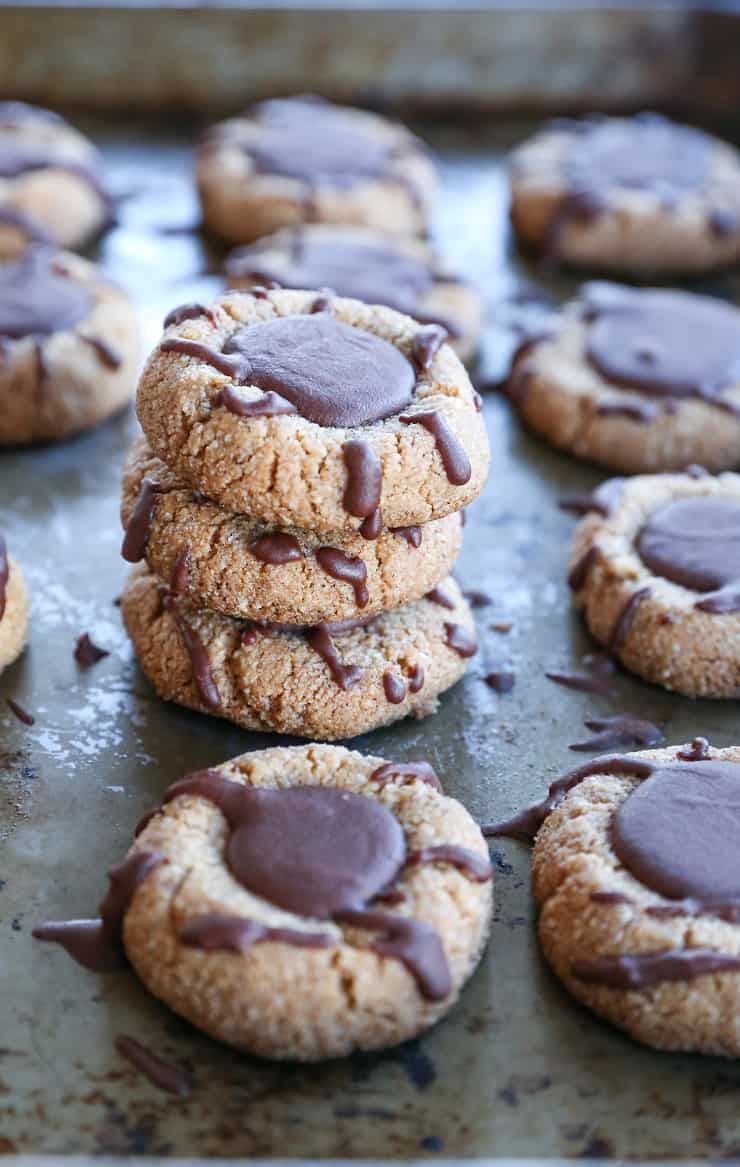 The way these beauties are frame worked in my mind is they're just little energy bites of health-joy. They are, after all, made grain-free, naturally sweetened, and dairy-free, using similar whole food ingredients that you'd find in an energy bar. Pre or post-workout snack? Get outta my head!
Not gonna lie, these nuggets do take some extra lovin'..since the cookie dough is grain-free, it is more difficult to manipulate into a thumbprint shape than a standard all-purpose flour recipe. The dough has a tendency to want to crack, but once you get the hang of the thumbprinting, it's both easy and fun. Rest assured, even if the thumbprints go in the oven with cracks, they will still hold together.
Nevertheless, the recipe can be made in parts – first, you can make the dough ahead of time, and/or bake the cookies in advance before making the chocolate filling, and/or make the chocolate filling in advance. Or you can jam it out in one bake sesh because thumbprinting is fun, right? Right! Just sip on some boozy eggnog throughout the process and you'll be golden.
Moving right along.
Bake these!
Paleo Chocolate Thumbprint Cookies
Paleo thumbprint cookies are a fun and delicious dessert to share with your favorite people!
Instructions
Preheat the oven to 350 degrees F and line a baking sheet with parchment paper (or lightly spray it with cooking oil).

Stir together the ingredients for the cookies in a mixing bowl until a wet, crumbly mixture forms (note: the dough won't appear like an actual dough...this is normal!)

Form a small ball out of the dough, then gently press the center with your thumb (or use the back of a tea spoon), creating a divet. The dough has a tendency to crack, so simply press the larger cracks together. Place thumbprint on the prepared baking sheet and repeat for remaining dough.

Bake for 10 to 12 minutes, until cookies are golden-brown. Remove from the oven and allow cookies to cool completely before touching them (if you touch the cookies before they're completely cool, they will fall apart).

While the cookies are baking, prepare the chocolate mixture by stirring the ingredients together in a small bowl. If need be, heat the almond butter and coconut oil up in the microwave for 30 seconds or so, just long enough to melt it. You want this mixture to be thick and syrupy rather than thin, so you may need to allow it to cool slightly before moving on to the next step.

Once the cookies have cooled, drizzle the chocolate mixture into the center of each cookie. If desired, use any remaining chocolate for drizzling over all of the cookies. Allow the chocolate to harden completely (if your house is warmer, you'll need to refrigerate the cookies to get the chocolate to harden).
Nutrition