Chocolate-Dipped Ginger Molasses Cookies made grain-free, refined sugar-free, paleo and vegan. These easy festive cookies are perfect for sharing during the holiday season!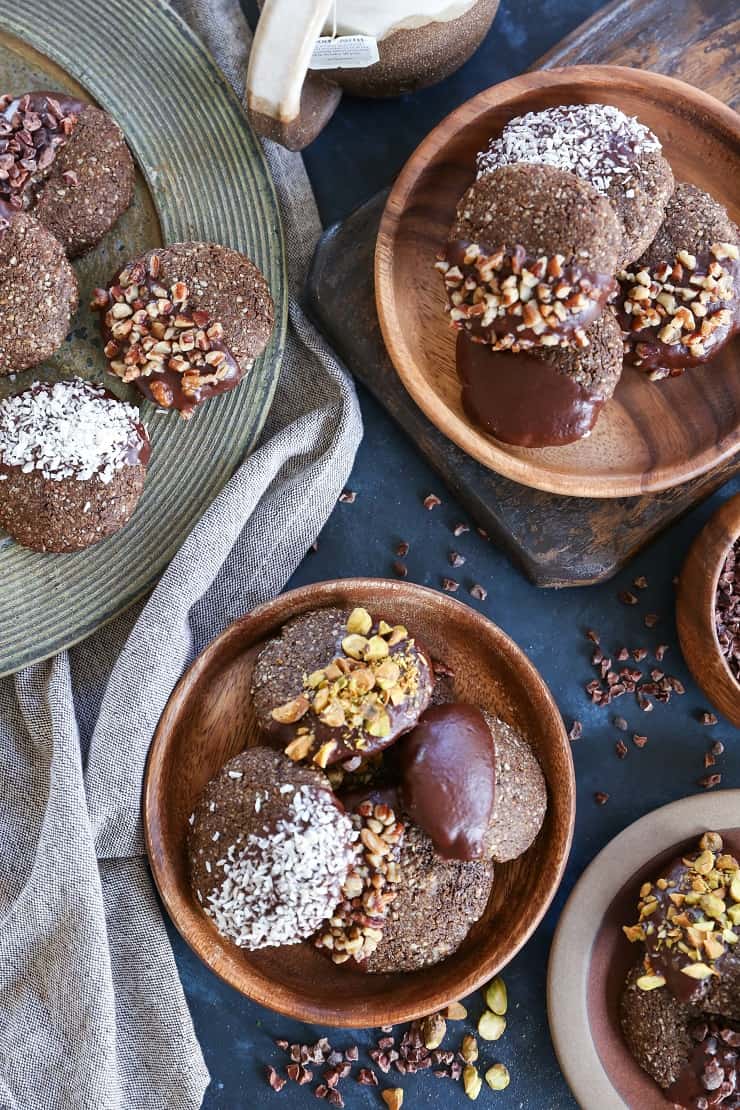 I'm kicking off a week of Christmas cookie recipes today, starting with one of my absolute favorites: molasses cookies (also known as gingerbread cookies or gingersnaps)!
And these aren't just any molasses cookies… they are dipped in chocolate, sprinkled with nuts, and are completely dairy-free, refined sugar-free, vegan, and paleo.
Of course, you'd never be able to guess any of that when you take a bite, because they're so.stinking.good! They're soft and chewy with a nice exterior crisp, plus you can bake them to be crispier or chewier depending on your cookie preferences.
With all the bases covered, I feel like these are the ultimate of ultimates in the healthier Christmas cookie arena.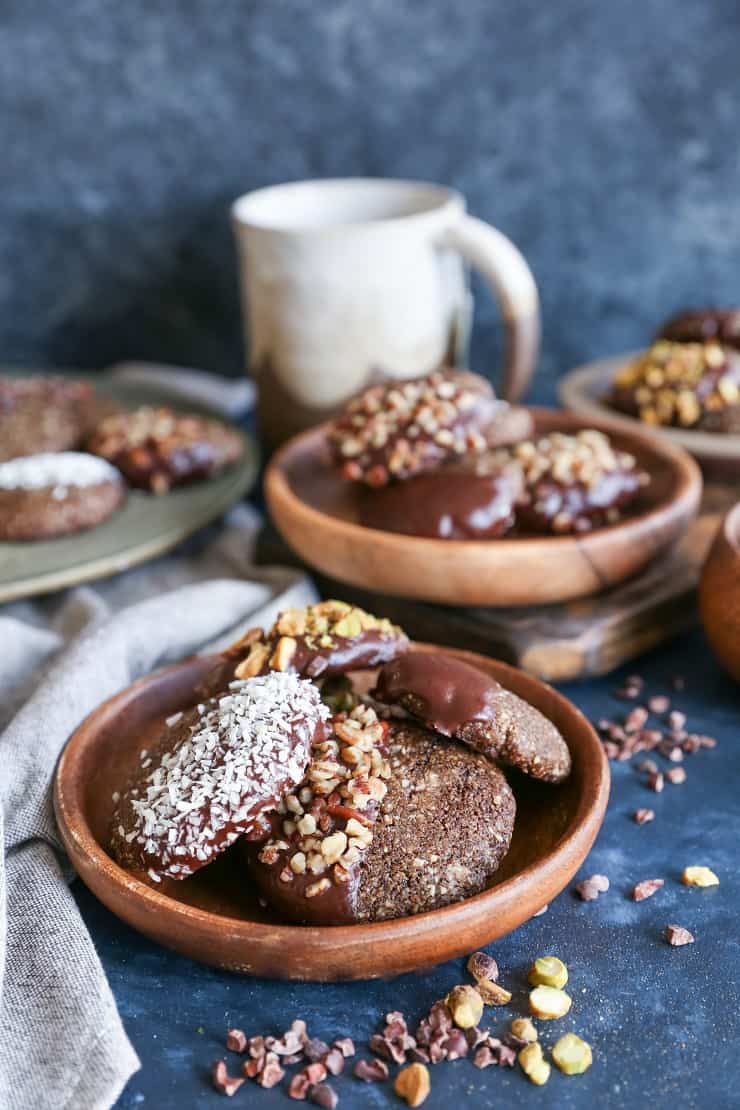 I used my Gluten-Free Gingerbread Cookies (which I posted years ago, but have made countless times since) as inspiration for this batch.
I whipped up a dairy-free, naturally sweetened chocolate coating for a little extra pizzaz, and let me just spoiler alert you right here: wunderbar.
How to Make Ginger Molasses Cookies:
Preparing the cookie dough is ultra easy, as all you do is stir everything together in a mixing bowl.
I've found the cookies turn out best when the dough has been refrigerated for at least an hour, which gives you plenty of time to whip up the chocolate mixture.
You'll want to give the chocolate dipping mixture time to thicken so that when you drizzle it on the cookies, it hardens quickly and doesn't all just melt off.
You can refrigerate the chocolate mixture to speed up the process, but be careful to not allow it to harden all the way, or else it will turn into fudge…which is really quite excellent, but won't help your chocolate dipping endeavors.
In the event you do refrigerate the chocolate for too long and it hardens, you can always zap it for 15 to 20 seconds or so in the microwave until it stirs easily.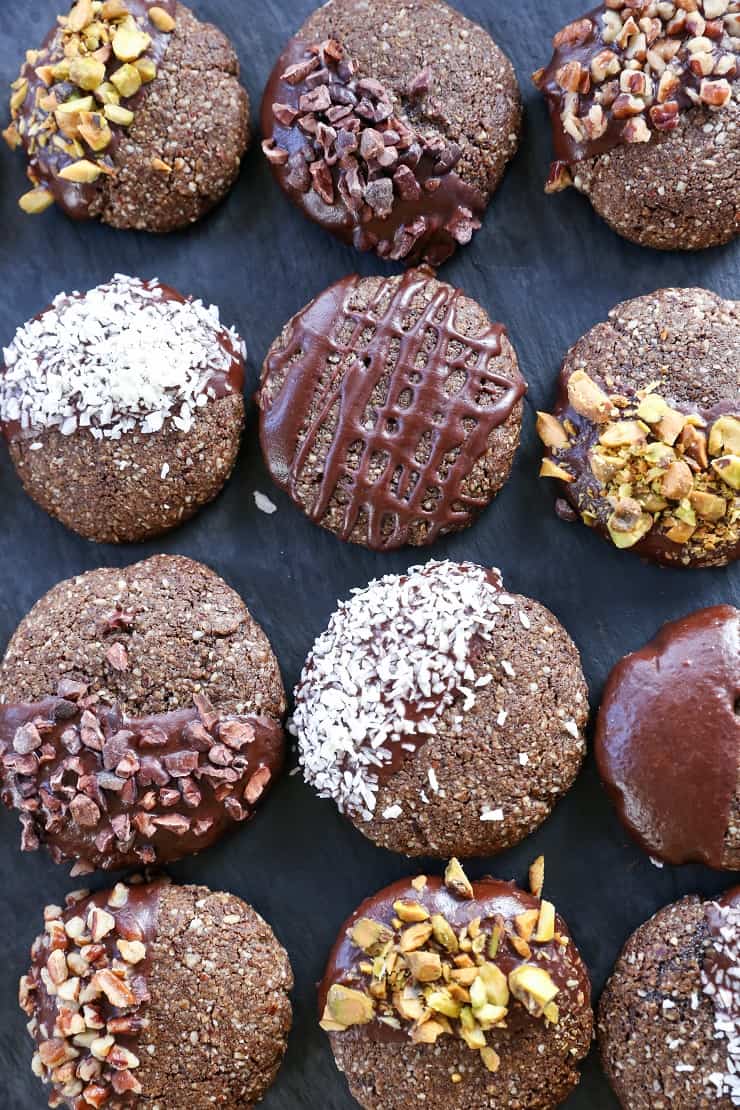 I drizzle the chocolate over half of each cookie, but you can also cover the whole cookie for an even chocolatier experience.
Sprinkle some goodies on the melted chocolate before it cools for some added crunch and flavor.
I used chopped pistachios, pecans, cacao nibs, and shredded coconut.
You can also try chopped or sliced almonds, walnuts, pumpkin seeds, sunflower seeds, sesame seeds, dried fruit, or whatever your heart desires
Have a blast with these molasses cookies!
Paleo Chocolate-Dipped Molasses Cookies
Grain-free molasses cookies dipped in chocolate are insanely flavorful festive holiday cookies!
Instructions
Preheat the oven to 350 degrees F.

Stir together all of the ingredients for the cookies in a mixing bowl until well combined. Form a ball (about 1-inch in diameter) out of the cookie dough, then press it into a disc and place on a large baking sheet. Repeat for remaining cookie dough. Bake 8 to 10 minutes, until cookies are slightly crispy on the edges. Remove from oven and cool 5 minutes before transferring to a wire rack to cool the rest of the way.

While the cookies are baking, prepare the chocolate mixture. Heat the ingredients on the stove top in a small saucepan until melted and smooth and well-combined, whisking constantly until all the clumps of chocolate are out. Remove from heat and immediately pour chocolate mixture into a small bowl. Allow mixture to cool to room temperature (you can refrigerate the chocolate to speed up the process). You want the chocolate to be thick enough to drizzle, but not super runny.

Once the cookies and the chocolate have cooled, use a spoon to drizzle the chocolate over half of each cookie. Sprinkle nuts, seeds, shredded coconut, cacao nibs, or toppings of choice over the chocolate while it's still melted. Allow cookies to dry. To speed up the process, you can refrigerate or freeze the cookies on a small cutting board until the chocolate has set up.
Notes
*Instead of making the melted chocolate mixture listed above, you can melt 1 cup of chocolate chips in the microwave for 30-second intervals, stirring well in between (about 2 minutes total).
Nutrition