We humans…we're builders. We build things around things. We build lives around dreams, tools around needs, love around compassion, filters around fears. We build an outfit around a shade of nail polish. Not that I've done that. Ever. We build satisfaction around hunger.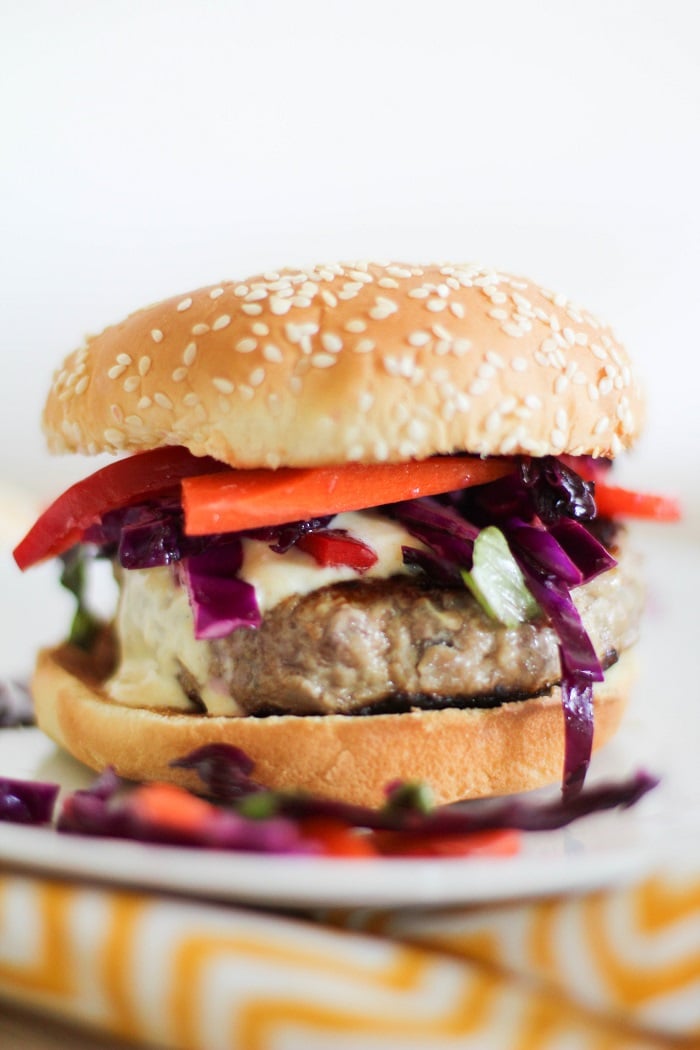 This Thai Turkey burger is built around a sauce. Building a burger around a sauce may be putting the cart before the horse. Nevertheless, we built this city on…curry…and…yogurt. Errr….yes.
In the July issue of Cooking Light, there are a plethora of mouth-watering burger recipes as well as "10 Easy Zingy Burger Sauces". Shut. me. down. I love fancifying things with sauces! As I swooned through burger after burger recipe, the SoCal Guacamole Burger and the Great Plains Burger caught my attention. But in spite of all these towering, tantalizing, juicy, regionally-inspired (truth check: regionally is, IN FACT, a word. BAM!) burgers, their curry mayo sauce stole the thunder.
You already know from my Southwest Turkey Burgers with Chipotle Yogurt Sauce that I'm a mayonnaise loather. I could write a song about my despisal of mayo. Thankfully, we have bigger fish to fry, so that jingle will just have to keep you on the edge of your seat until the to-be-fried fish are more minnow-sized. Thankfully #2, plain yogurt acts similarly to mayonnaise so when I spied the curry mayo sauce, I said out loud, "why didn't I think of that?" in my best Steve Urkel voice. And from there, the burger done built itself.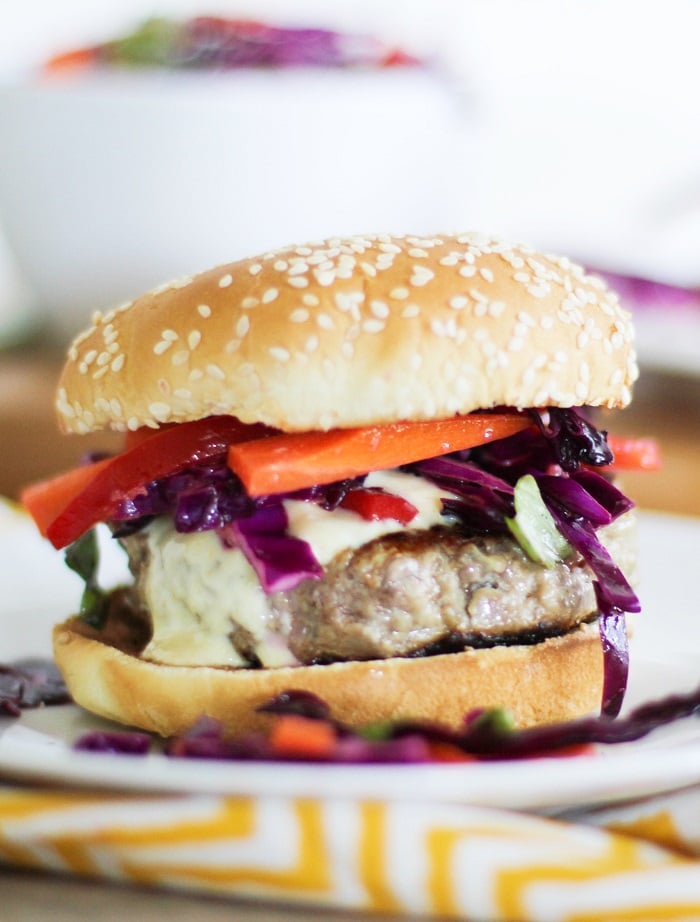 This Thai turkey burger has coconut milk (yiiiiip, coconut milk! But please don't go putting coconut water in the burger meat to try to "lighten" it up. That'd be lame. We go full-fat when we go coconut milk. Period, end of story; the title of the recipe is not "Skinny Thai Turkey Burger"), curry powder (can I even continue this sentence after such a long parenthetical statement? Looks like I'm going to…), fresh ginger, and soy sauce. Ha! These simple ingredients make for a wonderful patty.
And then you do something freaking genius like make Laurie's recipe for Asian Cabbage Slaw with Basil Ginger Dressing AND you add your burger-builder – the curry yogurt sauce – and what you get is heeeeeeeeeaveeeeeeeen.
Okay, so there's one little thing I wanted to call to attention. I meant to put water chestnuts in the patties and forgot. The water chestnut can was sitting on the counter. Next to the curry yogurt sauce. In bright red packaging. Still forgot. Here's my advice: slice up some water chestnuts and mix them in with the meat. Probably 2 to 3 tablespoons worth's all you need for some delightful texture. Or do as I did and fogeddaboudit. Either way, put some curry in your burger.
We built this city around Cooking Light's Curry Mayo.
Thai Turkey Burgers with Curry Yogurt Sauce
Incredibly flavorful turkey burgers made Asian-style for a delicious, unique burger!
Servings:
4
quarter pound burgers
Ingredients
For the Burgers
1

pound

ground turkey meat

2

tablespoons

coconut milk *

full-fat from the can

1.5

teaspoons

yellow curry powder

1

teaspoon

soy sauce

1

teaspoon

fresh ginger

grated

Pinch

cayenne pepper

1/3

cup

red onion

finely chopped
For the Curry Yogurt Sauce
½

cup

plain yogurt

2

teaspoons

fresh lemon juice

1

teaspoon

yellow curry powder

Salt to taste
Instructions
To Prepare the Curry Yogurt Sauce:
In a small bowl, combine the ingredients for the sauce and stir well to combine. Set aside.
To Prepare the Thai Turkey Burgers:
In a mixing bowl, combine all ingredients for the burgers.

Form 4 (1/4 pound) burger patties.

Heat a cast iron skillet to medium-high heat and add enough oil to coat the bottom (or fire up the grill).

Place burger patties on skillet and cook until crispy and charred on the bottom, about 5 minutes.

Flip burger to the other side and cook on the other side until cooked all the way through. When the patties are finished cooking, they will feel firm when poked.

Toast your favorite burger buns in the oven or in a toaster then form your burgers with desired amount of curry yogurt sauce and Asian slaw.
Notes
You can find the Asian Slaw recipe here.
Try this recipe with 2 to 3 tablespoons of sliced water chestnuts.
*This recipe will not work with any other type of coconut milk besides the full-fat kind from a can. You can also omit the coconut milk altogether and the burgers will still be great!
Nutrition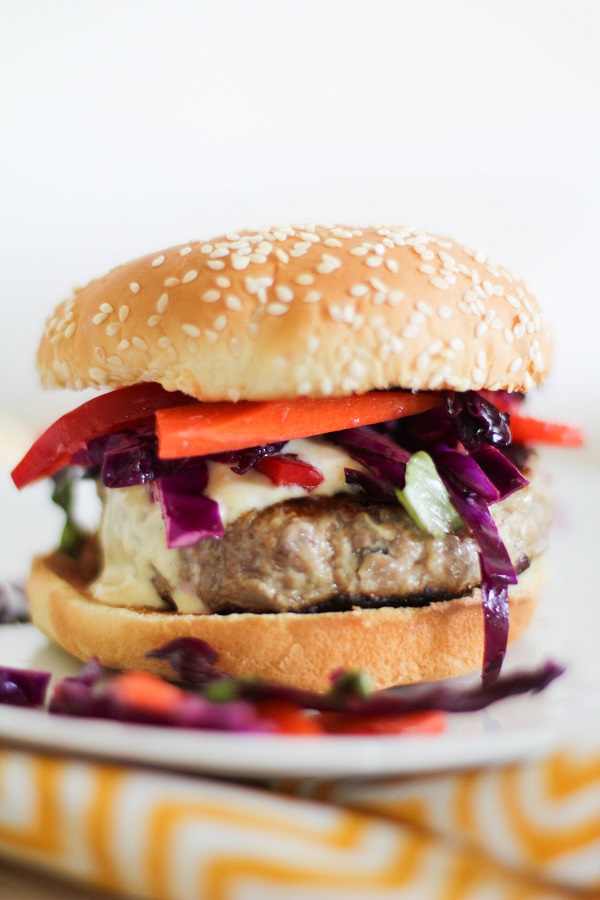 Other insane in the membrane burger recipes: