Cinnamon roasted sweet potato rounds with herbed ricotta, walnuts, cranberries, and honey make for baller appetizers (slash dinner).
'Tis the day before Christmas, folks! What are we going to eat?!
I know what you're thinking. You want to fold these up like mini tacos and eat them for dinner. "Appetizer, my foot!" you say. To which I respond: get out of my head. These sweet potato rounds go down so seamlessly when you fold them in half and snarf them in one bite. They're just the dandiest little swanky root vegetable tacos.
Hey! I double dog dare us to make sweet potato round sandwiches out of these and wrap the whole thing  in bacon. We'd do that, wouldn't we? That's so us.
If you're looking for a last minute holiday appetizer, here she blows! I was inspired to make the rounds over the weekend because I had a partial tub of ricotta cheese that needed to find a home lest it get round filed. I took one look at the ginormous sweet potato sitting on my counter, and the answer was immediately clear. PLUS, I had the rest of the ingredients already in my pantry.
Because it's the holidays and we're doing things like drinking butter, there is plenty of opportunity for us to let our hair down and improvise with our sweet potato rounds. We can do things like replace the walnuts with pecans, the honey with maple, and the cheese with…more cheese. Heck, you can even turn this into a savory potato round recipe (guacamole, anyone?) Heck #2, you can even eat all your appetizers off roasted sweet potato slices from now till doomsay (pork belly sweet potato taco? We'd do that, wouldn't we? That's so us)!
These swanky root tacos…errr…sweet potato rounds…are super easy to make. All's you do is slice up a huge sweet potato, roast the slices in the oven, and make an herby ricotta spread while the rounds are baking. Once your taters are cooked through and through, you simply top them and serve. Don't forget to drizzle honey on top! It's like dessert in the form of euphoria on top of divinity sprinkled with jubilation doused in love potion.
Have a wonderful holiday!
Eat responsibly. Eat taco.
Tools I Used to Prepare This Recipe: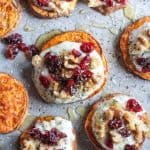 Sweet Potato Rounds with Herbed Ricotta and Walnuts
Print
Ingredients
1

large sweet potatoes

sliced into ¼-inch rounds

1

tablespoon

Grapeseed or olive oil
Herbed Ricotta:
1

cup

whole milk ricotta cheese

1-½

teaspoons

Italian seasoning

1

tablespoon

+ 1 teaspoon honey

¼

teaspoon

sea salt

or to taste
Instructions
Add all of the ingredients for the herbed ricotta to a small bowl and stir well to combine. Refrigerate until ready to use.

Preheat the oven to 400 degrees F. Add the sweet potato slices to a large mixing bowl and drizzle with grapeseed or olive oil. Sprinkle sea salt and ground cinnamon over rounds. Use your hands to rub the oil and seasoning on both sides of the sweet potato rounds. Arrange rounds on a large baking sheet (or two if necessary). Bake for 20 minutes. Flip the rounds, then bake for another 17 to 20 minutes, or until rounds are cooked through and crispy on the edges

Spread walnuts on a baking sheet. 10 minutes before the potato rounds are finished cooking, place the walnuts in the oven to roast.

Remove sweet potato rounds and walnuts from the oven. Place walnuts on a cutting board and chop.

Place oven on high broil setting and move the oven wrack second to the top shelf. Place a dollop of herbed ricotta on each sweet potato round and place in the oven for 2 minutes, just until ricotta is melty and warm.

Add chopped walnuts and dried cranberries to the rounds. Drizzle with honey and serve!