Roasted sweet potato rounds with guacamole and bacon are the perfect healthy appetizer for serving guests!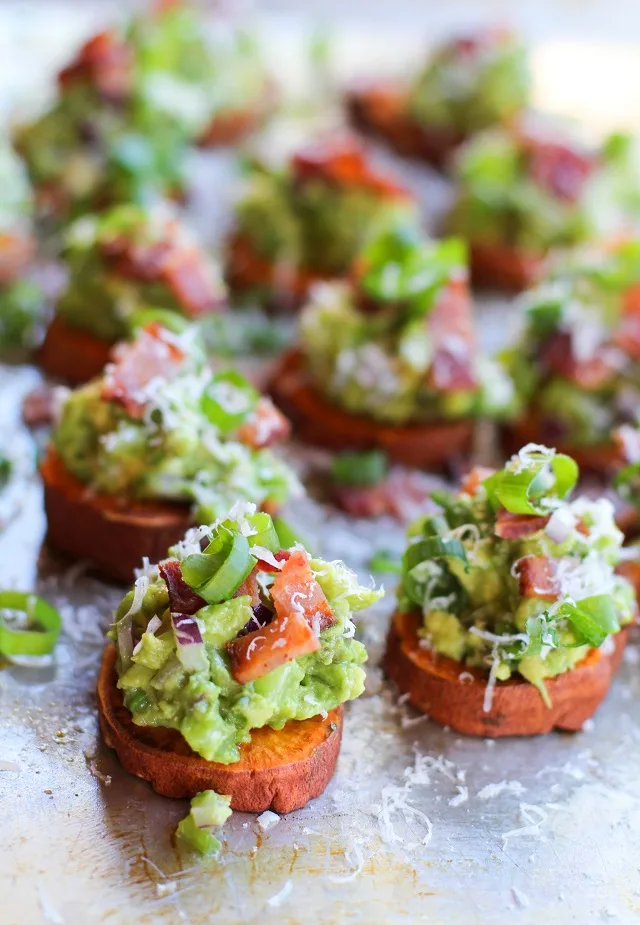 If you've never made sweet potato rounds, you'll love them! I first posted my Roasted Sweet Potato Rounds with Herbed Ricotta and Walnuts a number of years ago and they were a huge hit!
Employing the same concept as a chips and guacamole / finger food type of situation, these guacamole sweet potato rounds with crispy bacon are mouth-watering bites of bliss!
They are perfect for whipping up as an appetizer to serve to guests, as a snack for your family, and/or as dinner…for yourself. What happens between you and the sweet potato round stays between you and the sweet potato round. No one's judging 😉
Let's make them!
How to Make Guacamole Sweet Potato Rounds:
Step 1: Slice a sweet potato into rounds, coat them with oil and sea salt and bake them on a baking sheet.
Step 2: Whip up your favorite batch of homemade guacamole. Get creative here with your own guacamole recipe, or follow my instructions for guac in the recipe card below!
Step 3: Cook Bacon to crispy perfection!
Step 4: Assemble this appetizer by dolloping guacamole on top of the roasted sweet potato rounds and sprinkling with onion, chopped bacon and cheese.
Step 5: Share and devour!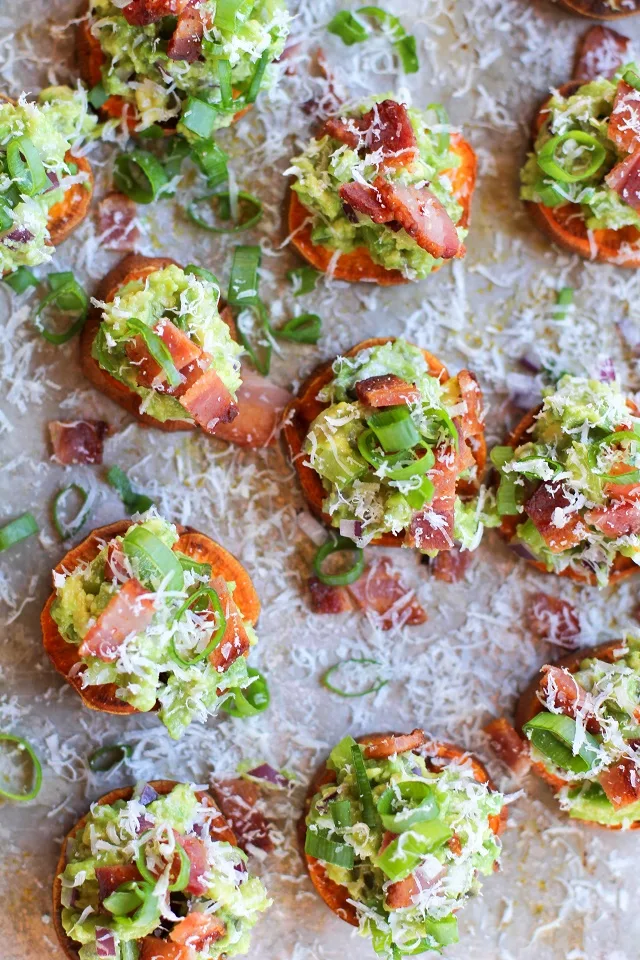 More delicious recipes for entertaining:
Without further adieu, here's what you need on your eightfold path to guactrimony!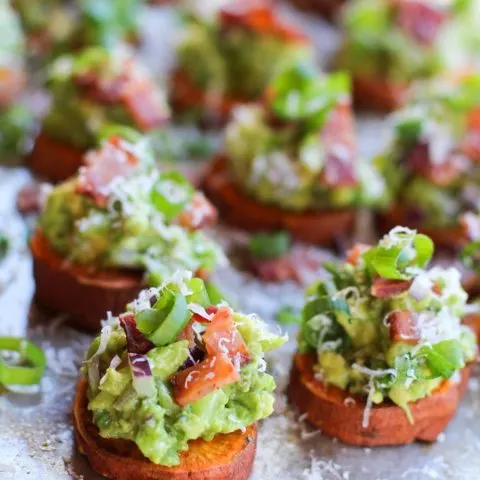 Roasted Sweet Potato Rounds with Guacamole and Bacon
An epic appetizer, Roasted Sweet Potato Rounds with Guacamole and Bacon are always a crowd-pleasing bite!
Ingredients
1 large sweet potato, chopped into ½-inch rounds
2 slices thick-cut bacon, cooked
1 large avocado, peeled
2 tablespoons fresh lime juice
1 jalapeno, seeded and finely chopped
1 clove garlic, minced
3 tablespoons red onion, finely chopped
1/8 teaspoon to ¼ fine sea salt, to taste
For Serving:
Cotija Cheese
Green onion, chopped
Instructions
Preheat the oven to 400 degrees F. Wash and dry the sweet potato, and slice it into 1/2-inch thick rounds. Lightly coat both sides of the sweet potato slices with grapeseed or olive oil, sprinkle with salt, and place on a baking sheet. Bake for 20 minutes, flip, then bake for another 10 to 15 minutes, or until rounds are cooked through and crispy on the edges. Place sweet potato rounds on a serving platter and allow them to cool.
Cook the bacon over medium heat, flipping occasionally, until crispy, about 5 minutes. Transfer bacon to a cutting board and chop into pieces once cool enough to handle.
Add all ingredients for the guacamole to a bowl and mash with a fork until it reaches desired consistency. I like leaving mine slightly chunky.
Top sweet potato rounds with guacamole, green onion, crispy bacon, and grated cotija cheese. Enjoy deez bites of heaven!
Nutrition Information
Yield

10
Serving Size

1 Round
Amount Per Serving
Calories

52
Total Fat

3g
Unsaturated Fat

0g
Carbohydrates

5g
Fiber

2g
Sugar

1g
Protein

1g