Calling all sweet potato soup lovers! You'll love this coconut curry flavored creamy dreamy sweet potato soup!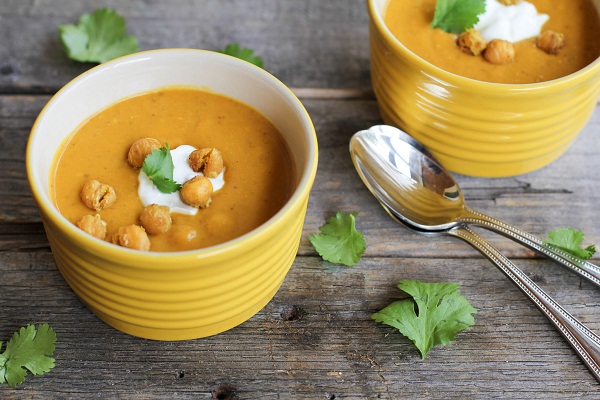 There's a seasonality to just about everything. White pants, fuzzy socks, the stock market, peaches…my tolerance level for Taylor Swift. We closet our whites post Labor Day. Trade our moccasins for flips. Sell in May and go away.
Rejoice during the good fruit months….and turn the radio up or down accordingly. You maaaay think that soup is only for winter and that is where I shake my head and say, "nay friend, naaaaay"
Sweet potato soup can be eaten both hot or cold and no matter how you slice it, you're looking at a creamy, filling, nutritious dish. Half of the country is still a winter wonderland, where the other half skipped winter altogether and went straight to bloomy flowers and chirping birds. A something-for-everyone soup? Yes indeedy.
Where might the recipe for this heartthrob be located? Mosey over to Food Fanatic for Coconut Curry Soup Recipe!