Creamy, delicious Superfood Blueberry Buckwheat Porridge with coconut milk and chia seeds makes for a delicious breakfast. Add a dollop of almond butter to make this a well-rounded plant-based breakfast!
This post is sponsored by Bob's Red Mill.
It's the new cream of wheat right here!
Do you remember those single-serve instant cream of wheat packets that came with a fruity (sugar) pouch? Do they still make those?
I'd use the fruity pouch to draw pictures in my breakfast to make it more exciting.
That's pretty much where the buck would stop because it took me so long to create my porridge masterpiece that by the time I was finished, I'd have to leave for school.
Well, I have Version 2.0 of that situation right here. Instead of cream of wheat, we're using buckwheat (which is wheat-free, by the way!). Instead of a "fruit" pouch, we're using actual fruit and all the other fixings.
The best part: It'll blow your mind when you learn how nutritious this breakfast is!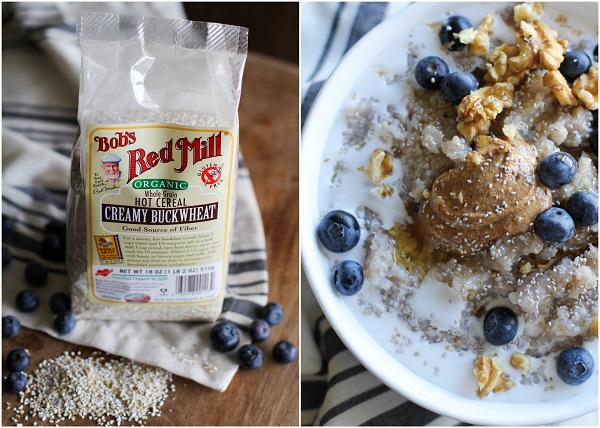 Everything You Need to Know About Buckwheat:
Buckwheat is one of those mysterious foods that you'd never guess is so incredibly healthful. Buckwheat comes from a fruit seed that is related to rhubarb (of all things!), and is naturally gluten-free as it bares no relation to wheat.
It is packed with B Vitamins, manganese, copper, magnesium, fiber, and antioxidants. Buckwheat speeds up digestion (which I learned by happenstance), and is pH neutral, making it a great food to eat when you have an upset stomach.
Get this: buckwheat may also help prevent gallstones in women.
The fiber in buckwheat is insoluble and uses a lower amount of bile acid as compared to other foods, which soothes rather than aggravates your gallbladder (and the entirety of your digestive system).
In addition, replacing a sugary breakfast with buckwheat will help lower your blood sugar and potentially lower your risk for heart disease. You can learn more about the health benefits of buckwheat here and here.
Because buckwheat is a seed and not a grain, some say it is paleo and GAPS-friendly, while others are on the fence because it isn't super low on the glycemic index. This great article from Paleo Leap explains the debacle.
There is debate as to whether or not it is SCD-friendly because it contains proteins that may be difficult to digest for those with very sensitive digestive systems.
Couple the health benefits of buckwheat with superfruit like blueberries, and super nuts and seeds like walnuts and chia seeds, and you're looking at a nutrient-packed breakfast.
You can even get a little crazy and put an egg on it for an added protein boost!
This isn't my first romp in the kitchen with buckwheat.
Moons ago, I posted Bacon & Egg Buckwheat Stacks, Double Chocolate Buckwheat Cookies, and Chocolate Buckwheat Pancakes using buckwheat flour.
But haste: buckwheat comes in other forms besides flour!
For this porridge, I used Bob's Red Mill's Creamy Buckwheat, which turned out so thick, creamy, and comforting, with a slightly nutty flavor.
This makes for a cozy weekend breakfast, and can be made ahead of time for weekday breakfast, too! Move over oatmeal, cream of buckwheat's for breakfast!
There are options galore with this bowl.
You can use your choice of milk (almond and coconut are my two favorites), fruit (sliced banana, berries, and apple are my go-tos), sweetener (pure maple syrup or honey for the win!), nut butters (almond butter all the way), and nuts and seeds (walnuts, slivered almonds, chia seeds, sunflower seeds, hemp seeds are marvelous).
For added warmth, I always add ground cinnamon, and sometimes vanilla extract. It's a real party bowl of porridge! Make it for the whole family this weekend!
Superfood party porridge for the win!
Blueberry Buckwheat Porridge
A grain-free porridge recipe, this Superfood Blueberry Buckwheat Porridge is rich, creamy, and loaded with nutrients.
Instructions
In a medium-sized pot, bring 3 cups of water to a boil. Stir in the creamy buckwheat, salt, and cinnamon. Reduce the heat to low, and cover. Cook for 8 to 10 minutes, stirring occasionally, until all the water is absorbed.

Add desired amount of buckwheat porridge to serving bowls, along with desired amount of coconut milk, pure maple syrup, almond butter, blueberries, walnuts, and chia seeds. Enjoy!

Note: As an alternative, you can add all of the ingredients for serving the porridge (coconut milk through chia seeds) to the buckwheat porridge once it has finished cooking, and stir everything together prior to serving.
Notes
*You can use unsweetened almond milk or cashew milk instead of full-fat canned coconut milk if you'd like.
Nutrition
Serving:
1
Serving
|
Calories:
460
kcal
|
Carbohydrates:
55
g
|
Protein:
11
g
|
Fat:
25
g
|
Fiber:
10
g
|
Sugar:
30
g