Classic buckwheat pancakes served savory-style with bacon and eggs – a gluten-free, protein-packed breakfast.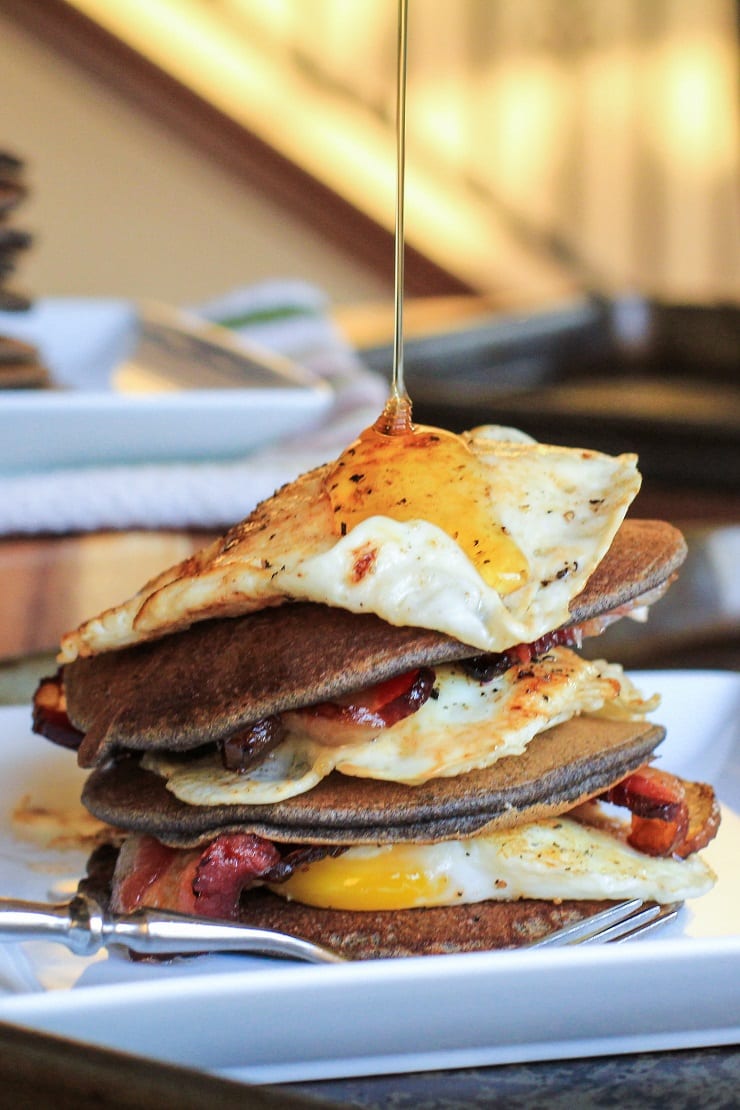 Gluten free buckwheat pancakes. Also known as the mancake in my household (in spite of the fact that I very willingly eat them, too).
Beat it, mix it, heat it, flip it, layer it, ravage. No ribbons and bows on this stack of flapjacks; this stack is man tested, man approved. Also joyously devoured by moi, this stack has yum all layered up in it for a sweet and savory morning experience to be enjoyed by all.
For the edition of weekend pancakes, I'm focusing on buckwheat flour. Do you know about buckwheat? Cause I didn't until I did a little research on the intraverse.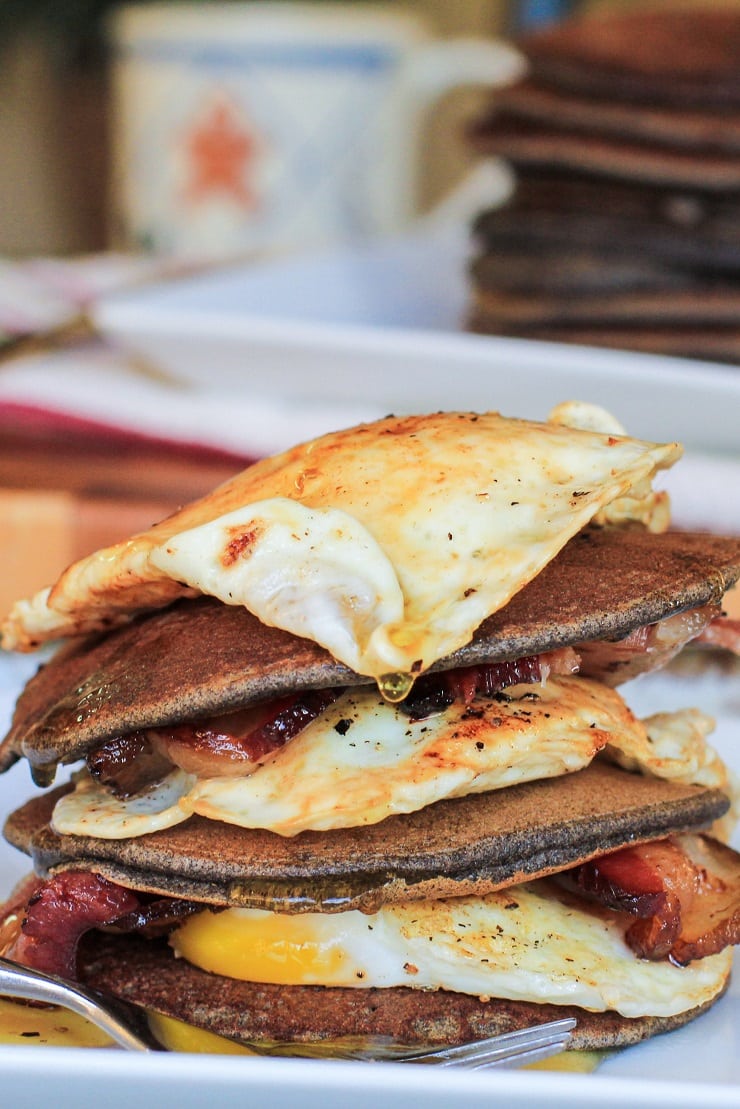 Here's what I found out:
Buckwheat is tremendously great for you! Buckwheat comes from a fruit seed and is a relative of rhubarb. What does this mean? No gluten! Those who include buckwheat in their diet have decreased risk of high cholesterol or high blood pressure and may have increased blood sugar regularity as the body's insulin response to buckwheat is much lower than its response to refined wheat. Plus it's high in fiber. The list goes on and on and on.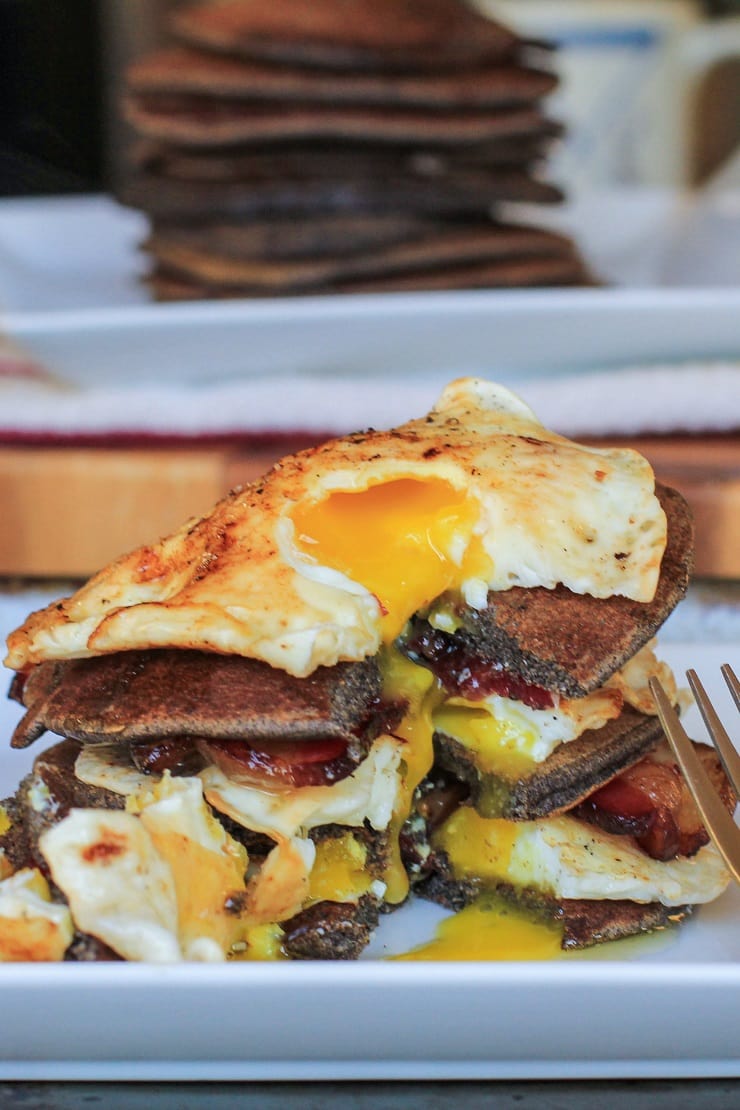 Layering is smart in the winter and the same can be said about a stack of mancakes. Here's the order of operations: Buckwheat pancake layer followed by fried egg and bacon layer, repeat. How high can you stack em? It's like Jenga for really delicious pancakes.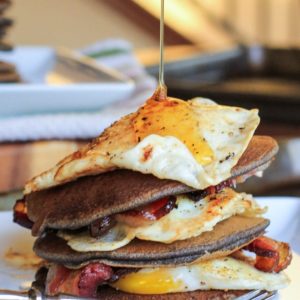 Buckwheat Pancakes
Print
Ingredients
1-1/4

cup

to 1-1/2 unsweetened almond milk

see note

1

egg

1

tablespoon

oil

or melted butter

1

cup

buckwheat flour

¼

tsp

baking soda

1/2

tsp

baking powder

¼

tsp

salt
For the Manstacks:
Eggs

Bacon

Agave or pure maple syrup
Instructions
Combine the egg, milk and oil in a bowl and whisk to combine.

Add the buckwheat flour, baking soda, salt and baking powder and mix just until incorporated and batter is smooth.

Allow batter to sit at least 10 minutes (you can make the batter ahead and allow it to sit in the refrigerator overnight).

Heat a large skillet to just above medium heat, and add enough olive oil or butter to generously coat the surface of the skillet, about 1 tablespoon. Measure out ¼ cup worth of batter and pour in the skillet. Cook until a great deal of bubbles rise to the top of the pancake and the edges firm up. Flip and cook another 30 seconds. Remove from heat and place in a warm oven until you finish cooking the remainder of the batter.

While cooking pancakes, cook bacon to desired level of crisp. Use the bacon fat for frying the eggs. Layer em and stack em high, son! Drizzle with agave or maple syrup for a sweet and savory meal!
Recipe Notes
1.) Recipe adapted from Wrightfood: http://mattikaarts.com/blog/baking-recipes/gluten-free-buckwheat-pancakes/ 2.) The Original recipe calls for 1-1/4 cups of milk. I refrigerated my batter overnight and added an additional ¼ cup of milk (for a total of 1-1/2 cups) before cooking. 3.) Original recipe says to whip the egg white and fold it into the batter in order to make the pancake fluffy. I skipped this step and was happy with the texture of my pancakes but I'm sure the egg white fluffing is delicious too.