Double Chocolate Buckwheat Cookies are incredibly fudgy, rich and delicious! Grain-free and refined sugar-free, these cookies are perfect for sharing any time of year!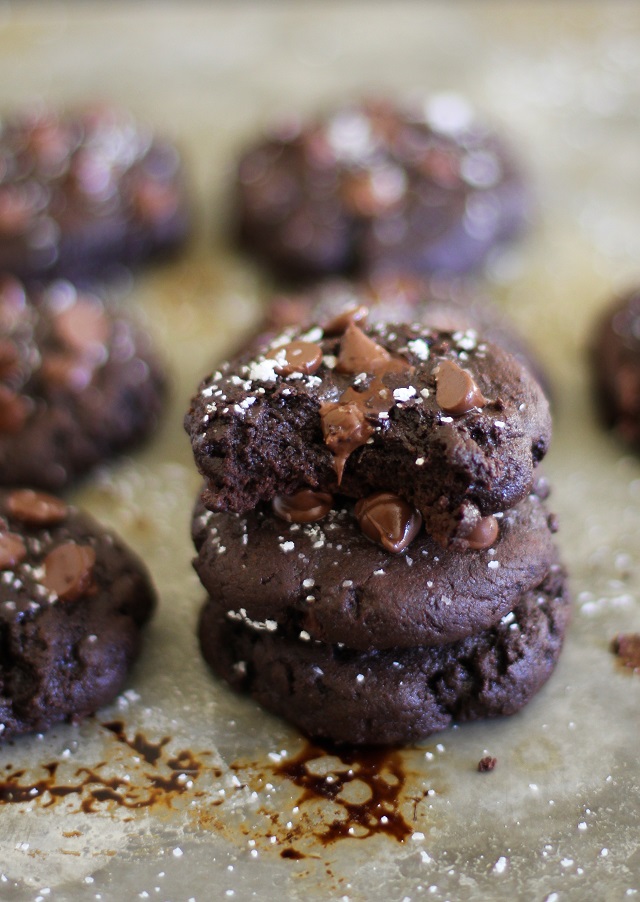 There's no other way to say this…
These cookies will make you legit re-evaluate your life.
2500% chocolate upon chocolate, 1800% healthful, 3000% Christmas cookie-able, 4300% kid, tween, adult-friendly. Grain-free lumps of ooey gooey gluten-less double chocolate richness to really get you lit? Prepare for gravity to reverse itself and the laws of physics to be defied.
They are, in an expression, the real McCoy. The full monty. The ooh ee ooh ah ah ching chang walla walla bing bang.
And you can quote me on that.
But don't just take my word for it. Let your eyes do the troubleshooting.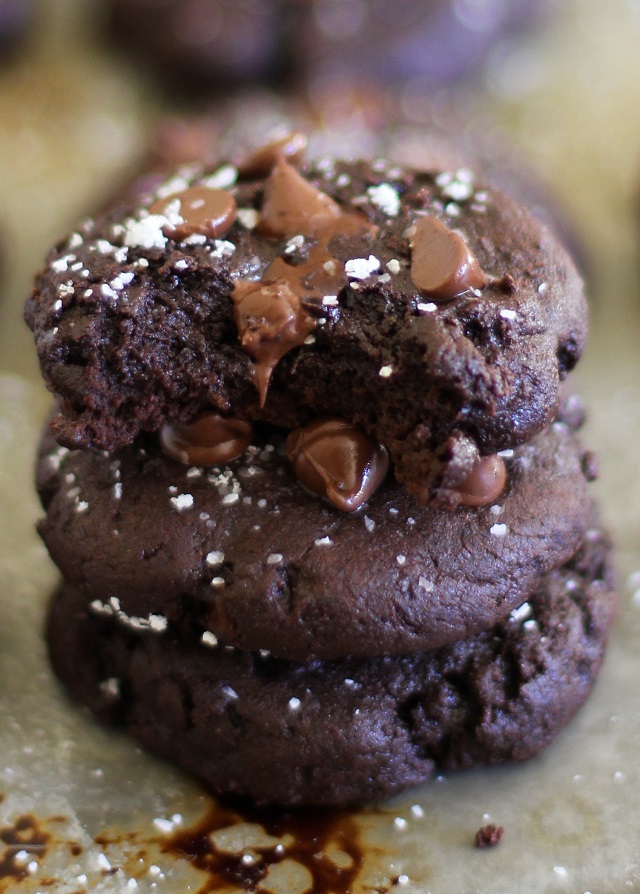 What is Buckwheat Flour?:
Buckwheat flour. Let's talk this out. It has the most unique nutty//earthy flavor. It's super great for making pancakes and crepes, as well as cookies, quickbreads, cakes, scones, etc. You can use it in conjunction with other gluten-free or grain-free flours, or – just like in the case of these cookies – use it on its own.
Buckwheat is a seed that's full of fiber, antioxidants, vitamins and minerals and is neither a grain, nor does it contain gluten, making it a gut-friendly food for most individuals.
Buckwheat groats can be cooked similarly to wheat berries, or they can be ground down into oatmeal-like texture (like what you saw in my Superfood Blueberry Buckwheat Porridge), or, finally, finely ground into flour. Because it's so nutrient-dense, buckwheat is considered a superfood.
I use Bob's Red Mill's buckwheat flour for all of my buckwheat needs. One bag goes a long way since buckwheat absorbs quite a bit of liquid, and it's a super choice option for all of your gluten-free and grain-free endeavors.
Because these cookies are approximately 7500% chocolate and buckwheat flour absorbs a little more liquid than your regular flour, you hardly need any flour at all for this batch. Only a scant ½ cup of buckwheat flour wins you oodles of grain-free cookies that you should 200% make for all your peeps this holiday season.
These do require more prep than my usual toss-it-in-a-bowl-and-stir recipe. You take hunks upon hunks of chocolate (you can use unsweetened or 60 – 2000% dark) and melt it in a double boiler. You then stir all of the ingredients (melted chocolate included) together to make the chillinest illinest cookie dough that requires every ounce of your self-control to not devour Johnny on the spot.
You also refrigerate the dough before baking it off into cookies, so you're looking at a couple extra steps that are well-worth the effort.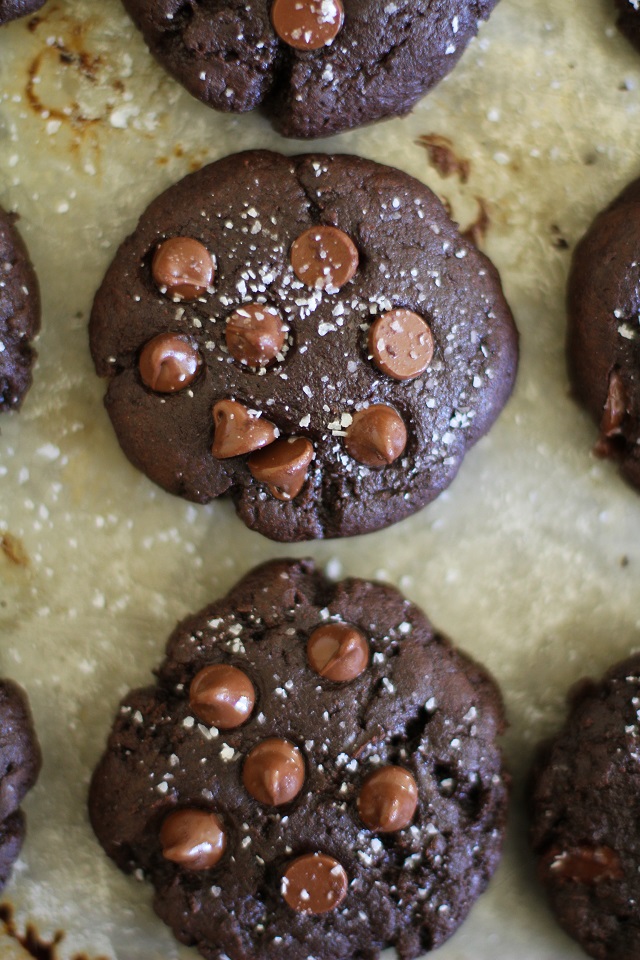 Quadruple whammy chocolate decadence face meld…and GO!
Gluten-Free Salted Double Chocolate Buckwheat Cookies
Gluten-Free Salted Double Chocolate Buckwheat Cookies are a grain-free chocolate cookie recipe that is unique, fudgy and flavorful!
Instructions
Heat a pot of water until boiling, and add the chocolate and butter to a smaller pot that fits inside the mouth of the pot with boiling water, creating a double-boiler. Reduce the heat on the boiling water to a gentle boil, and place the pot with the chocolate and butter over the hot water to melt. Stir occasionally until melted. Remove from heat, add the pure maple syrup, stir, and set aside to cool slightly.

Whisk the eggs together in a mixing bowl. Stir together the buckwheat flour, baking powder, and salt in a separate bowl then add this dry mixture to the mixing bowl with the eggs, along with the melted chocolate mixture. Stir well until combined, then fold in the chocolate chips.

Cover with plastic wrap and refrigerate until chilled, about 1 hour (overnight works best).

When ready to bake, preheat the oven to 350 degrees F and spray a cookie sheet with cooking oil.

Roll a ball of dough in your hands then press it into a cookie shape. Place on the baking sheet and repeat for remaining dough. Sprinkle cookie dough with sea salt and bake until edges have firmed up and chocolate has melted, about 8 to 10 minutes.

Allow cookies to cool a few minutes before diving in!
Notes
or 60% - 70% dark chocolate
Nutrition
Serving:
1
Cookie (of 12)
|
Calories:
226
kcal
|
Carbohydrates:
26
g
|
Protein:
5
g
|
Fat:
15
g
|
Saturated Fat:
9
g
|
Monounsaturated Fat:
1
g
|
Cholesterol:
36
mg
|
Sodium:
189
mg
|
Fiber:
5
g
|
Sugar:
14
g