Creamy Almond Joy Popsicles dipped in a homemade chocolate magic shell are paleo, vegan, and dairy-free! A delicious healthier frozen dessert recipe.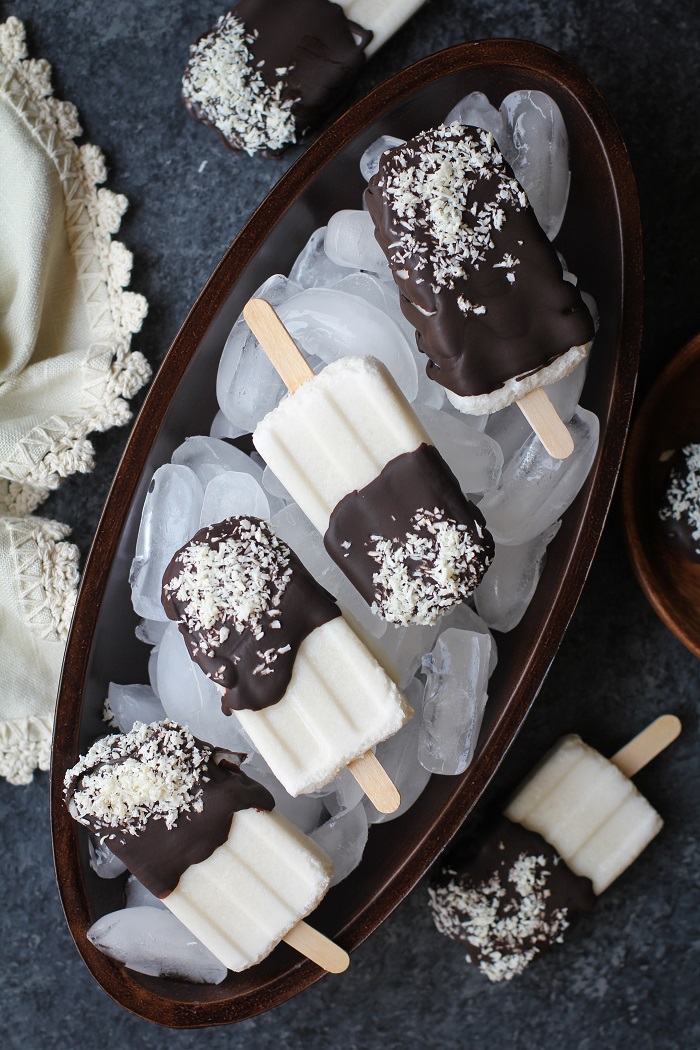 This summer has flown right by, and I haven't gotten around to posting a popsicle recipe until now.
Do you love Almond Joy candy bars?
It took me until my late teens to become an Almond Joy believer, but once I was there, man, I was there.
Since most of the popsicles I make are coconut milk-based, I had a brilliant idea – mimic the coconut, almond, chocolate combo of the Almond Joy candy and turn it into a healthier popsicle.
Okay, okay, it's nothing revolutionary, but I can tell you my face buds got quite a kick out of it.
These popsicles.
Here are some facts and features.
Recipe Highlights:
Dairy-free (made with coconut milk)

Refined sugar-free (naturally sweetened with agave nectar or pure maple syrup)

Vegan

Paleo-friendly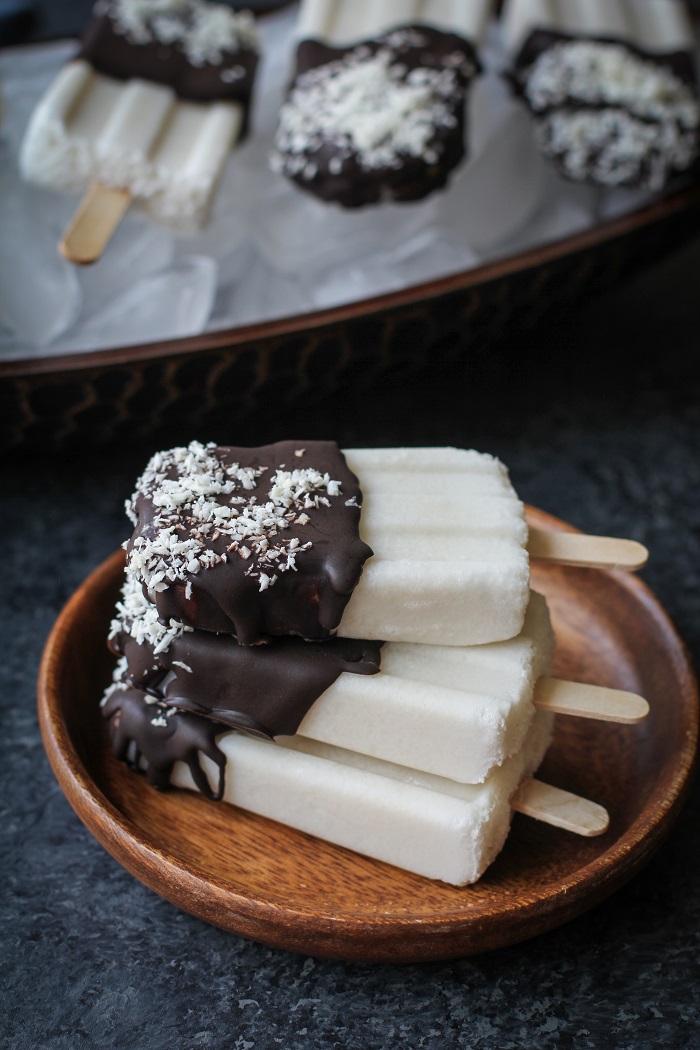 The popsicle itself is creamy, coconutty, and almond-y.
The dark chocolate coating really puts the seal on the whole experience.
You can coat the full popsicle in chocolate, or do as I did and go halvsies.
Don't have shredded coconut on hand? You can skip it, since it's really just for looks anyway, winky face.
Or, if you're a total boss, you can replace the shredded coconut with chopped almonds – that, my friends, would be a truly joyful experience.
Get it? Joyful? Almond joy? I'm really at a loss for jokes these days.
Chocolate Popsicle Coating:
Let's have words about the chocolate magic shell magic.
Have you made homemade chocolate magic shell? It's the easiest thing ever. Cocoa powder, coconut oil, pure maple syrup THAT'S IT!
The mixture dries and hardens quickly, but has the most melt-in-your mouth essence, just the way a good chocolate experience should be.
What Type of Popsicle Mold to Use:
I get asked a lot about my popsicle mold. I bought this Norpro Frozen Ice Pop Maker on Amazon many moons ago and absolutely love it. Any popsicle mold you have on hand will work!
What Type of Coconut Milk to Use:
One more quick note about the popsicles themselves: I used a combination of full-fat canned coconut milk and coconut milk from the carton in order to cut down on the fat and calories. If you're looking for a super creamy almond joy popsicle, you can replace the carton coconut milk with more canned coconut milk.
All the fat. All the joy. All the – I'm done.
More Healthy Popsicle Recipes:
My cookbook,
Paleo Power Bowls
, is now available! CLICK HERE to check it out. Thank you for your support!
If you make this recipe, please feel free to share a photo and tag me at @The.Roasted.Root on Instagram!
Almond Joy Popsicles (Vegan, Paleo)
Easy creamy almond joy popsicles made with basic whole food ingredients for a healthy treat.
Instructions
Prepare the Popsicles:
Add all of the ingredients for the popsicles to a blender and blend until well combined.

Pour popsicle base into a popsicle mold. Insert sticks, cover, and freeze until solid, about 5 hours.

When ready to coat the popsicles in chocolate, remove from the freezer and run hot water over the outside of the mold for a few seconds in order to release each popsicle.
Prepare the Chocolate Coating:
Heat all of the ingredients for the chocolate coating in a small saucepan over medium heat, stirring constantly until the cocoa powder has dissolved and all of the ingredients are well combined. Remove from heat and allow mixture to cool 1 minute.

Use a spoon to drizzle the chocolate over each popsicle, then immediately sprinkle shredded coconut (or chopped nuts) over the chocolate. Place popsicles on parchment paper or in a tupperware container and either immediately serve or freeze. If saving popsicles for later, freeze on parchment paper for about 15 minutes before transferring to a zip lock bag for storage.
Notes
*You can use any unsweetened non-dairy milk you'd like, such as coconut milk (either from a can or a carton), cashew milk, almond milk, etc.
**You can also use agave nectar, coconut palm syrup, or honey
Nutrition
Serving:
1
Popsicle
|
Calories:
213
kcal
|
Carbohydrates:
17
g
|
Fat:
15
g
|
Sugar:
16
g