Lemony Grilled Salmon Kabobs with pesto sauce and quinoa makes for a quick, easy, and nutritious meal.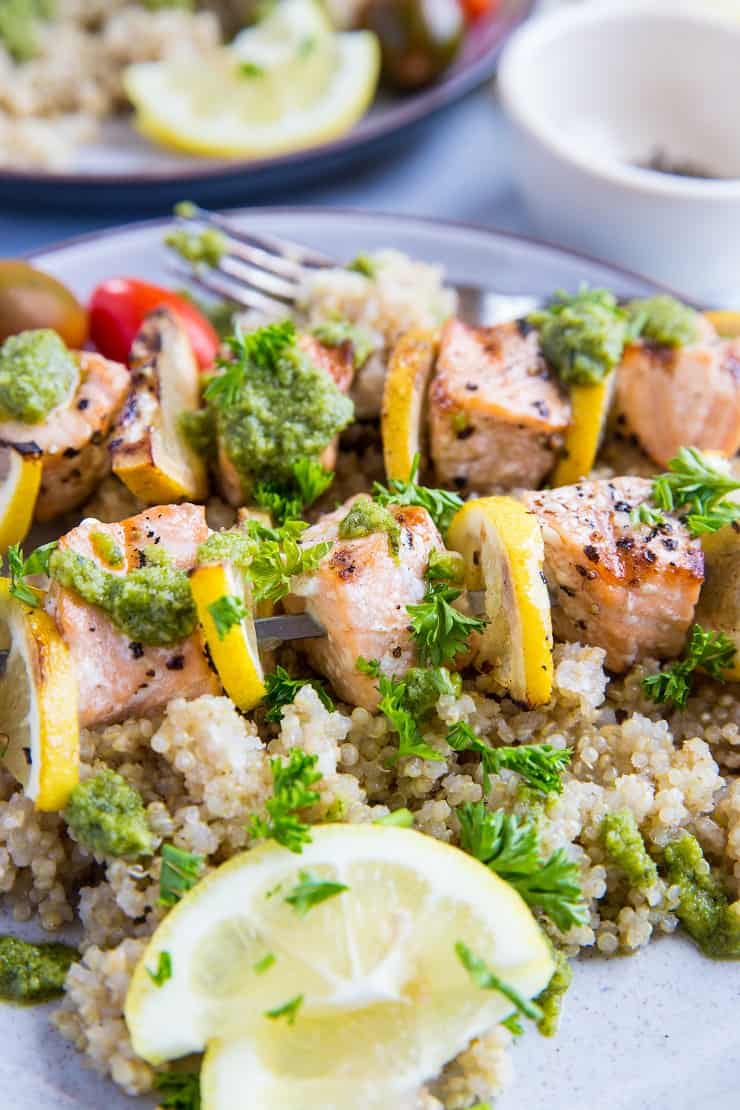 Oh hey! Have you ever made salmon kabobs??
Until recently, I never even considered kabob-ing salmon because I figured it would fall right off the skewers.
Nay.
I'm happy to report salmon not only remains on skewer during the grilling process, but it also turns out SUPER flavorful in all its charred glory.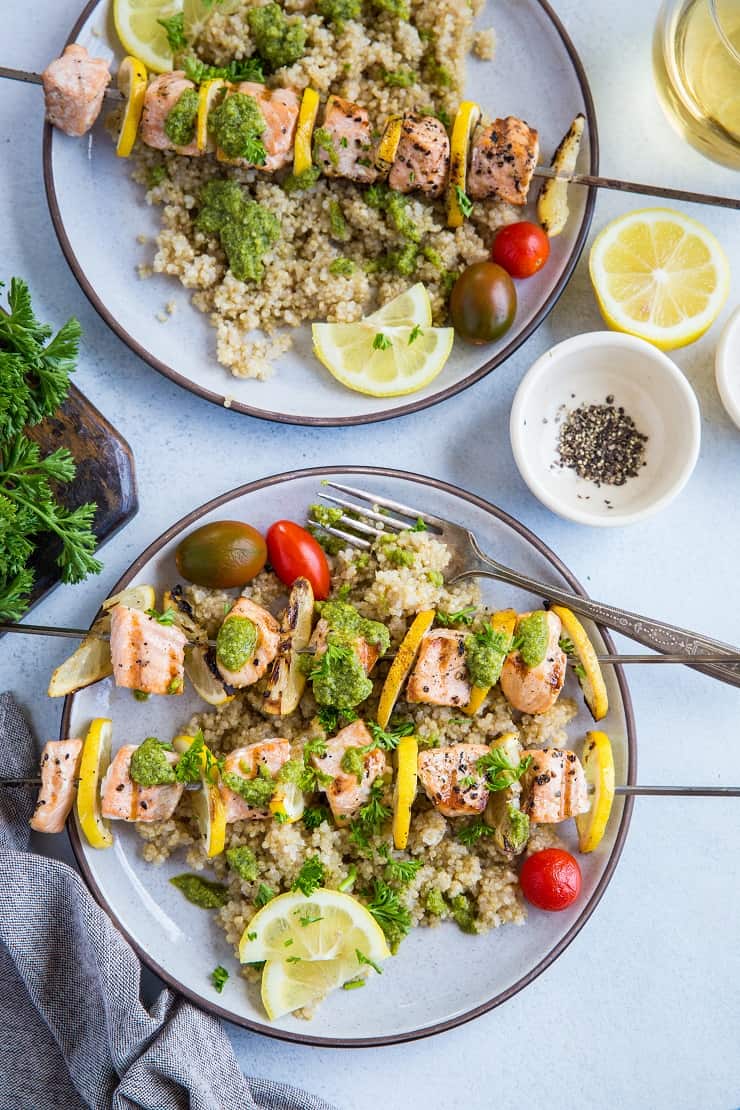 There's just something about eating animal protein off a spit…in my heart of hearts, I believe we humans were designed for it.
…unless you have a difficult time digesting animal protein…
…or stay away from animal protein for ethical reasons…
…so basically, in my heart of hearts, I believe I was designed to eat animal protein off a spit (or off the bone since we're on the topic). There…that's better.
50 Shades of Salmon
This summer, we've been chatting about the various ways one can cook salmon – I showed you How To Grill Salmon in Foil, Mediterranean Salmon in Parchment Paper, and Orange Butter Lemon Salmon which we cook to crispy perfection in a cast iron skillet.
If you've been hanging out around The Roasted Root for a while, you may have also seen My Go-To Crispy Salmon Recipe – we employ the broil function on our ovens for this one – or The Only Grilled Salmon Recipe You'll Ever Need. Heck, we've even made Asian Salmon Burgers. There is no shortage of salmon recipes on this site, that is for diggitydayum sure.
In essence, we've made the rounds when it comes to salmon cooking methods.
Don't Fear the Fish
I mentioned on Instagram a while back that one of my mini missions on this blogging journey is to give you confidence to prepare seafood (or really any food) at home.
Truly, making fish or seafood at home is no more difficult or scary than making any other animal protein.
Grilled Salmon Kabobs:
To make grilled salmon kabobs, all we need is – you guessed it – salmon, any other kabob ingredients your heart desires, such as lemon, zucchini, tomato, onion, etc., and skewers.
I recommend getting a thicker cut of salmon so it's easier to chop into cubes. The thinner pieces won't be as hearty when skewered. I also recommend using metal skewers rather than wood for a couple of reasons: 1.) metal skewers are more environmentally friendly, and 2.) metal skewers don't need to be pre-soaked the way wood skewers do (obvi), so you save yourself some time.
Step 1: Fire up your grill to get it nice and hot.
Step 2: Thread your kabob ingredients onto the skewers and generously coat them in avocado oil (or high-temp cooking oil of choice). Give them a sprinkle of salt and pepper (and any other spices your heart desired).
Step 3: Grill to perfection.
Step 4: Serve with cooked quinoa, cherry tomatoes, and pesto sauce (or your favorite side dishes), and devour.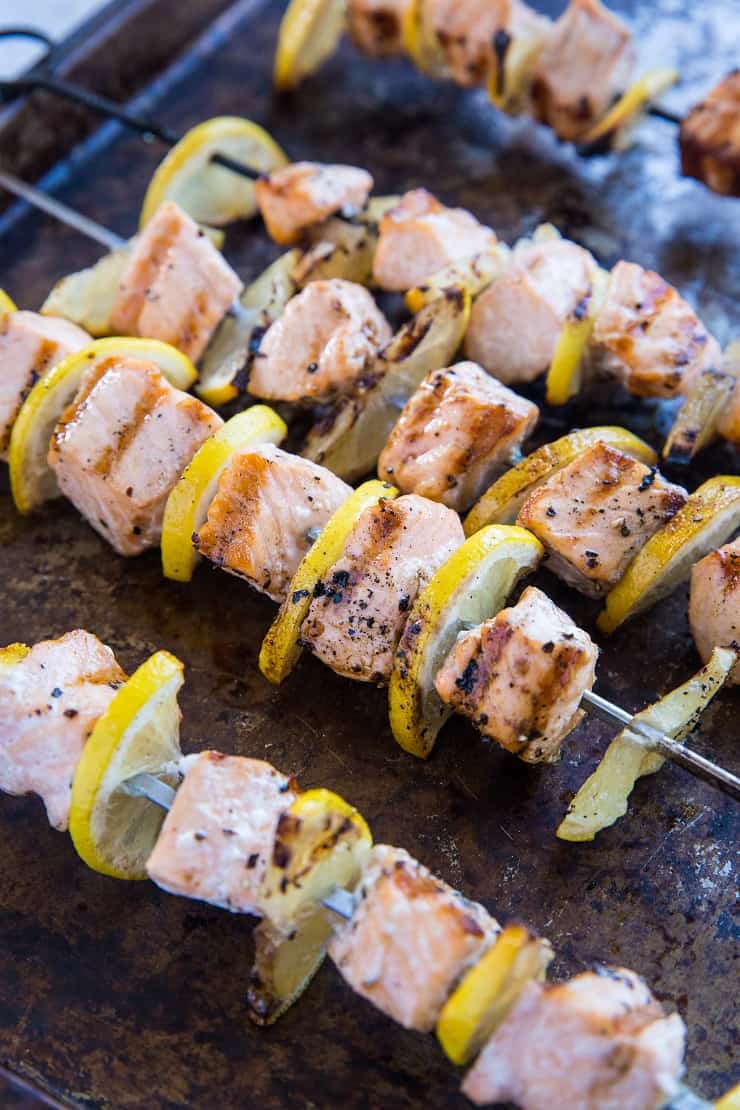 As tempting as it is sometimes to just eat protein, we need some side dish action to go along with these salmon kabobs. As you can see, I simply whipped up some quinoa and drizzled everything with my Low-FODMAP Pesto Sauce (hint: you can use any of your favorite homemade or store-bought pesto sauces).
So simple, so flavorful, so filling, so YUM!
Looking for more side flings? Check out my Side Dishes and Salads for more serving options.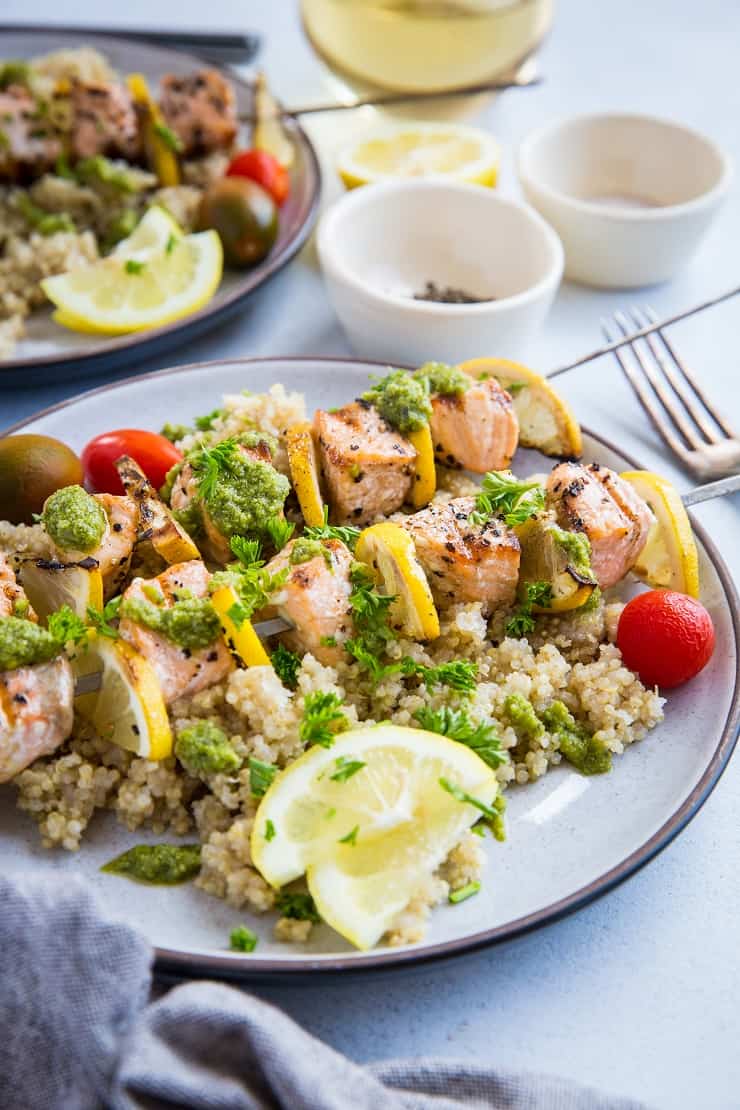 Fire up that grill!
Grilled Salmon Kabobs with Pesto
Grilled salmon kabobs will wow your friends and family and are loaded with nutrients!
Ingredients
1

1 1/2-lb fillet salmon, chopped into 1/2-inch cubes

2

large lemons

sliced

2

Tbsp

avocado oil

1

pinch

sea salt

1

pinch

black pepper
For Serving:
cooked quinoa

cherry tomatoes
Instructions
Preheat the grill to medium-high.

Thread the chopped salmon and lemon slices through metal skewers (note: you can also use wooden skewers - just be sure to soak them for at least 15 minutes in water before using them).

Generously coat the skewers with avocado oil using a kitchen brush. Sprinkle with sea salt, black pepper, and/or any seasonings you like.

Place skewers on the preheated grill and grill until golden-brown grill marks appear, about 2 minutes. Carefully flip using tongs and grill another 2 minutes. Flip again and continue grilling until salmon is opaque and cooked through (this should take 5 to 8 minutes total).

Serve salmon skewers with cooked quinoa, cherry tomatoes, and a drizzle of pesto sauce.
Nutrition