It's been AGES since I've shown you bacon!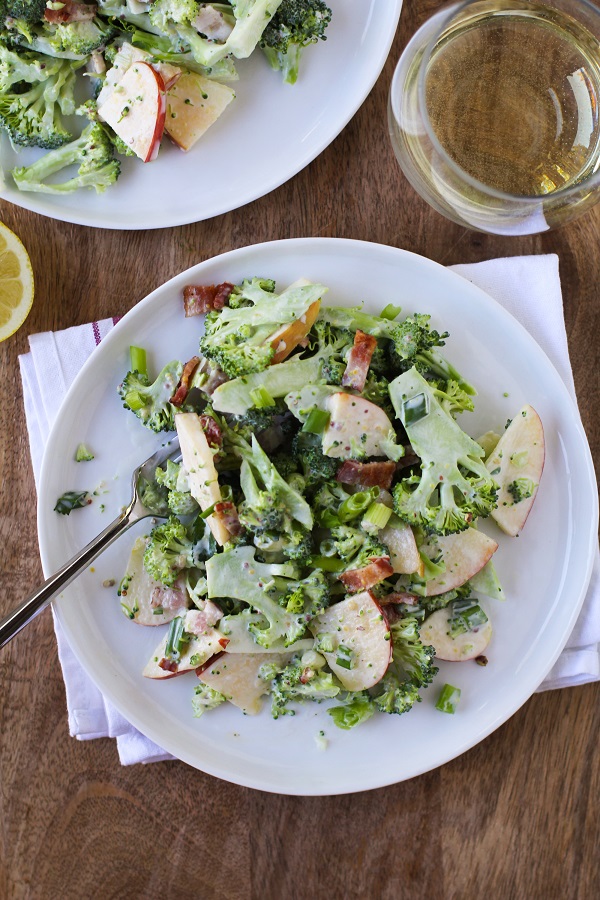 Remember when I told you I was going to lay off of the bacon for a while?
I fibbed.
In my defense, I didn't realize it was an un-truth at the time. But then I was flipping through the September issue of Cooking Light and their Shaved Broccoli-Apple Salad with Tarragon Dressing and Bacon jumped off the page and kissed me in the eyeballs.
So the bacon and I reconvened, and that's how this happened: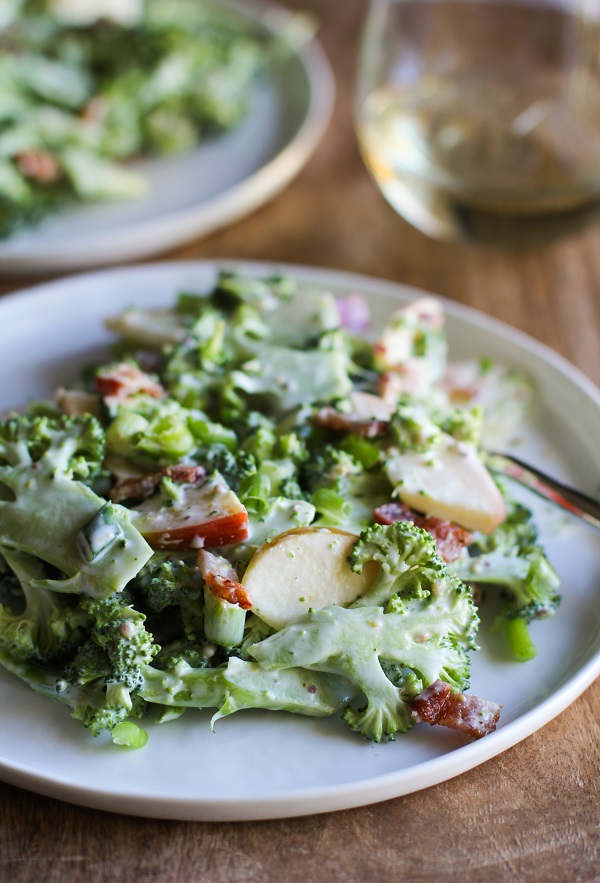 This will come as a shocker, but I forgot to pick up tarragon at the grocery store because my brain was submerged in which-bacon-do-I-buy? So the tarragon portion of the tarragon dressing does not exist in my version of the recipe; however, I will remember for next time, assuming I don't get distracted by the bacon display.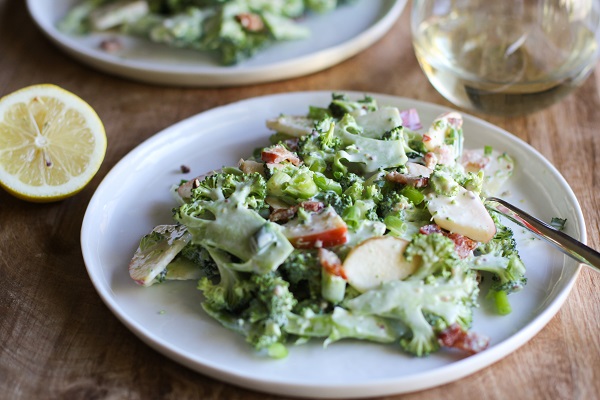 This salad is so simple, so flavorful, and it's just the keepiest of keepers. The "shaved" portion of this recipe involves putting the broccoli in a food processor and pulsing it up. True story: I'm the only food blogger on the planet that doesn't own a food processor, so I used my nifty WÜSTHOF CLASSIC 7-inch Hollow Edge Chai Dao knife to thinly slice the broccoli, which worked like a dream.
My biggest take-away from the recipe (other than the fact that bacon and I are soul mates) is that shaving (or food processing) the broccoli is better than leaving it in florets, because the slices soak up the dressing and become bombed with flavor. This is now my answer to all the broccoli salads.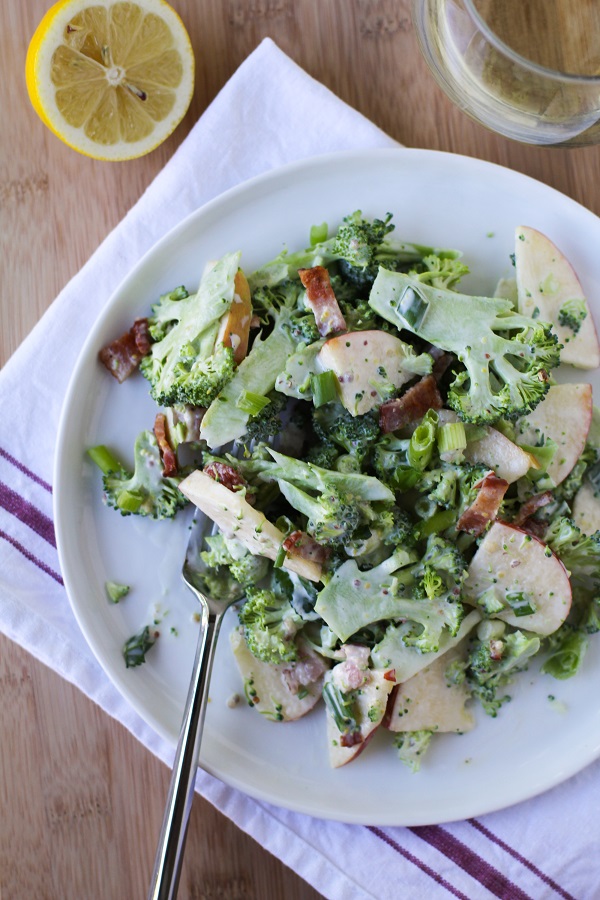 Guess what, guys?! Today, I'm hopping on a plane to see my good friend, Stephie! It will be the first time we meet in person, and I'm pretty sure you'll hear us shouting from across the United States. Slash we'll be blowing up all the social medias with our comings and goings. Spoiler alert: there might be tattoos. You think I'm kidding.
Have you been to Chicago? It will be my first time in Illinois, and I just can't wait. I have some posts scheduled to go up while I'm gone, so you won't be in the dark. Plus you'll hear the screams and see all the Instagrams.
You know what to do with this salad.
Shaved Broccoli-Apple Salad with Bacon
Ingredients
2

strips bacon

cooked and chopped

3

tablespoons

cider vinegar

1

tablespoon

whole-grain mustard

½

teaspoon

black pepper

1/3

cup

full-fat plain Greek yogurt

2

tablespoons

mayonnaise*

1

tablespoon

fresh lemon juice

1

pound

broccoli

1 large crown

1

large Gala apple

cored and sliced
Instructions
Cook the bacon over medium heat until it reaches desired level of crisp. Place it on a plate, chop it, and set aside.

In a large serving bowl, whisk together the cider vinegar, mustard, pepper, yogurt, mayo, and lemon juice until well-combined and creamy.

Place broccoli in a food processor and pulse a few times to give it a rough chop (if you don't own a food processor, do as I did and thinly slice the broccoli).

Add the broccoli, apple, and bacon to the mixing bowl and toss well until everything is coated in dressing.

Serve alongside your favorite entrée!
Notes
*I used Hampton Creek's Just Mayo
Nutrition