Roasted Sweet Potato and Cauliflower Rice Buddha Bowls with Turmeric Tahini Dressing, kale, black beans, avocado, red onion, and pumpkin seeds – a high impact vegetarian meal to refuel your vitamin tank.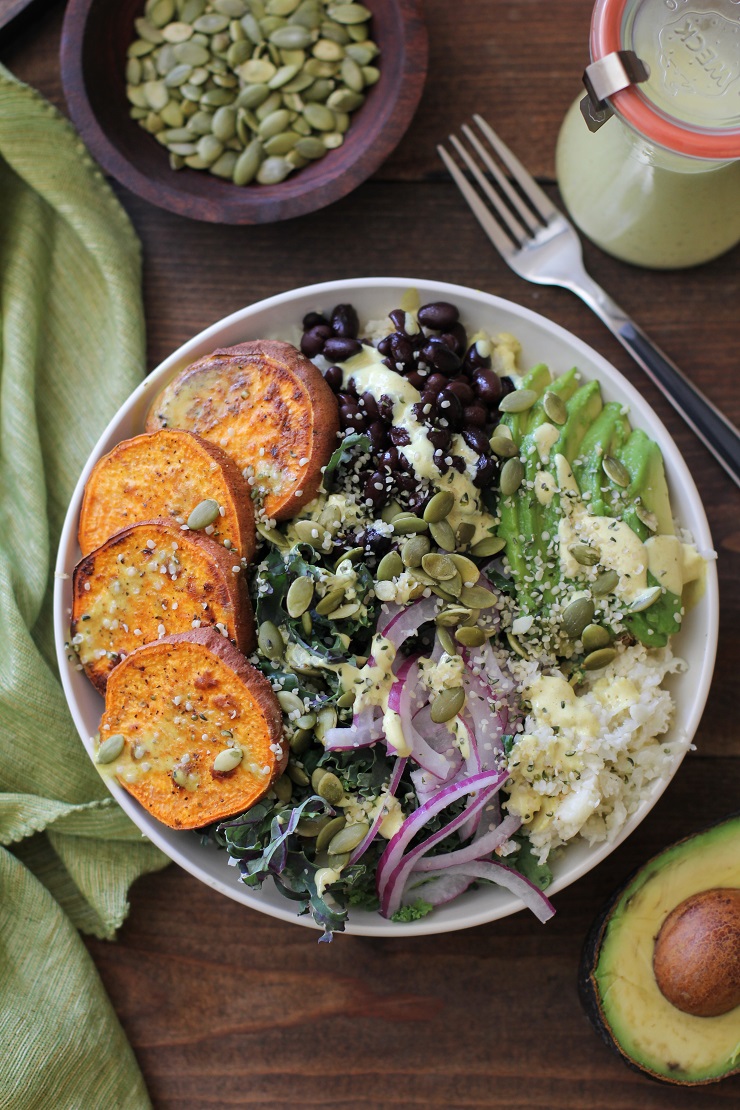 After travelling so much over the last couple of months, I feel like I need this exact bowl (or some rendition or semblance of it) on repeat.
There's been fried food, gluten, dairy upon dairy, sugar upon sugar, cocktail upon cocktail, you guys, there's been CHEESE.
Not that I have regrets or complaints, because I think it's important to cut loose when I travel, and BOY GEORGE I've eaten some incredible food lately…BUTT (<-get it?) the body has definitely seen better days.
Both from an energy standpoint and a skinny-jeans-don't-lie-my-ass-has-its-own-gravitational-force sort of way.
And let's face it, amp up the carbs and dumb down the vitamins, and this girl's inner emoji demons come raging out.
Case in point: I, personally, could use an emotional cleanse as well as a physical reboot.
This bowl is amazing for detoxifying after a perma-vacation, or for general upkeep and maintenance.
It's the type of bowl I eat regularly when I'm home and have my own kitchen tools at my disposal. It's what I crave once I give myself the chance to press "unsubscribe" from the addictive, addictive ways of brownies a la mode.
Breaking it down beat-boy style, we have roasted sweet potato to the kale to the tahini dressing, to the cauliflower rice to the black bean hallelujah.
This bowl will be your high-intensity nutrient boost whenever you feel you need it. It's grain-free, vegan, and well-balanced. You can add to it, subtract from it, mix it up, have your way with it. Butternut squash in place of sweet potato? Get on with your bad self.
Brown rice in place of cauliflower rice? You do you. Add some chicken or pulled pork? Sing it!
About that kale. I kept my kale raw in these bowls, but you can certainly give it a quick sauté if you prefer a softer leaf/easier to chew experience.
You can also rub the leaves with lemon juice and drizzle with olive oil and sea salt for a wilted kale experience. In essence, choose your path when it comes to the greenage. Prefer spinach? Make that swap!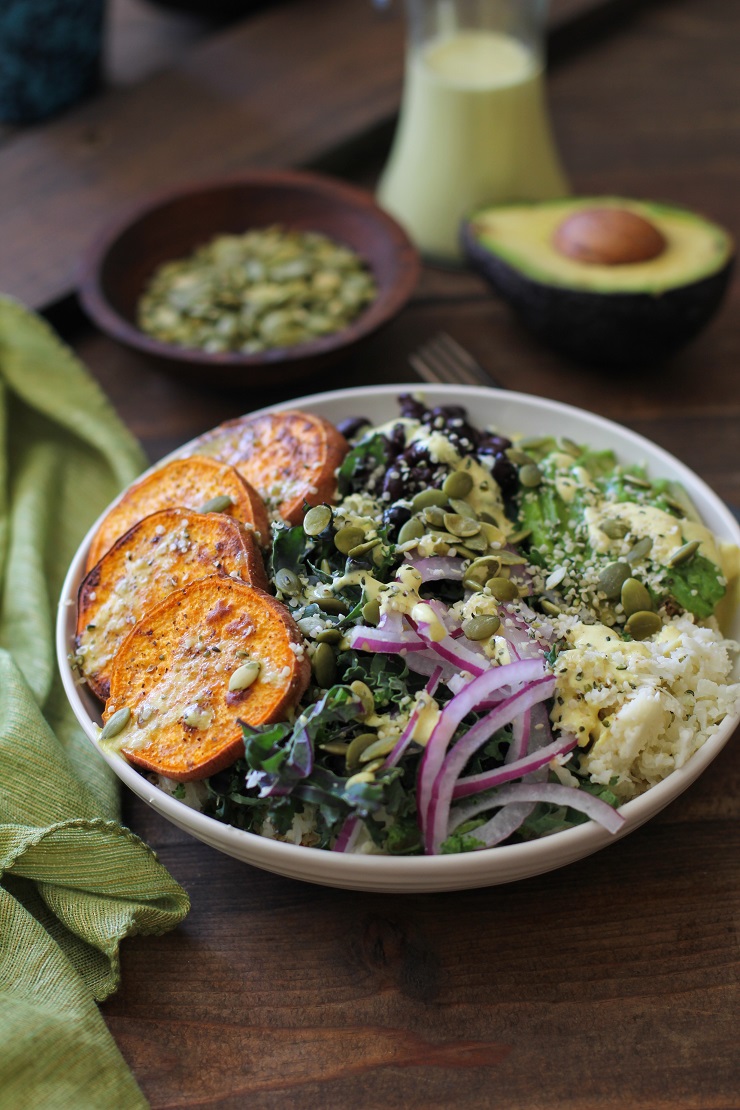 Turmeric tahini dressing, people. Wow, what a nutrient-boosting sauce.
We use lemon juice for some added antioxidants and flavor, fresh turmeric because it's an insane superfood, tahini because it's healthful and creamy, and nutritional yeast because: yum.
The cool part about this dressing is you can definitely make it your own. Add more coconut milk to make it creamier, more lemon juice to give it more tang, amp up the nutritional yeast for more cheesy flavor, and/or omit any of the ingredients to suit your personal taste.
This meal serves 2 people super generously (with the probability of leftovers).
You can gauge how many heads of cauliflower to use based on how many people you're feeding. Cauliflower cooks down quite a bit, so if you're feeding 2 people, 1 head is fine, but if you're serving 3 to 4 people, double the recipe so that no one is shorted on cauliflower rice.
Tools used to prepare this recipe:


Vitamins and minerals and antioxidants, oh my!
Roasted Sweet Potato and Cauliflower Rice Bowls
Roasted Sweet Potato and Cauliflower Rice Buddha Bowls with Turmeric Tahini Dressing are a nutrient-dense plant-based meal.
Ingredients
Instructions
Prepare the Buddha Bowls:
Preheat the oven to 400 degrees F and line a baking sheet with parchment paper (or spray/lightly oil it).

Drizzle the sweet potato rounds with olive oil and use your hands to coat them so that all of the flesh is lightly coated in oil. Arrange the rounds in a single layer on the baking sheet. Sprinkle with sea salt and any spices you desire (I like using paprika and sometimes a tiny pinch of ground cinnamon). Bake on the center rack for 15 minutes. Flip the rounds and continue roasting until golden-brown on both sides and cooked through, about another 5 to 10 minutes.
Prepare the Cauliflower Rice:
While the sweet potato is roasting, heat up the black beans in a saucepan, prepare the cauliflower rice, and make the sauce.

Heat the oil in a large skillet over medium-high. Add the grated cauliflower and cook, stirring occasionally, until it begins to soften and cook down, about 3 minutes. Add the garlic, salt, and coriander, and continue cooking until cauliflower rice is tender and is beginning to brown, about 5 to 8 minutes.
Prepare the Turmeric Tahini Sauce:
Blend the ingredients for the sauce in a small blender or whisk in a small bowl until very well combined. Set aside until ready to use.
Make the Buddha Bowls:
Divide the cauliflower rice between 2 to 3 bowls, followed by the sweet potato rounds, black beans, kale, avocado, and red onion. Drizzle with turmeric tahini dressing and top with pumpkin seeds and hemp hearts if desired.
Nutrition
Serving:
1
Serving
|
Calories:
646
kcal
|
Carbohydrates:
64
g
|
Protein:
23
g
|
Fat:
38
g
|
Fiber:
24
g
|
Sugar:
11
g
More Healthy Bowl Recipes: