This Korean Bulgogi recipe is a slight changup on the classic dish. Thinly cut beef marinated in fresh ginger, garlic, liquid aminos and honey makes for a flavorful, filling meal. 
Preparing ethnic food is a hobby of mine and keeps me inspired in the kitchen. I enjoy incorporating an abundance of aromatic spices I wouldn't otherwise use, leaving my house smelling otherworldly, and my belly satisfied. Learning the similarities and differences between the techniques and ingredients used in various cuisines worldwide gives me a more complete culinary perspective.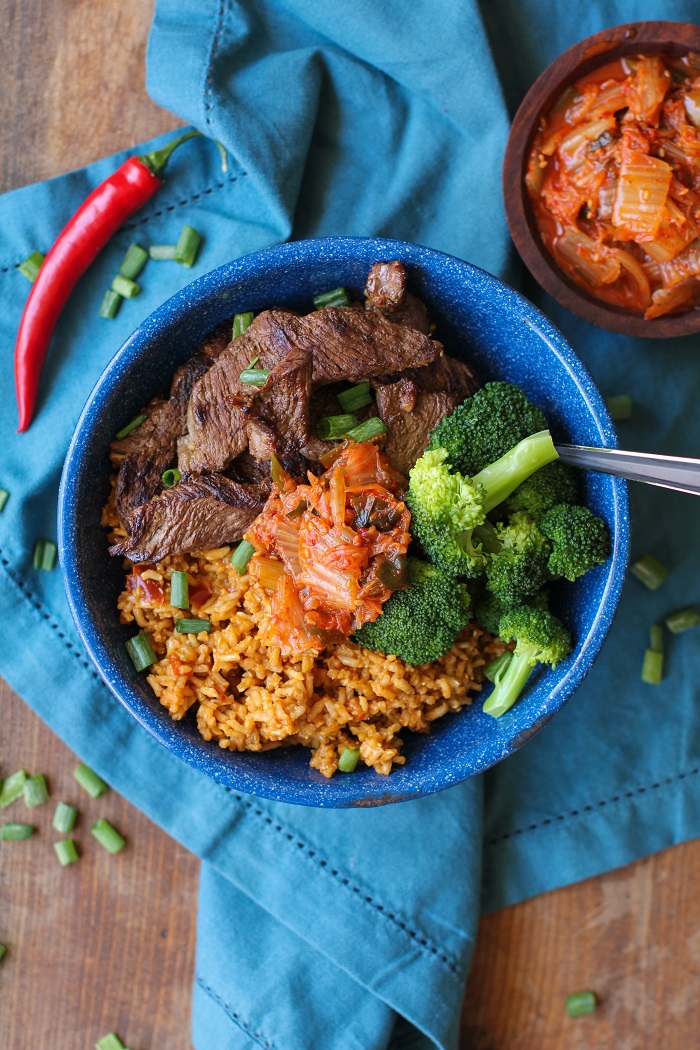 It dawned on me recently that I don't cook nearly enough Korean food. In fact, until this point, bibimbap was the only Korean dish I had made, so I knew I needed to expand my horizons and cozy up to more Korean dishes.
Since I'm not super well-versed in the art of Korean cooking, I read up on it prior to preparing this recipe in order to gain a bit of a foundation. Korean cuisine is primarily centered around rice, vegetables and meats, and most meals are served with kimchi (naturally fermented cabbage, radishes, and cucumbers with spices). Commonly used ingredients in Korean dishes are ginger, garlic, sesame oil, doenjang (fermented bean paste), soy sauce, salt, garlic, gochujang (sweet and spicy red chili paste), gochugaru (similar to red pepper flakes), and brown sugar.
While I can get on board with all of the aforementioned ingredients, especially ginger, I tend to stay away from soy products or refined sugar when possible. For this reason, I thought it would be fun to prepare a traditional Korean dish, bulgogi (thinly sliced grilled marinated beef), but replace the traditional soy sauce with liquid aminos (I used coconut aminos) and substitute honey for brown sugar. I know, I know, it's not authentic, but the result tasted so, just trust me! 
My usual approach to cooking any type of cuisine is cutting corners wherever possible in order to minimize the amount of ingredients used and shorten prep time without compromising the flavor of the dish. While packaged food can have a reputation for being less healthful than homemade foods, companies like Lundberg are changing that trend, offering up quality goods that not only keep cooking convenient, but also health-conscious.
Lundberg just released five flavor varieties of organic sprouted rice: Thai Red Curry, Toasted Coconut, Chile Verde, Korean BBQ, and Vegetable Fried Rice. Each flavor is made with real, wholesome ingredients, and is perfect for adding to your easy, healthy dinner any night of the week.  They are all made from whole grain sprouted organic rice, are naturally gluten-free, non-GMO, vegan and kosher.
Are you wondering why sprouted rice? In case you're unfamiliar, the process of sprouting rice is basically the beginning stages of germination. Rather than drying and packaging up the rice after harvest, the rice is left in a moist, warm environment. Because individual rice grains are actual seeds, over a period of a few days, the grains begin to sprout. At this point, additional health benefits are released from the inside of the grains, making the whole grain easier to digest, and the protein contained in rice easier for your body to absorb and put to use. Plus, sprouting yields a slightly nuttier flavor, and requires less cook time than un-sprouted rice. Learn more about Lundberg's new line of organic sprouted rice HERE! Lundberg is generously giving away a prize pack (valued at $150) to one reader. More details at the bottom of the post!
For these bowls, I made Lundberg's Sprouted Korean BBQ Rice, bulgogi, and steamed broccoli. I simply put everything in bowls and served them with store-bought kimchi on top.
Recipe Advice & Change-Ups:
Because I sliced the beef thinly and the grates on my grill are fairly wide, I opted to cook the meat in a cast iron skillet rather than on a BBQ. If you have a Korean-style BBQ (or even a George Foreman), feel free to grill the meat rather than cook it on the stove.
I steamed the broccoli, but you can also saute it with sesame oil, ginger, garlic, etc. You can even marinate the broccoli ahead of time just like you're doing with the beef (just be sure to marinate the two separately).
If you aren't partial to beef, you can replace it with chicken and still use the same marinade outlined in the recipe.
Incorporate more of your favorite veggies, such as cauliflower, or bok choy.
Use homemade kimchi or other pickled veggies for serving.
To make this recipe the authentic Korean version, replace the liquid aminos with soy sauce, and the honey with brown sugar.
Now, the moment you've been waiting for…
Giveaway:
One lucky winner will receive each of the following goodies:
Five (5) varieties of Organic Sprouted Rice & Seasoning Mixes 

Lundberg Family Farms Rice Paddle

$100 Whole Foods grocery gift card

A 1 1/2 QT. Cuisinart saucepan
To enter the giveaway, simply leave a comment on this post telling me which of Lundberg's new rice flavors you're most excited to try. The giveaway ends at midnight EST Tuesday, May 31, 2016. The winner will be notified by me via email and will have 24 hours to respond before a new winner is selected. Good luck!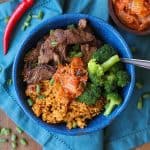 Korean Bulgogi and Rice Bowls + Giveaway!
Print
Ingredients
Bulgogi
1

pounds

to 1-½ boneless sirloin steak

cut into thin strips

1/3

cup

liquid aminos*

3

tablespoons

sesame oil

2

cloves

garlic

minced

1

tablespoon

fresh ginger

peeled and grated

2

tablespoons

honey*

½

teaspoon

gochugaru

or red pepper flakes
For the Bowls
1

ounce

package Lundberg Sprouted Korean BBQ Rice

6-

2

medium crowns broccoli

steamed

Kimchi for serving
Instructions
Prepare the Bulgogi:
Combine the liquid aminos, sesami oil, garlic, ginger, honey, and gochugaru in a small blender and blend until completely combined. Place the thinly sliced steak in a sealable bag or container and pour in the marinade. Marinate for at least 15 minutes (overnight is better). While beef is marinating, prepare the rice according to package instructions and steam the broccoli.

Heat a cast iron skillet to medium-high and add juste enough oil to lightly coat the surface, about 2 to 3 tablespoons. Carefully place several strips of beef on the hot skillet in a single layer, leaving room between strips. Cook for 2 to 3 minutes, or until beef is browned. Flip using tongs and cook on the other side 1 to 2 minutes, or until beef is cooked to desired doneness. Transfer meat to a plate and repeat for the remaining strips of meat (It took me 3 rounds to finish cooking all the beef).
Prepare the Bowls:
Divide the rice, broccoli, and bulgogi between 3 bowls. Serve with kimchi, and enjoy!
Recipe Notes
*You can replace liquid aminos with low-sodium soy sauce
**You can replace honey with brown sugar.
This post is sponsored by Lundberg. All opinions are my own.