Brown rice pesto bowls with broccoli, beets, and kale – a superfood dinner that takes no time at all to prepare.
This bowl is very telling. In fact, it's a bit of a loud mouth.
If this bowl could talk, it would usher you over and tell you it's a perfect example of what I eat on the nightly. Glamourous? Hardly.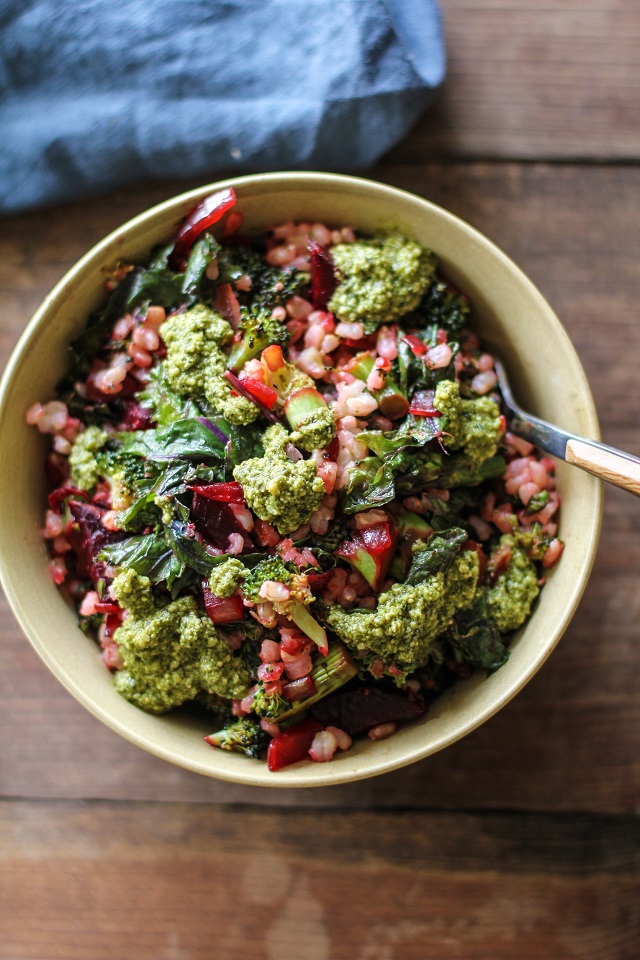 It would state its case by providing examples:
Exhibit A. Exhibit B. Exhibit C. Exhibit D. Exhibit E (<-particularly Exhibit E).
You see, on any given weeknight, come 5pm PST, my creative juices have dwindled, and I have hanger for a hot filling bowl of nutritious food. In order to avoid being a pantry pirate and making some real bad decisions, I've gotten into the habit of tossing loose odds and ends into a skillet and mix said ingredients with cooked rice and homemade or store-bought sauce. I will admit, sometimes said bowls are comprised of recipes deconstructed and re-purposed to fulfill my hankerings. I'll periodically borrow the sauce from recipe A, the cooked veggies from recipe B, the meat from recipe C, give it all a little shake, add some salt and proceed to feed the food fiend.
I know you're wondering…does this bowl tastes like topsoil? I can confirm and solemnly swear that it does not. Here's where you'll just have to take a flying leap of the Trust Cliff and spread those wings, m'dear. Because it's maaaahvelous. When in doubt, just add more pesto.
If you're plumb knackered at the end of the day, the veggies + rice (+ meat if you're a carnivore) repertoire is pretty on point. It's speedy quick and clean – your ultimate pantry piracy avoidance to keep your good decisions on track.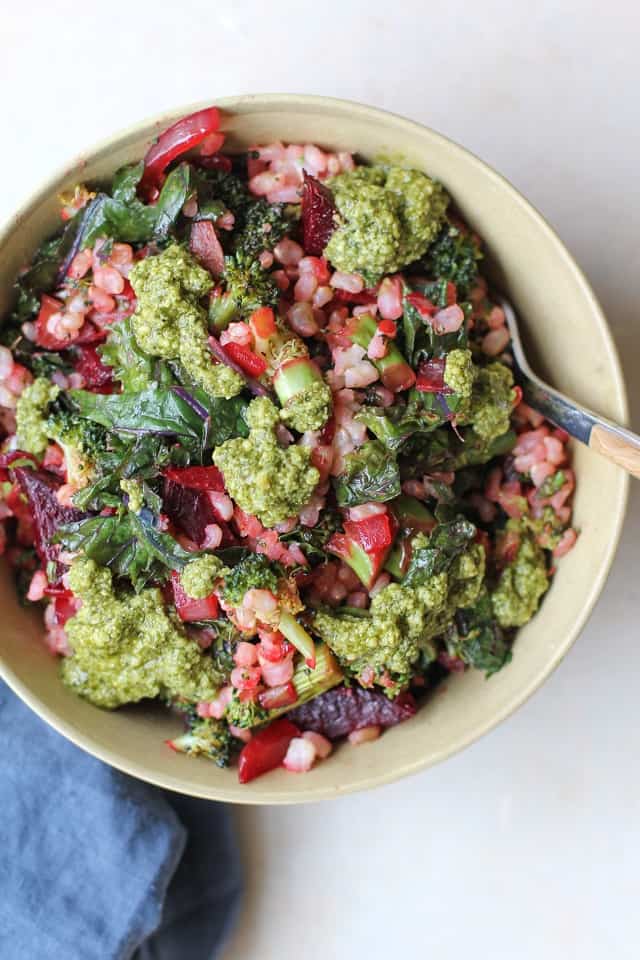 Red beets, broccoli, kale, red onion, and garlic are the main components of this recipe. Combined, these veggies award you a smattering of vitamins, minerals, and antioxidants. Saute those items up, throw in some cooked rice (or prepare the rice while the veggies are sauteeing), and mix in your favorite pesto sauce. For this recipe, I used basil pesto sauce, but beet pesto or arugula pesto would be awesome as well! Need some protein? Just add chicken.
Get that superfood!
Broccoli, Beet, and Kale Brown Rice Bowls with Pesto
Broccoli, Beet, and Kale Brown Rice Bowls with Pesto are nutrient-dense bowls of tastiness perfect for fall and winter!
Ingredients
1

cup

uncooked brown rice

or 3 cups cooked

2

tablespoons

coconut oil or olive oil

1

medium beet

peeled and chopped into ¼-inch cubes

1

large crown broccoli

chopped into florets

¼

red onion

finely chopped

4

cloves

garlic

minced

½

head Russian red kale

leaves chopped, about 4 cups

1

cup

dry short grain brown rice

1/4

cup

to 1/3 basil pesto sauce

plus more for serving, store-bought or homemade
Instructions
Cook the rice according to package instructions. While the rice is cooking, prepare the veggies.

Heat the oil over medium-high in a skillet or wok. Add the chopped beet, cover and cook, stirring occasionally, until beet turns bright red and begins to soften, about 8 minutes.

Add the broccoli and red onion and replace the cover. Continue cooking, stirring occasionally until the broccoli turns bright green and has softened, about 5 to 8 minutes.

Add the garlic and kale, cover, and cook until kale has wilted, about 2 minutes.

Add the brown rice and pesto sauce and stir together well so that everything is combined and heated through. Taste the mixture for flavor and add sea salt to taste. Serve heaping bowls with additional pesto sauce to taste.
Nutrition