Fresh and healthy Buddha bowls with brown rice, mixed greens, cherries, blackberries, peaches, black beans, pistachios, red onion, avocado, queso fresco, and green goddess tahini dressing – an easy well-rounded meal that can be made any night of the week.
These bowls….
How do I put this?
They're the cat's meow.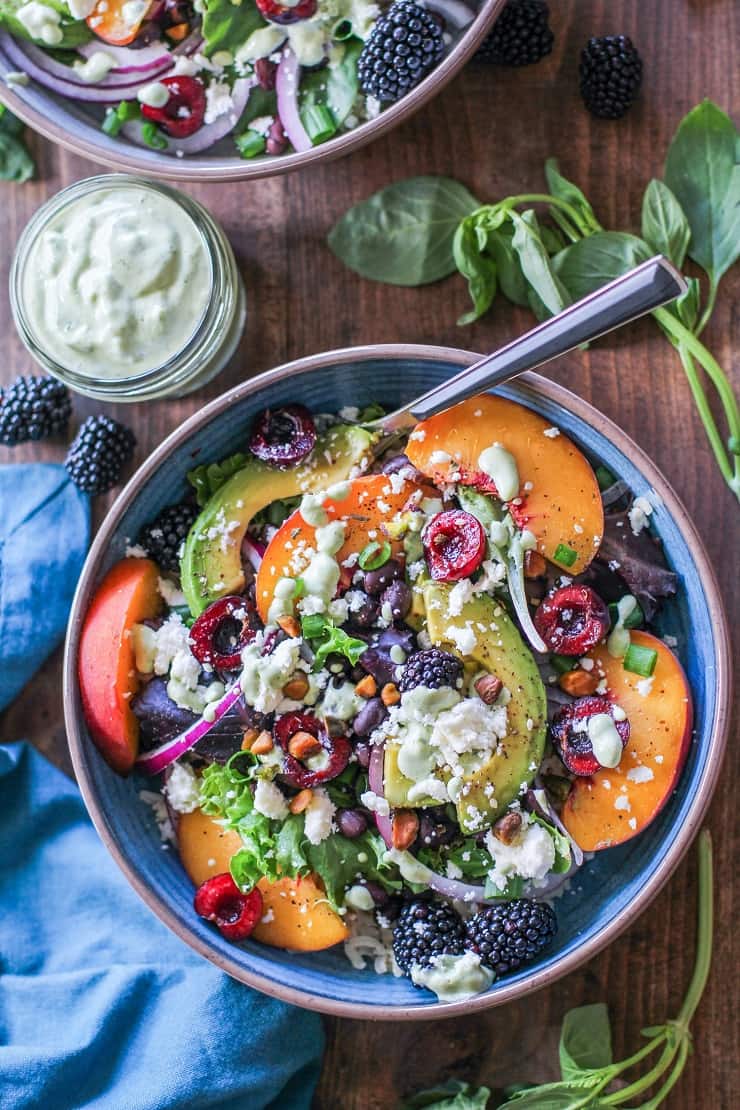 So good, you'll need a tissue to wipe your happy tears. So rambunctious, you'll be up until 3am watching Gilmore Girls and Carpool Karaoke. So nutritious, you'll feel like you'll never need to eat anything every again. Except for more bowl.
The last few weeks, I've been yearning for an over-the-top bowl of summery sustenance. Something voluminous and sassy to go along with this summer bout of sassy McSassalot sassafras sass I seem to be experiencing. I've been craving something with lots of variety and texture (enter das Buddha bowl), something colorful (enter stone fruit + mixed greens + queso fresco + avo +…you get the point), and something WOW saucy (enter green goddess tahini dressing).
I whipped up 4 different meals using many of the same ingredients you see in this recipe, but none were the exact thing I was looking. But these bowls. These exact bowls. They're everything I want in a well-rounded, clean summer sassy meal.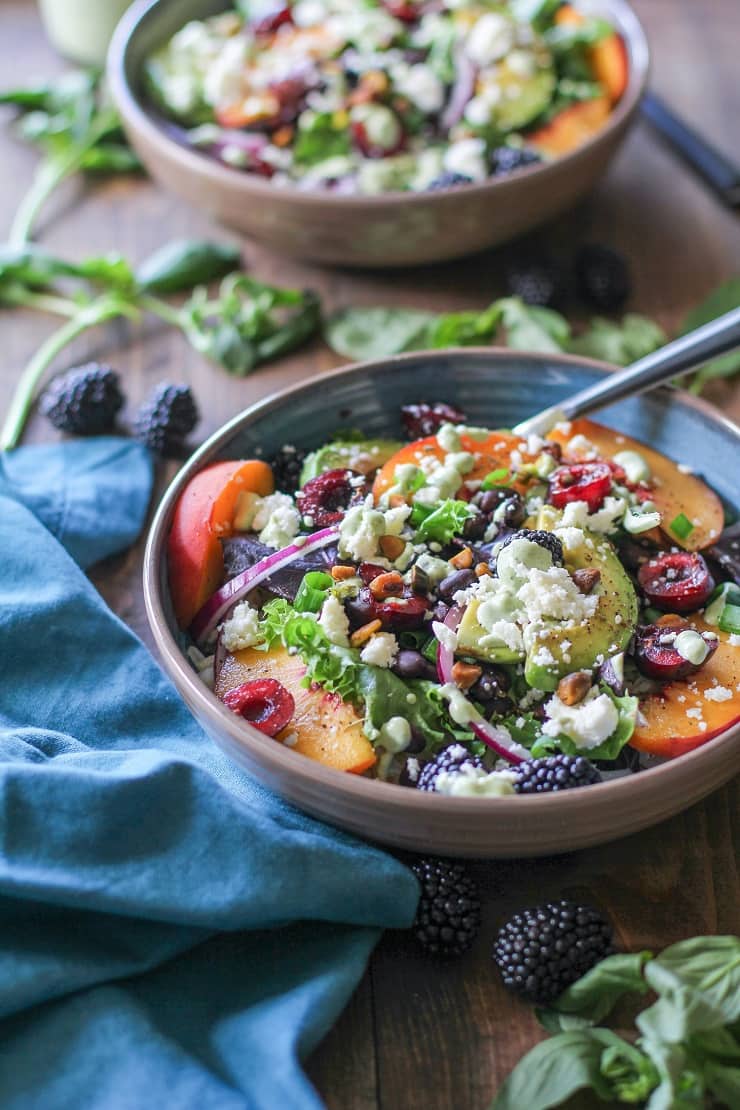 Let's back up a tick.
How do you wash your leafy greens? On a scale of 1 to 10, 1 being farm-to-table, 10 being void of all life and color, how would you rate your level of foliage maintenance?
I'll admit, when it comes to washing hearty veggies that I aim to roast, I'm not very thorough. In fact, sometimes I give them a bird bath and call it a wash prior to tossing them in the oven. But for vegetables I intend to leave raw – particularly leafy greens – I'm diligent. Even organic and/or bagged or packaged greens get a detailed wash. You name it, if it's leafy and green, it gets the super deluxe wash. Why? I'm wary of pesticides (even though I buy all organic greens, I'm still a bit un-trusting), bacteria (hello, E. coli), and mini critters that hide out in leafy green folds. When I used to grow a vegetable garden, I'd find those itty bitty white aphid-y spidery dealiboppers near the stems, but on a few occasions, I've found them in store-bought kale as well.
Case in point:  I wash my greens. Until recently, I'd put them in a colander to dry following the super deluxe wash. Let's be real: they'd never dry. I'd always end up dabbing them with a dishtowel to finish the job. But then Kuisiware sent me their OneSpin Salad Spinner, and now I'll never go back. It takes my deluxe-washed supergreens and makes them insta-dry. No wet soggy salads on my horizon, no sir. My greens shall forever be crisp, dry, and zestfully clean.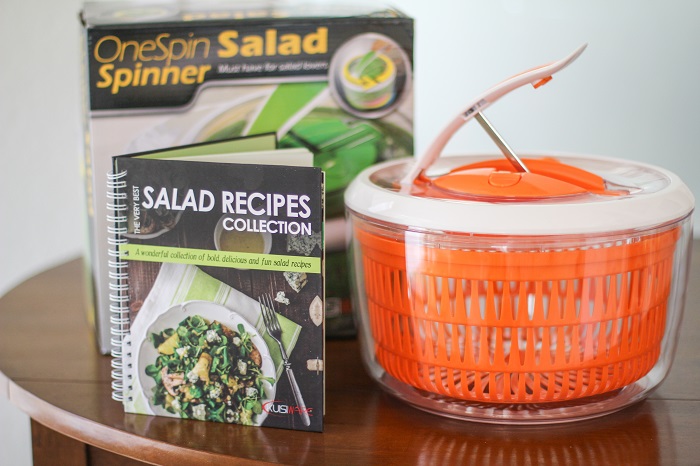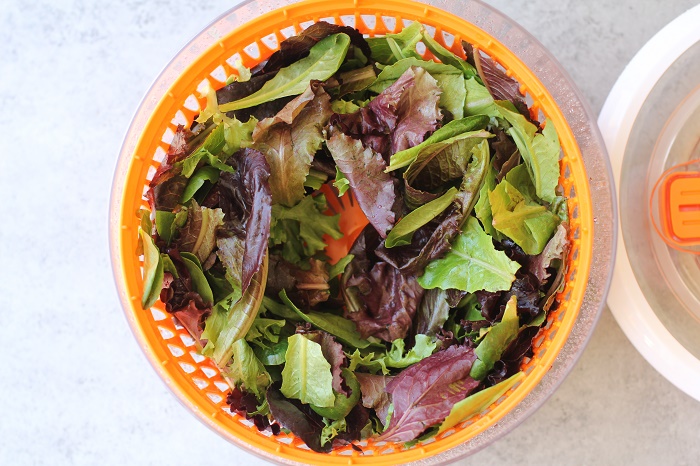 Let's discuss the features of the Kuisiware OneSpin:
The paddle mechanism offers a smooth, easy one-handed operation for drying any leafy greens, vegetables or fruits without damaging the products. The handle locks down for easy storage in your cupboard.

The one-handed operation makes it very easy to use even for those with aging joints, grip-limiting injuries or arthritis.

Durable, elegant, BPA-free materials, plus super cool orange color to keep your kitchen looking updated and snazzy

This multi-function tool can be used as a mixing bowl, colander, serving bowl, or fridge container for keeping your lettuce fresh for longer.

A silicone non-slip base ring keeps it securely in place when using on your countertop.

Comes with a recipe book to give you meal inspiration.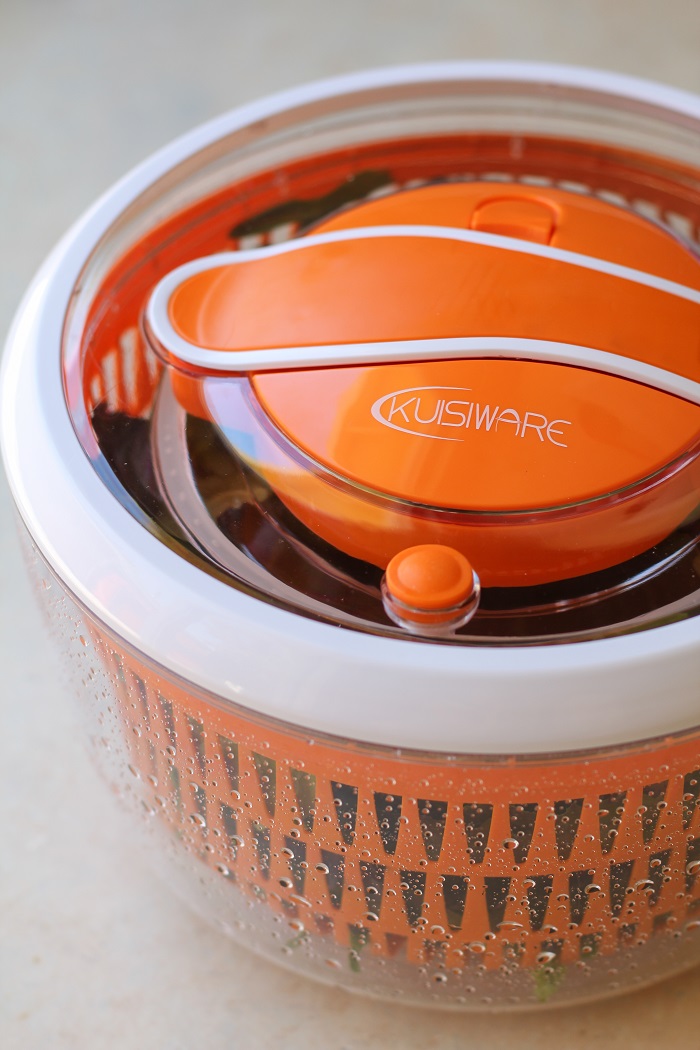 You can try Kuisiware's OneSpin Salad Spinner now for $5 off using the discount code: TRR5OFFX when you purchase it on Amazon. This offer is valid through November, 2016.
And these bowls, though. Crunchy, squishy, sploogy flavor explosion. Sweet, tangy, salty, creamy – all the flavors, every texture. All the bases? Covered.
In case you're not familiar with Buddha bowls, they're basically an anything-goes bowl with a mixture of fresh and cooked greens, fruit, beans, nuts, cheese, and sauce on top of a bed of rice. They're usually vegan or vegetarian and are packed full and well-rounded, like a Buddha's belly.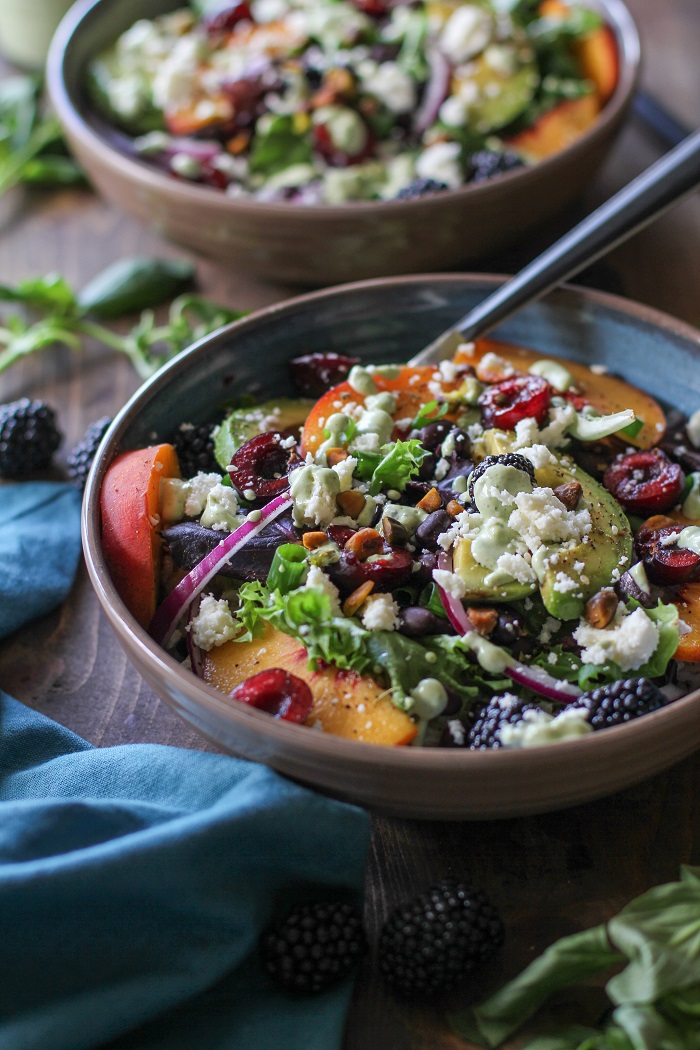 Black beans + brown rice give you a complete protein, plus you have the pistachios, queso fresco, and the tahini to add to the protein profile. My carnivorous friends – feel free to add grilled or rotisserie chicken.
You can change up these bowls in a myriad of ways. Here are some thoughts:
Adding or subtracting various fruit.
Using your favorite type of rice (forbidden or wild rice would be awesome)
Incorporate your favorite greens – either cooked or raw – such as spinach, arugula, chard, or kale.
Add hard boiled egg, chicken or serve alongside a cut of your favorite meat.
Make the green goddess traditional by using tarragon and parsley in place of the basil and sage, or use your favorite combination of fresh herbs.
Add roasted or grilled vegetables such as zucchini, yellow squash, sweet potato, broccoli, and/or eggplant
Now spin those salads and bowls!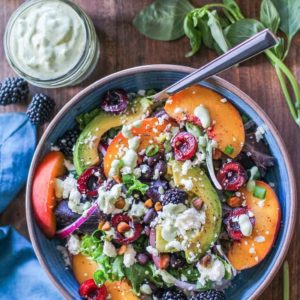 Summer Buddha Bowls with Green Goddess Tahini Dressing
Print
Ingredients
Green Goddess Tahini Dressing:
Stone Fruit Buddha Bowls:
2

cups

uncooked brown rice

5

ounces

mixed greens

I used a baby lettuce blend

1

14-ounce

can black beans

drained and rinsed

1

cup

ripe cherries

pitted and halved

1

pint

ripe blackberries

1

ripe peach

pitted and sliced

1

avocado

pitted and sliced

½

red onion

thinly sliced

½

bunch green onion

chopped

1/3

cup

queso fresco

crumbled

1/3

cup

shelled pistachios

chopped
Instructions
Prepare the Green Goddess Tahini Dressing:
Add all of the ingredients for the dressing to a blender or food processor and blend until smooth. The dressing will be very thick - you can add more water or a splash of full-fat coconut milk to thin it out. Refrigerate until ready to use.
Prepare the Buddha Bowls:
Cook the rice according to package instructions. Divide it among 4 large bowls, along with the remaining ingredients. Drizzle desired amount of green goddess dressing over each bowl and serve.
This post is sponsored by Kuisiware. All thoughts feelings, and opinions are my own, and I thank you for supporting the brands that help make this site possible.