Roasted Celery Root and Carrots with Parsley and Dill is a unique, nutrient-dense, delicious side dish to go alongside any main entrée!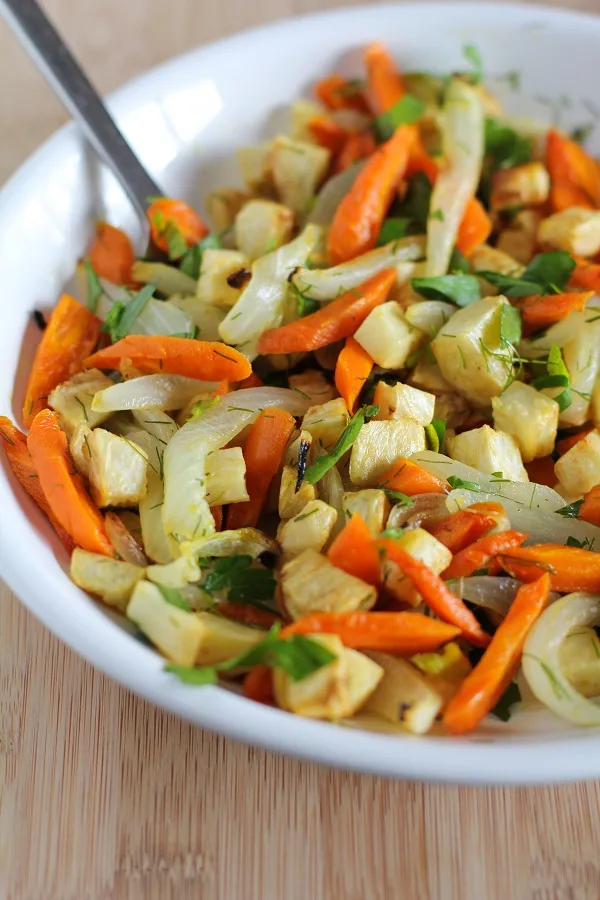 It's Monday! Have some celery root.
Celery root. Let's make it the next sweet potato.
There are two types of people: those who love celery root and those who have never tried it. Meaning, no one has ever told me they don't like celery root.
Not liking celery root would be like not liking Breaking Bad. You don't want to be one of those people.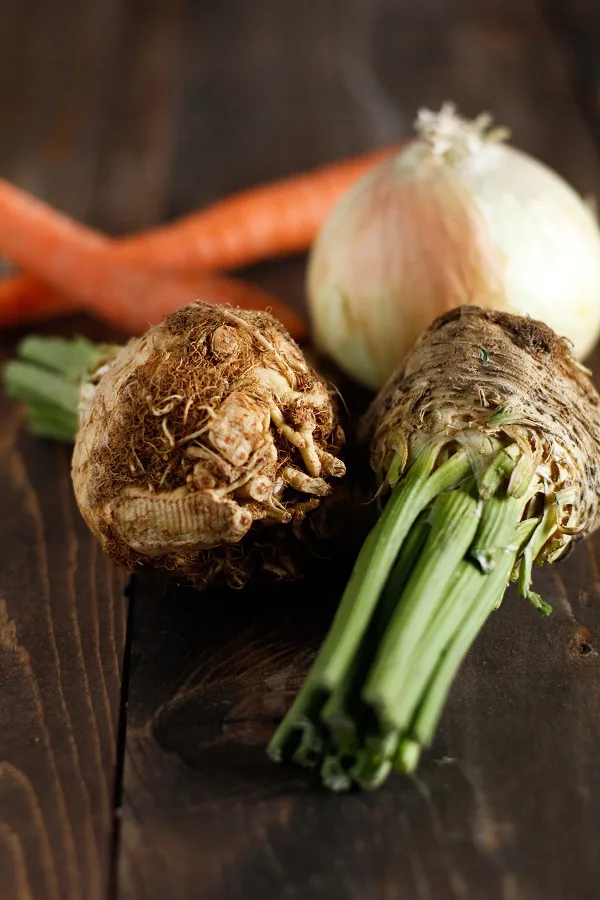 Given my love for celery root, I'm not sure why I haven't posted more recipes using the vegetable.
That's not true, I know why. It's a pain in the beehive to clean and peel. But once you break the seal, it's so worth the effort.
I was eyeing the root section in my grocery store last week, and while I normally pass by celery root (celeriac), I was all, "hot daaaawg, I haven't whipped up a celery treat in ages!" So I brought a couple home and what happened next is what you see right here.
Roots + Herbs + Roast it like you mean it…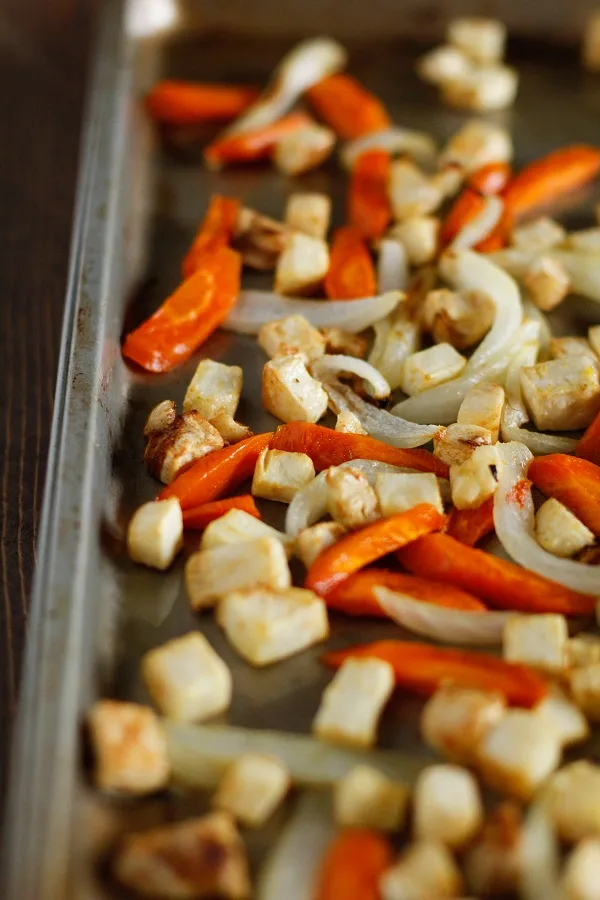 …slash eat it like a rock star.
Let's dig a little deeper on celery root, folks. Here's what you need to know –
Celery Root 101:
What the haystack is celery root?: Celery root, known as celeriac, turnip-rooted celery, or knob celery, is related to celery, and is a considered a bulbous root vegetable.
What does celery root taste like?: Celery on steroids. It has a deep celery, nutty flavor, with a creamy, somewhat potato-y texture.
How to cook with celery root: Because celery root is surrounded by a thick, gnarled peel, it needs to scrubbed and peeled using a sharp knife. A potato peeler won't break the stride, oh no; so I recommend using a pairing knife to remove the peel.
My favorite way of preparing celery root is chopping it and roasting it on its own or along with other vegetables. I also like to steam it and puree it into celery root mash (which is an excellent replacement for mashed potatoes) or into soup. While you could absolutely use celery root raw, I prefer it in its cooked form.
How to select celery root: Choose roots that are hard and don't give when you squeeze them. Make sure the stalks coming out are green and snappy.
Because celery root is a hearty vegetable, you can store it in a root celery or in a plastic bag inside of your refrigerator for quite a long; however, I read that as celeriac ages, the nutrients fade, so it is best to use them within 5 to 7 days of purchase.
Health Benefits of Celery Root: Celery root is full of Vitamin K, antioxidants such as Vitamin C, beta-carotene and manganese, folate, and potassium. It helps provide regularity in your digestive system and is a heart-healthy food.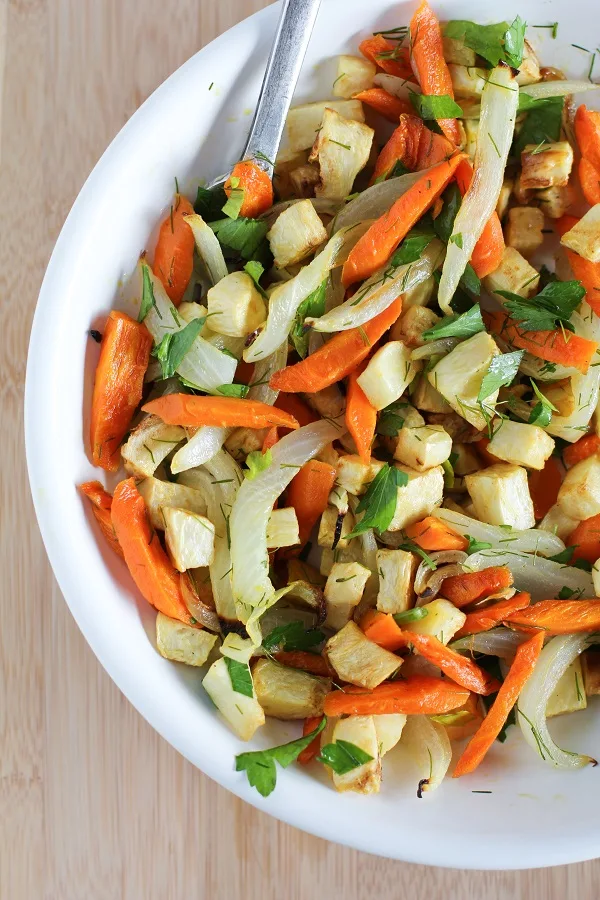 The only thing I would have done differently for this recipe is I would have made about five times the volume.
So if you're like me and you're obsessed with vegetables, I recommend doubling or tripling the recipe. This is also an amazing healthy meal prep side dish to have on hand to add to meals throughout the week. Plus, it's perfect for serving at any holiday gathering.
Have you heard? Celery root is the new sweet potato.
More Healthy Side Dishes: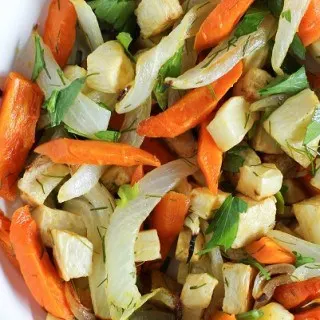 Roasted Celery Root and Carrots with Parsley and Dill
Roasted Celery Root and Carrots with Parsley and Dill is a nutritious and unique side dish to serve alongside any entrée!
Ingredients
2 medium-sized celery roots, peeled and chopped (3 cups )
2 large carrots, peeled and chopped (1 cup)
½ yellow onion, sliced
2 tablespoons grapeseed oil
¼ teaspoon salt
2 teaspoons fresh lemon juice
1 tablespoon fresh parsley, chopped
2 teaspoons fresh dill, chopped
Instructions
Preheat the oven to 400 degrees F.
Scrub the celery root well, and using a sharp knife, carefully cut the skin off. Chop the celery root into ¼" to ½" cubes.
Rinse the carrots, peel them, and slice them diagonally.
In a mixing bowl, toss together the celery roots, carrots, and onion in the grapeseed oil and salt.
Spread the veggies on a large baking sheet and roast for 25 minutes. Remove from the oven, stir well, and roast an additional 10 minutes or until roots are browned and fully cooked.
Place the veggies in a serving bowl and add the lemon juice, parsley, and dill. Toss everything together and serve.
Nutrition Information
Yield

3
Serving Size

1 of 3
Amount Per Serving
Calories

143
Total Fat

9g
Unsaturated Fat

0g
Carbohydrates

16g
Fiber

4g
Sugar

4g
Protein

2g