This nutrient-packed golden beet and kale salad includes pumpkin seeds, hemp seeds, parmesan cheese, and a zingy dressing for a colorful and healthful vegetarian side dish. Make it an entree by adding your favorite protein source!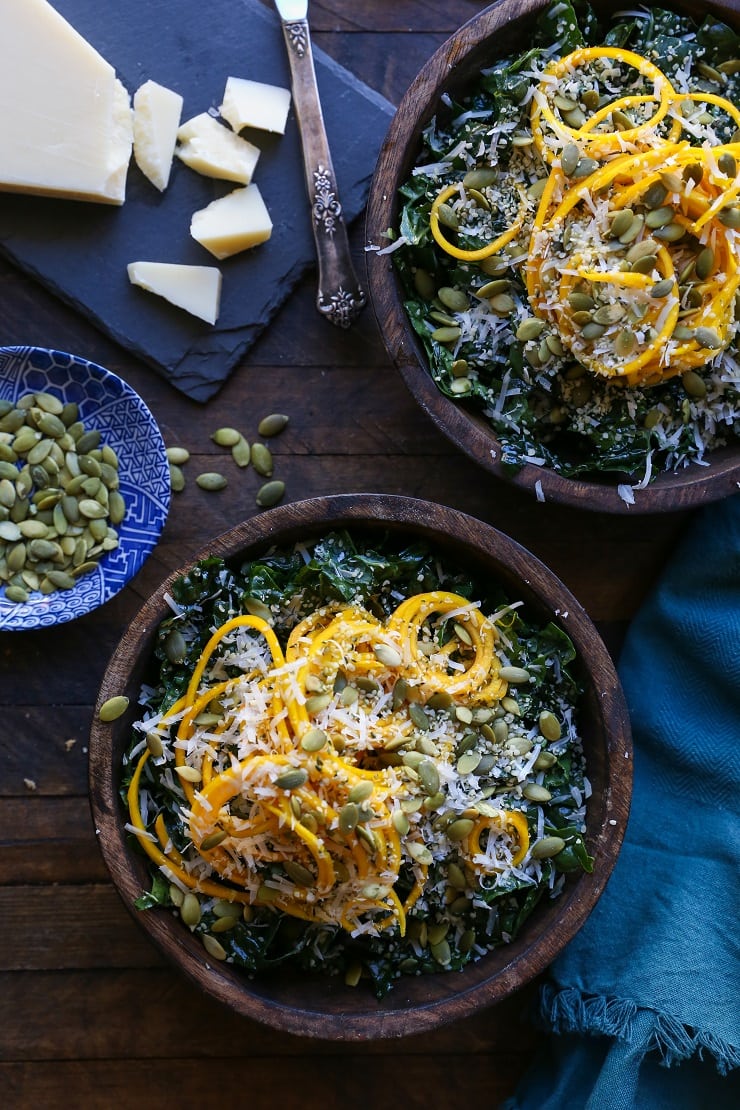 I read an article last week on the top food trends of 2017, which said seaweed is the new kale. Heck yeah, I can get on top of a nice seaweed salad, but I don't think my love for kale will ever diminish. It's just one of those sacred bulletproof loves that can't be broken. After writing my cookbook, Let Them Eat Kale!, I admit, I did take a small hiatus from the leafy green; but post-hiatus, I eat it every day in my scrambled eggs and often for dinner in salads and stir fry.
Where was I going with this?
Ah yes, kale. It's pretty rad. In my cookbook, I talk about how kale is one of the cheapest insurance policies, because in addition to boosting your vitamin and antioxidant levels, eating it regularly can reduce your risk of cancer. Intuitively, any food that's mega high in antioxidants can help reduce your risk of cancer because they help remove free radicals from your body. Free radicals are atoms with wonky (odd-numbered) electrons that can actually alter your cellular DNA, causing the cell to function improperly (or die), thereby increasing your chances of growth of damaged, potentially cancerous cells.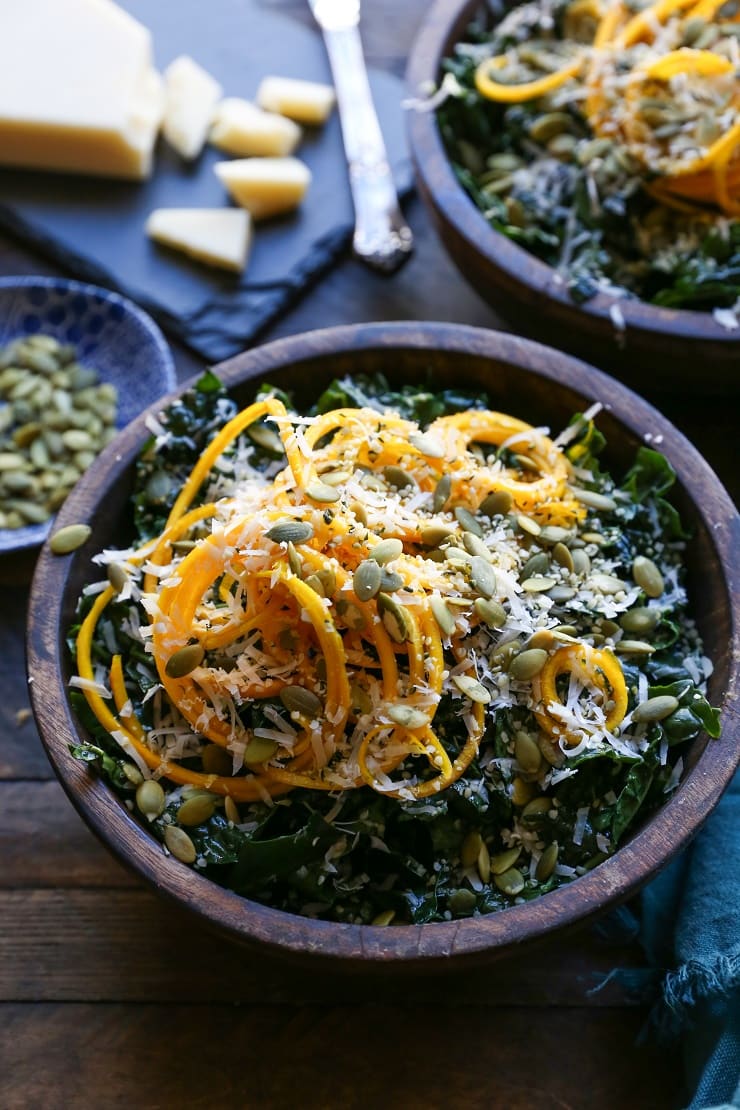 I read an article on Thrive Cuisine, What Are All of the Benefits of Kale , which gives a great explanation as to why kale is particularly useful in preventing cancer. Basically, our body releases bile acids to break down the saturated fats we eat, but after breaking them down, the bile acids can be reabsorbed by your body and potentially promote growth of cancer cells. Well, kale happens to be a magnificent absorber of bile acid, thereby mitigating some of the potential for cancer growth. The article also discusses the nutrient profile of kale, whether or not you can eat too much kale (spoiler alert, the answer is yes, but you should go read how and why), and more interesting facts and figures.
I've mentioned in the past I'm always on the prowl for THE BEST kale salad in Reno (Lemony Kale Salad with Parmesan Crisps, Spicy Kale Caesar Salad with Roasted Garlic, and Copycat Laughing Planet Highway to Kale Salad were my recreations of my favorites). Unfortunately, the restaurant that served my all-time favorite has since closed down (insert enormous cry-face emoji here), but I've recently uncovered a new one!
This salad was inspired by the Warm Kale Salad from a local restaurant I frequent, Grate Full Gardens. Their rendition uses slivered almonds instead of the pumpkin seeds and hemp seed combo, and also their beet noodles are super thin. I was itching to mimic the ultra thin noodles, but I don't have a blade that fine for my spiralizer. Also, their version is warm, whereas I keep mine chilled.
Adaptations? Here we go:
For those of you who love a warm kale salad, just zap it in the microwave. Just kidding. Please don't do that. You can blanch the kale, or give it a quick saute on the stove top…just be sure you don't cook it all the way because you still want the leaves to have a nice crisp to them.

Chop the beet "noodles" into smaller pieces so that you don't need to make a mess slurping on them.

Don't have a spiralizer, no biggy… you can easily grate the beet, or simply chop it, stick it in your food processor, and make beet "rice" out of it.

If you love a good roasted beet, chop the beet up, wrap the pieces in a foil packet, and roast for 45 minutes at 400 degrees F.

Add dried cherries or cranberries for a sweet and tangy pop of flavor
Make it an entree by adding your favorite plant-based protein (roasted chickpeas would be phenom) or animal protein (grilled chicken or salmon would be perfect).
Don't forget to take your kale salad vitamin!
Spiralized Golden Beet & Kale Salad
Spiralized golden beets make this crunchy kale salad marvelously unique and tasty.
Ingredients
Salad:
1

small golden beet

spiralized or grated

2

heads lacinato kale

leaves chopped

2

tablespoons

fresh lemon juice

1/4

cup

raw pumpkin seeds

2

tablespoons

hemp seeds

1/3

cup

parmesan cheese

grated
Instructions
Prepare the Dressing:
Add the ingredients for the dressing to a small blender. Blend until well-combined (note: you can also whisk the ingredients in a bowl). Set aside until ready to use.
Make the Salad
Wash the kale well and chop the leaves off the stems. Discard the stems, then thinly slice the leaves. Place the leaves in a salad spinner, or pat them dry. Add the kale to a large mixing bowl. Drizzle the lemon juice over the kale leaves, then massage the juice into the kale for 2 to 3 minutes. Allow the kale leaves to sit for 10 minutes.This process will help break down the toughness of the leaves and make it easier to chew.

Add the dressing to the bowl with the massaged kale and toss together until incorporated. Divide the kale leaves between 2 (to 4) bowls, followed by the spiralized golden beet, pumpkin seeds, hemp seeds, and parmesan cheese. Serve alongside your favorite entree.
Notes
*you can use low-sodium soy sauce or regular liquid aminos in place of coconut aminos
Nutrition