Beet and sweet potato tart made gluten-free. Fresh, delicious, packed with nutrients.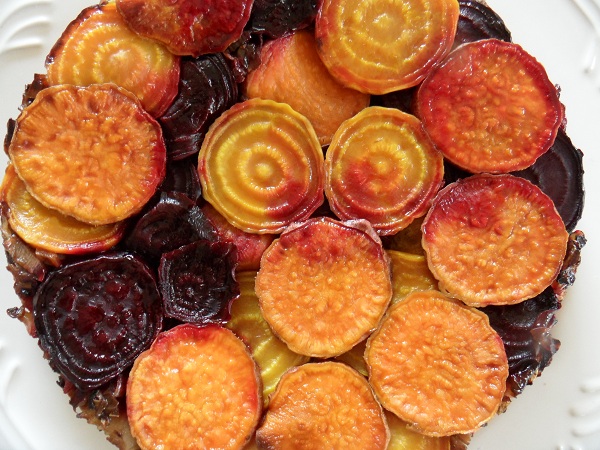 I'm not really a tart maker. I'll eat a tart any day of the week…I just don't make them.
Except, I did make this one.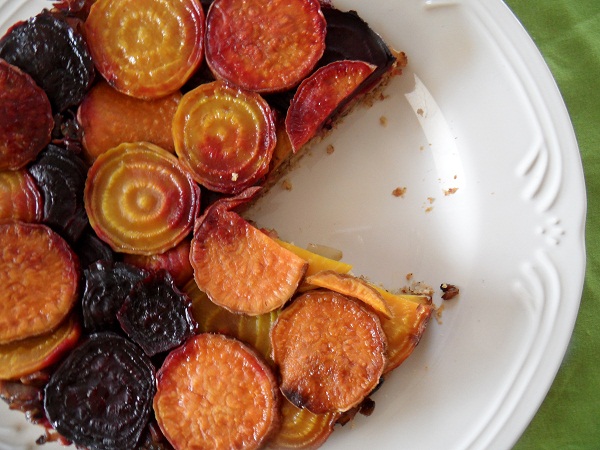 As soon as I saw this post from Cannelle Et Vanille, I knew I had better become a tart maker right quick.
This may come as a huge surprise (not), but I love cooking with root vegetables. All roots are packed with nutrition, and I find beets and sweet potatoes to be particularly versatile.
You can roast them, throw them in a salad, sauté them…you can tart them; the options are endless.
For the most part, I followed Aran's recipe with minor changes. I was very pleased with the way it turned out…so satisfied that I will not only make this recipe again and again but may even venture down the sweet tart road. It's nutty, buttery, a touch tangy, a touch sweet, just the right amount of salt and has a wonderful flaky, smooth texture.
I highly recommend you try it…especially if you're a tart maker…even more so if you're not!
Ingredients:
For the Tart
For the Top & filling
2 red beets
2 golden beets
¼ sweet potato
½ red onion
1 small blub of fennel (I used half a large bulb)
4 cloves garlic
1 tablespoon red wine
2 tablespoons balsamic vinegar
2 tablespoons olive oil
1 cup grated gruyere (or other hard white cheese) (optional)
To Make the Tart Crust:
First, put your patience cap on, cause this one's a doozy. At least it was for me as I have minimal experience with anything pie-related. In your Kitchen Aid or food processor (or if you're super awesome at making things by hand, simply use a mixing bowl), put all dry ingredients and pulse until they are well combined.
I used my KitchenAid and the round whisk attachment. Begin slowly cutting in the chilled butter, a few tablespoons at a time. Once all of the butter is in, the mixture should have small beads the size of a pea.
Begin adding the ice water a tablespoon at a time, continuing to mix. Once all of the water is well incorporated, turn the dough out onto a lightly floured surface, knead just a few times. Press the dough into a thick disk shape, then wrap the dough tightly in plastic wrap. Allow the dough to sit at least one hour in the refrigerator.
To Make the Beet & Sweet Potato Topping:
Preheat the oven to 375 degrees. Wash and peel the beets and sweet potato.
Cut them about ¼" to ½" thick. Drizzle them lightly with olive oil and some salt. Lay the pieces flat on a lightly oiled cookie sheet. Bake for about 12 minutes, then check on the vegetables. The sweet potato should be about done – if this is the case, remove the sweet potato pieces and allow the beets to bake another 10 to 15 minutes. You want all veggies to be soft, but not crispy. Once the beets are ready, remove from oven and set aside.
To Make the Filling:
While, the beets and sweet potato are roasting in the oven, heat the two tablespoons of olive oil in a medium skillet over medium heat.
Add the onion and sauté 2 minutes before adding the garlic and fennel. Saute about 3 minutes before adding a tablespoon of balsamic vinegar. Wait until the vinegar is mostly absorbed and add another tablespoon of balsamic vinegar. Again, wait until mostly absorbed, another 4 or 5 minutes, and add the tablespoon of red wine. Continue to sauté until everything is soft and the liquid has almost completely evaporated and is coating the mixture. Set Aside until you are ready to put everything together.
To Compile the Tart:
Take the tart dough out of the refrigerator, unwrap it and transfer it to a floured surface. Roll the dough into a circle shape about ¼" thick. I didn't have any extra dough and it all fit very nicely into an 8" tart dish. If you have extra dough, simply trim it off and make something wonderful with it later. The recipe I followed said to refrigerate the dough again for another 30 minutes. I skipped this step. Prick the dough lightly with a fork and bring out your tart mold.
Heat the oven to 375 degrees. Lay the beet and sweet potato pieces in the bottom of the tart mold, ensure they're tightly packed.
Overlapping is perfectly acceptable and recommended so that the whole top is covered with the beautiful roots. Spread the carmelized onion and fennel mixture evenly over the beet and sweet potato slices and press down with a fork. If you choose to add shredded cheese, sprinkle it over the onion mixture. Lay the tart dough on top of everything and use your fingers to ensure the dough is spread all the way to the edges of the tart mold. Press down firmly on the dough to ensure all ingredients are nestled together. Bake in the oven for 35 to 40 minutes, until the crust is golden brown and flaky.
Allow the tart to cool about 15 – 20 minutes before inverting it onto a large serving plate. Use a sharp knife to cut slices.