Flavorful red wine-braised spare ribs is a delicious weeknight or date night meal! Pair it with roasted vegetables and polenta for a filling, unique meal!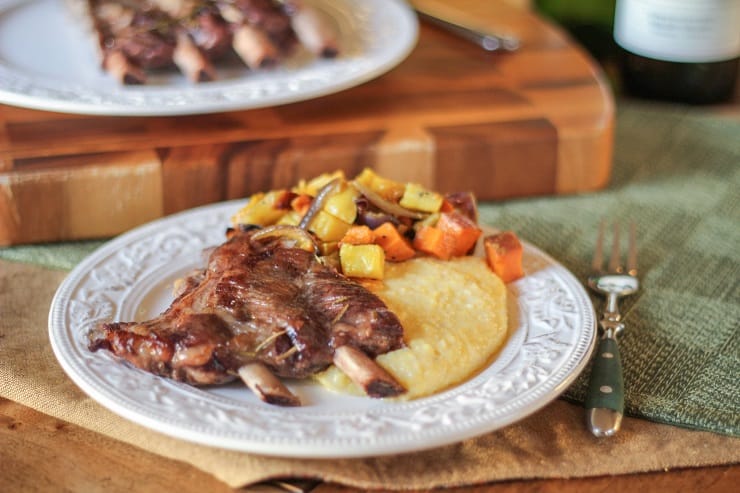 This is your down and dirty rack of ribs all churched up in its Sunday best. This rack cleans up well. It touts sophistication like a bow tie truffles or brandy.
It probably wears cologne and reads the morning paper. It knows whether the Dow is up or down and wants to talk to you about corn futures. It's a cloth napkin rack, not a shirt sleeve rack.
There may not be a drop of barbecue sauce on this fancy pants rack, but when it comes out of the oven embraced in red wine aroma and the meat falls off the bones, that nitty gritty way about you takes hold, your sleeves roll up, and your shoulder goes back to being your handkerchief, cloth napkin or no cloth napkin. these babies are braised in red wine.
Red wine braised spare ribs are one of my favorite meals!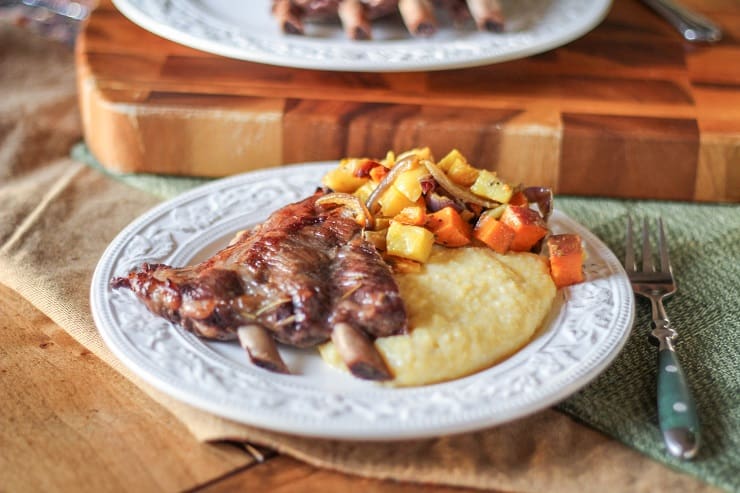 Don't be fooled by the long baking time – the recipe's a cinch. You owe it to your rib-loving self.
Adding full-bodied red wine to your already comforting winter recipes calms your nerves all the way to Relaxationville.
The scent of these ribs slow cooking in the oven for two and a half hours made me feel like I had yoga-d my face off and was settling into post-yoga peace.
So much for happy baby's pose and savasana – braise up some ribs in wine and you'll be decompressed like you just got steam rolled!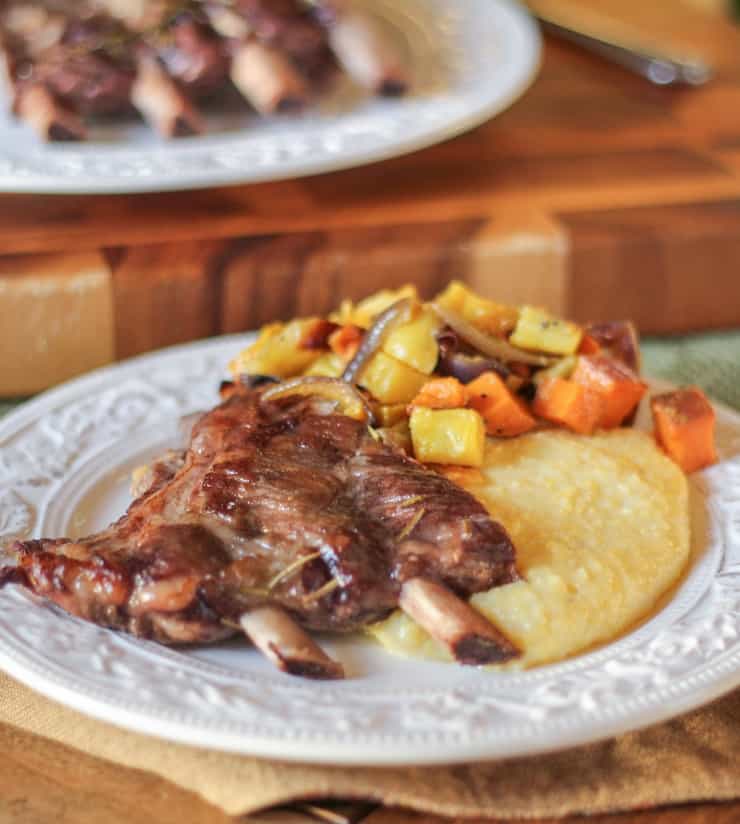 Serve it up with creamy polenta and Balsamic Roasted Root Vegetables for a real wild ride!
Your shoulder makes for an excellent napkin, now braise like you've never braised before!
Also try my Paleo Instant Pot Short Ribs or my Instant Pot Wine Braised Short Ribs.
My cookbook,
Paleo Power Bowls
, is now available! CLICK HERE to check it out. Thank you for your support!
If you make this recipe, please feel free to share a photo and tag @TheRoastedRoot on Instagram!
Red Wine Braised Spare Ribs
Red wine braised spare ribs make an amazing dinner. No BBQ sauce needed!
Instructions
Preheat the oven to 300 degrees.

In a large cast iron skillet, heat a tablespoon of oil to medium-high. Place the ribs in the skillet and sear each side a minute or two just until golden brown, but don't cook the meat.

Place the ribs in a large casserole (or braising) dish and sprinkle with ground ginger, cayenne, rock salt, rosemary and ground black pepper.

Pour the red wine and beef stock over the meat. This should fill the casserole dish almost entirely to the top.

Cover dish with aluminum foil and bake in the oven for 2.5 to 3 hours (depending on how much meat is on the bone).

Remove from the oven and use tongs to place ribs on a plate. Meat should fall right off the bone!

Either discard the juices or separate out the fat and use juices to make gravy.

Serve with roasted vegetables and creamy polenta for a satisfying meal!
Notes
I marinated my ribs in the red wine (only) and kosher salt for about 6 hours before cooking. This is an optional step but will add some more flavor to your ribs. I served the ribs with creamy polenta, which I prepared by following the instructions on the polenta package and roasted root vegetables (see recipe here: https://www.theroastedroot.net/balsamic-roasted-root-vegtables/)
Nutrition
Serving:
1
of 6
|
Calories:
342
kcal
|
Protein:
24
g
|
Fat:
17
g