Red white and blue paleo pound cake parfaits with cherries, blueberries, paleo pound cake, coconut milk yogurt, and honey. These healthy desserts are perfect for sharing with friends and family on the 4th of July or any summer gathering.
This post is sponsored by Harry & David.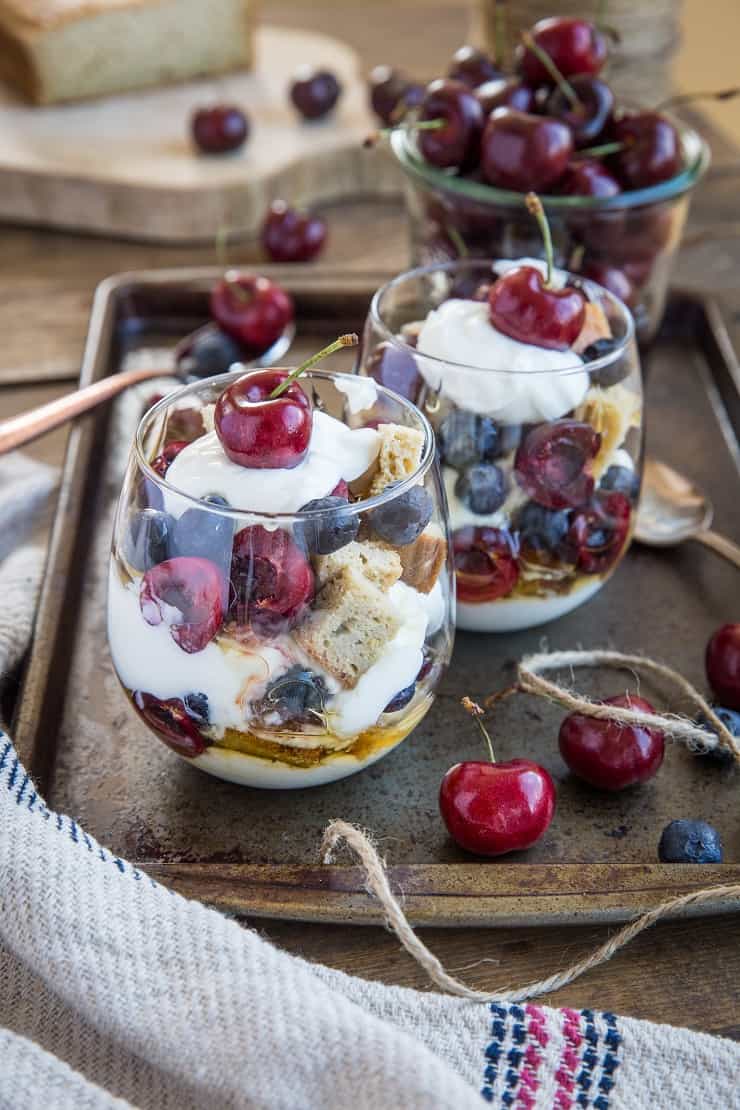 I say this every year, so I probably sound like a broken record to some of you, but the 4th of July is my favorite holiday. What's not to love? It's summer, there's BBQ-ing, drinking, spending quality time outdoors with friends and family, fireworks, and the ultimate excuse to whip up a red, white and blue dessert.
And that's exactly what we have here: a patriotic dessert that is quick and easy to make, perfect for people of all ages, and ideal for those with dietary restrictions.
I'm a big fan of the layered dessert. I attribute this to the layered Jell-O and whipped cream treats my mom used to make my siblings and I as kids. She would use her fancy crystal glasses for the layered Jell-O treats, and I loved slowly savoring each bite, each layer. Well, this is no homemade Jell-O situation, but it is a healthy parfait, perfect for those who like keeping their desserts on the cleaner end.
I whipped up these parfaits using Harry & David's blueberries and cherries. If you haven't tried Harry & David's fruit yet, lemme just spoiler alert you right now and tell you it's the sweetest, juiciest, most flavorful and intoxicatingly delicious fruit.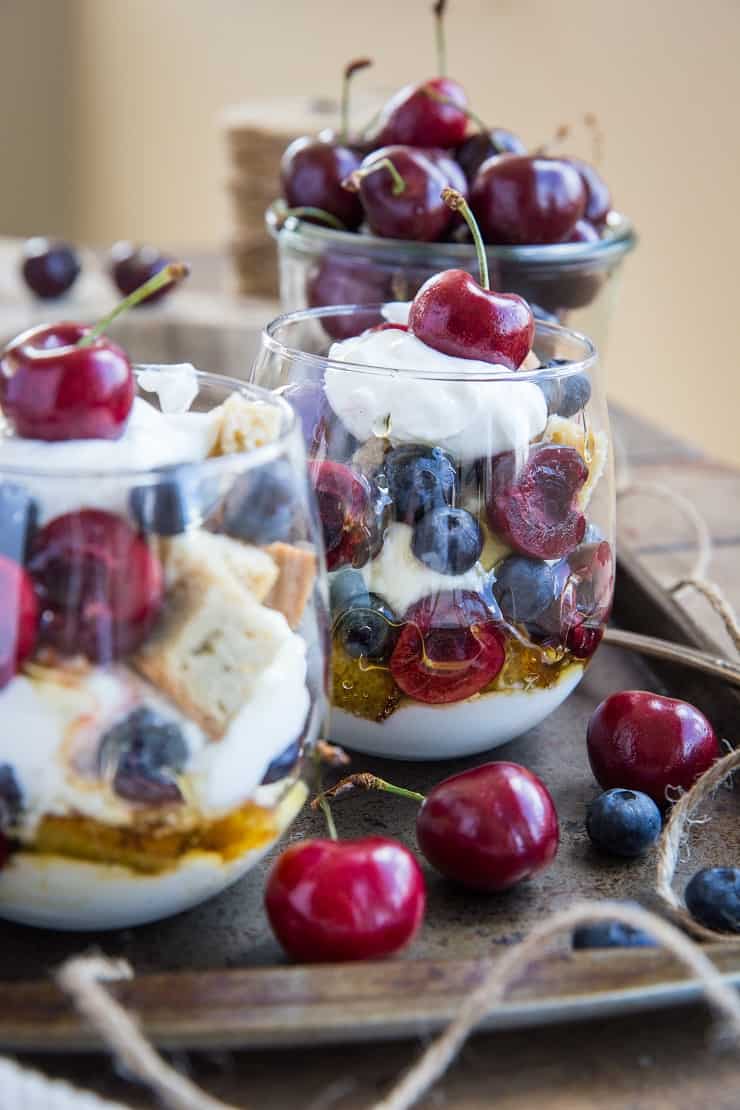 In addition to the berries, I used my Coconut Flour Paleo Pound Cake, coconut milk yogurt, and a drizzle (okay, shower) of honey for these parfaits. I simply chopped up slices of pound cake (which you can make days and days ahead of time) and layered everything together in stemless wine glasses.
The end result is that creamy, sweet, tangy experience with so many flavors and textures.
You can easily incorporate your own favorite pound cake into these parfaits, or any of your favorite sturdy cakes for that matter.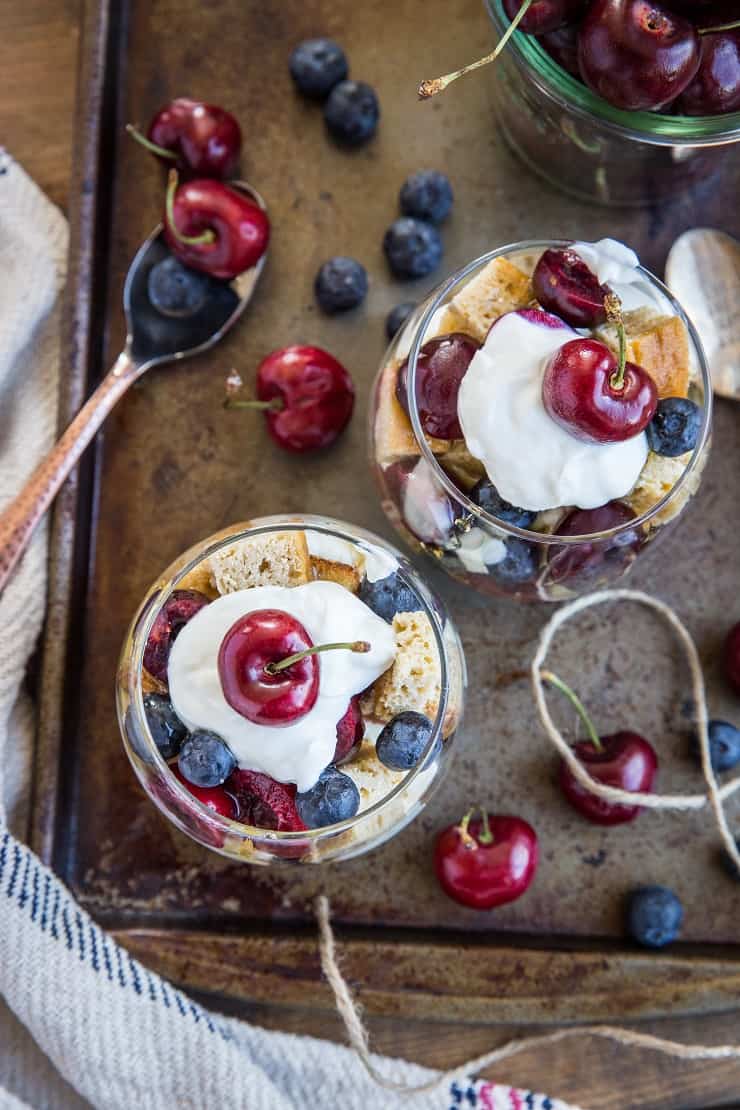 Have an amazing weekend!!
Red White and Blue Pound Cake Parfaits
A fun, fresh patriotic summer dessert recipe!
Instructions
Divide the ingredients between 4 glasses (note: to make more, simply scale up the amount of pound cake slices, cherries, blueberries, and yogurt), layering each ingredient (I start with yogurt, then honey, then berries, then pound cake and repeat). Serve immediately or refrigerate for up to 8 hours before serving.
Nutrition
Serving:
1
Serving
|
Calories:
364
kcal
|
Carbohydrates:
45
g
|
Protein:
4
g
|
Fat:
8
g
|
Fiber:
2
g
|
Sugar:
31
g