Chana Saag is a classic vegetarian Indian dish including chickpeas, tomatoes and spinach stewed in aromatic sauce. This simple and easy recipe is prepared in under 40 minutes!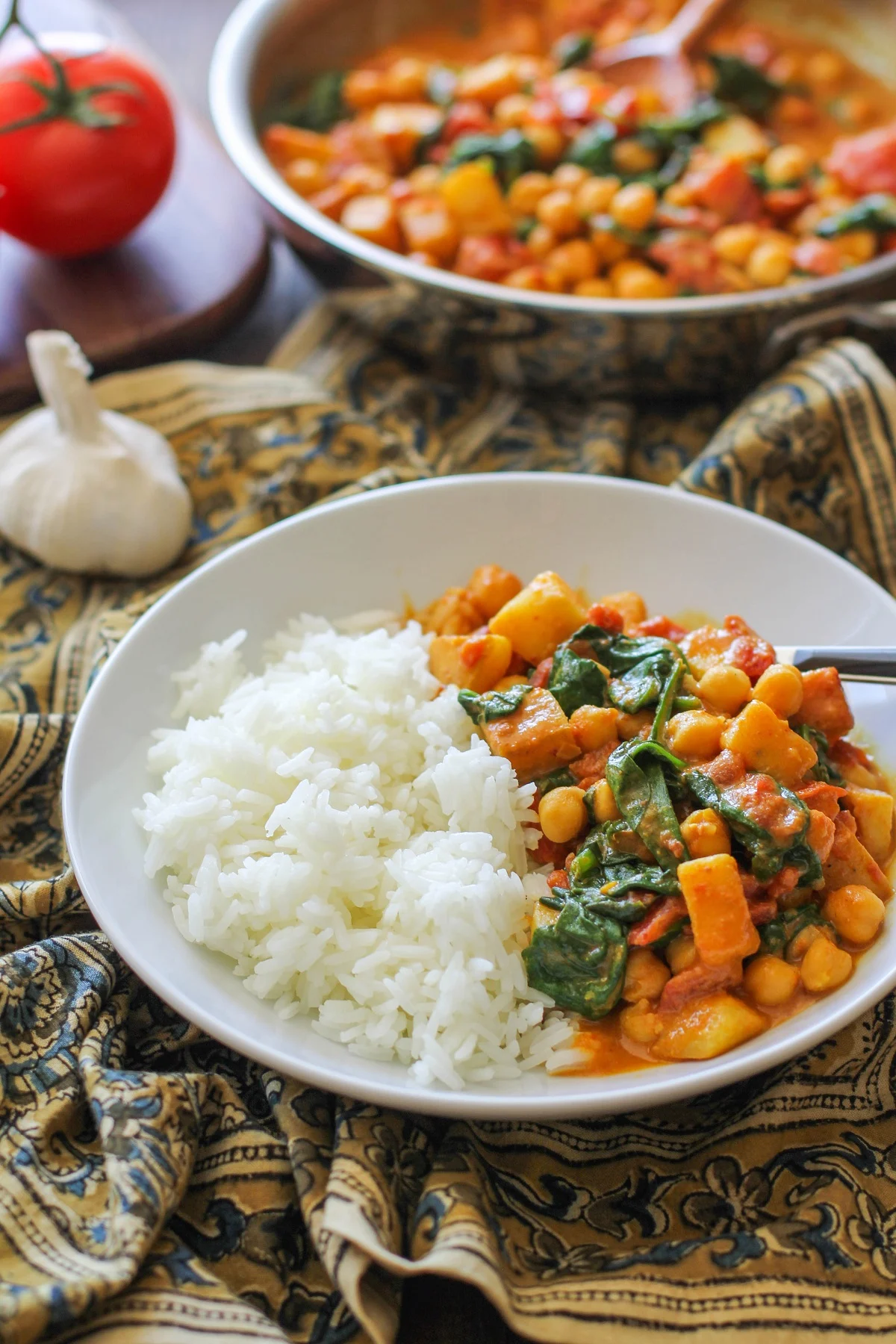 One of my favorite classic vegetarian Indian meals is Chana Saag – a dish of chickpeas, diced tomatoes, and spinach stewed in an aromatic sauce.
In order to make the recipe straightforward and simple, I've taken a few liberties to ensure anyone can find the ingredients at any grocery store and the meal can be made any night of the week.
For this reason, this is not an authentic Chana Saag recipe, but rather my personal rendition of it.
While the authentic way of preparing the dish requires toasting and grinding your own spices and slow cooking the sauce over hours, the dish can be made easily in 30 minutes or less when under a time crunch using already ground spices.
Traditional chana saag does not come with a creamy sauce, but I add full-fat canned coconut milk to add richness and delicious texture.
The end result is a magically flavorful vegetable infused plant based meal with an incredible creamy sauce.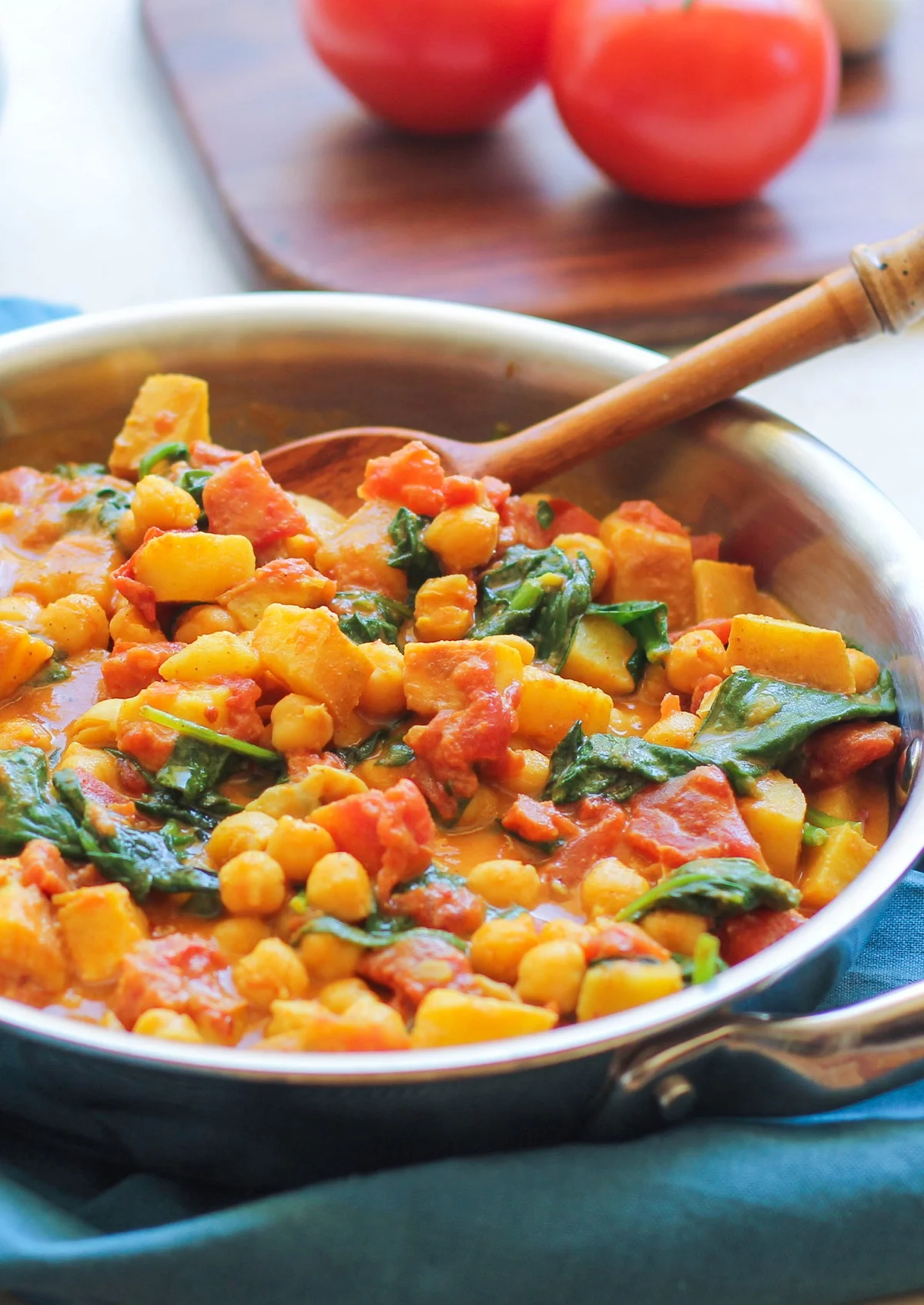 Let's discuss the simple ingredients for Chana Saag.
Ingredients for This Easy Chana Saag Recipe:
Cooking Oil: Use your favorite high temperature cooking oil here. I like using coconut oil because I love the flavor but you can also use canola oil, olive oil, or avocado oil.
Vegetables: Yellow onion, garlic, ginger, potato, diced tomatoes, and baby spinach are the fresh veggies used in chana saag curry. You can use other leafy greens like kale, collard greens, mustard greens, or chard in place of spinach if you'd like. Use tomato puree instead of diced tomatoes if you prefer.
Garbanzo Beans: The star of the show of this chickpea curry is garbanzo beans. Canned garbanzo beans make this recipe ultra fast and simple because they are already cooked for us.
If you have dry chickpeas on hand and prefer using them over canned, feel free to do so. You will need 1 1/2 cups of cooked chickpeas.
Aromatic Spices: Ground cumin, curry powder, ground turmeric powder, red pepper flakes (or red chili powder) are the seasonings commonly used in Indian curries. Also add black pepper to your personal taste.
Full-Fat Canned Coconut Milk: Taking the place of heavy cream to make vegan curry, we use full-fat canned coconut milk. Be sure to use the full-fat version in a can rather than the light version for the best results.
Optional Additions:
If you have access to fenugreek leaves, feel free to add in 2 to 4 tablespoons, or to your personal taste.
Add in 1 to 2 fresh tomatoes if you'd like.
Serve with fresh lemon juice.
If you have ground coriander powder or kashmiri red chili powder on hand, add 1 teaspoon of each.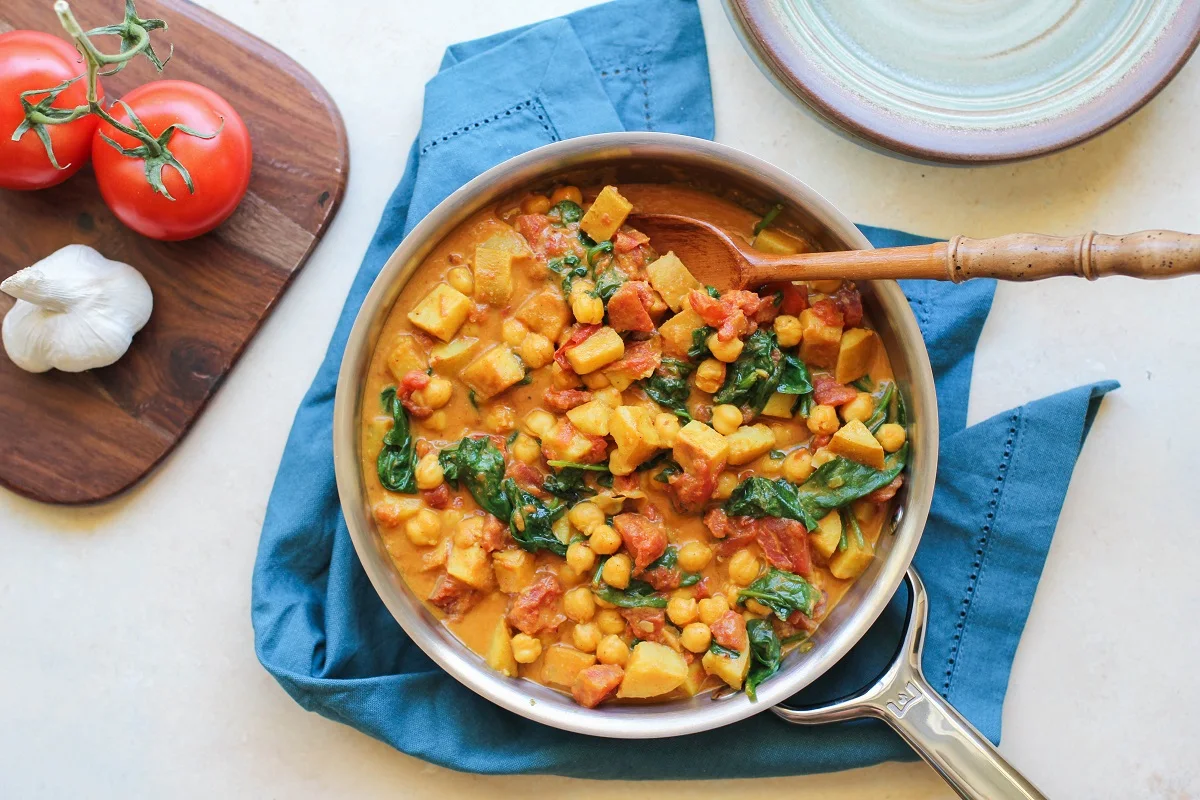 SO! In order to get the Chana Saag show on the road, here's what we do:
How to Make Chana Saag:
Add oil to a large skillet and heat over medium heat. Cook the potato and onion together, stirring occasionally, until the veggies are al dente, about 8 to 10 minutes.
While the vegetables are cooking, blend the spices (curry powder, cumin, turmeric, red pepper flakes, sea salt) with coconut milk to make a sauce. Pour the sauce into the skillet along with the chickpeas and diced tomatoes. Bring to a full boil then cook, covered for 10 minutes.
Add the spinach and replace the cover. Cook until spinach has wilted, about 2 to 3 minutes. Stir well and taste Chana Saag for flavor. Add sea salt and/or more spices to taste.
If you're not pressed for time, cooking this dish at a low simmer for an additional 10 to 30 minutes will yield a more flavorful result. You can also prepare this dish up to 3 days ahead of time and store it in the refrigerator to bring out the flavors as well.
Serve with choice of white or brown rice, quinoa, and/or additional sauteed or steamed vegetables. I steam rice as I prepare the meal to multi-task and keep prep time low.
Store any leftovers in an airtight container in the refrigerator for up to 1 week.
This vegan chana saag tastes even better the next day!
Recipe Adaptations:
If you have the time, toast your own cumin seeds and grind them with a mortar and pestle for more robust flavor.
You can make this dish with or without potato. Leaving the potato out will shorten the cook time by about 10 minutes, and will also yield a lower carb meal if that's your jam.
While I used jewel yam (white sweet potato) for the recipe, you can use a Yukon gold, red, or russet potato. Or, if you're feeling frisky and want to give the recipe a nutrient boost, you can use a regular orange yam.
For those who are looking for a little animal protein, you can add chopped chicken or pork to this dish by adding it in the skillet once the potato has been cooking for about 5 minutes. From there, proceed as outlined in the recipe.
Prepare this recipe in your Instant Pot by cooking on high pressure for 10 minutes and natural release.
And that's it! The next time you're craving Indian food, try out this comforting meal.
This chickpea spinach curry is the perfect weeknight meal when you're craving a meatless meal that's loaded with flavor and warm spices. Put this classic Indian curry on repeat for busy weeknights and use it as a meal prep recipe for healthy weekly meals.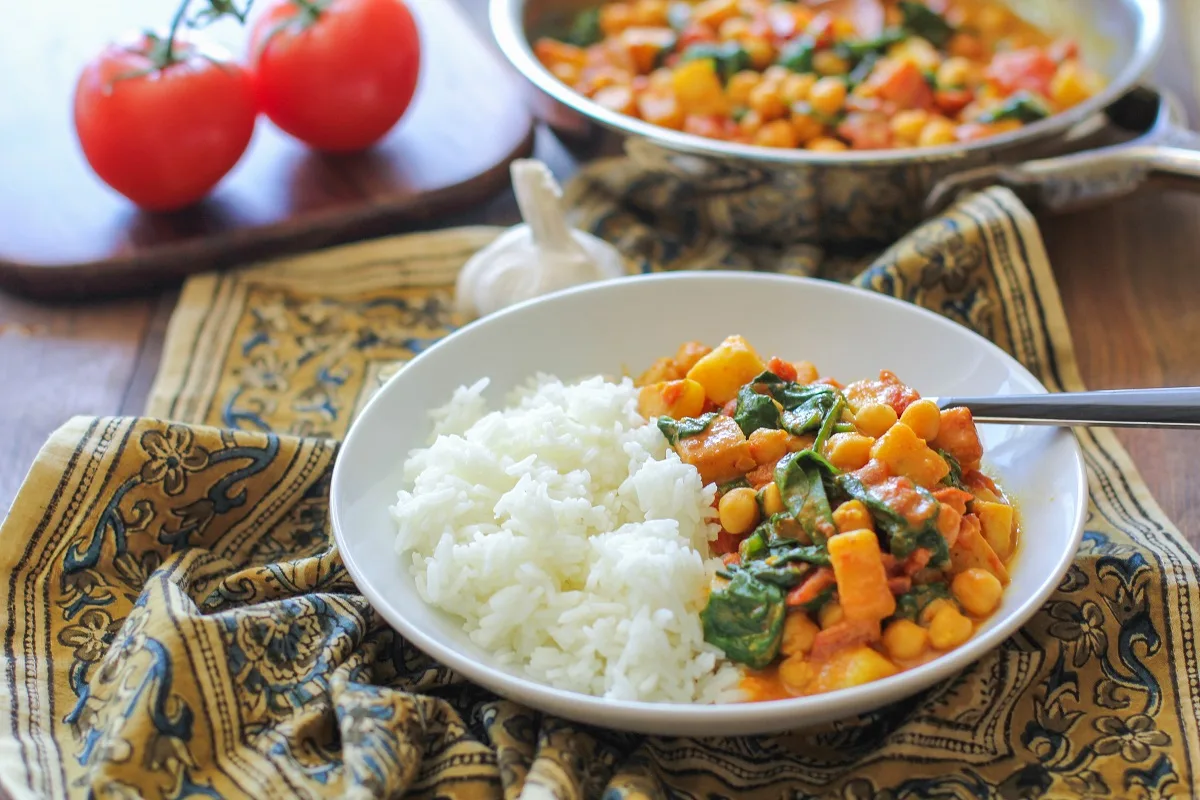 If you love Indian food, you must also try my Indian Eggplant Curry (Bhaingan Bharta)!
Looking for more plant-based dinner recipes? Check these out.
More Healthy Vegan Recipes:
Enjoy this quick, easy healthy vegan dinner recipe!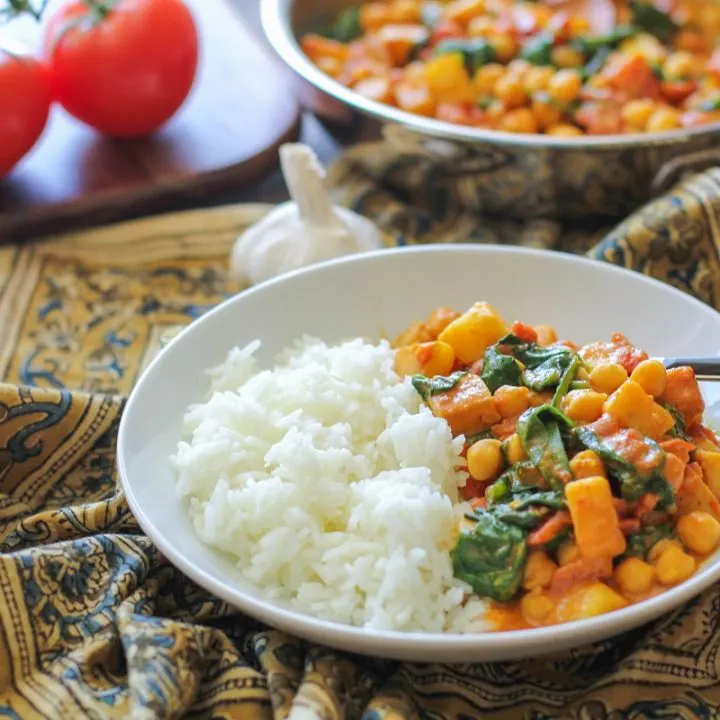 Easy 30-Minute Chana Saag
The easiest Chana Saag recipe ready in 30 minutes!
Ingredients
3 Tbsp coconut oil, or olive oil
1/2 small yellow onion, diced
1 small jewel yam, cubed, or Yukon gold potato
3 cloves large garlic, minced
2 tsp fresh ginger, peeled and grated
1 Tbsp curry powder
1 tsp ground cumin
1/2 tsp red pepper flakes, optional
3/4 tsp sea salt, to taste
¼ teaspoon ground turmeric
1 (14-ounce) can diced tomatoes drained, un-salted recommended
1 (14-ounce) can chickpeas, drained and rinsed
4 cups baby spinach, loosely packed
Cooked rice for serving
Instructions
Heat the coconut oil over medium-high in a medium-sized non-stick skillet. Add the onion and chopped yam and cook, stirring occasionally, until potato is cooked through but still al dente, about 8 to 10 minutes (Note: you can cover the skillet to help steam and cook the potato if necessary).
While the potato and onion is cooking, combine the coconut milk, curry powder, cumin, red pepper flakes, sea salt, and turmeric in a small blender. Blend until completely smooth and set aside.
Add the garlic and ginger to the skillet with the potato and onion and cook another 2 minutes.
Add the diced tomatoes and cook until any excess water has evaporated, about 2 to 3 minutes. Add the coconut milk mixture and chickpeas to the skillet and heat to a boil. Reduce the heat slightly and add the spinach. Cover and cook until spinach has wilted, about 2 minutes. Taste the chana saag for flavor and season with additional sea salt and/or spices.
Serve Chana Saag with cooked white rice (or grain of choice). Note: if you're not in a rush, cook the chana saag at a low simmer for an additional 10 minutes.
Nutrition Information
Serving Size

1 of 4
Amount Per Serving
Calories

324
Total Fat

21g
Unsaturated Fat

0g
Carbohydrates

28g
Fiber

8g
Sugar

6g
Protein

9g
If you make this recipe, please feel free to share a photo and tag @The.Roasted.Root on Instagram!
This post contains affiliate links, which means I make a small commission off items you purchase at no additional cost to you.
I originally shared this recipe on December 6, 2016. I have updated the photos and text but the recipe itself remains the same.