Cauliflower Coconut Masala is a flavorful Indian-inspired vegan dinner recipe. This healthy meal is quick and easy to prepare!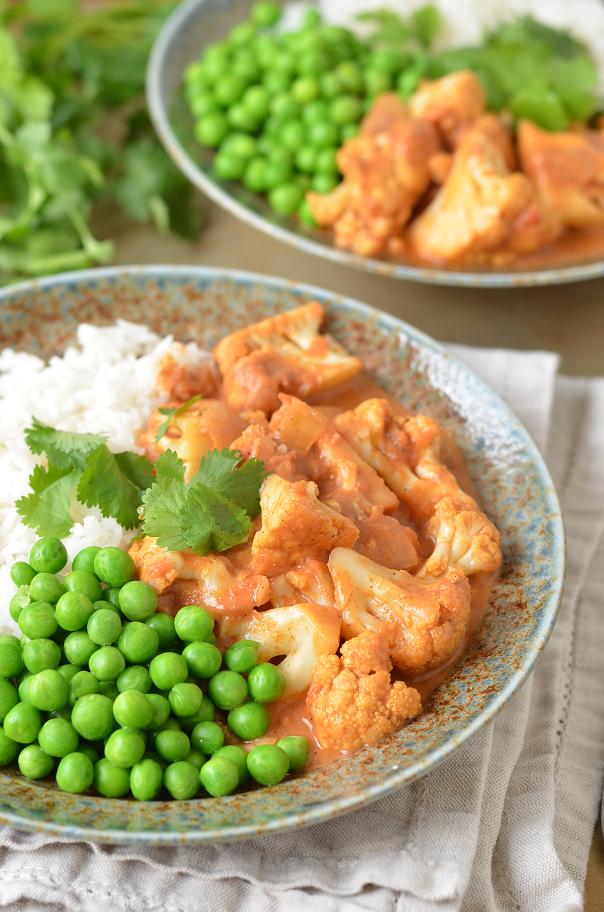 Erica from Coffee & Quinoa is joining us today with her Cauliflower Coconut Masala.
Let's be frank: I took to Erica's blog like a hurricane when I first discovered her.
She and I have obnoxiously similar taste in food, and I pretty much feel like I'm looking in the mirror when I read her posts.
Over the summer, while it was 12 trillion degrees outside and I was dripping sweat in the confines of my own home and even the probiotic drinks I was brewing were pissed off, Erica was posting all the ice creams ever and it brought me serenity…as I sat there in a pool of my own sweat, wishing I could crawl inside a bowl of ice cream.
Enough irrelevancy…let's turn it over to Erica so she can talk to you about her Cauliflower Coconut Masala!
– – –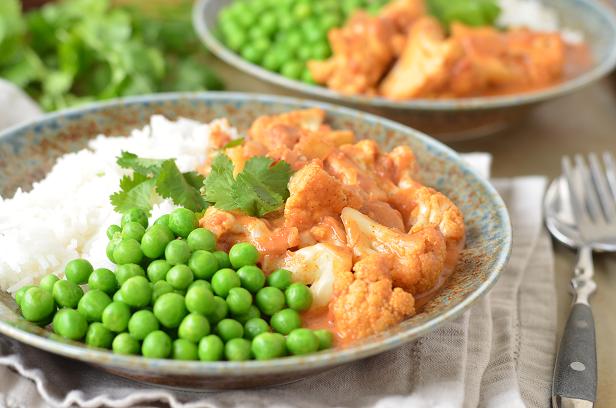 Hello hello, fellow Roasted Root readers!
My name is Erica, and I share vegan and vegetarian recipes over at Coffee & Quinoa. I'm super excited that Julia is letting me hang out with you all today!
I've been drooling over Julia's inventive recipes and gorgeous photos since I started blogging, not to mention giggling at her crazy sense of humor and very active imagination (ahem, extraterrestrial rhubarb creatures).
I can't wait to get my paws on her cookbooks when they come out this year!
Julia and I share a love of vegetables, and that's why I'm bringing you this recipe for Cauliflower Coconut Masala today.
When I started cutting meat out of my diet a few years ago, my favorite recipe for chicken tikka masala (with plenty of butter and cream!) was one of the first things to go.
But I've been thinking about it ever since, and recently decided to tackle a vegetarian version featuring cauliflower and coconut milk.
And holy moly, were the results ever delicious! I think this vegetarian masala (vegan with one easy substitution!) could give my old favorite chicken tikka masala a run for its money.
Cooking this dish is pretty magical.
You sauté, you stir, you simmer, and at the last minute, you whisk in a can of coconut milk.
All the sudden you have on your stove a pot of deliciousness that rivals your favorite dish at your favorite Indian restaurant. Pure magic!
The coconut milk tempers the heat from the jalapeno and garam masala and is a great balance for the tender, slightly crunchy cauliflower. It also makes this dish taste unbelievably decadent!
Basically the stuff my dreams are made of.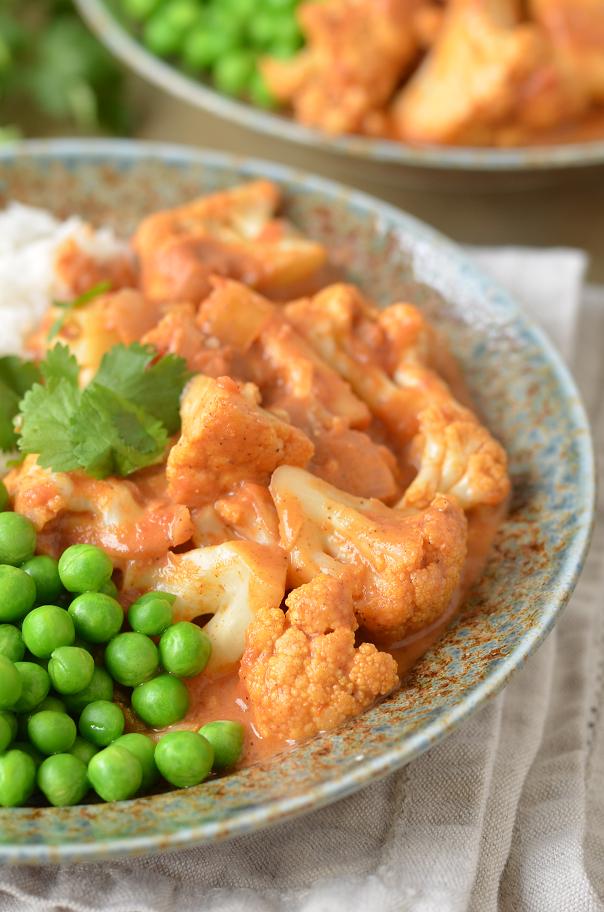 I like to serve my cauliflower masala on a bed of jasmine rice with peas and cilantro.
If you're not a white rice person, that's cool, and I may or may not enjoy this with quinoa, as well.
But there's something special about a heap of jasmine rice soaked in this creamy coconut masala sauce. It tastes unbelievably rich and buttery – there's nothing quite like it!
If I could, I'd deliver you a bowl of this through your computer screen right now. I so wish I could.
Thanks to Julia and thanks to all of you for letting me hang out here and talk about veggies today!
Cauliflower Coconut Masala
A vegan take on classic Indian Tikka Masala, this Cauliflower Coconut Masala is rich and flavorful yet light!
Ingredients
2

Tbsp

butter

use Earth Balance or coconut oil for vegan

1

yellow onion

chopped

4

cloves

garlic

minced

1

jalapeno

finely chopped

2-

inch

piece fresh ginger

peeled and minced

3

Tbsp

garam masala

1

tsp

kosher salt

1

28-oz can crushed tomatoes

1

Tbsp

sugar

1

head cauliflower

chopped into bite-sized pieces

1

14-oz can full-fat coconut milk
For serving:
basmati rice

frozen peas

chopped cilantro
Instructions
Melt butter in a large pan over medium-low heat. Add onions, garlic and jalapeno and saute until onions are translucent and begin to turn brown around the edges, 6-7 minutes. Add ginger, garam masala, and salt, and saute another 30-60 seconds. Stir in crushed tomatoes and sugar. Cover and bring to a simmer.

Stir in chopped cauliflower. Don't worry if it seems like there's no liquid left; this will change as the cauliflower cooks. Simmer until cauliflower is tender, about 30 minutes, stirring occasionally.

Remove from heat and stir in coconut milk. Serve over basmati rice with peas on the side, and plenty of chopped cilantro. Enjoy!
Nutrition
Serving:
1
Serving
|
Calories:
697
kcal
|
Carbohydrates:
50
g
|
Protein:
15
g
|
Fat:
48
g
|
Fiber:
12
g
|
Sugar:
30
g