This butternut squash and sweet potato tagine makes for a nutritious meatless meal! Make it any night of the week for a vegetarian staple!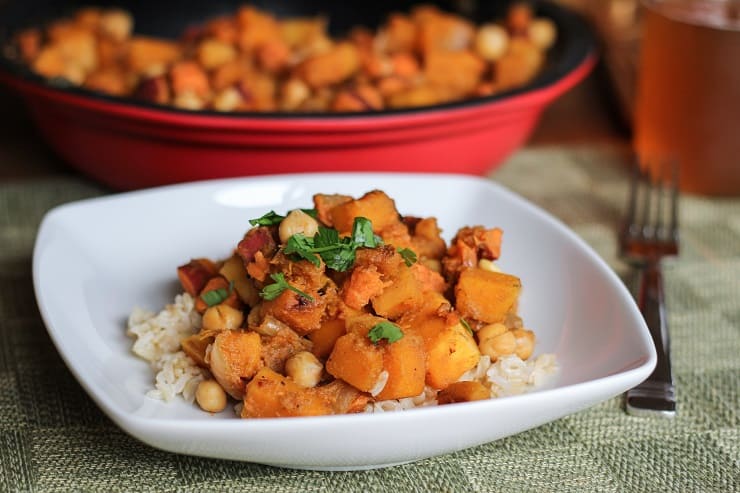 Forgive me if I get a little exotica on you as I talk about my tagine. My huh? Pull back, Borat, pull back!  It's steamy and impressive.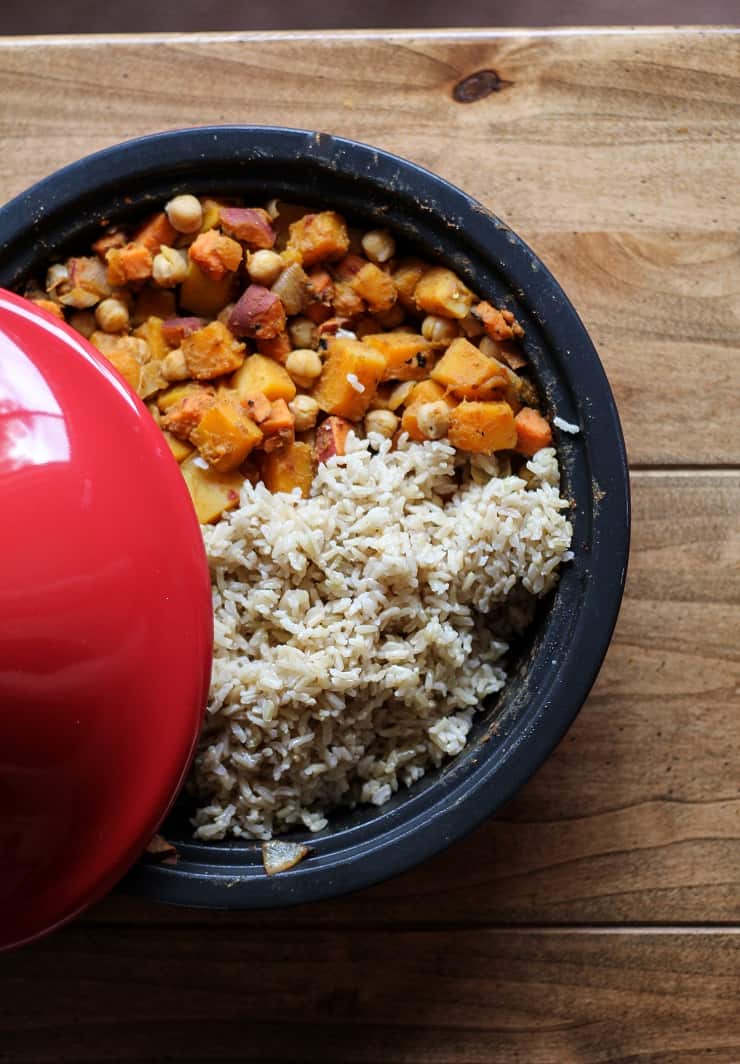 Tagine is both a food and a cooking tool and originates from North Africa (Moroccan and Tunisian cuisine is tagine-centric). The dish, was named after the instrument in which the food is prepared.
A tagine comprises a sauté pan with a wonderfully shaped hat, traditionally used to slow cook meat and vegetable dishes at low temperatures. You can put the tagine in the oven or use it on the stove top. It's wildly cool; beautiful billows of steam form while your food cooks and the hat used to cover the pan creates a sort of spa for your food.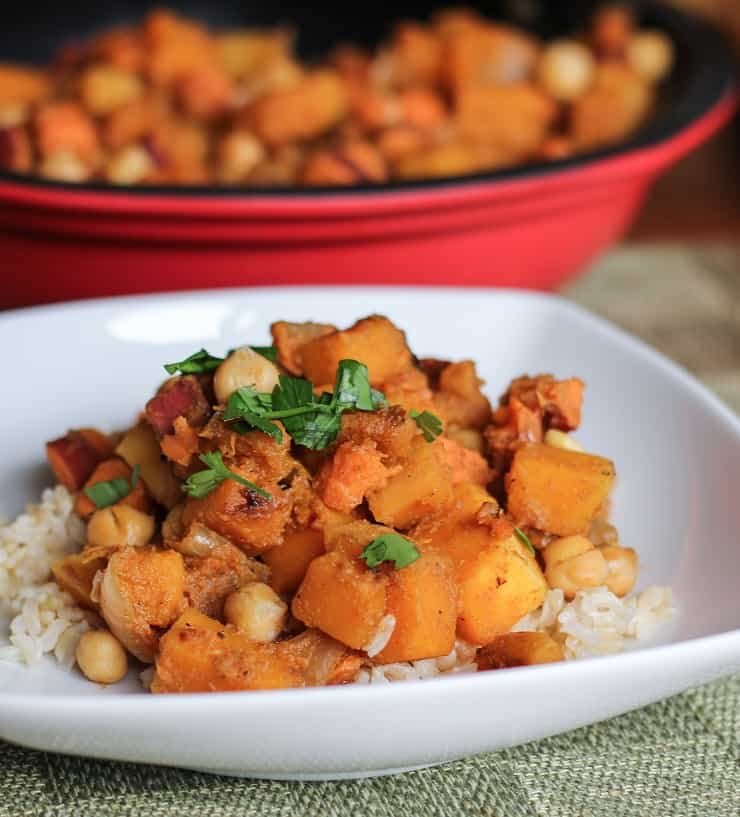 While I am exuberant about the tagine, you do not need one in order to make this dish – a large sauté pan or wok with a cover will work too.  I adapted this recipe from Katherine Martinelli's blog and thought I would end up changing a lot more of the recipe than I did.
Specifically, I was worried about the cinnamon and the dried apricots but they truly add a nice warmth without being super distinguishable. I was very happy with the recipe, that Katherine did a great job! Moroccan Butternut Squash & Sweet Potato Tagine will forever be one of my favorites!
Step aside, Sharif, your casbah's about to get rocked.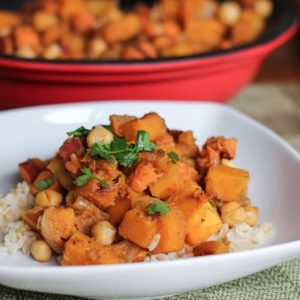 Moroccan Butternut Squash & Sweet Potato Tagine
Print
Ingredients
2

tablespoons

grapeseed oil

1

medium-sized yellow onion

diced

1

cups

medium-sized sweet potato

chopped into 1/2" cubes (2 worth)

½

cups

medium butternut squash

peeled and chopped into ½" cubes (3 worth)

2

teaspoons

ground cumin

2

teaspoons

ground coriander

2

teaspoons

garlic powder

¼

teaspoon

ground ginger

1

teaspoon

ground cinnamon

1

teaspoon

red pepper flakes

1

teaspoon

salt or to taste

¾

cup

vegetable broth

separated

2

tablespoons

lemon juice

1

cup

dried apricots

chopped

1

can garbanzo beans

drained

1

cup

brown rice

uncooked

2

cups

water

½

cup

chopped cilantro

optional
Instructions
Start by preparing your rice, as it takes longer than the vegetables. Follow instructions on the package of rice.

Add oil to a tagine or skillet and heat to medium-high.

Sauté onion and sweet potato for 3 minutes.

Add butternut squash, stir.

Add ¼ cup vegetable broth, all the spices and salt, stir, cover tagine and cook 5 minutes

Remove the cover, add remaining vegetable broth, garbanzo beans, lemon juice and dried apricots.

Continue to cook 5 to 8 minutes until butternut squash and sweet potato are soft but not mushy.
Recipe Notes
Recipe adapted from Katherine Martinelli http://www.katherinemartinelli.com/blog/2011/vegetable-tagine-couscous-gf-vegan/