Warmly-spiced Gluten-Free Pumpkin Pancakes with Cinnamon-Bourbon Syrup are a cozy fall breakfast. Whip the pancake batter up in a blender for a quick yet delicious meal.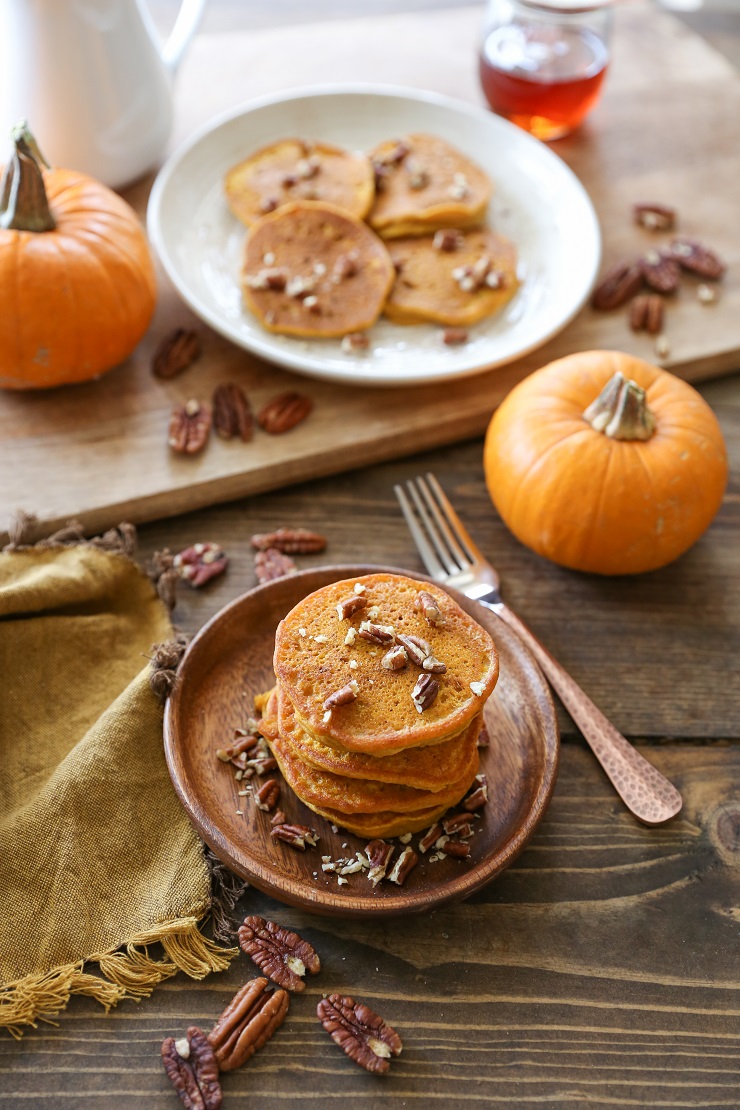 Happy day 2 of Autumn! Fall is in full swing in the Sierra Nevada, with cooler temperatures and the Aspen leaves turning color. There's a calmness that comes over me during the fall months, as I breathe in the crisp mountain air, nestle into my sweaters, work at my desk wrapped in a fuzzy blanket with a hot mug of coffee or tea at arms-length, and life begins to slow down with the warm, inviting perma-scent of cinnamon all around.
For me, the start of fall marks the beginning of my unyielding craving for hearty, carby winter squash. I just can't get enough! I'll can state with utmost confidence that for me, winter squash doesn't need to exist within the confines of the fall and winter months – they are an all-seasons kind of slow jam that needs no parameters; however, once I feel that cool fall breeze, I yearn for it like no other food.
The pumpkin card. Should we play it like pocket aces in the World Series of Poker?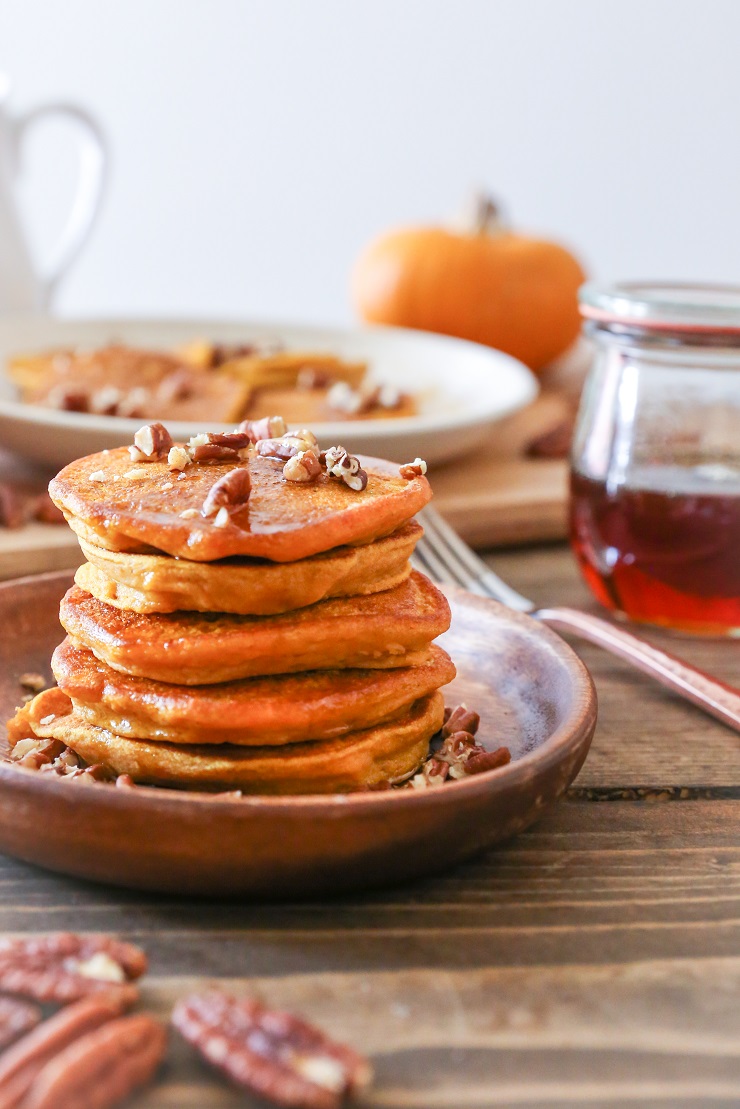 Truthfully, I have a near equal love for all the winter squashes. Butternut, kabocha, and pumpkin are my top three favorites, and when pressed to divulge my ultimate preference, I don't know if I could choose…that would just be confusing. I use the three of them interchangeably between recipes, including soups, curries, mashes, breads, cookies, pie, cake, etc.
BUT, circling back to pumpkin. What is your favorite pumpkin goodie? For me, it's a tie between pumpkin pancakes and straight up pumpkin pie.
As we all know, I derive an immense amount of enjoyment out of a slow weekend morning involving carefully crafted stacks of pancakes. This stack of pumpkin pancakes, with the help of cinnamon-bourbon syrup, is like a heavenly dessert; but, unlike a truly decadent dessert, it fuels your day rather than puts you to bed.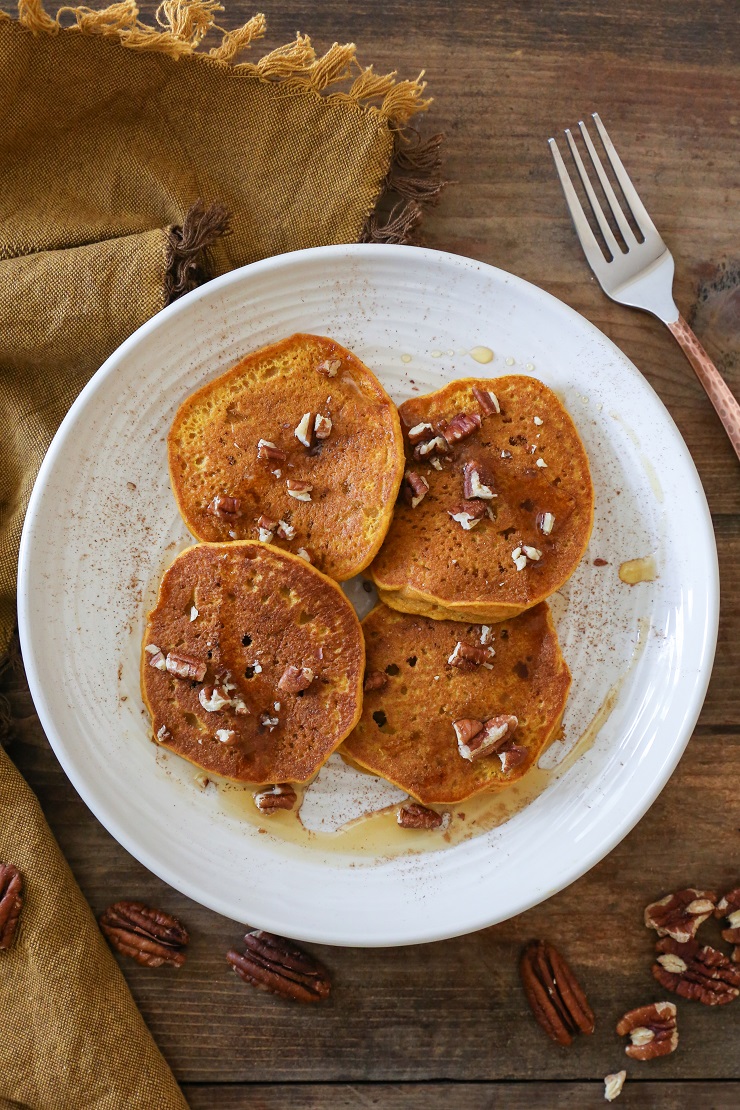 A note to my grain-free friends: I've been tinkering with a paleo pancake recipe that requires only a few easy-to-find ingredients, and haven't quite gotten there yet. I've whipped up a batch using 1/2 c. almond flour, 1 c. pumpkin puree, 2 eggs, 3 Tbl. tapioca flour, 3 Tbl. pure maple syrup, and a dash of cinnamon. The pancakes kinda sorta turn out, but don't hold together super well and are a little more mushy than fluffy. For me, the pancakes are still super edible and lovely, but the recipe's not quite perfect yet. If you all have an awesome paleo pancake recipe you'd like to share, feel free to leave a the recipe or a link on this post.
The preparation of these pancakes is really only a two-step process with a third step carved out mid pancake-cooking for the preparation of the cinnamon-bourbon syrup. You toss the ingredients for the pancakes into a blender, blend until smooth, then proceed as normal. While the pancakes cook, you simply heat the ingredients for the syrup in a saucepan…what happens from there is between you and the hotcake.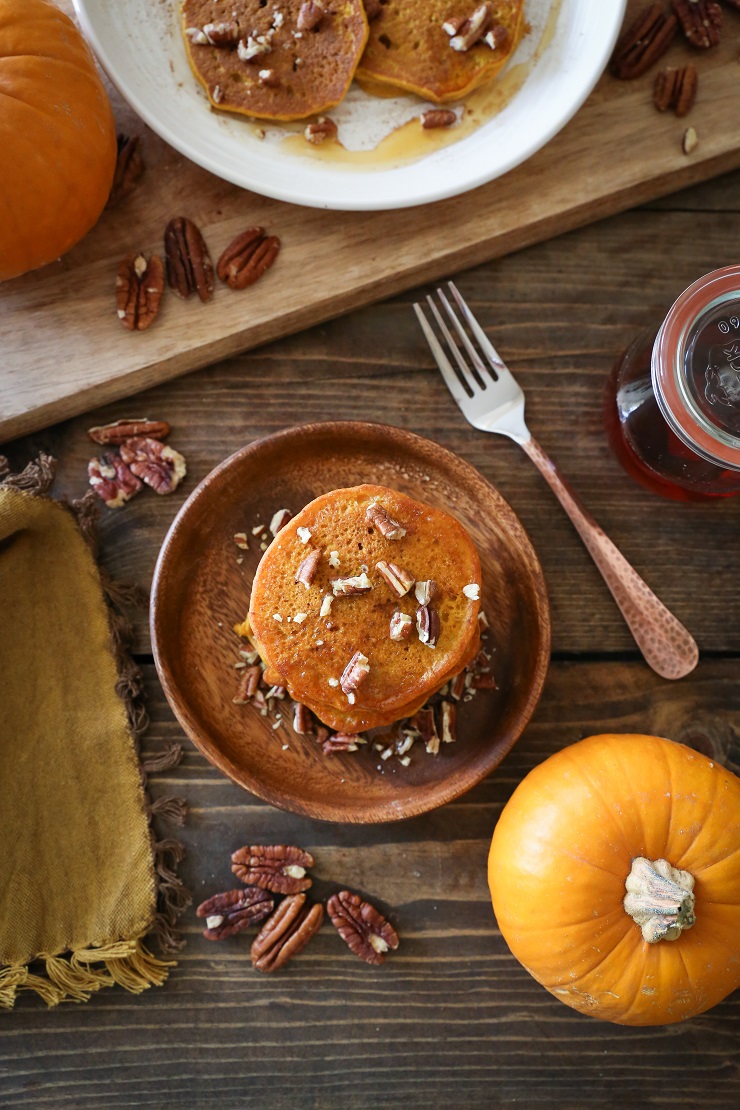 In other news, I'm heading to Bermuda on Monday to celebrate my good friend's 30th birthday, Island style! I'll be blogging at you from the middle of the Atlantic ocean, and you can follow my adventures on my Instagram story.
In the meantime, here's your pumpkin pancake and song pairing: Borns – 10,000 Emerald Pools
Pumpkin Pancakes with Cinnamon-Bourbon Syrup
Pumpkin Pancakes with Cinnamon-Bourbon Syrup is a fall inspired breakfast that has a fancy vibe yet is so easy to prepare!
Instructions
Prepare the Pumpkin Pancakes:
Add all of the ingredients for the pancakes to a blender and blend just until combined.

Heat a non-stick skillet over medium heat and add enough olive oil to lightly coat the surface.

Measure a heaping 1/8 cup of batter and pour it in the hot skillet. Note: the batter should be thick, so you will need to spread it around to create a circular pancake.

Cook until the sides begin to set up, about 2 or 3 minutes.

Carefully flip pancake to the other side and continue cooking until pancake feels firm when poked and is cooked through, about another 1-½ to 2 minutes. Repeat for remaining batter (Note: I cook 3 small pancakes at a time on a 10-inch skillet).

Serve pancakes with chopped raw pecans and a drizzle of cinnamon-bourbon syrup (instructions below).
Prepare the Cinnamon-Bourbon Syrup:
While you're cooking the pancakes, prepare the syrup by combining all of the ingredients in a small saucepan or skillet. Heat all ingredients over medium-high and bring to a full boil. Cook at a boil for 2 minutes. Remove from heat and transfer to a jar or small pitcher and set aside until ready to use.
Notes
*I used canned pumpkin - you can also use fresh roasted pumpkin
Nutrition
Serving:
1
Pancake
|
Calories:
134
kcal
|
Carbohydrates:
16
g
|
Protein:
6
g
|
Fat:
5
g
|
Fiber:
1
g
|
Sugar:
6
g
More Pumpkin Goodness: