Easy, dreamy Paleo Pumpkin Bars with chocolate chips are a moist, feel-good treat to warm your heart and soul! Made with simple ingredients for a grain-free, dairy-free, refined sugar-free treat.
Want to see a jar of almond butter disappear in 5 seconds? These.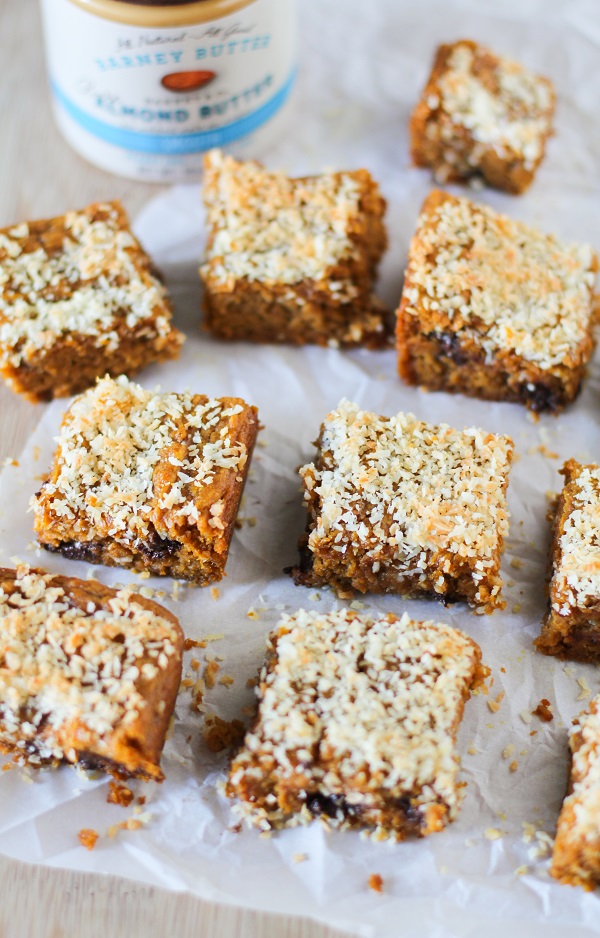 Sometimes you've gotta sail away from safe harbor and see where life takes you.
Break away from routine.
Forge a path down the road less traveled.
Go against the grain.
Mix almond butter and pumpkin and bake at 350.
Do what?
From time to time, combining two big personalities with a little spice and some heat just doesn't pan out.
And other times? Synergy.
Almond butter and pumpkin have got it going on.
They are two ingredients you ordinarily wouldn't think would fare well together, but as it turns out, they make one dynamic duo! There's chemistry, folks!
This recipe is so silly simple, you're going to wish all recipes were made out of it.
There are zero flours or nut meals in the whole stinking tray, and pumpkin + almond butter is the glue that holds this operation together…doesn't that just make you want to cry, slash do a cartwheel?
The melty chocolate in this photog… This is the point of no return.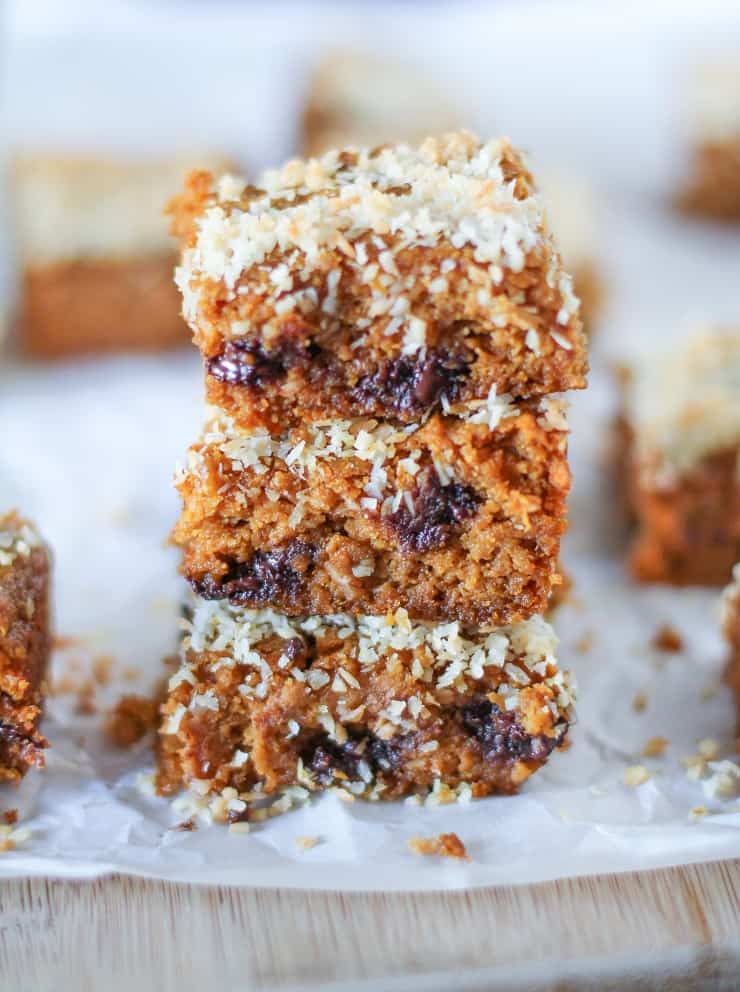 You're having a stirring of emotions. That's normal. I'd expect nothing less.
Texture-wise, these paleo pumpkin bars are soft and moist, and yet they hold together amazingly well.
Flavor-wise, you get equal parts pumpkin and almond butter.
In a weird act of science fiction, it's as though you are tasting two treats in one.
I know, it's hard to imagine. Allow your mouth to do the supplemental research.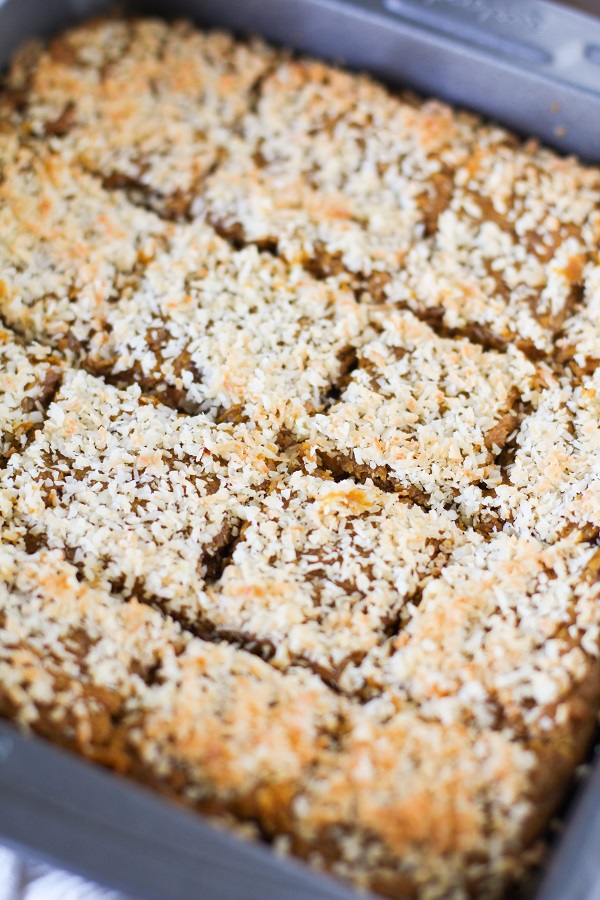 These pumpkin bars are sweetened with coconut sugar and they're a nice source of plant-based protein, so I'm calling them healthy.
Like you could just snack on them throughout the day and feel all the good vibrations.
I used Barney Butter's Bare (unsalted, unsweetened) creamy almond butter for this recipe.
I'm confident all of their other varietals would be marvelous in these bars, too. Fair warning: because I have only tested this recipe using Barney Butter, I can't say how the bars would turn out using a nut butter with a thinner consistency.
These rich, moist, flavorful, and tasty pumpkin bars are perfect for fall.
You only need one cup of pumpkin puree, which means if you use canned pumpkin, you'll have leftovers.
Which means you can take the remaining puree and throw it in a pumpkin spice smoothie.
Proceed forth!
Grain Free Almond Butter Pumpkin Bars
Grain Free Almond Butter Pumpkin Bars are easy to make and are SO moist and flavorful! These gooey bites of joy are a pure pleasure to make.
Servings:
16
small pumpkin bars
Instructions
Preheat oven to 350 degrees F and lightly oil an 8" x 8" square baking pan.

In a mixing bowl, whisk together the pureed pumpkin, egg, almond butter, and vanilla extract (wet mixture).

In a separate bowl, mix together the coconut sugar, ground cinnamon, allspice, ground ginger, salt, and baking powder (dry mixture).

Add the dry mixture to the bowl with the wet mixture and stir well to combine. Fold the dark chocolate chips into the batter.

Pour the blondie batter into the prepared baking pan and smooth it out.

Sprinkle unsweetened shredded coconut over the blondie batter (optional) and bake for 25 to 30 minutes, or until a toothpick tests clean.

Allow blondies to cool at least 20 minutes before slicing into them and serving.
Nutrition