Prosciutto-Wrapped Asparagus with Balsamic Reduction is a flavorful, enticing appetizer, perfect for any occasion. Particularly marvelous for holiday gatherings!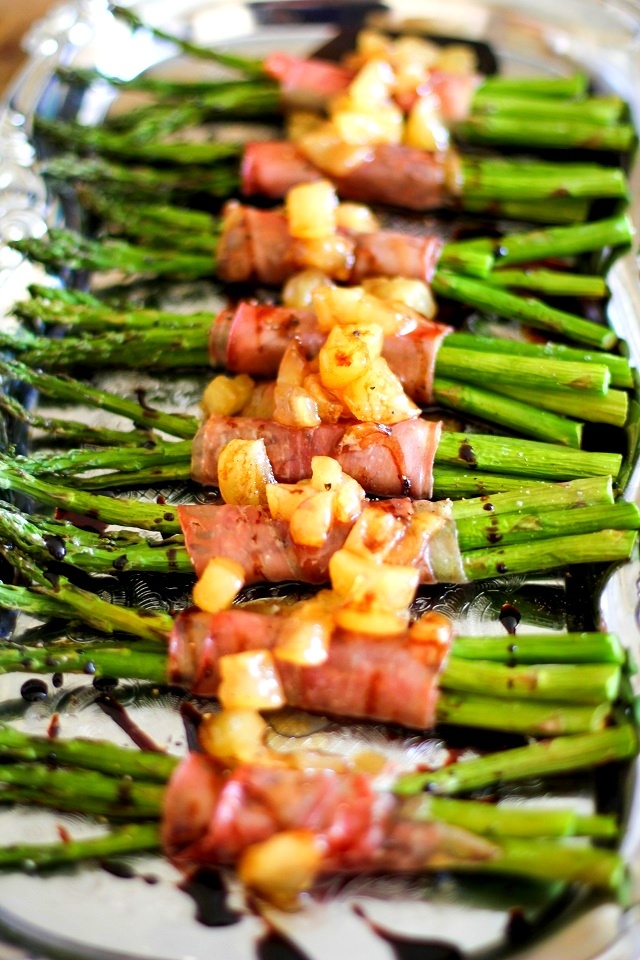 When it comes to making appetizers for friends and family, I usually keep it as fresh as possible.
I'm a big fan of roasted vegetables, so prosciutto-wrapped asparagus makes for an easy and pleasing pre-meal tapa that's also sharable.
Prosciutto-wrapped asparagus is one of my favorite go-to appetizers.
Adding a balsamic reduction and spiced pears makes for a flavorful and unique starter.
You can make the balsamic reduction and the spiced pears while the asparagus is roasting, so this is a pretty quick and easy recipe to prepare.
At first mention, the spiced pears may seem a little strange, but I promise that everything works when it's all combined!
Just be sure to serve the appetizer hot, and you'll be surprised at how well the prosciutto-pear-balsamic combination jives. If in doubt, you can always serve the spiced pears on the side!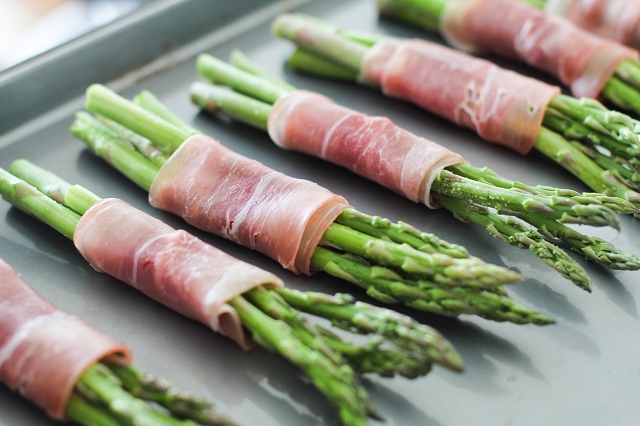 How to Make Prosciutto-Wrapped Asparagus:
Although there are several parts to this recipe, it's very easy to prepare.
All you have to do to is trim the rough ends off of the asparagus, give all the stalks a very light coat of olive oil, then wrap three to four stalks in one strip of prosciutto.
Put the bundles seam-side down on a baking sheet and roast until crispy!
If you've never cooked pears or reduced balsamic vinegar, both are super simple to do!
Peel and chop the pear, put it in a pot with the pure maple syrup, cinnamon and water, and allow it to gently boil for 10-15 minutes or until the fruit reaches the desired softness.
To reduce balsamic vinegar, heat it to a gentle boil and allow it to bubble for 5-8 minutes until thick. Allow it to sit a few additional minutes – it will continue to thicken as it cools.
And that's it – just a few steps to a healthy yet flavorful and unique appetizer!
More Healthy Appetizer Recipes:
Prosciutto-Wrapped Asparagus with Balsamic Reduction
Prosciutto-Wrapped Asparagus with Balsamic Reduction is a unique, delicious appetizer or side dish for sharing!
Ingredients
1

bunch asparagus

trimmed

1

Tbsp

olive oil

3

oz

. thinly-sliced prosciutto

½

cup

Balsamic Vinegar
Optional Caramelized Pear Topping:
Instructions
Preheat the oven to 400? F.

Trim the stalk ends off the asparagus and drizzle with 1 teaspoon olive oil. Use your hands to make sure all the stalks are lightly coated and sprinkle the asparagus with sea salt.

Wrap 3-4 stalks of asparagus in 1 thin slice of prosciutto. Place the bundle on a baking sheet seam-side down. Repeat for the remaining asparagus and prosciutto. Bake for 15 minutes or until the asparagus and prosciutto are crispy.

Heat the balsamic vinegar in a small skillet over medium-high heat while the asparagus is roasting. Bring to a full boil and cook, stirring occasionally, until the vinegar has reduced by ? of its original volume and is thick, about 3-5 minutes. Set aside until you're ready to use.

Add the chopped pears, butter, pure maple syrup, cinnamon and salt to a small pot and heat, covered, over medium-high heat. Cook, stirring occasionally, until the pear has softened and is caramelized, about 8-10 minutes.

Transfer the prosciutto-wrapped asparagus to a serving platter. Add the spiced pears, drizzle with balsamic reduction and serve!
Nutrition
Serving:
1
of 8
|
Calories:
65
kcal
|
Carbohydrates:
5
g
|
Protein:
4
g
|
Fat:
3
g
|
Fiber:
2
g
|
Sugar:
4
g