Chilled asparagus and leek bisque is a refreshing, healthy soup perfect for summer entertaining.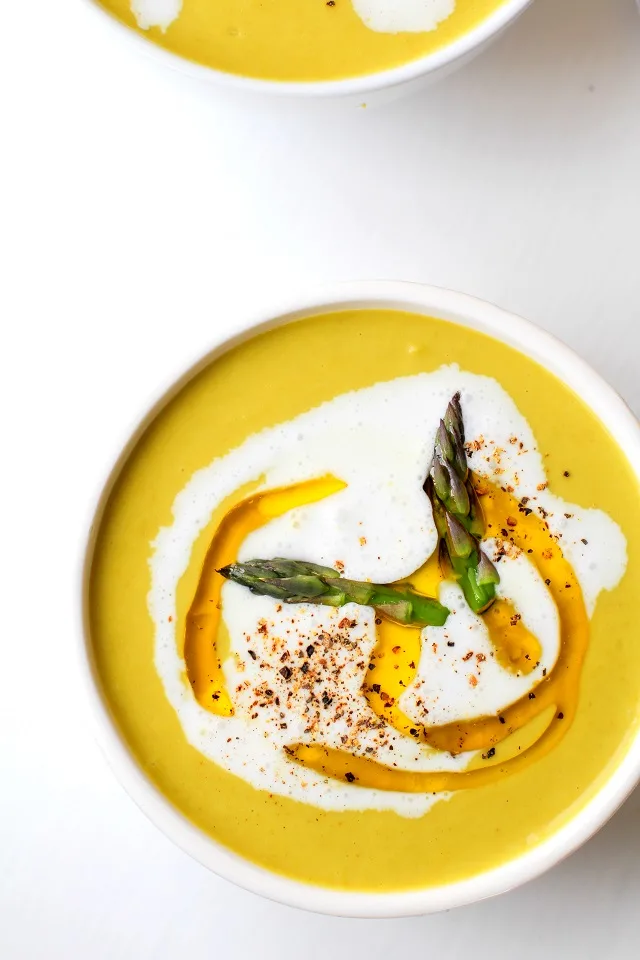 In honor of my announcement yesterday, a soup!
Nothing says, "sexy" like a seasonal thick and creamy cream-less green soup dribbling down your chinny chin chin while you try to figure out where exactly in your mouth the soup actually went.
This is 98% of what I think about while "eating" these days – where is the food in comparison to all the braces? And my tongue…what do I do with that thing? And while we're at is, where is it? Where is my tongue? The mouth-to-metal-to-food ratio is a very complicated balance that may take an entire two years to learn.
Eff figuring out the balance, I'll just drink a beer with my asparagus soup dribble, thankyouverymuch.
My dribble brings all the boys to the yard. <- Forgive me.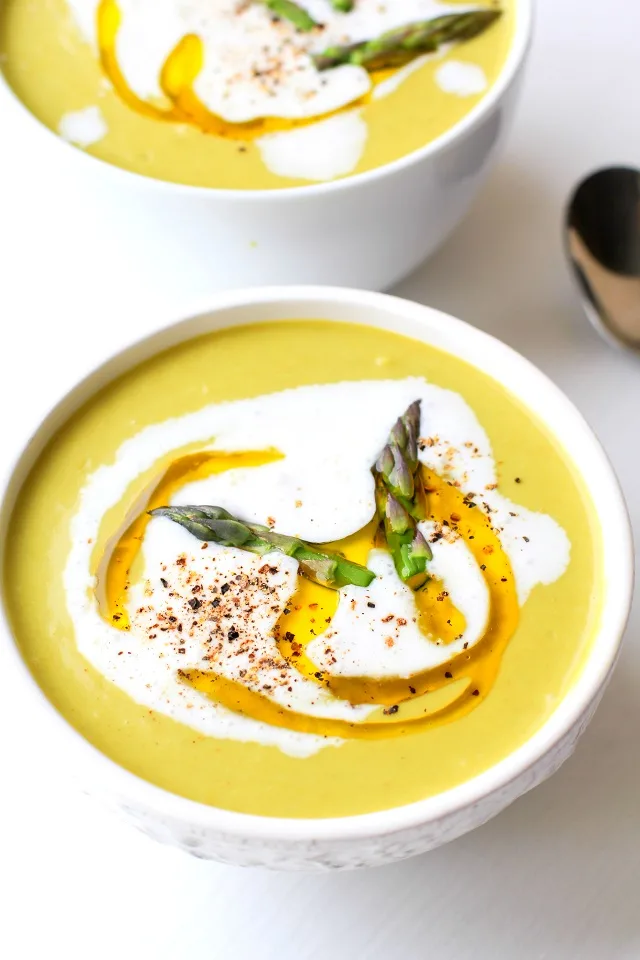 Enough about me.
Let's talk about you.
Whoa, I just got distracted by this super large body builder looking man with a caramel macchiato who sat down next to his friend (I'm in a coffee shop right now, you see) and said, "this looks taaaastYYYY," raising the pitch of his voice for the eeeeeeee part. Please tell me this makes you chuckle the way it does me. I could watch overly masculine men saying really un-masculine things in reference to un-masculine coffee beverages all the livelong day, it simply does something for my humorosity.
You guys, I ate a pint of ice cream last night, no lie. An ENTIRE pint.
And today, I feel great, save for the belly bloat. Like, I think I needed the 100g of sugar and 1,000 calories. Braces (<-that's me, I nicknamed myself. Clever, right?) needs a pint of snickerdoodle ice cream like a dude needs a swift kick to the nuuuuh-uh, we were talking about you.
Back to the you discussion.
Let's discuss why you should 200% make this soup (5 reasons):
1.) Asparagus is totes in season, and it won't be forever, son! Put it in eeee'erythang, hot dawg! <- this is a direct quote from Brad Pitt circa Cool World
2.) Leeks are also in season and by golly they are grrrreat!
3.) Intermission
4.) This bisque is dairy-free, replacing cream with coconut milk. No gluten for thickening, just a gahforsaken yam. Can we even call it a bisque? Better see that the fuss is all about!
5.) It's taaastYYYYY!
Plus, it can be served both hot or cold. Versatility, people!
Head over to Saffron Road to get the recipe for this Chilled Asparagus Bisque!