In case you were absent, we went real deep in grill talk on Monday. Feelings were expressed, Amy Grant was quoted, we ignited a fire, and now we're stoking the fire with grilled shrimp and asparagus.
Confession (slash recap from Monday's post): when I'm not grilling for a ton of people, I just plug in my George and grill on the comfort of my own counter. It eliminates the hassle of walking in and out with plates and tongs and food and matches, and also saves time on the ol' cleanup task. It also makes year-round grilling a cinch, which is a mondo plus for grilled food lovers like myself.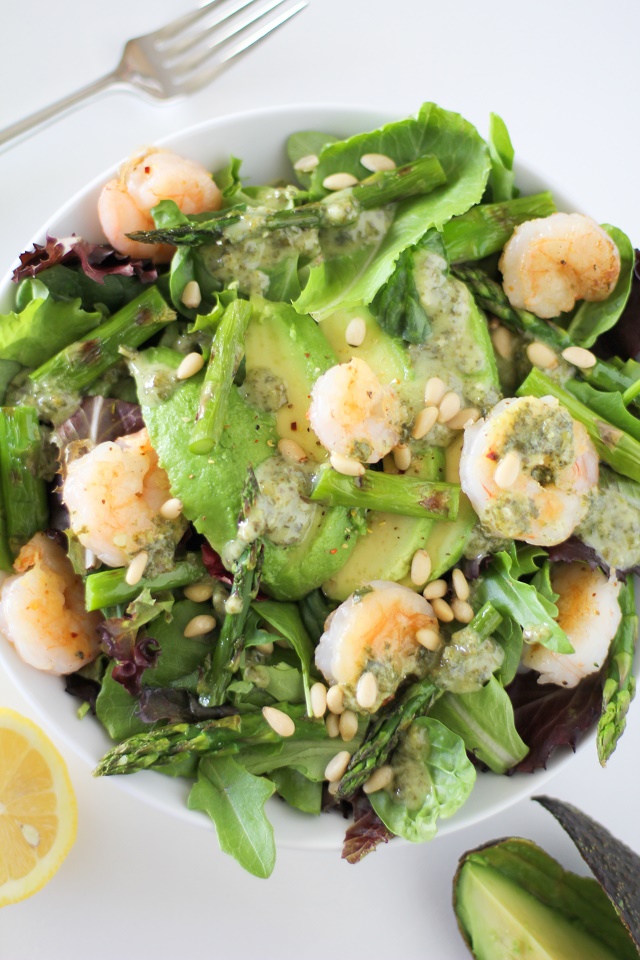 Because I can aaaaaalways go for some skrimps and fresh, snappy spring asparagus, I simply tossed those items on the Foreman and stuck them on some spring greens. For the dressing, I mixed together store-bought pesto sauce and lemon juice (you can use homemade pesto too, but of course), and also added hearty hunks of avocado and some pine nuts to the salad. I've gotta tell you, in the realm of salads, I could eat this one every single day.
I've also made this salad using store-bought rotisserie chicken instead of shrimp, because: lazy. It's adaptable to your protein tastes, and it's so full of flavor and fat, you won't know what socked you in your taste buds.
Grilled Shrimp and Asparagus Salad. Always in season.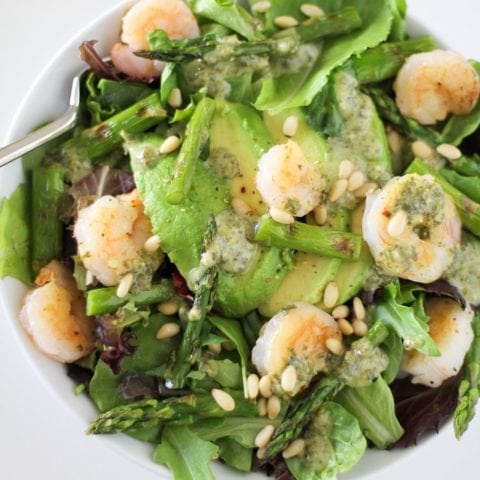 Grilled Shrimp and Asparagus Salad with Lemon-Pesto Dressing
Grilling season just got better! Grilled Shrimp and Asparagus Salad with Lemon-Pesto Dressing makes an amazing salad!
Ingredients
1/4 cup + 1 tablespoon pesto sauce
3 tablespoons fresh lemon juice
1/2 pound shrimp, peeled and deviened
1/2 bushel asparagus, trimmed
5 ounces spring green mix
1 large avocado, peeled and sliced
2 tablespoons pine nuts
Instructions
Stir together the pesto sauce and lemon juice in a small bowl to make the dressing. Set aside until ready to use.
Heat your grill to medium-high and spray with oil
Lightly coat shrimp and asparagus with olive oil and sprinkle with salt and pepper.
Place the shrimp and asparagus on the grill (you may need to do so in batches depending on the size of your grill). Grill, flipping once or twice until shrimp is cooked through and asparagus is bright green and soft, but still al dente (see note).
Transfer shrimp and asparagus to a plate and allow to cool slightly. Chop the asparagus into 2-inch pieces.
Add the spring greens to a large serving bowl. Add the lemon-pesto dressing, grilled shrimp, asparagus, avocado, pine nuts, and toss everything together.
Serve and enjoy!
Notes
I used a George Foreman for grilling the shrimp and asparagus. If you're using a standard propane grill, skewer the shrimp in order to grill them so that they don't fall through the rungs of your grill.
Nutrition Information
Serving Size

1 grams
Amount Per Serving
Unsaturated Fat

0g
Disclosure: This post was not sponsored by George Foreman. It just so happens I find him handy and he's the closest thing I've had to a date in dayz. End disclosure.