Roasted root vegetables with orange zest, turmeric, fresh ginger, and dried herbs. This simple combination of flavors wins you a most excellent side dish…slash meal if you're me. Fair warning: this post includes explicit content. Veggie porn, if you will.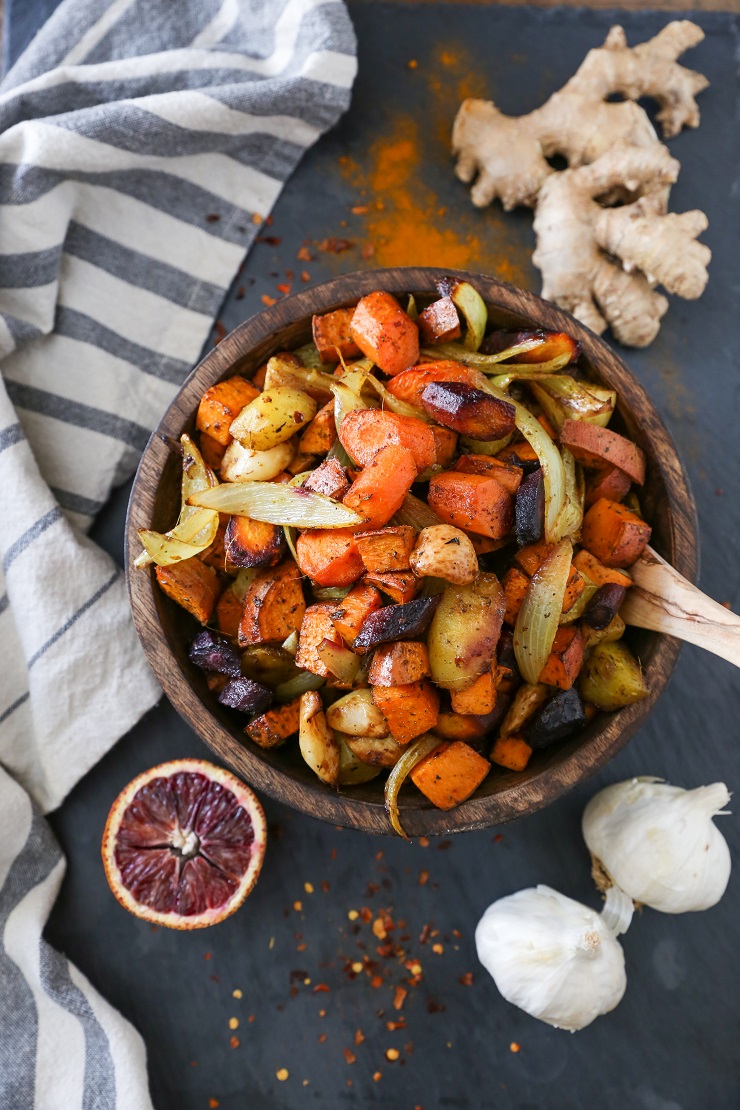 This is my ode to the root vegetable.
So bulbous…
So deep…
Ripe for the plucking…
Incredibly nutrient-dense…
Delicious.
If you've never partaken (<- actual word!) in a roasted root vegetable medley, I can tell you what's next on your To Do list. Roasted root vegetables, that's what. Not to be controlling or abrasive, but it's a most excellent use of your time and calorie space. Plus, unlike political rants on Facebook, it literally never gets old.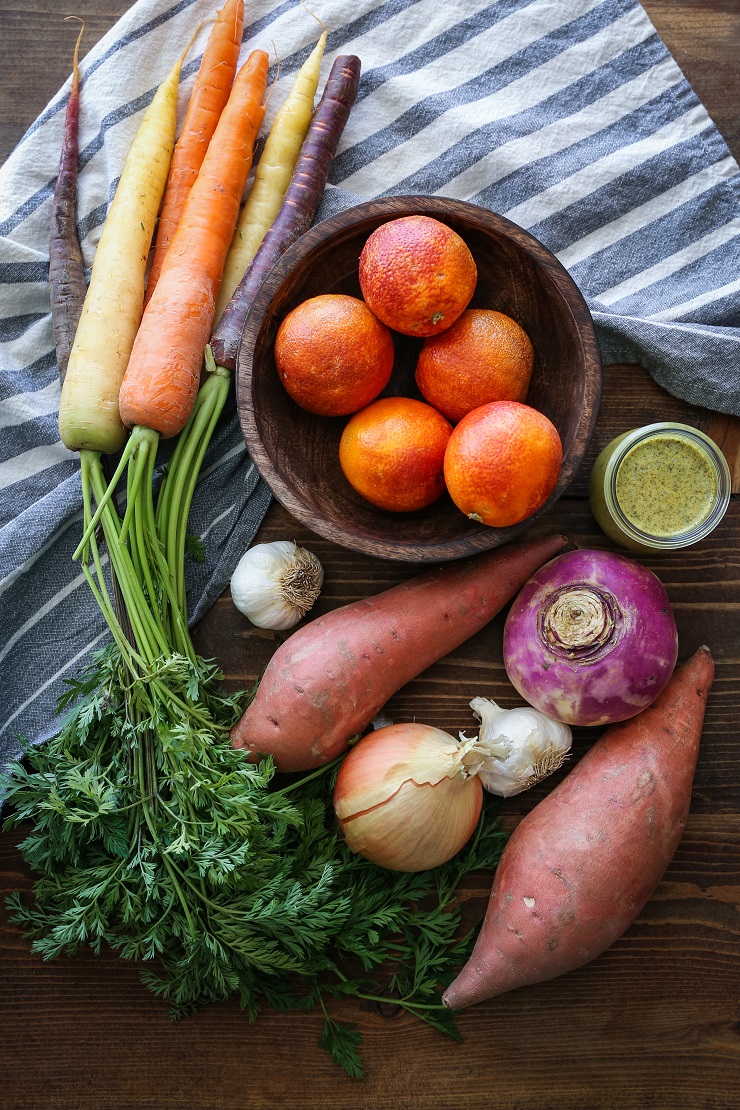 Here's what we do:
We pluck our root vegetables (as in, we purchase them…or harvest them if we're Dwight Shrute slash badass farmer), we peel, we chop, we slather, we bake, we devour. The key to a good roasted veg? Lots of lube…I mean, oil.
Root vegetables are so naughty.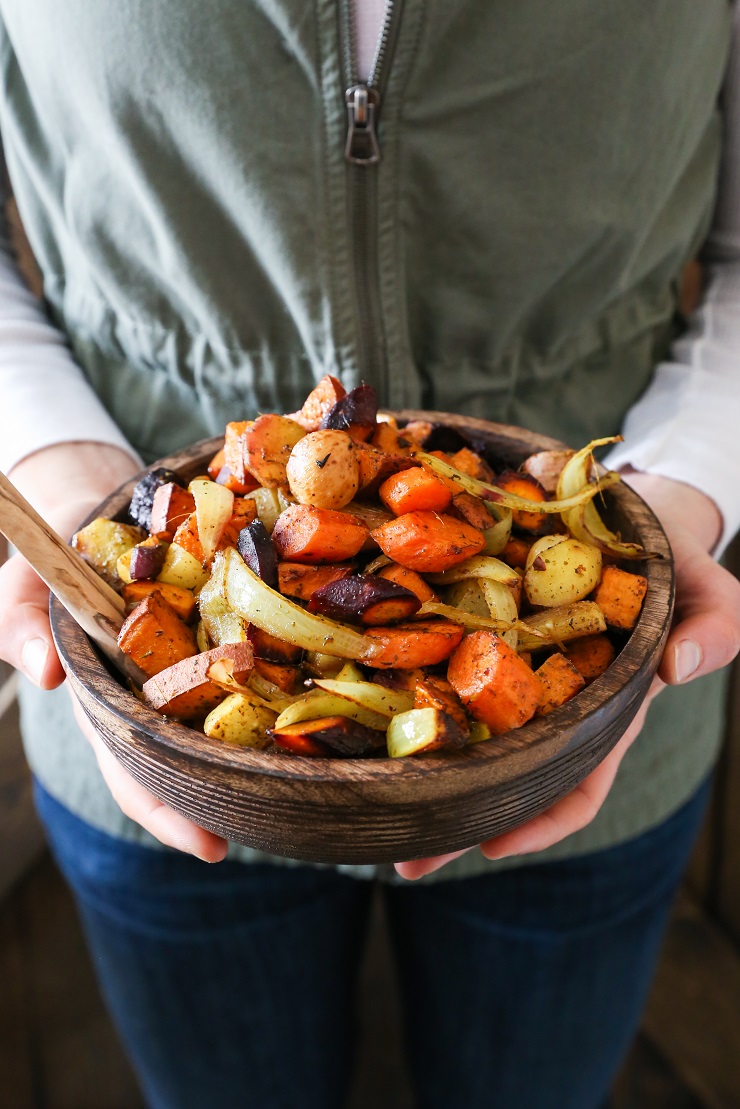 Oil helps the veggies crisp up, cook evenly, not stick to your baking pan, and fat? It's palate-pleasing. Key #2 to a good veg: tons of seasoning and salt. I do mean tons. Key #3? Some sort of acid…balsamic vinegar's my fave. The aroma whilst roasting gives Fabreeze a run for its money. Key #4: Patience. You're going to want to eat the air once you get a whiff of the aroma from Key #3. It happens to the best of us..
Side note: if you're looking for adaptations or even more roasted vegetable inspiration, check out my Roasted Vegetables with Asian Garlic-Ginger Glaze, My Go-To Balsamic Roasted Vegetables Recipe, or Cajun Seasoned Roasted Vegetables.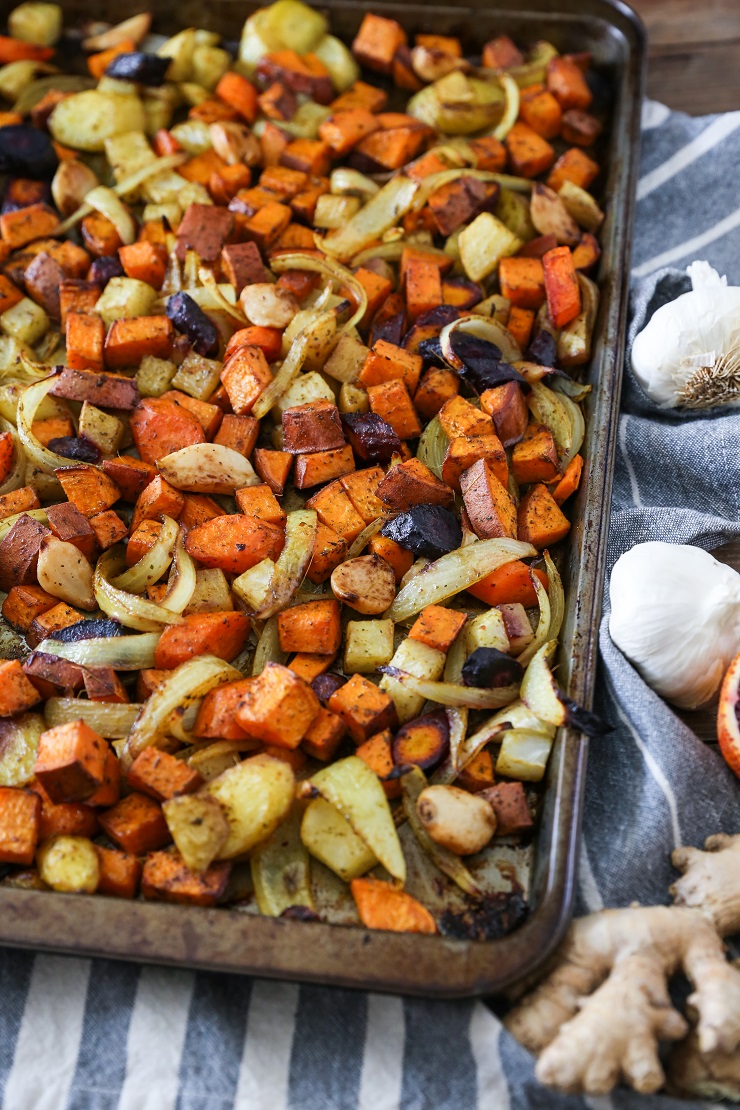 I'm posting this recipe in preparation for the recipe I'm showing you tomorrow (foreshadowiiiiing) …you guys are going la-la-la-loooooove it! ..Unless you don't eat chicken…in which case, check back next week. Winky face.
(Update: the recipe I was referring to above is Orange Ginger Turmeric Whole Roast Chicken.)
In the meantime, whip this up tonight, tomorrow, the following day, the day following that…make it your new main squeeze.
Orange Ginger Turmeric Roasted Root Vegetables
Orange Ginger Turmeric Roasted Root Vegetables are a nutritious and delicious healthy side dish.
Ingredients
1

large turnip

peeled and chopped

1

bunch rainbow carrots

peeled and chopped

1

large sweet potato

chopped

1

large yellow onion

sliced

1

bulb garlic

1/4

cup

olive oil

2

tablespoons

balsamic vinegar

1

tablespoon

pure maple syrup

2

teaspoons

orange zest

1

tablespoon

fresh ginger

peeled and grated

1/4

teaspoon

ground turmeric

1

tablespoon

Italian seasoning

1

teaspoon

sea salt

, to taste
Instructions
Preheat the oven to 420 degrees Fahrenheit.

Add the last 8 ingredients (olive oil through sea salt) to a small blender and blend until completely smooth.

Spread the chopped vegetables on a large baking sheet. Pour the olive oil-balsamic mixture over the vegetables and use your hands to toss everything together until the vegetables are well-coated.

Cut the top off of the bulb of garlic, drizzle generously with olive oil, and wrap in foil.

Place the baking sheet with the vegetables on the center rack of the preheated oven, along with the foil-wrapped bulb of garlic. Roast 30 minutes, stirring halfway through, or until the vegetables are golden-brown and cooked through.

Un-wrap the bulb of garlic and peel the cloves. Add the roasted garlic to the rest of the vegetables. Taste vegetables for flavor and add sea salt to taste. Serve alongside your favorite entree.
Nutrition