Paleo morning glory muffins recipe made with almond flour are a healthy breakfast or snack, perfect for those with gluten and grain sensitivities. These classic muffins are easy to prepare and super comforting!
The morning glory muffin, a.k.a. the Something for Everyone Muff, is just so likable. A muffin jam packed with carrots, apples, shredded coconut, raisins and walnuts? I mean, who in Hades was smart enough to come up with this flavor infusion?!
Let me google it.
::Insert elevator music::
Okay, I have the answer.
Chef Pam McKinstry invented the morning glory muffin in 1978 on Nantucket Island for Earthbound Farm. In the kitchen with the whisk (or perhaps a wooden spoon, who knows?).
Here's the original morning glory muffin recipe. Slash, Pam, I'd like to meet you, you cheeky muffin maven you.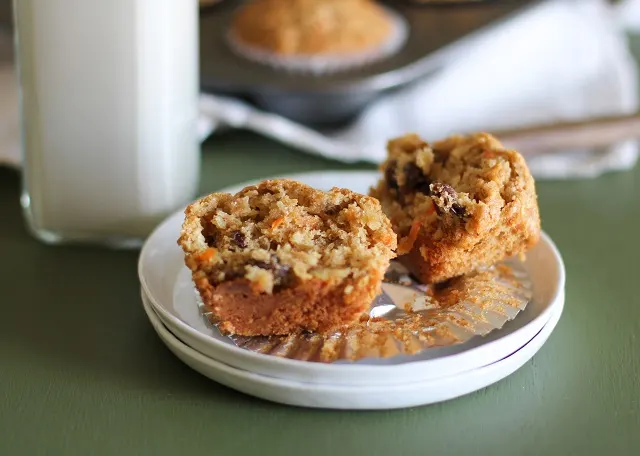 Per usual, I did a little add and subtract magic and came up with a grain-free, oil-free, and refined sugar-free version of the recipe, which is also paleo-friendly.
Some people add pineapple. I don't.
Do you ever say to yourself, "Wow. I should probably vacuum, wash my linens, scrub the tile, season my cast iron skillet, do my taxes, and take care of my fiscal and social responsibilities as a human" and then promptly bake muffins instead? Don't answer that.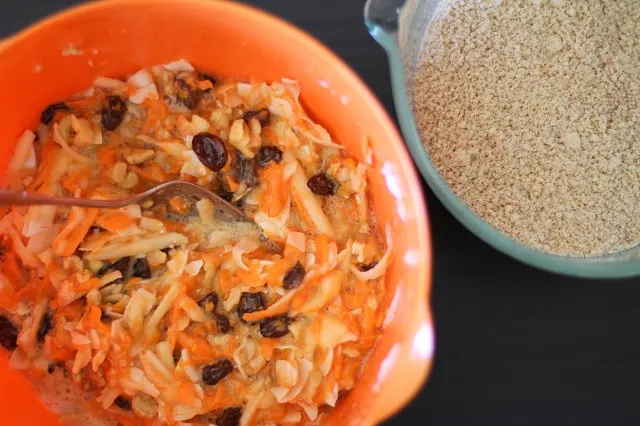 I'm gonna give it to you straight: these muffins require some work. There's an above-average amount of grating, chopping, and ingredient measuring required for this recipe, but they're soooo worth it. The recipe also includes ⅓ of a cup of mashed sweet potato, which I recognize not all of you have on-hand just any ol' day, like me.
If you don't feel like roasting a sweet potato for the sake of these muffins, I bet you could use a ripe banana instead…and then you'd end up with banana bread morning glory muffs, and there ain't nothing wrong with that, son!
These grain-free, refined sugar-free dairy-free morning glory muffins are all sorts of nutritious and are perfect for the sharing. They're well-worth the effort!
The everything muffin!
More Gluten-Free Muffin Recipe:
My cookbook,
Paleo Power Bowls
, is now available! CLICK HERE to check it out. Thank you for your support!
If you make these Paleo Morning Glory Muffins, please feel free to share a photo and tag @The.Roasted.Root on Instagram!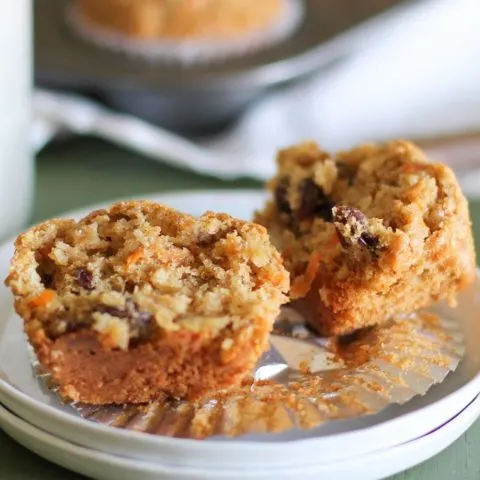 Grain-Free Morning Glory Muffins (Paleo)
Grain-free, dairy-free, healthy muffin recipe with shredded carrot, coconut, and raisins. Naturally sweetened and delicious!
Ingredients
1/3 cup mashed sweet potato
3 eggs
1 cup grated carrot, 1 large
1 cup grated apple, ½ large Fugi
2 teaspoons fresh ginger, peeled and grated, optional
2/3 cup raisins
2/3 cup raw walnuts, chopped
¼ teaspoon baking soda
Instructions
Preheat the oven to 350 degrees F and line a 12-muffin tray with baking cups.
Whisk together the mashed sweet potato, eggs, maple syrup, vanilla extract, grated carrot, apple, and ginger until well-combined (wet ingredients).
In a seperate mixing bowl, stir together the almond flour, shredded coconut, raisins, walnuts, cinnamon, baking powder, baking soda, and salt (dry ingredients).
Pour the dry mixture into the bowl with the wet mixture and stir well until a thick batter forms.
using an ice cream scoop or small measuring cup, scoop batter into the lined muffin tray, filling the cups 3/4 of the way up.
Place muffin tray on the center rack in the preheated oven and bake for 30 to 35 minutes, until muffins test clean when poked with a toothpick.
Allow muffins to cool at least 20 minutes before mowing them down
Nutrition Information
Yield

15
Serving Size

1 of 15
Amount Per Serving
Calories

229
Total Fat

17g
Saturated Fat

6g
Unsaturated Fat

4g
Carbohydrates

17g
Sugar

10g
Protein

6g