Paleo Carrot Cake Banana Muffins made grain-free, oil-free, dairy-free with no added sweetener! These healthy carrot banana muffins are studded with dried cranberries and walnuts for a perfectly sweet, texturally pleasing nutritious snack.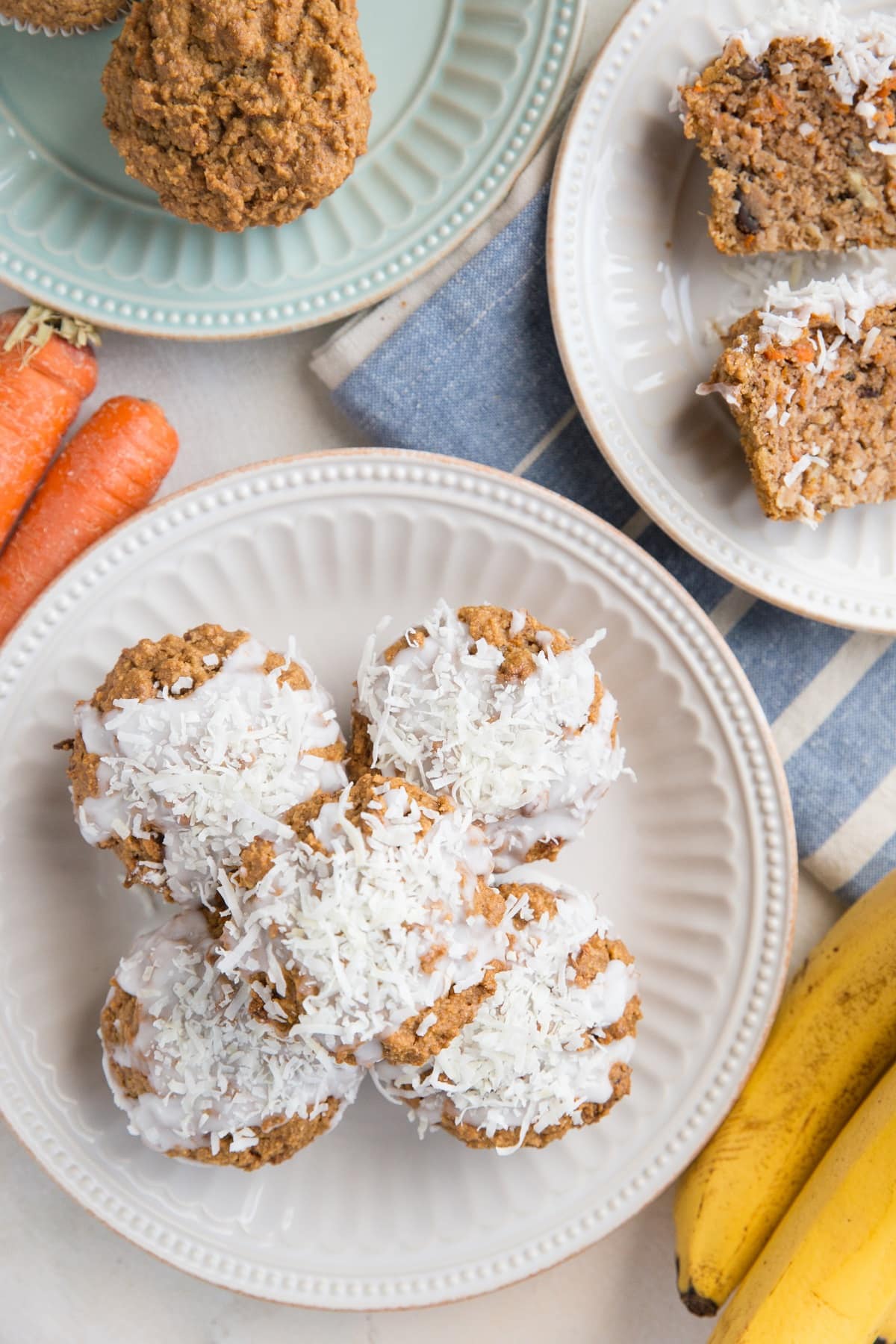 Carrot cake, meet banana muffins…banana muffins, meet carrot cake!
What a lovely combination we've stumbled upon here!
I mentioned a few months ago I've been sweetening some of my treats using solely bananas, which is what is going on here. Look at these like healthy carrot cake cupcakes…or banana cupcakes…or healthy carrot cake muffins.
Whatever you want to call them, they're here for your snacking, breakfasting, desserting pleasure.
All things considered, these muffins are grain-free, dairy-free, oil-free, contain zero added sweetener, are paleo-friendly and are absolutely delicious!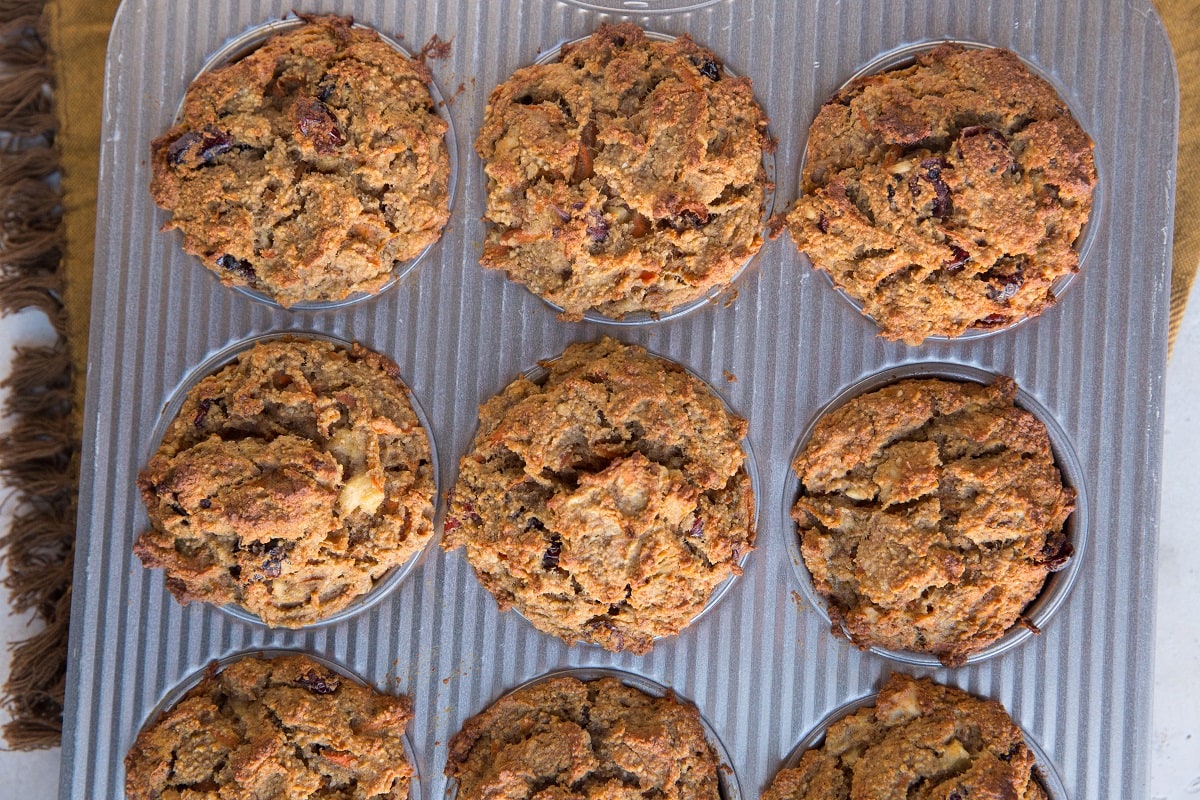 Check out my 3-Ingredient Oatmeal Cookies, Healthy Apple Muffins, and 4-Ingredient Flourless Healthy Brownies for more banana-sweetened treats.
If you'd like, you can do as I did and frost the muffins using my Vegan Cream Cheese Frosting recipe, or you can whip up a simple glaze using powdered sugar.
This gives the muffins a cupcake feel for a more decadent approach!
Do note, that the cream cheese frosting is sweetened with pure maple syrup, so you would need to skip the frosting to keep these refined sugar-free, or use sugar-free sweetener in the frosting.
Let's get down to business!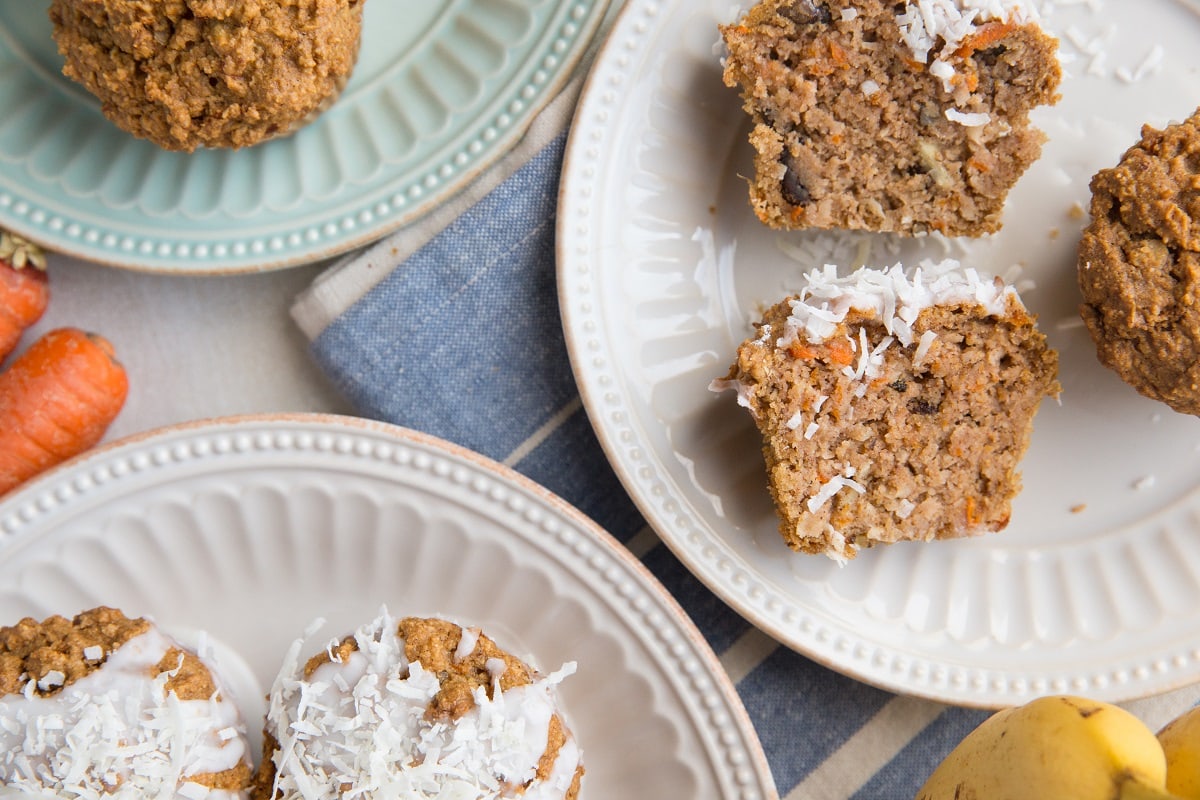 Ingredients for Paleo Carrot Cake Banana Muffins:
Ripe Bananas: Ripe bananas bring the majority of the sweetness to these muffins, and enable us to go all naturally sweetened, without the need for any additional sweetener! Make sure your bananas are plenty ripe (think: mostly brown) so that they provide the sweetness and moisture we need to make these beauties POP.
Eggs: Eggs hold the whole shebang together and make the muffins nice and fluffy. It may be possible to replace them with flax eggs (if you have an egg allergy), but I haven't tested the recipe yet with an egg replacement.
Almond Flour: Superfine almond flour is what we use to keep these muffins grain-free and light and fluffy. I use Bob's Red Mill almond flour. If you're using a different brand of almond flour, you may need to add more moisture (such as coconut milk, almond milk, oil, or more banana) if the batter seems too thick.
Baking Powder: Leavening agent! Used to make the muffins come together and hold together in that beautiful compact treat. If you don't use baking powder, you can try replacing it with 2-3 tablespoons of tapioca flour.
Sea Salt & Cinnamon: Flavor galore! Ground cinnamon brings that enticing warmth that reminds us of our mom's classic banana bread (or carrot cake), and sea salt brings out all the flavor of all the ingredients!
Unsweetened Shredded Coconut: Unsweetened shredded coconut adds some creamy, sweet flavor and a tiny bit of texture. If you don't like coconut (or have an allergy), replace it with ½ cup of additional almond flour. You can also use sweetened coconut if you don't mind the added sugar.
Carrots: You know what they say…if there's a vegetable involved, it's healthy 😉 In all seriousness, baked goods made with carrot are some of my favorites! Carrots are naturally sweet, add nice earthy flavor, and are so easy to incorporate into a recipe.
Raisins or Dried Cranberries: Adding little bursts of flavor and sweetness, I love raisins or dried cranberries in my carrot cake banana muffins. They bring natural sweetness and a little textural surprise.
Walnuts or Pecans: I like adding chopped raw walnuts or pecans to my carrot cake adventures. If you don't like nuts in your muffins, feel free to skip them!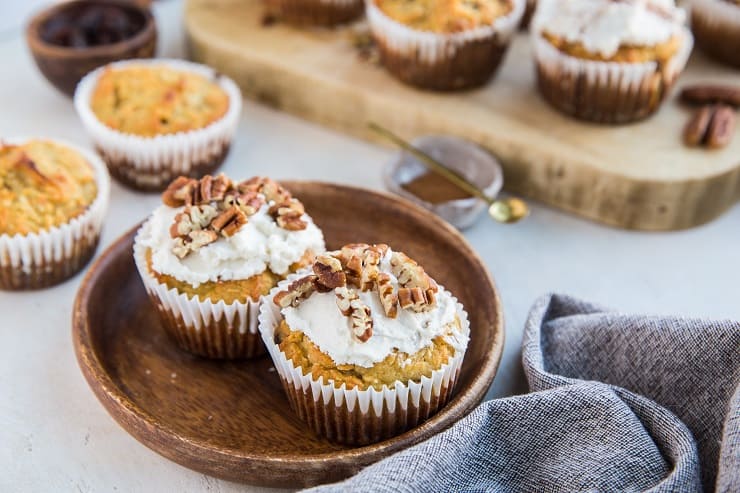 How to Make Paleo Carrot Cake Banana Muffins:
If making the Vegan Cream Cheese Frosting, do so ahead of time (the cashews will need to soak for 12 hours, just as a heads up for planning purposes!)
Preheat the oven to 350 degrees F and line a muffin pan with muffin papers, or spray the holes with cooking spray.
Mash the bananas in a mixing bowl until creamy (it's fine if there are still some chunks).
Whisk in the eggs until the mixture is well-combined.
Add the almond flour, sea salt, baking powder, ground cinnamon, and shredded coconut and stir well to combine. Stir in the raisins (or dried cranberries), chopped walnuts, and grated carrot until everything is evenly distributed throughout the batter.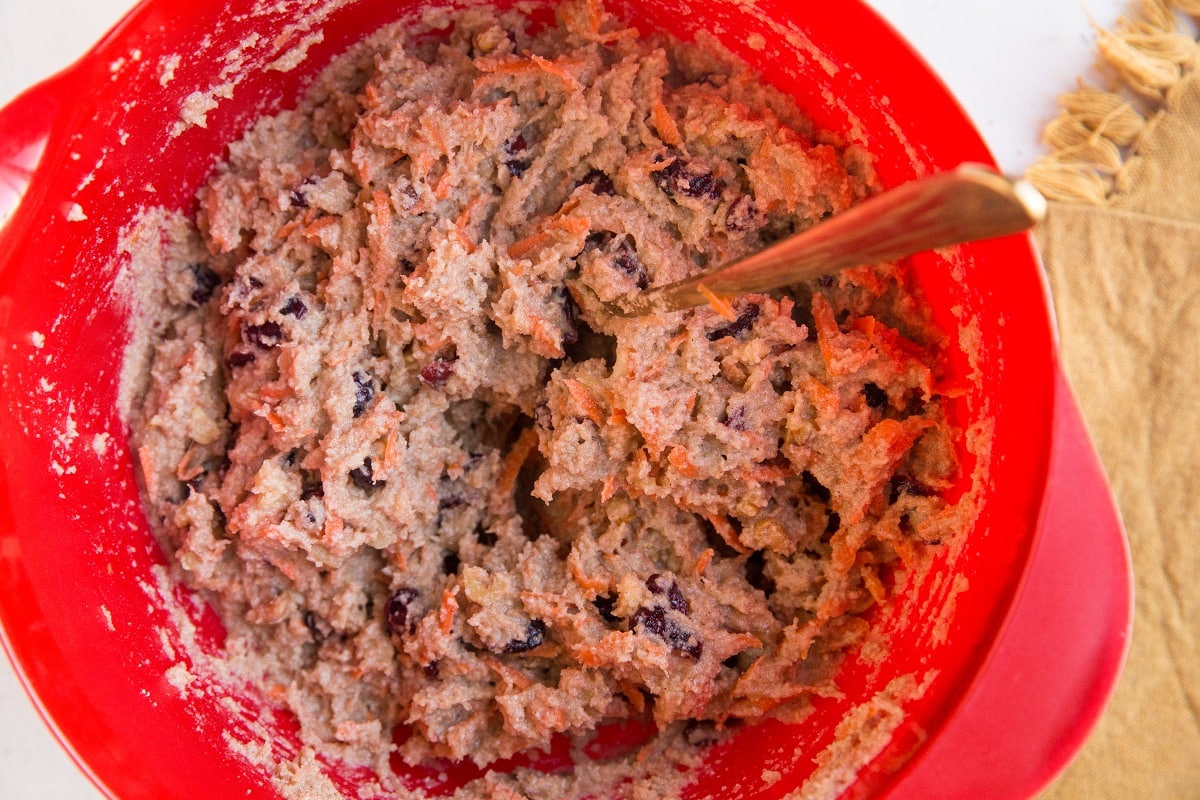 Note: If you prefer making muffin batter in your blender, you can blend everything except for the carrots, dried cranberries and walnuts to make the batter, then stir the rest of the ingredients in.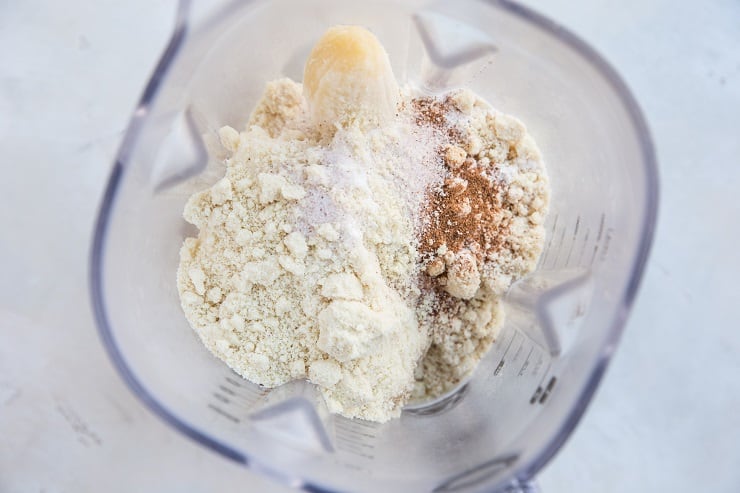 Transfer the carrot cake muffin batter to the muffin pan, filling the holes ¾ of the way up (or do as I do and fill them all the way up).
Bake on the center rack of the preheated oven for 30 to 35 minutes, or until the tops are golden-brown.
Allow muffins to cool completely before peeling the papers off to eat them. (Note: frost them after they have cooled, if desired!)
Store any leftover healthy carrot cake muffins in an airtight container in the refrigerator for up to 7 days.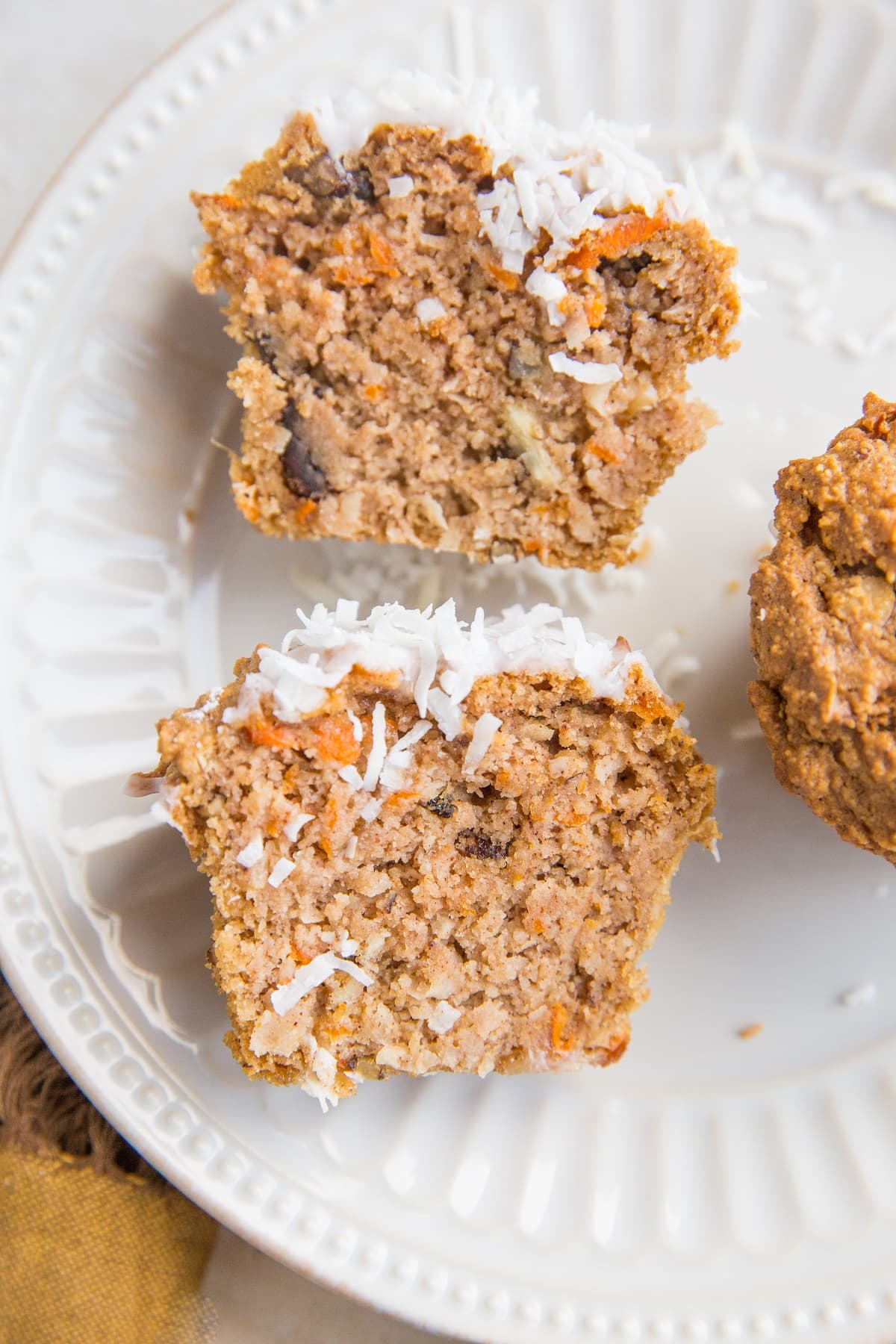 Sweetener Options:
Follow my recipe for Paleo Carrot Cake for a version that uses pure maple syrup instead of banana for the sweetener. You can turn that cake batter into muffins by following the same instructions listed here.
More Healthy Muffin Recipes:
My cookbook,
Paleo Power Bowls
, is now available! CLICK HERE to check it out. Thank you for your support!
If you make this recipe, please feel free to share a photo and tag @The.Roasted.Root on Instagram!
Healthy Carrot Cake Muffins
Paleo carrot cake banana muffins are a lovely mashup of carrot cake and banana bread. Grain-free, oil-free and sweetened only with banana!
Instructions
If making the Vegan Cream Cheese Frosting, do so ahead of time (the cashews will need to soak for 12 hours, just as a heads up for planning purposes!)

Preheat the oven to 350 degrees F and line a muffin pan with muffin papers, or spray the holes with cooking spray.

Mash the bananas in a mixing bowl until creamy (it's fine if there are still some chunks).

Whisk in the eggs until the mixture is well-combined.

Add the almond flour, sea salt, baking powder, ground cinnamon, and shredded coconut and stir well to combine.

Stir in the raisins (or dried cranberries), chopped walnuts, and grated carrot until everything is evenly distributed throughout the batter.

Transfer the batter to the muffin pan, filling the holes ¾ of the way up (or do as I do and fill them all the way up).

Bake on the center rack of the preheated oven for 30 to 35 minutes, or until the tops are golden-brown.

Allow muffins to cool completely before peeling the papers off to eat them. (Note: frost them after they have cooled, if desired!)
Nutrition
Serving:
1
of 12
|
Calories:
209
kcal
|
Carbohydrates:
14
g
|
Protein:
6
g
|
Fat:
15
g
|
Fiber:
1
g
|
Sugar:
7
g