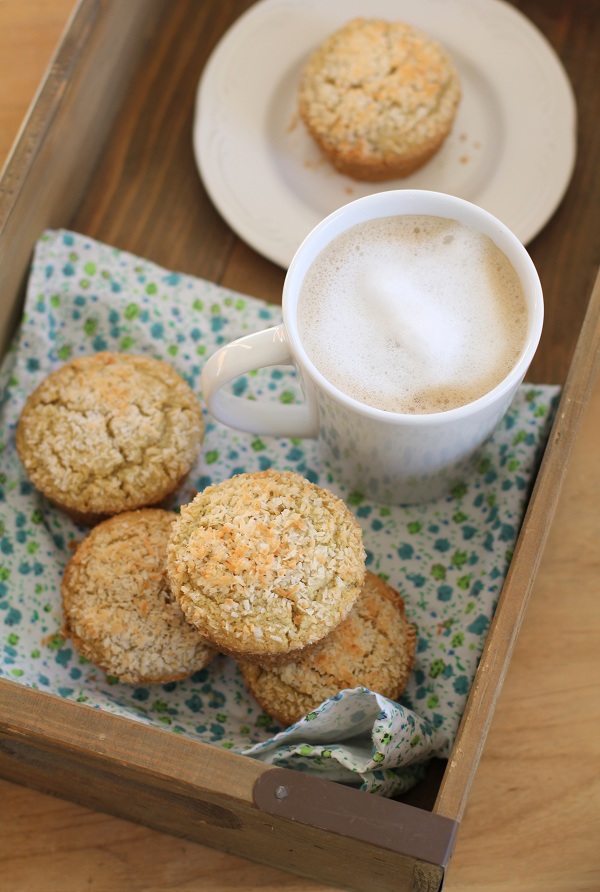 This is your curl up with a blanket, cup of coffee and a book muffin.
Your pre or post workout muffin.
Your brunch with friends, make your co-workers love you muffin.
Your afternoon pick-me-up to tide you over to dinner.
The muffin to curl up with during late night Hulu or Netflix sessions.
Here's your opportunity to use every single form of coconut in one muffin. I used Bob's Red Mill's Coconut Flour (naturally gluten-free), shredded coconut and coconut milk, plus coconut oil and coconut sugar.
Coconut is a fad right now for a good reason. It contains healthy fats, stimulates your metabolism, is a natural antibiotic and anti fungal and has even been said to fight candida. Trading flour, sugar, oil and milk with coconut milk not only eliminates the health detriments but also adds nutrient density.
Next time I bake these, I'll add blueberries or chopped strawberries. The muffins are great on their own but are also perfect for adding all sorts of fresh or dried fruit and nuts. Dark chocolate chips would be phenomenal too!
Gluten Free Coconut Muffins
Triple coconut Coconut Muffins are loaded with coconut flavor for a delicious baked good to enjoy alongside your morning coffee or tea!
Instructions
Preheat the oven to 350 degrees F and lightly oil a 12-muffin pan

In a large mixing bowl, combine the flours, baking powder and soda, coconut sugar, salt and one cup of the shredded coconut.

In a separate bowl, whisk together the wet ingredients.

Pour the wet ingredients into the bowl with the flours and mix until combined.

Pour the batter into the prepared muffin pan.

Sprinkle the remaining half cup of shredded coconut over the batter and bake in the oven for 22 to 25 minutes until a toothpick tests clean.
Nutrition