Dairy-free, refined sugar-free coffee ice cream made with coconut milk is a creamy paleo-friendly dessert.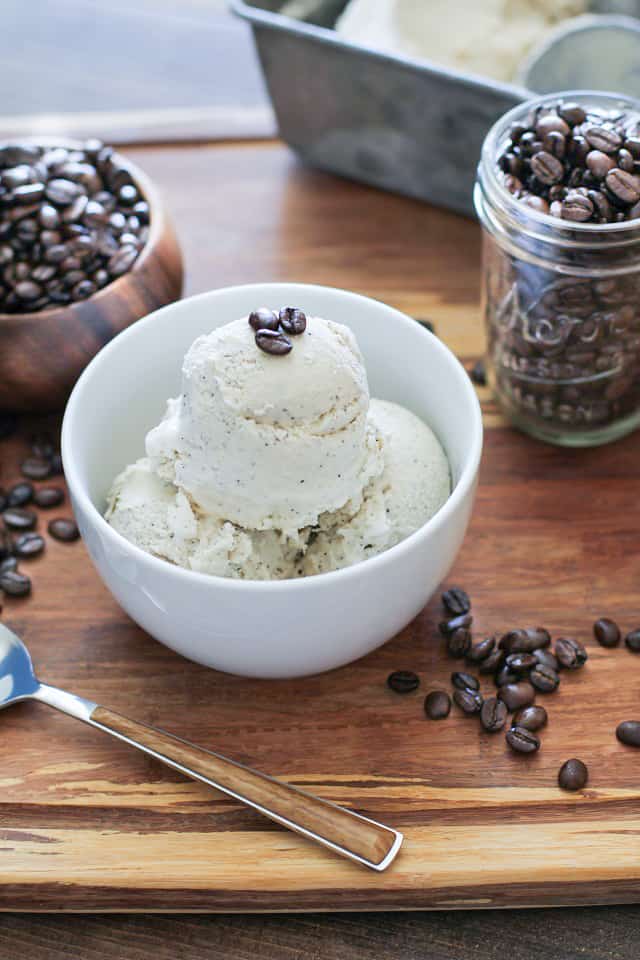 Coffee…it's more than just a really great beverage…
…it's a lifestyle.
Mostly, I'm a coffee purist and don't go wild and crazy over sugary espresso drinks at coffee shops. Sure, I'll enjoy a homemade PSL or CM after first drinking my daily half-a-pot of Joe as a sort of coffee dessert to my coffee entree, but generally, I aim for volume – a super sweet, milked out drink just doesn't satisfy when I want my tongue buds to be dazzled by something pure, big and bold.
While I'll be the first to admit I'm a coffee snob, always on the prowl for the perfect mug, coffee desserts are a whoooole 'nother ball game. Here's where you can lay the coffee smack down six ways from Sunday and I.will.take.it!
Which leads me to my next point: coffee ice cream. Can you dig? I can dig. In fact, coffee ice cream is on my Top 5 List of Favorite Ice Creams.
And you guys…this homemade coconut milk version of cup o' Joe ice cream is MEGA.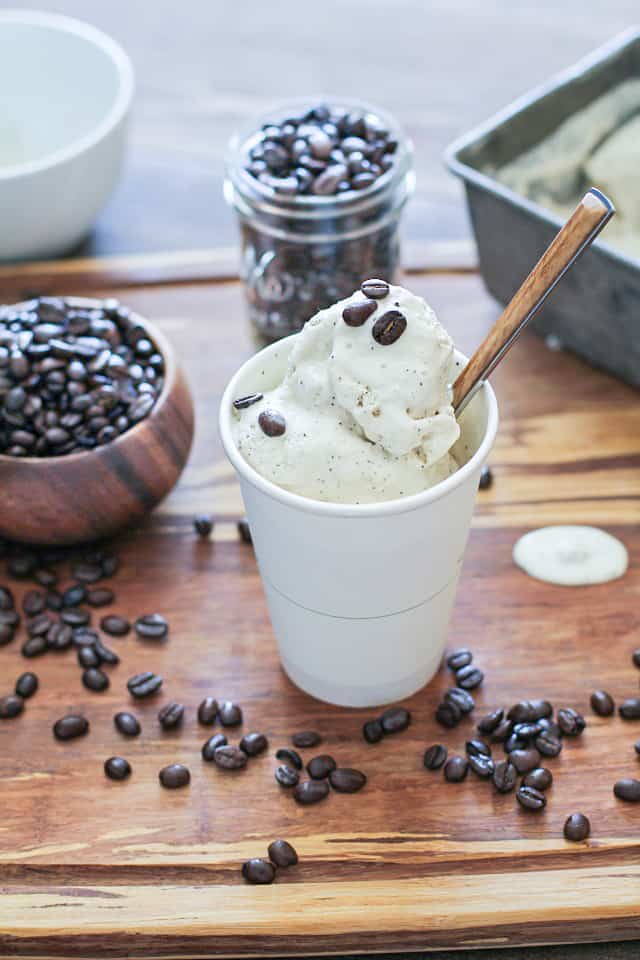 All you fellow coffee addicts will relate to this: Sometimes, you're left with that sludge at the bottom of your pot of coffee that you don't reeeeeeally want to drink (because it's gritty and gives you heart burn), but you hate to see it go to waste…THAT'S the stuff you want to use in this ice cream! No reason to trouble yourself brewing a whole new pot…simply use whatever it left at the bottom of your morning brew. THAT'S efficient use of resources. Fist bump, high five, winky face.
Sidenote: Did you all know you can get an ENTIRE can of coconut cream (coconut cream is the thick stuff that coagulates at the top of your cans of coconut milk…it's basically the fattiest of the fattiest)??  I recently discovered it in the grocery store and instantly knew I'd be making ice cream with it.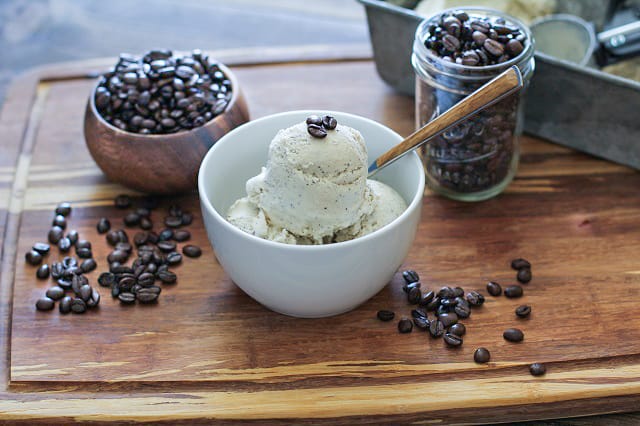 All you do to prepare the ice cream base is toss everything in a blender and blend until smooth. I recommend chilling the brewed coffee until it's cold before adding it to the blender, lest you heat up the other ingredients and need to refrigerate the whole dang base. You're aiming to keep the ice cream base cooler than room temp before it goes into the ice cream maker, and if you have the time and patience to refrigerate it first, I say go for it! All this to say: pour that ice cream base into your ice cream maker, let it churn, and have yourself a bowl o' Joe cream.
Real quick: You guys, I put brewed (and cooled) coffee, instant coffee, and coffee grinds (grounds that have been brewed) in this ice cream. You can definitely leave the grinds out, as they aren't super necessary for flavor – I simply added them to give a sort of java chip effect. So long as you don't skip the actual coffee and instant coffee, you're good to go. And feel free to coffee-to-taste here…add more insta-coffee for a bolder ice cream.
And that's it!
It's vegan!
It's Paleo!
It's more than just an ice cream…it's a lifestyle.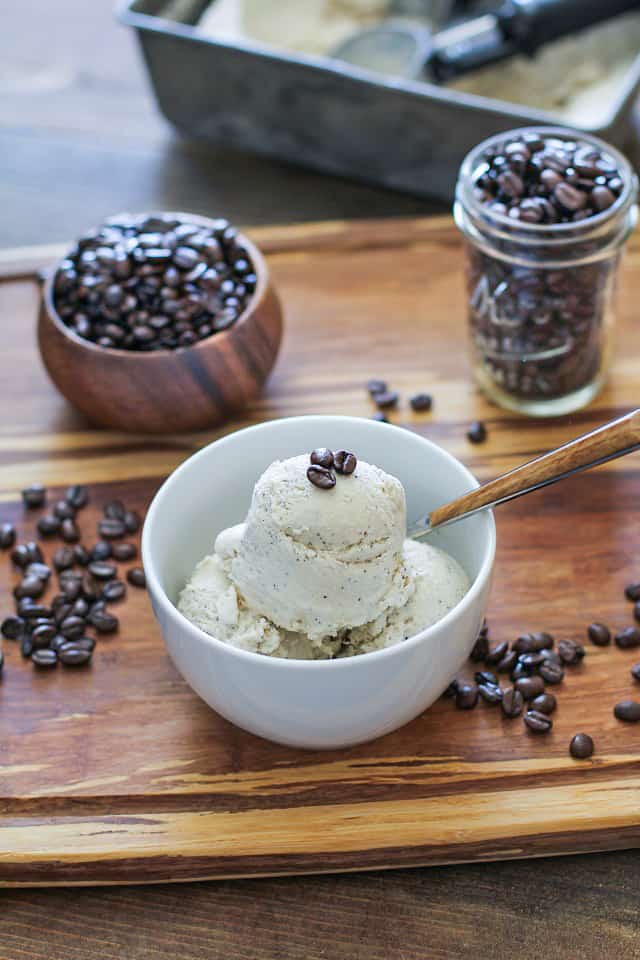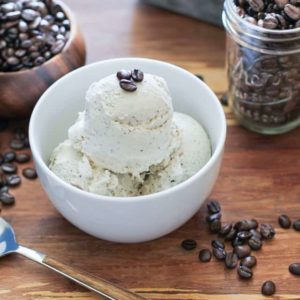 Paleo Coffee Ice Cream
Print
Instructions
Place the bowl of your ice cream maker in the freezer overnight.

Add all of the ingredients to a blender and blend until smooth. Taste the ice cream base for flavor and add more pure maple syrup and/or instant coffee to taste.

Transfer ice cream base to your ice cream maker and churn until thick and ice cream maker begins to bog down.

Either serve ice cream immediately for a soft serve consistency, or transfer to a freezer-safe container and freeze 2 hours. Thaw ice cream for 10 to 15 minutes before serving.
Recipe Notes
*You can use decaf!