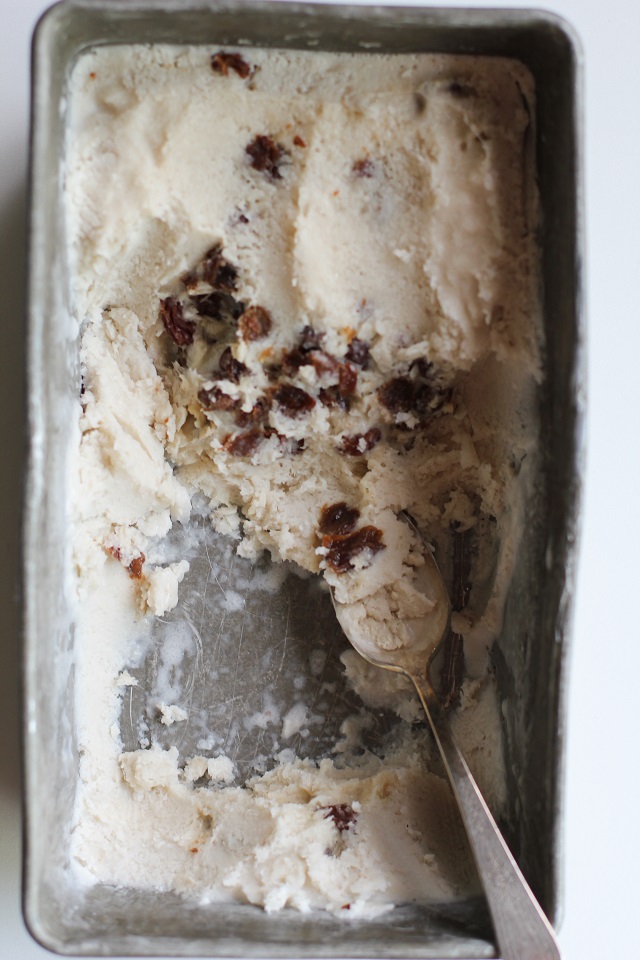 And just like that, it's ice cream season!
Trying different fancy pints of ice cream was like a sport for my mom and I when I was a teen. We even got a little competitive about it, trying to determine who could pick the best pint. We always had our favorite go-tos in between sampling new flavors. Dulce de Leche Haagen-Dazs was my love affair for all of Junior year, followed by Pistachio, then New York Super Fudge Chunk from Ben & Jerry's for a hot minute.
My mom's favorite ice cream?: Haagen-Dazs's Rum Raisin.
At the time, I couldn't believe anyone would choose an ice cream with raisins of all things over a cookie or brownie chunked treat with swirls galore. I poo poo-ed the rum raisin selection for the longest time, convinced it wasn't even worth a sample.
In her humble reassuring way, my mom always responded, "Just try it! You'll like it." Eventually, I put on my big girl panties, dug into the rum raisin, and she was absolutely correct. It was, in a word, amazeballz.
Now that I have an ice cream maker, I've been using my former store-bought favorites as inspiration. While this rum raisin ice cream recipe tastes so very similar to its store-bought counterpart, it's actually lightened up quite a bit. Made with canned coconut milk and pure maple syrup, this recipe is vegan, sugar-free, and I like to think of it as healthy, but don't quote me on that. Winky face.
Adding legit booze to ice cream helps it stay nice and soft, and this recipe's certainly not lacking in that department (both in the creaminess and in the booze). I plumped up the raisins by soaking them in boiling water for about 5 minutes before adding them to the ice cream base, which made them stay soft when frozen and added a TON of sweetness to the treat. To this day, I'm not a ginormouss fan of raisins, but for some reason, the soft and flavorful raisins in this ice cream are like little nuggets of booze-soaked joy for me.
Just lookit all them raisins!: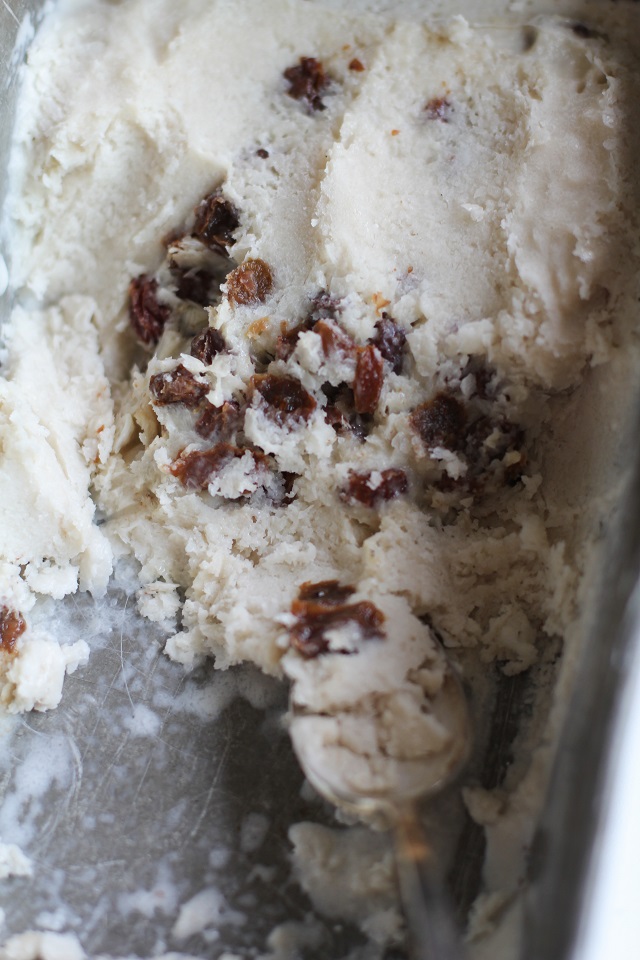 Rum raisin: check! Next up: Chunky Monkey. Kidding, not kidding.
Get yo cream on!
Rum Raisin Coconut Milk Ice Cream (Vegan)
A dairy-free take on classic rum raisin ice cream. If you're a fan of the iconic store-bought version, you'll love this recipe!
Instructions
Add the coconut milk, coconut oil, pure maple syrup, rum, vanilla bean paste, and sea salt to a blender. blend until completely smooth.

Following your ice cream maker's instructions, pour the ice cream base to your ice cream maker and turn it on (Note: many ice cream makers require you to freeze the bowl for 24 hours before use).

Place the raisins in a bowl and pour boiling water over them. Allow them to sit for 3 to 5 minutes before straining them and patting them dry with a paper towel. Once the ice cream begins to thicken in your ice cream maker, add the raisins, and continue churning the ice cream until the ice cream is very thick.

Either serve the ice cream right away for a soft-serve consistency or transfer it to a freezer-friendly container. Prior to serving, allow the ice cream to thaw 5 to 8 minutes - it will take a bit longer than normal ice cream to thaw.

Enjoy!
Nutrition
Check out my other ice cream recipes:
Boozy Roasted Cherry Dark Chocolate Chunk Ice Cream
Peanut Butter Chocolate Swirl Ice Cream
Green Tea Coconut Milk Ice Cream